Have a glut of homegrown tomatoes you're trying to get rid of? THIS is what to do with those extra tomatoes: slow roast 'em.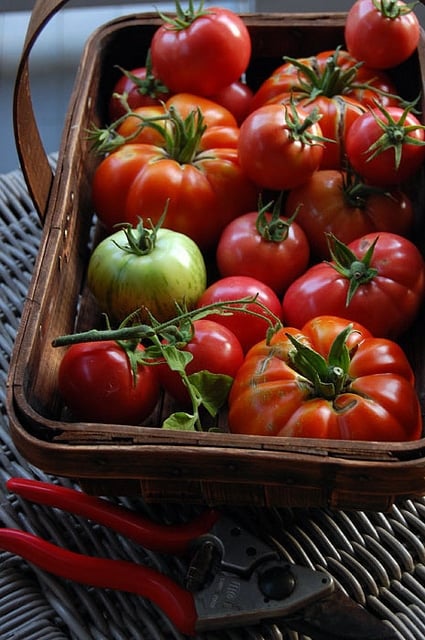 I've discovered many, many, many, many things about myself over the years. Things like my weird love of the word many.
But the most important thing I've learned about myself is that I will always take seconds. If I make dinner, I will get up for seconds. If I go out for dinner to a friend's or relative's house I will get up for seconds.
It doesn't matter how side splittingly full I am after the first plate, I want more. My stomach could be so stretched out from food that I'm screaming in pain and I would still fart my way over to the casserole and take another helping.
I'm fun like that.
Once I understood this interesting fact about myself, I conspired to trick myself. It was kindda hard. I'm clever, but on the other hand … so am I.
I came up with a plan a couple of years ago and I've fooled myself with it ever since. Think this whole fooling myself thing is dumb? How many of you out there change the time on your bedside clock and yet every single morning you wake up too stupid to know what time it really is.
So what I do (knowing I will NO MATTER WHAT take a second serving of food) is make my first serving smaller. Yeah. It was that simple. Instead of my regular end of the day lumberjack sized serving, I take a little less. So when I get my second serving, I'm really only eating the amount of food I would normally eat (not necessarily *should* eat).
I'm a profound overeater at dinner. More than once the neighbours have found me rolling around on the front lawn with a fork in one hand and a bottle of Gaviscon in the other crying incoherently about a tumour in my stomach which is really 17 meatballs.
Did somebody say meatballs? I have a great sauce for those!
This summer I swore I wasn't going to waste a single vegetable I grew. That didn't come true. I wasted all kinds. It's almost impossible to use every single thing you grow, or even give it away. You go up to the garden and a watermelon you thought wouldn't be ripe for a few days got ripe overnight and rotten within a few days. Tomatoes are bitten by bacteria riddled raccoon monsters or a cucumber sits on the kitchen counter with good intentions of turning it into something. Which you do. You turn it into a rotting mess.
So when all of my 15 tomato plants started to produce ripe tomatoes at the exact same time I knew I had to formulate a plan or forever think of myself as the tomato waster.
Last year I roasted all of my extra tomatoes and froze them. Which was great. They were delicious. But you still had to make them into a bit of a sauce once you took them out of the freezer. Boil them down a bit, add some liquid, some more seasoning … that sort of thing.
So this year I went another route. I roasted my tomatoes but I added a few more things to the roasting pan and added one more step.
This is really easy so feel free to use only a portion of your brain to read this post.
I forgot to mention to drizzle the bottom of the pan and the top of the tomatoes with olive oil. A pretty good glug.
Just throw everything on the pan. The only thing you really have to remember is only having a single layer on the pan, and allowing space in between the ingredients. This will stop your tomatoes from steaming instead of roasting.
One pan like this will get you around 3 servings of sauce.
Roast everything in the oven at a lowish temperature, (around 300F) for a few hours. You just have to keep checking on them. You only need to stir them 2 or three times to make sure they're evenly roasted.
Once all the ingredients are roasted and your kitchen smells like you really know what you're doing, pull the tomatoes out and let them cool a bit. Remove the bay leaf. If you don't like a lot of heat remove one or both of the peppers.
Now you have 2 choices.
Use the roasted tomatoes on your pasta as is, which is rustic and delicious. Or blend them into more of a sauce.
To make them into a sauce, put everything else in your blender and blend until you like the consistency.
I did one batch completely blended so there was no trace of tomato skins or seeds, and another batch I left more rough, with bits of tomatoes and skin visible.
Then I spooned serving sizes onto a baking sheet lined with wax paper and froze them. Once they're frozen you can just pop them off the waxed paper and put them in a freezer bag or tupperware and return them to the freezer.
I ended up pulling one out right away because I wanted to make chicken parmesan.I always want to make chicken parmesan, but I don't because I can never be bothered to make a whole batch of sauce for the 3 tablespoons I need for the recipe to top the chicken. This sauce, always on hand in the freezer, solves that problem.
It does not however, solve the always taking a second serving problem. At all.