How to shave without shaving cream because you forgot to buy it, don't like it, can't find it, are boycotting anything that automatically foams, hate the rusting cans, think it's bad for the environment, think it's good for the environment or just plain old ran out of it? No problem. There's a better alternative than regular soap.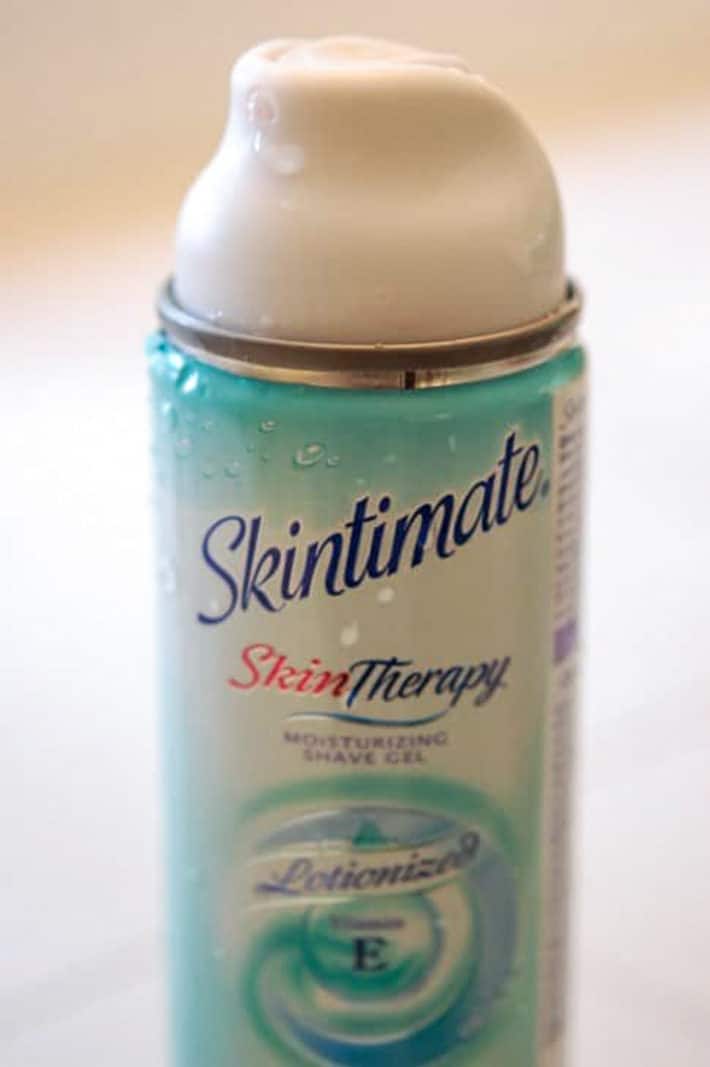 Emergency situation! Bear Grylls style. Imagine it, you're in the shower and as a modern human you need to shave your legs or private-love-area immediately for one of two reasons. Either … you're about to go on a 3rd date or you've avoided shaving for the past few showers and your legs/between your legs are itching.
They're itching a lot. It's as though the hairs growing out of your legs are made of fibreglass insulation dipped in mosquito juice.
So … regardless of the reason, you need to shave your legs. Unfortunately due to any number of reasons (mentioned above) you're out of shaving cream.
Your very best alternative if you run out of shaving cream is to use hair conditioner.
Shaving With Conditioner
It's a real thing, and it works.

As proof for you, I conducted a little experiment.
Shaving Cream VS Hair Conditioner

The first thing I had to do in the name of science was allow the hair on my legs to grow a little bit for visual purposes.
Then I got my 157 year old razor that is almost impossible to find razor cartridges for.
I lathered up my left leg with regular, old shaving cream.
And then shaved it as per usual. Done. Good job, the hairs on that leg were cut away. Next up was the other leg and some hair conditioner.
I squeezed out a dollop of regular hair conditioner …
… and slathered that on and shaved with the conditioner.
The Results
I can tell you that both legs felt good after shaving them. There was no irritation or razor burn on either leg.
Conclusion? Hair conditioner is not only a perfectly acceptable replacement for shaving cream it works just as well. Maybe better because shaving cream dries out your skin while conditioner moisturizes it.
I have to say, MANY years after running this experiment I still use hair conditioner to shave my legs at least as often as I use shaving cream.
Don't use conditioner because maybe you have very special self conditioning hair? Or you're bald?
Shaving Cream Alternatives
Listed in order of effectiveness
Hair Conditioner
Coconut Oil
Body Lotion
Aloe vera gel
Soap
Hair conditioner is going to be more economical than using shaving cream, does at least as good a job, if not better and a bottle of conditioner will last you way longer than a can of shaving cream. PLUS it won't rust on the bottom.
Coconut oil works great too and like conditioner actually moisturizes your skin a bit. The only caveat to using coconut oil is that you're sending all that oil down your drain. What with my plumbing problems that led to spending thousands of dollars and installing a new toilet (totally easy, here's how you can do that) I avoid putting anything down my pipes that could clog them.
So I choose to use hair conditioner as my shaving cream alternative. You're welcome for this experiment about whether you can use hair conditioner as a replacement for shaving cream.
The experiment testing whether you can use shaving cream as hair conditioner did not go nearly as well.

→Follow me on Instagram where I often make a fool of myself←