To remove or not to remove? The mysterious world of tomato suckers is about to make sense to you. What they are, how to identify them, when you should remove them and when you should leave them.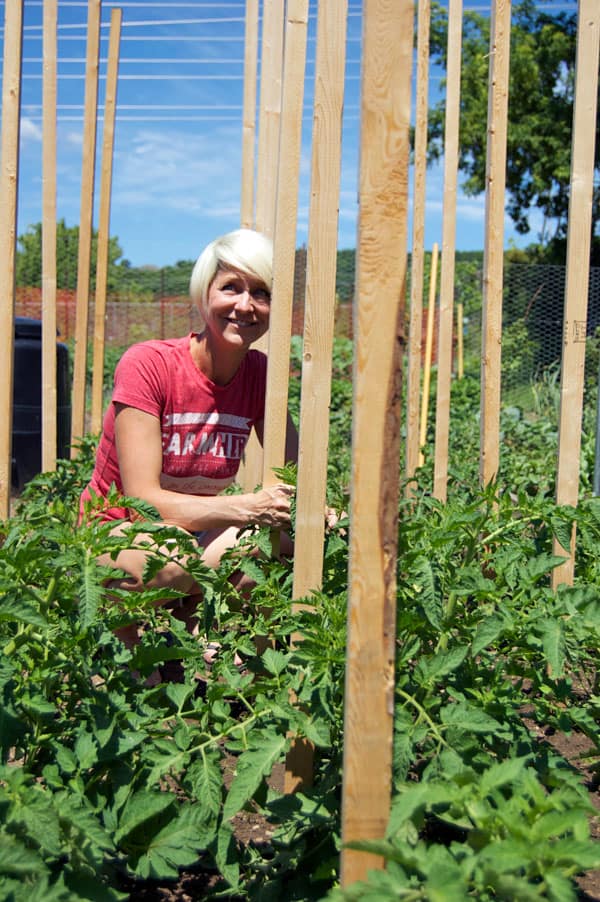 I learned how to identify a tomato sucker when I was a kid in the garden with my father. Whether to get rid of these secondary stems is a bit of a game with no absolute YES or NO.
It was in that garden as a child that I also learned some of my most cherished swear words.
Part of the confusion with suckers comes with the name. A tomato sucker isn't a typical sucker like you'd see on a fruit tree or shrub. Those true suckers grow out of the roots and SUCK energy from the plant. Hence the name.
I have a unique tip on how to prune zucchini plants as well.
So what exactly is a tomato sucker other than a topic to be avoided at pot lucks & prisons because of its obvious controversy?
What's a tomato sucker?
A tomato sucker is an actual stem or leader that grows between the main stem and a leaf of the plant. These stems will get very large, flower and produce tomatoes. All tomato plants get suckers. (unless there's some new genetic mutation I'm not aware of)
If they produce tomatoes why would you ever get rid of them? Mainly because they can be transform a perfectly well mannered tomato plant into a gigantic, hungry, aggressive monster.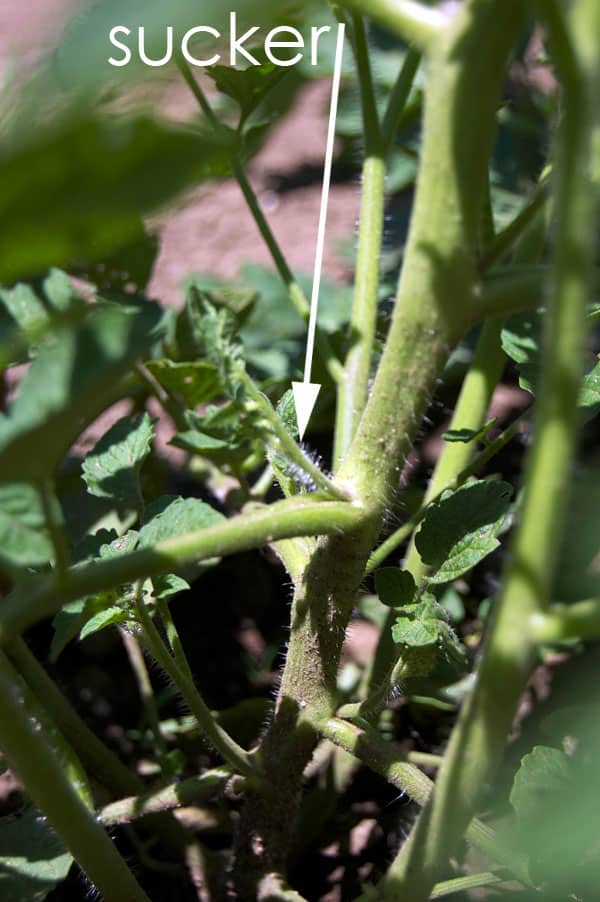 ---
How to Prune those Suckers
Stare at the main central stem of your tomato plant. Follow it up from the ground. Everywhere a leaf pops out of the big main stem, check to see if there's something else growing out of the "V" between the stem and the leaf. (see the photo above)
THAT is a sucker. Pinch it off.
Continue doing this all the way up the main stem.
If your tomato plant is overgrown and FULL of big, grown suckers don't remove more than 30% of the plant's greenery in one shot. It will shock the plant. Just do a bit, then come back a few days later and do more.
HOW MUCH TO PRUNE OUT
Never remove more than ⅓rd of the plant's vegetation at a time. It'll put the plant into shock and the leaves will curl up. Remove a bit and come back after several days and remove some more.
---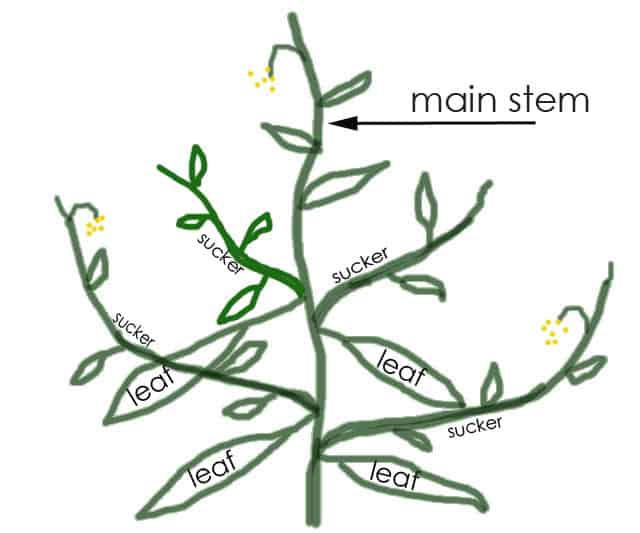 SHOULD you prune suckers?
Get rid of suckers on indeterminate (heirloom) tomato plants. Keep suckers on determinate (hybrid) tomato plants. That's the elevator pitch.
WHY?
INDETERMINATE PLANTS (heirlooms) get HUGE. Your indeterminate tomato suckers can become 8' long. If your indeterminate (heirloom) tomato plant grows, let's say - 10 suckers, that are each 8' long, you can imagine the mess of a tomato plant you'd have.
Even though the suckers WILL produce tomatoes, they won't be as big or healthy as you'd like.
REMOVING SUCKERS - gives the plant better air circulation, allows more sunlight onto the fruit & reduces the amount of soil resources (all the good minerals and fertilizers) the plant uses up.
DETERMINATE PLANTS (hybrids) are more reasonably sized that quit growing after they reach a certain size. Usually about 5' tall. That means their suckers don't use up as much energy or get as wild as those on an indeterminate. Which in turn means you can keep them and use the suckers to your advantage (more tomatoes) without sacrificing the health of the tomato plant.
---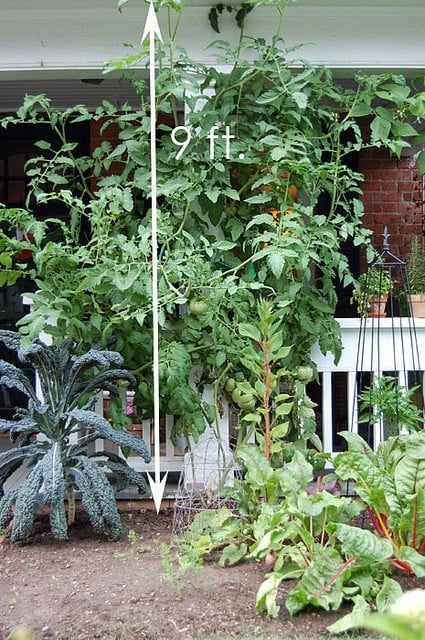 To learn how to train your tomatoes up a string read my post on string trellis training.
---
Other pruning you need to do
For a healthy tomato plant you ALSO want to remove the leaves on the lower third of the plant. Any leaves that sit below the lowest cluster of flowers/fruit on the tomato should be removed.
These leaves aren't doing anything to help support the plant or the tomatoes it's growing. They're just sucking energy and increasing the chance of disease.
This is because tomato disease like blight is spread from the soil below the plant splashing up onto the leaves. Get rid of the lower leaves and you help get rid of the problem. Mulching with straw or wood chips below the tomato plant helps with that too.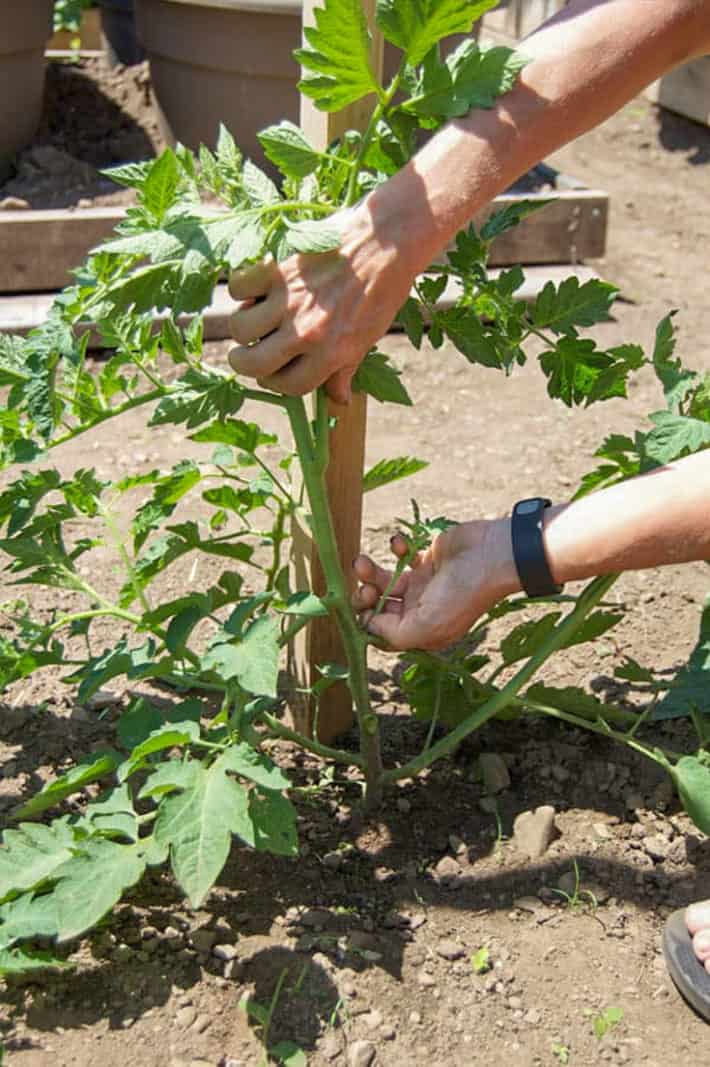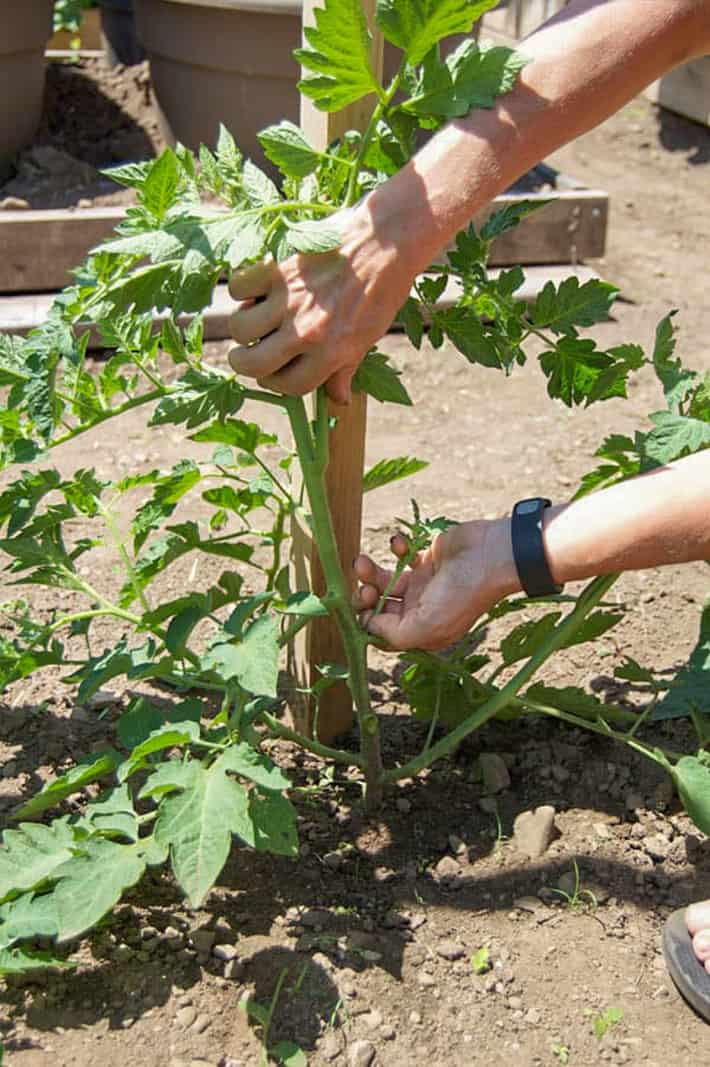 What happens if you don't follow the pruning "rules"
I hear you. You don't like rules. Neither do I. You can either get rid of none of the suckers, all of the suckers or some of the suckers. Nobody is going to report you to bylaw. Or the warden.
*Getting rid of none of the suckers will create a big tangle of a tomato mess. You'll have a lot of tomatoes, but they'll be small. Also, there's less air flow in the plant and more leaves that make it more susceptible to disease like blight.
* Getting rid of all of the suckers and only keeping the main stem will give you the least amount of tomatoes. You'll get large tomatoes, but not many of them. Also, tomatoes get their sweetness partly from the leaves so the less leaves there are the less delicious your tomatoes might be. Technically speaking.
* Getting rid of most, but not all of your suckers is the way most smart people like you and I go. Leaving 1 or 2 suckers along with the main stem of an heirloom will give you a strong plant, less susceptible to disease and a good amount of tomatoes. It will result in the healthiest tomato plant. And pruning away about ⅓rd of the suckers on hybrids will give the plant better air circulation and allow light to hit the growing fruit accelerating their ripening.
So yes. I said it. You don't HAVE to follow the rules. This of course is why this is such a volatile topic in prison gardens.
The only thing I'd say is I would NEVER prune all of a hybrid plant's suckers. Removing a few of them for better air circulation isn't a bad idea though.
And I'd NEVER let all the suckers grow on an heirloom tomato. It just becomes a terrifying tangle of greenery.
When should you pinch suckers?

The best time to prune suckers is when they're small. Check the plants every few days. As soon as you see them start to grow pinch them off. A sucker won't regrow in the same place once it's pinched off.
Do you still need to stake them?

Yep. Even without all those suckers, tomato plants get really heavy so use the string trellis method for supporting heirloom tomatoes and I like the Florida Weave (see below) for hybrids.
Now that you have that all figured out you can spend the rest of your day sharing your newfound information with fellow prisoners or family members.