In 2016 I experimented with a new way to stake my tomatoes because I'm never satisfied with anything, especially when it come to gardening. But every so often I find a tip, technique or trick and realize this is IT. THIS is the way it should be done. Supporting tomatoes with a single string – is one of those things.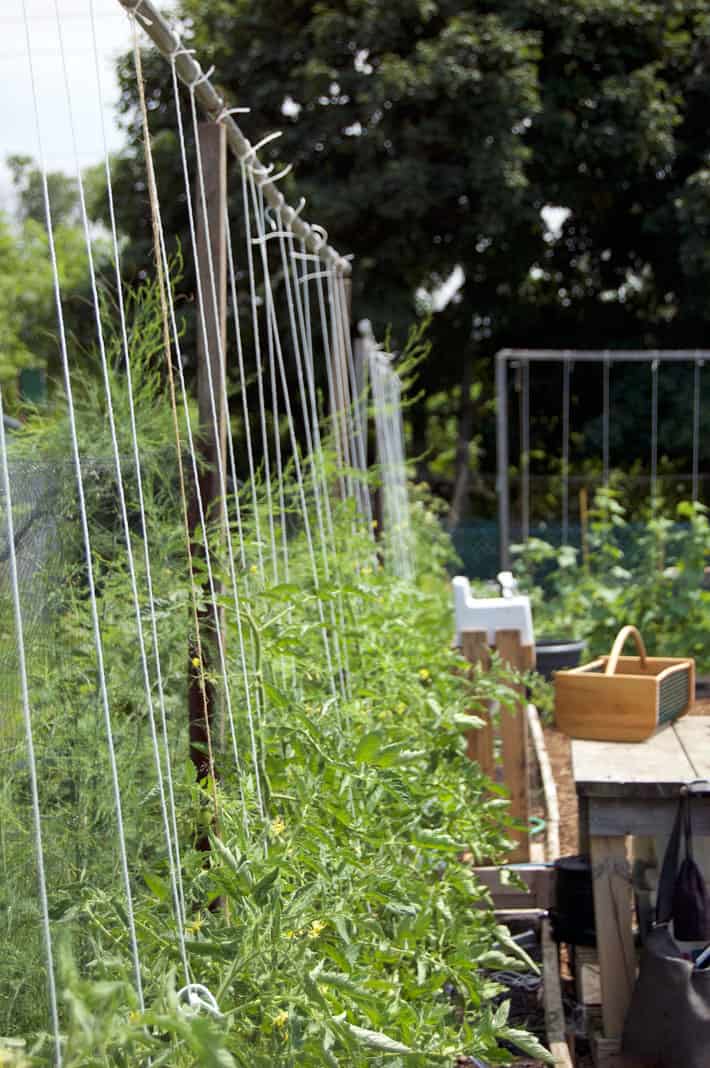 There has to be a better way. There's always a better way (unless it's making french fries in which case McDonalds definitely has a lock on that). I say that little mantra with pretty much everything I do, see or live with.
My living room? Not quite right yet. My dining room? Ditto? Backyard, bedroom, garden, thighs, ditto, ditto, ditto.
And for many years staking my tomatoes was the same thing. Different methods worked but they weren't quite right.
I've done cages, stakes, espaliering and the Florida Weave (which works well but still results in a big MESS of tomato plants.)
My search for the perfect way to support tomatoes ended when I discovered and tried the string method.
Supporting Your Tomatoes with String Not Stakes
Stringing is a method that up until recently was normally only seen in commercial greenhouses or the back fields of very astute hippie homesteaders.
It requires nothing more than string and something to support the string from. Tomato stems are wound up the string as they grow.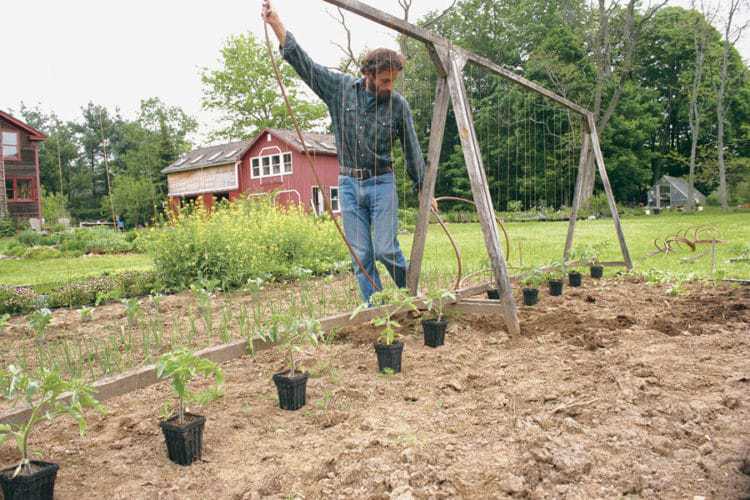 I don't know this guy. This guy is just stringing up his tomatoes. Never met him. Good photo though.
I had read about string training but never really thought about applying it to my own garden until a fellow community gardener who is even more nuts when it comes to research and trying new things than I am said he was going to be doing it.
How to Use the String Method With Tomatoes
Stringing is literally allowing your tomatoes to climb up a single string. Doing this, along with the pruning that goes along with the method results in SUPER neat and tidy rows of tomatoes.
Pruning Tomatoes When Using the String Method
For stringing your tomatoes you have one of two choices for pruning.
The French Method which involves getting rid of allllllll other leaders and suckers other than your main tomato stem
The Missouri Method, which involves pinching out the suckers, but leaving a few leaves on to help give the tomato plant energy and the ripening fruit some shade. Or something like that. But who cares because we're not doing it.
Pruning your tomatoes of all the suckers means that you will get less tomatoes, but they will be healthier and bigger.
If you'd like more tomatoes (but they'll be smaller) you can use the French Method but allow the first sucker that develops over the first cluster of flowers to grow into another leader. Each will need their own string to climb up with a minimum of 12″ between each string.
We're doing the French Method you and I because it's easier to keep track of and French which means it's better, cooler, more elegant and has more swagger than anything else in the world has to offer.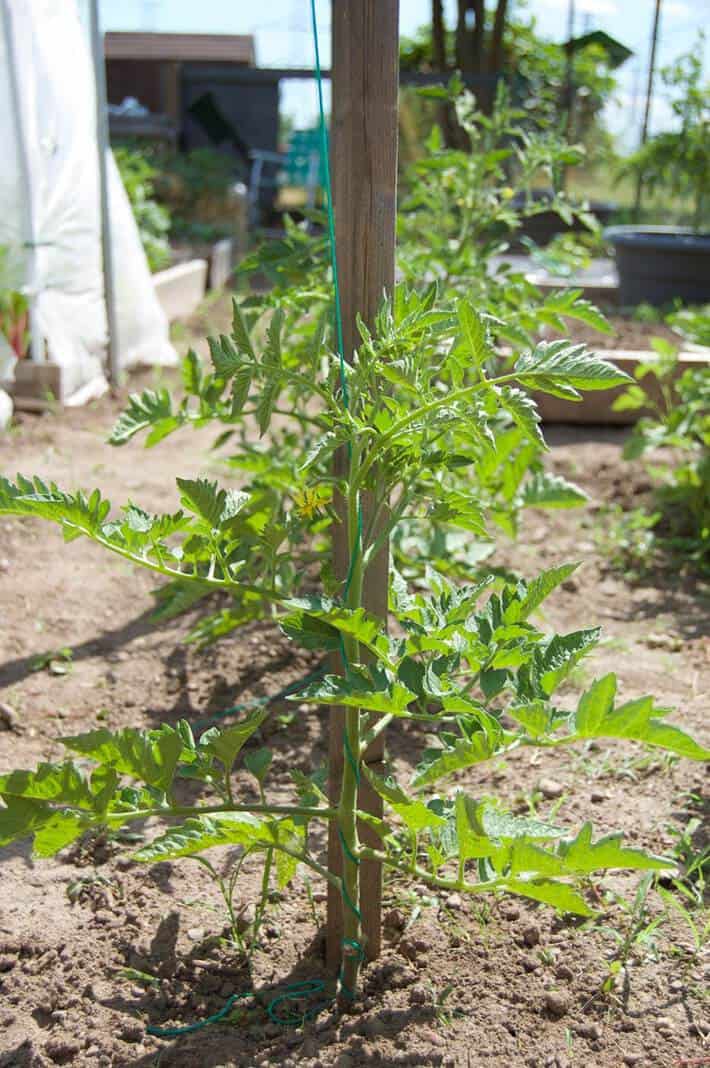 The French Pruning Method.
No suckers, no extra leaders. Only one stem with leaves coming off of it.
Here we go!
How to use the string method with tomatoes.
Run a wire, pipe or board between two 8′ high stakes. You can also use string in a pinch.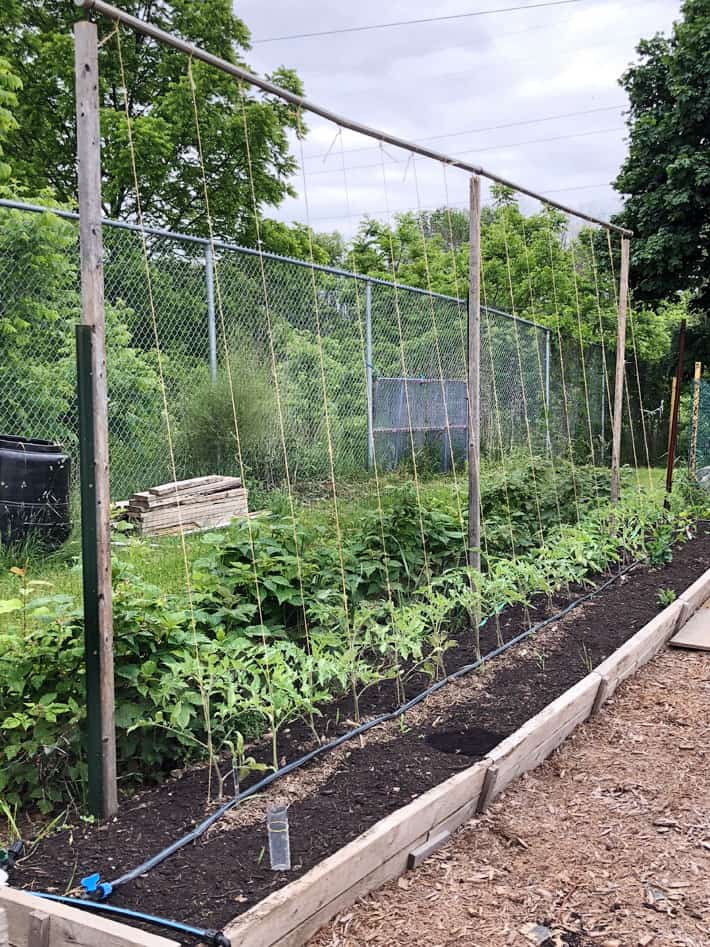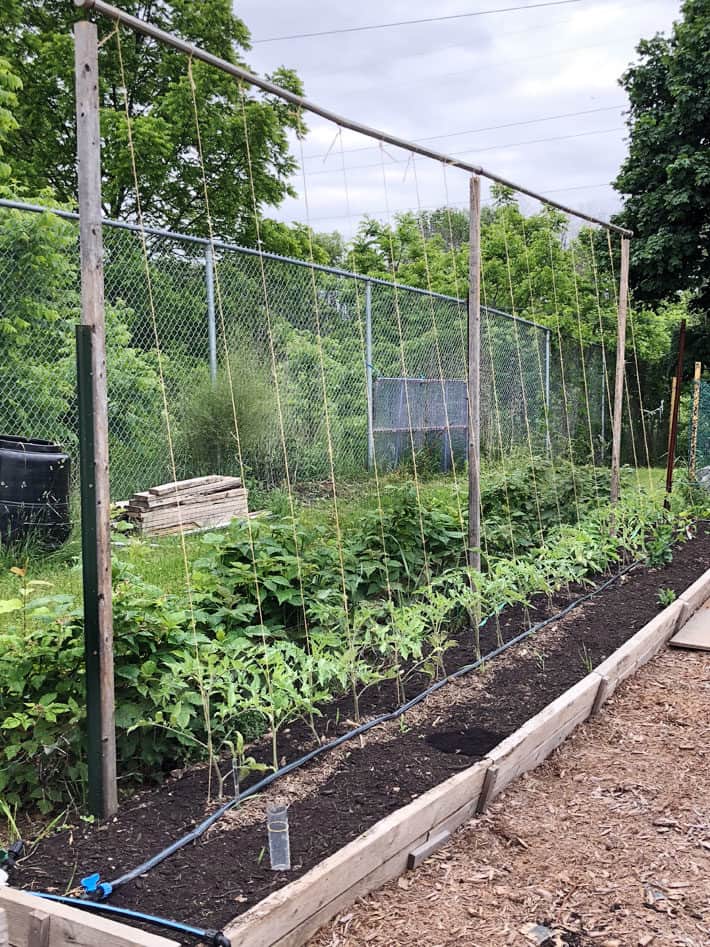 2. Tie a string every 12″- 18″ so it hangs down towards the soil. Plant your tomatoes at every string so they are also 12″-18″ apart.
3. Secure the string to the soil at the base of your tomato with a garden pin by winding the string around the pin and shoving it in the soil. You can also wrap the string several time around the base of the tomato plant to secure it. (I use pins now, I used to just wind it around the base of the plant)
4. Remove any suckers that have formed. You can read more about how to identify suckers in this post here.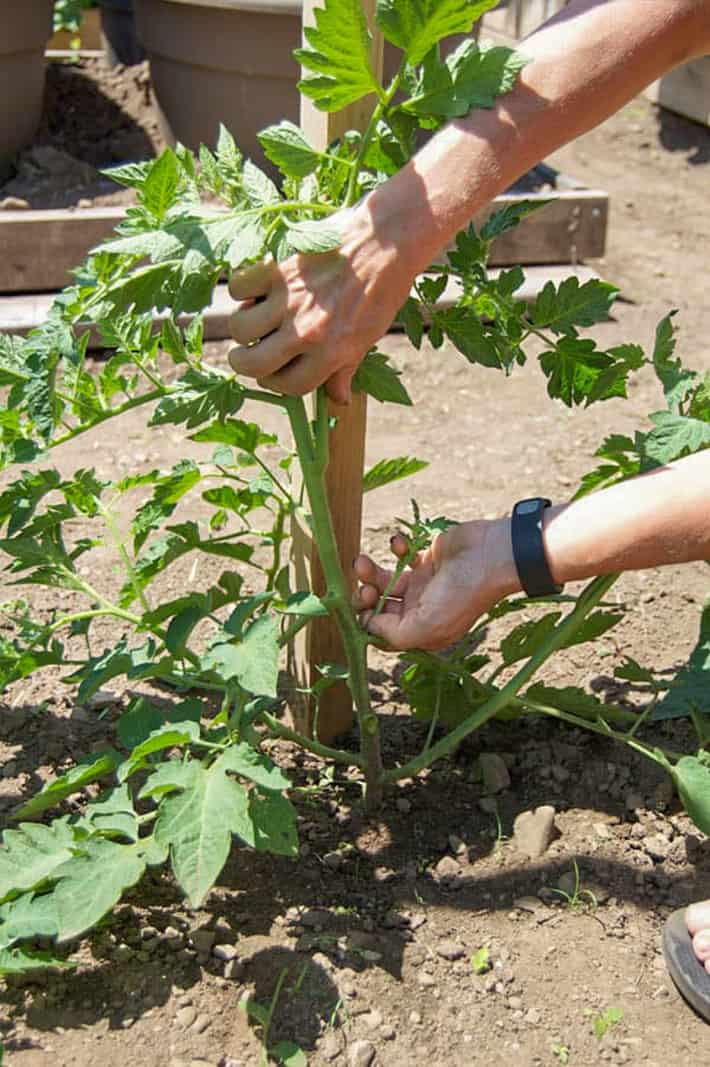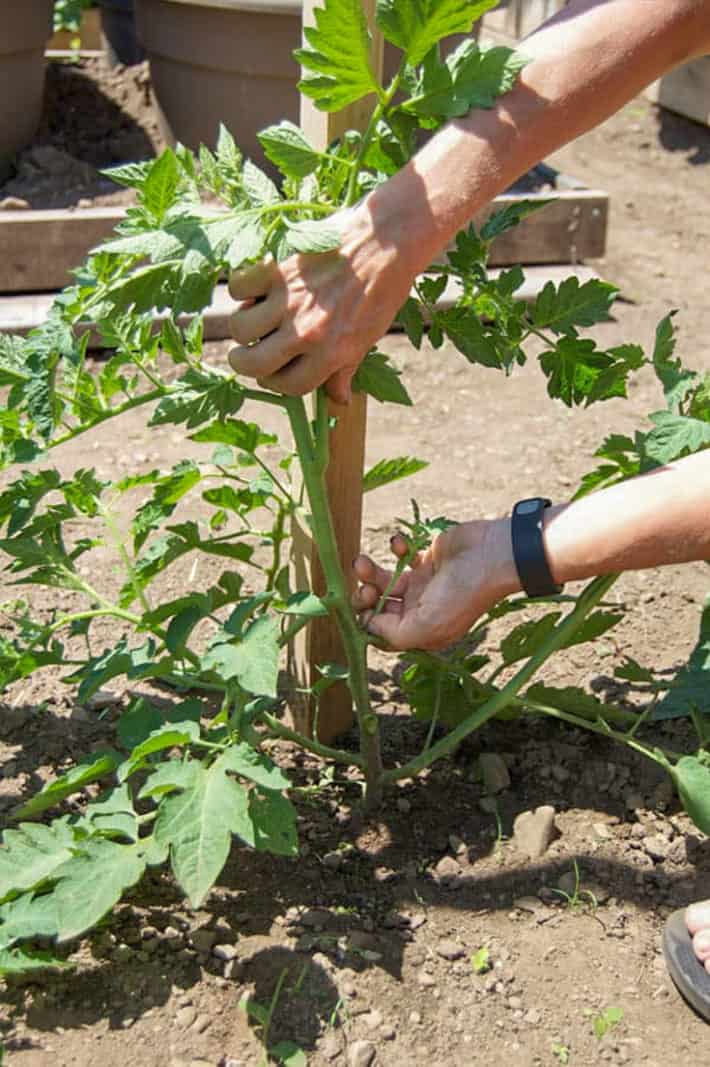 Removing a sucker. The shoot that grows between the main stem and leafy branch of tomatoes.
5. Twirl your plants around the string once your tomato is around 12″ high and is getting its first set of flowers.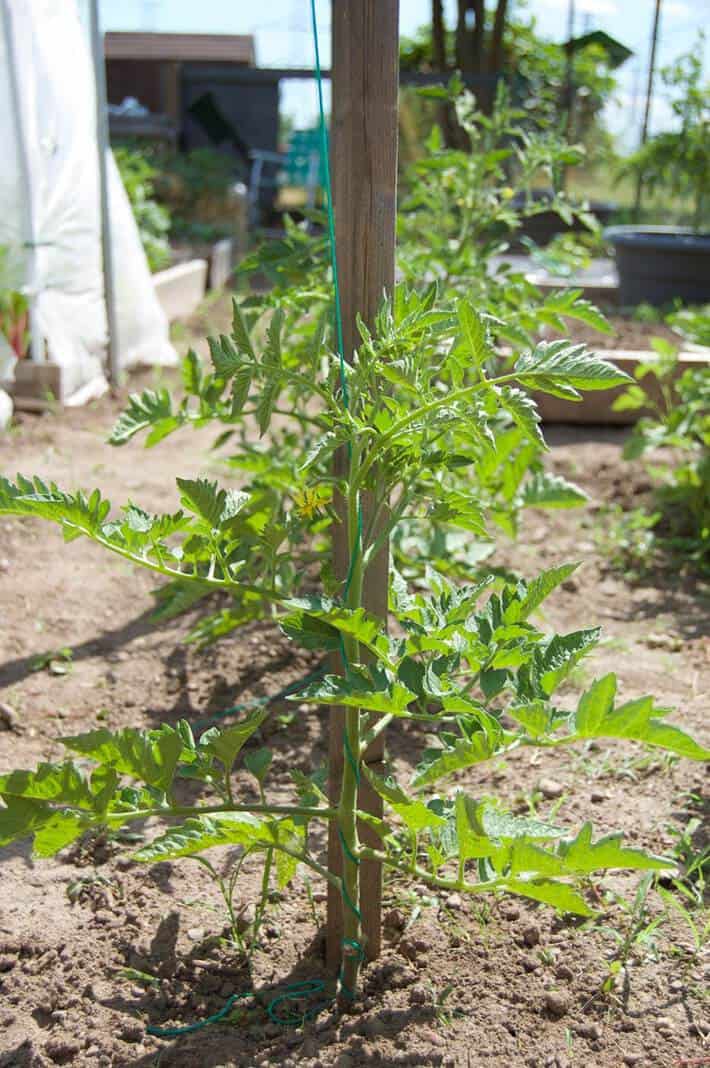 6. Continue to remove suckers and twirl once a week until the end of summer.
Why You Should Remove Tomato Leaves
Removing the lower leaves as the plant grows is a good way to help reduce disease because the most devastating tomato diseases like blight are soil borne and when it rains, the spores splash up onto the tomato leaves, where it then travels up the plant until it eventually kills it. By removing the lower leaves, closest to the ground you can help slow down or prevent this from happening.
Tomatoes form fruit from the bottom of the plant upwards. Any leaves beneath tomatoes that are flowering or forming are just taking energy away from fruit production. They're using more energy from the plant than they're giving back. Removing them directs more energy to the all the fruit above.
Therefore, once you see the first set of flowers forming on your tomato plant, remove the leaves beneath it.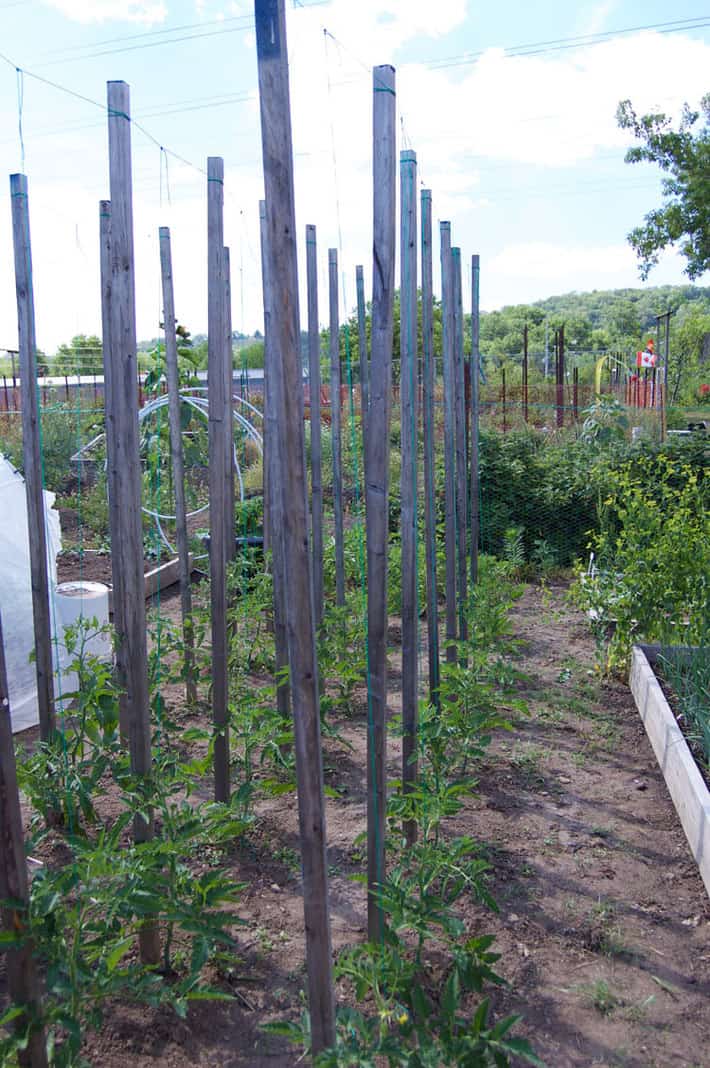 The first year I tried this method, I worked with what I had, which was stakes that were already planted in the ground every 18″. I just ran a string across the top of them all and hung my string down from that.
If you forget to prune out suckers and you're facing a wild jungle of a tomato plant don't be tempted to prune everything back at once. Only take off 25% of the plant at any one time. Taking more will put the plant into shock, slow its growth a bit and make your tomato leaves curl.
If you notice curled leaves on your tomato, chances are it's because you over pruned. Prune a little, then let the tomato plant recuperate for a week or so until you prune again.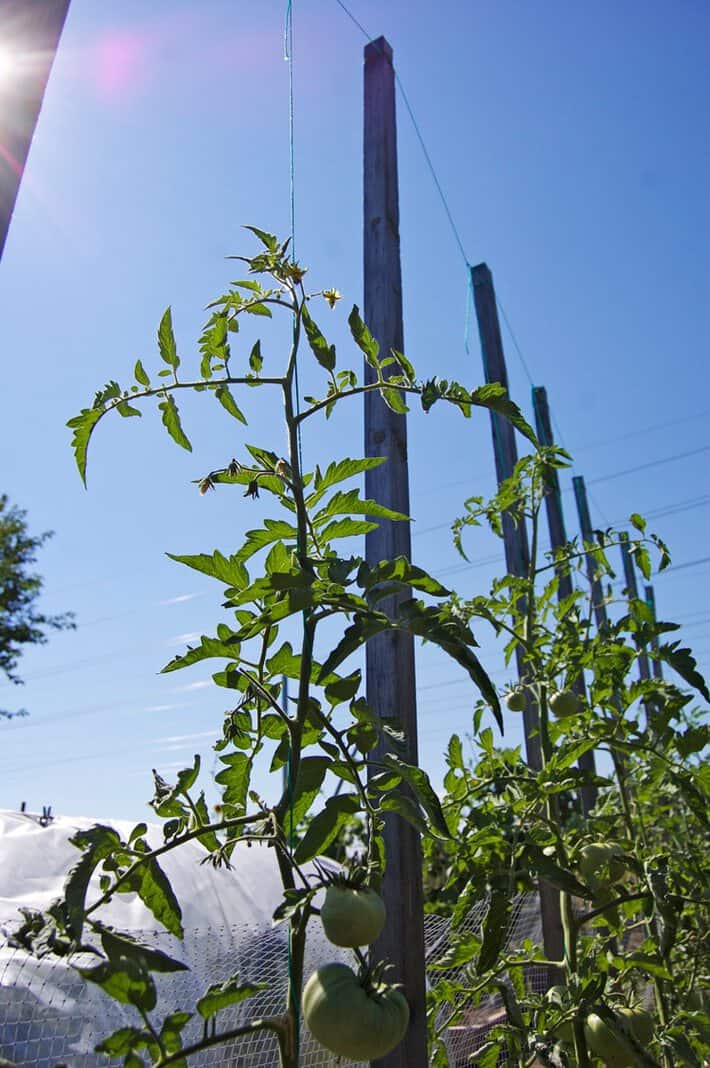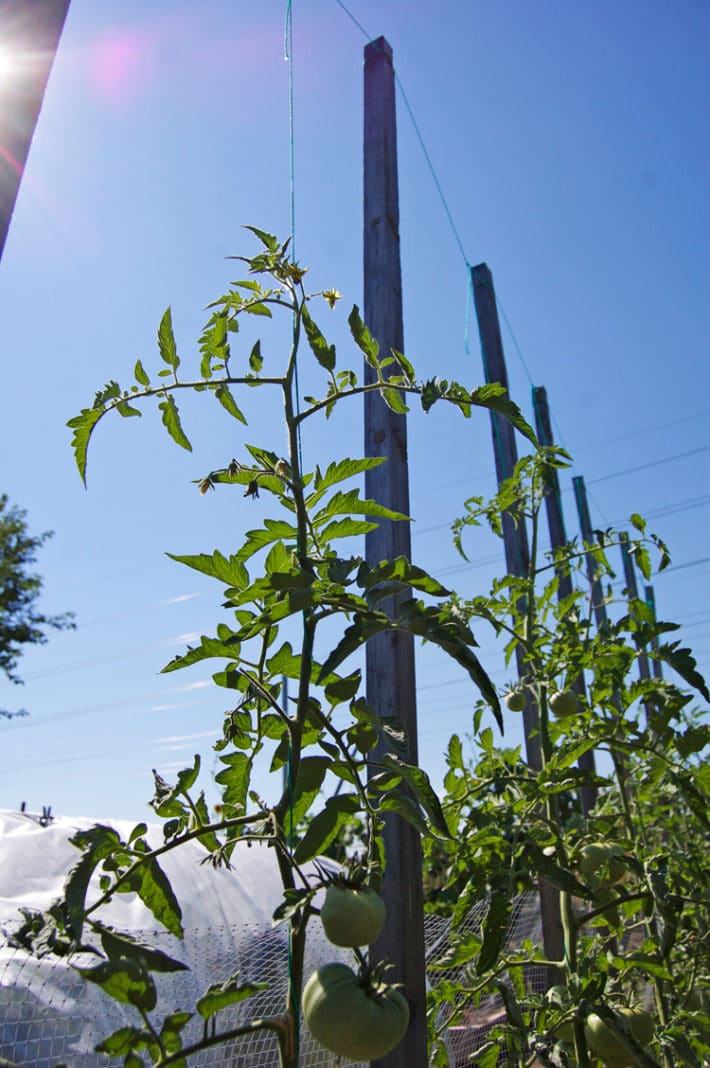 Tomato varieties that work with string training.
Indeterminate varieties vs determinate varieties.
Indeterminate varieties of tomatoes keep getting taller and taller until they're killed by frost. They can grow 9′ tall or more.
Determinate varieties (also called bush tomatoes) have a pre-determined height bred into them and will stop growing once they reach a certain height. Usually around 3-4′.
This method is for indeterminate varieties of tomatoes. The kind that can grow 9′ tall or more.
Why String Training is Better Than Staking or Caging.
Strings can be left up from season to season.
You can fit more tomato plants into a smaller space.
Plants can grow as high as 8′ or more.
Keeping plants at one leader gives much better air circulation around the plants which helps keep them disease free.
String training can also be applied to growing beans like you see here, cucumbers
Wanna see how the string method worked with a single tomato flat against a fence? It would work flat against a house too. Check out this post.
By the end of the summer you'll have straight, tall tomatoes which get a lot of air circulation and a lot of sun. They'll be bald at the bottom and producing healthy tomatoes at the top.
Hypothetically of course.
Because this is gardening and all hell could break loose at any moment. A wild band of twirling goats or screaming aphids could come barreling through your garden destroying everything in its wake.
You just don't know.
→Follow me on Instagram where I often make a fool of myself←