There has to be a better way. There's always a better way (unless it's making french fries in which case McDonalds pretty much has a lock on that). I say that little mantra with pretty much everything I do, see or live with.
My living room? Not quite right yet. My dining room? Ditto? Backyard, bedroom, garden, thighs, ditto, ditto, ditto. So it should come as no shock to you, me or anyone in the general vicinity of planet Earth that I'm trying out a new way to stake my tomatoes.
I've done the Florida Weave for a few years now and it works well but it still results in a big MESS of tomato plants. The kind of thing you'd expect to see starring in The Rocky Horror Picture show.
It's not Espaliering my tomatoes. Although I am testing out that method this year too.
No, I'm going to string my tomatoes up. With a string. Up to the sky. I'm sorry, I'm getting slightly distracted here because the muscle under my arm (we're going to call it muscle) is actually moving while I type. It's swinging to and fro like a hammock. I've never had that happen before and I'm what you'd call, well, nauseous is I suppose the best way to describe it. I'm hoping it's just because I adjusted the height of my work chair. If not, expect to read a blog post on the topic of arm tightening through self surgery up soon.
O.K. back to the tomatoes.
Stringing them is a method used in commercial greenhouses which I've seen before but for some reason haven't looked into for myself. I'm not sure why. It could be that my dangling arm pocket actually contains the small portion of my brain that I would normally use for figuring out simple things like the fact that I should be stringing my tomatoes up.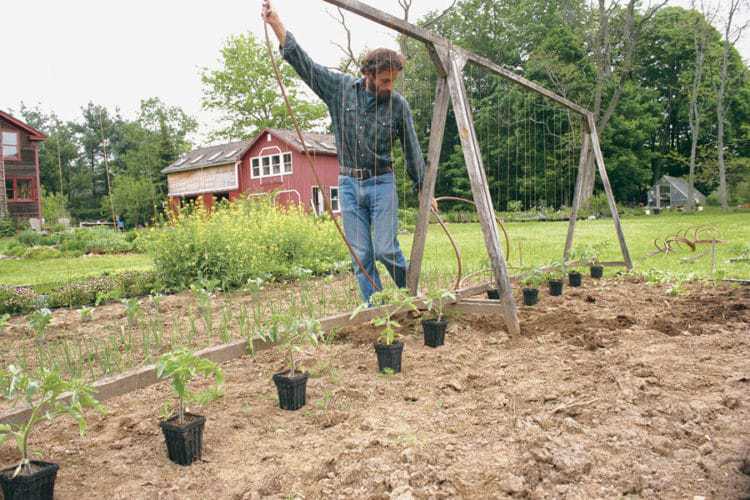 I don't know this guy. This guy is just stringing up his tomatoes. Never met him. Good photo though.
Up at my community plot the other night I was talking to the other person up there that's just about as nuts as I am when it comes to researching, testing and trying out new things. Actually he's much more advanced in his gardening nuttiness than I am. Clearly. Because he strings his tomatoes. At least that's what he's trying out this year and therefore so am I.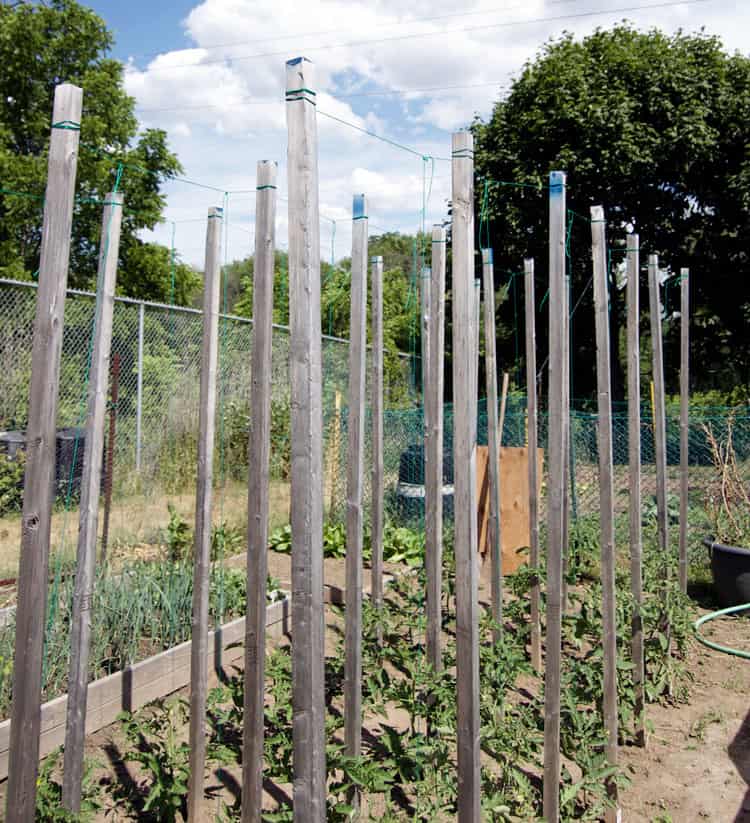 Stringing is literally allowing your tomatoes to climb up a single string. Doing this, along with the pruning that goes along with the method results in SUPER neat and tidy rows of tomatoes. Less foliage more fruit is the basic premise.
As you can see in my above photo, my tomato area looks a bit chaotic. That's why I included that photo of the guy I don't know and have never met. He has a clearer picture of what the string method looks like.
For stringing your tomatoes you have one of two choices for pruning. The French Method which involves getting rid of allllllll other leaders and suckers other than your main tomato stem, and the Missouri Method, which involves something else that I'm not doing so I can't be bothered to tell you about. It's basically leaving suckers and some leaders on your tomatoes and pruning them back about half way. Or something like that. But who cares because we're not doing it.
We're doing the French Method you and I because it's easier to keep track of and it's French which means it's better, cooler, more elegant and has more swagger than anything else in the world has to offer.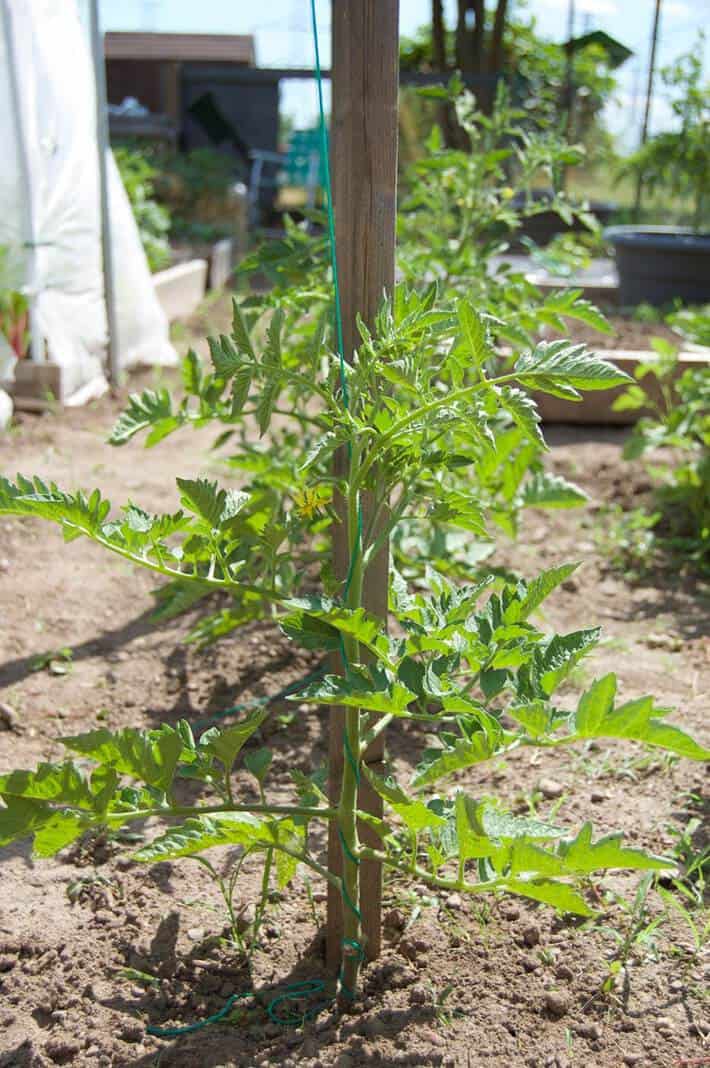 The French Pruning Method.
No suckers, no extra leaders. Only one stem with leaves coming off of it.
Here we go!
How to use the string method with tomatoes.
Run a string, wire or board between 2, 8′ high stakes.
2. Tie a string so it hangs down towards your tomato plant.
3. Prune your tomato to one leader, removing all the suckers.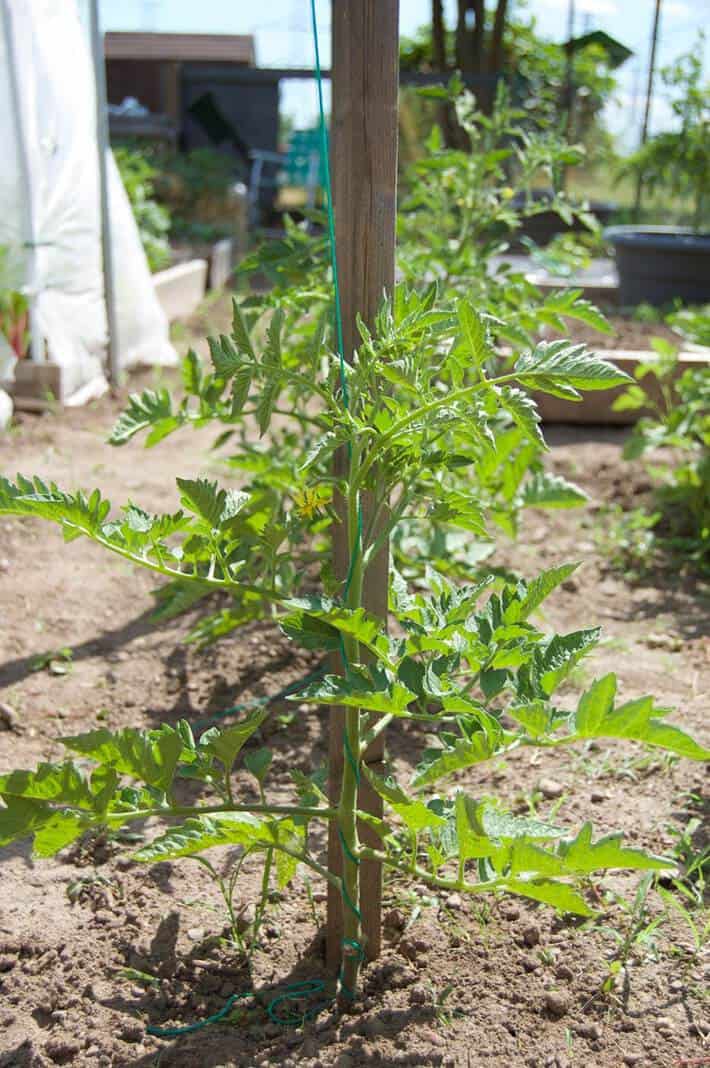 4. Twist the string around the base of the plant several times.
5. Twirl the tomato plant around the string until it's taut.
6. Continue to remove suckers and twirl once a week until the end of summer.
7. Remove lower leaves as the plant grows.
Need more details? No problem.
To string train your tomatoes you have to run a string from about 8 feet above the tomato plant, very similar to the way you would string train green pole beans.
You can get this string above your tomatoes by hammering 8′ stakes in the ground on either side of your tomatoes. Then either run another stake across the top of those two stakes with strings hanging down, or run string across the top of the two stakes like I've done.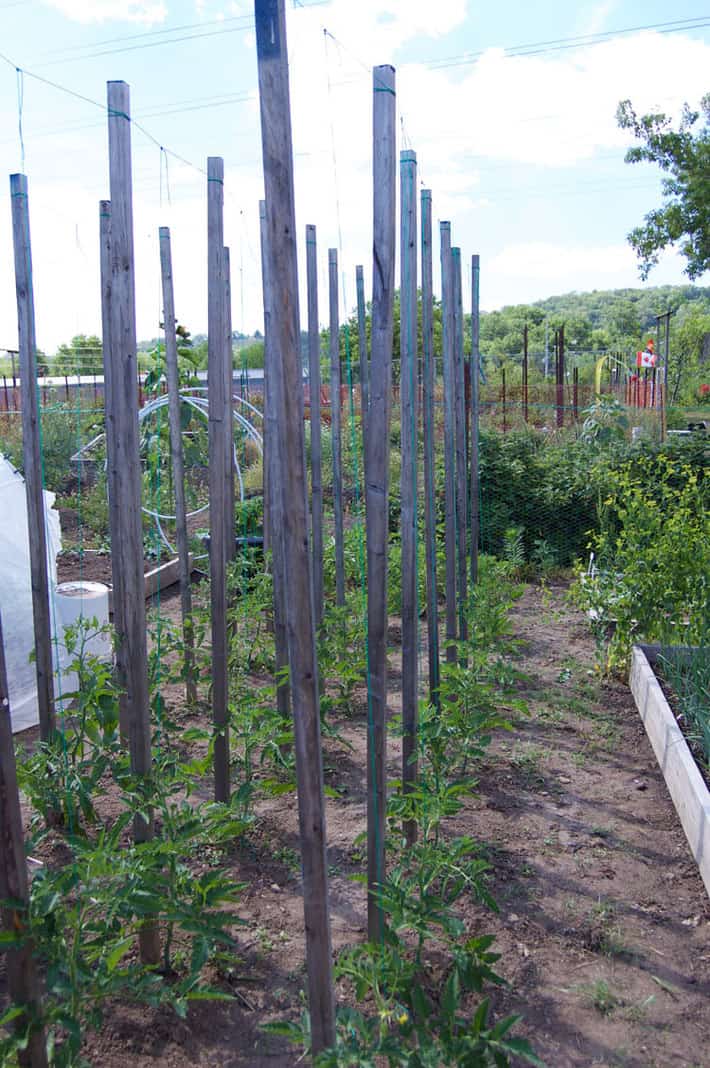 I have a lot of stakes actually not just two because in past seasons I've used a stake for every tomato plant. I used all of the stakes for the base for my string training.
You need a single string dropping down to every tomato plant. As the tomato plant grows, you twist the string around the tomato plant stem so it grows straight up.
When you first wrap your string, wrap it around the base of the plant several times. This should be enough to secure it. If not you can use floral tape, a knot or a plastic clamp to hold the string in place at the base of the tomato plant.
(never take off more than 25% of the plant during your initial pruning or you'll get leaf curl … I got leaf curl)
I TOOK THESE PHOTOS 2 WEEKS AGO. WANNA SEE WHAT MY TOMATOES LOOK LIKE NOW?
I'LL BE POSTING PICTURES OF THEM ON INSTAGRAM TODAY.
By the way, this method is for indeterminate tomatoes. The kind that can grow 9′ tall or more. It isn't for hybrid varieties which don't get very tall. As the summer progresses you remove all the leaves on the stem that fall below the first fruit set. And you keep doing this on and on.
By the end of the summer you'll have straight, tall tomatoes which get a lot of air movement and a lot of sun. They'll be bald at the bottom and producing healthy tomatoes at the top.
Hypothetically of course.
Because this is gardening and all hell could break loose at any moment. A wild band of twirling goats or screaming aphids could come barreling through your garden destroying everything in its wake. You just don't know.
But I have high hopes for the string method for my tomatoes. And my arms.
Wanna see how the string method worked with a single tomato flat against a fence? It would work flat against a house too. Check out this post.