In 2016 I took a cue from commercial tomato growers and started to stake my tomatoes with a string trellis. I was immediately won over by how cheap, easy and EFFECTIVE this method is for supporting a tomato plant.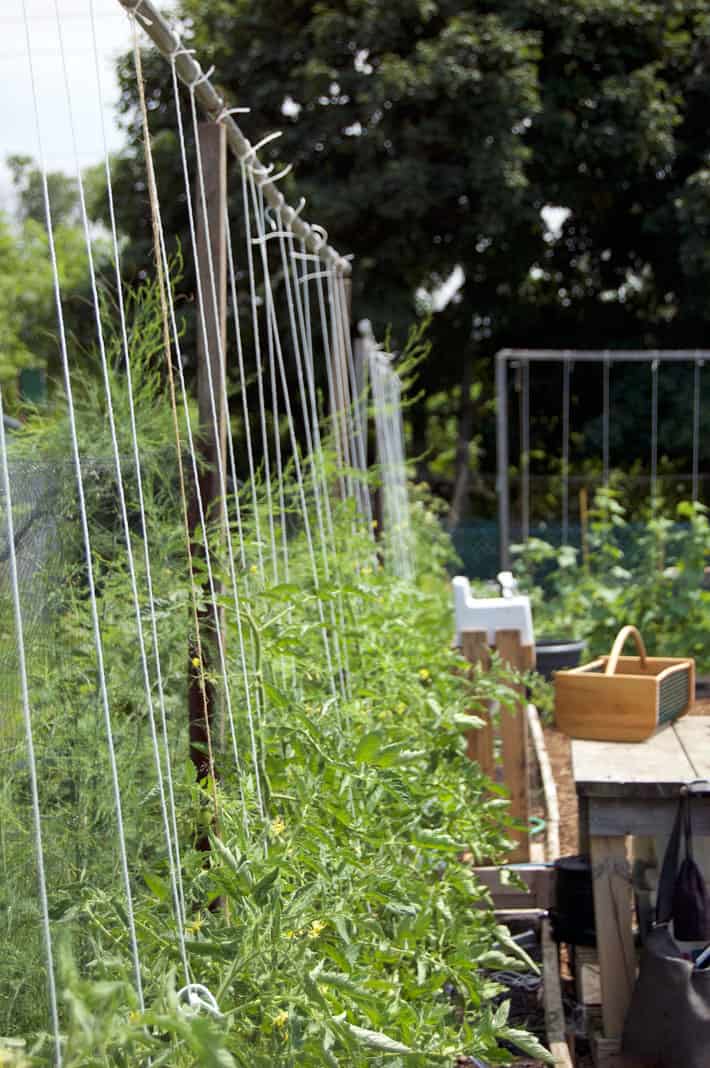 There has to be a better way. There's always a better way. I say that little mantra with pretty much everything I do including growing tomatoes.
I've done cages, stakes, espaliering and the Florida Weave (which works well but still results in a big MESS of tomato plants.)
By the way, the post that talks about how to execute a Florida Weave is actually a post on how to identify and pinch off tomato suckers, so if you don't know how to do that read the post.
My search for the perfect way to support tomatoes ended when I discovered and tried the string method. It didn't even have a name back then. I called it string training.
Now it's referred to as a string trellis.
QUICK GUIDE
Create a support structure.
Tie a string to the top of the structure.
Pin the string to the ground with a garden staple.
Plant tomato and wind the stem up the string.
Continue to wind as the tomato gets taller.
That's it. You can leave the structure and strings in place year after year so you only need to do this once.
I can hear you now.
WHAT ABOUT CROP ROTATION???
For the most part I *do not* rotate my crops because I don't believe in it for a home garden. As long as you fertilize/add compost to your soil every year there will be no soil depletion. And moving your crops 20 feet to the left or right isn't going to confuse or deter any of the pests/disease you have.
How-to Video
String training is a method that up until recently was normally only seen in commercial greenhouses or the back fields of very astute hippie homesteaders.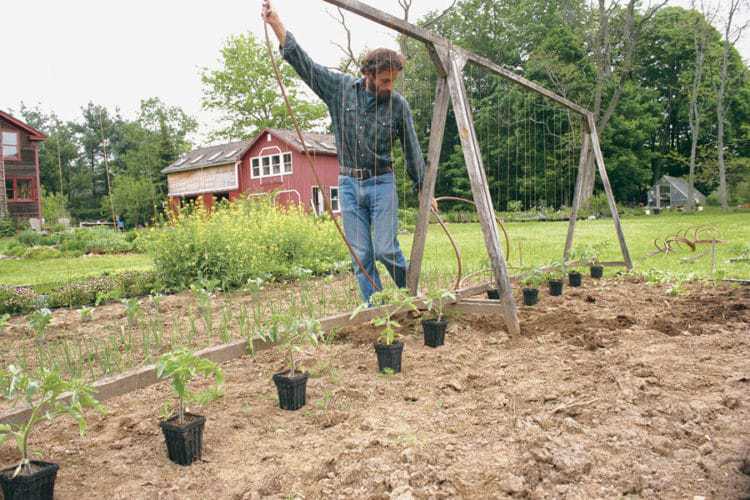 I don't know this guy. This guy is just stringing up his tomatoes. Never met him. Good photo though.
Not only can you use this method for tomatoes, but you can use it for anything that has a stem you can wind upwards.
USE A STRING TRELLIS FOR GROWING CUCUMBERS
Here we go.
How to String Trellis Tomatoes
Hammer T-posts into the ground 8' apart (or less). For added height, screw an 8' 2x2 into the side of each T-post. Add support across the top.

Screwing another 2x2 into the tops of your posts works well for a support bar, as does an old curtain rod. You just need something sturdy to hang a string from.
---
TIP: Before screwing your 2x2s into the T-Posts, drill a 3" deep hole into the top of the 2x2s. Wind a coat-hanger-type wire around your rod a couple of times making sure to leave 3" of the ends straight. Slip the looped wire off the rod and stick it into the top of the 2x2. Now you'll be able to slip the rods through the wires to hold them in place. You can see the visual demonstration of this in the video.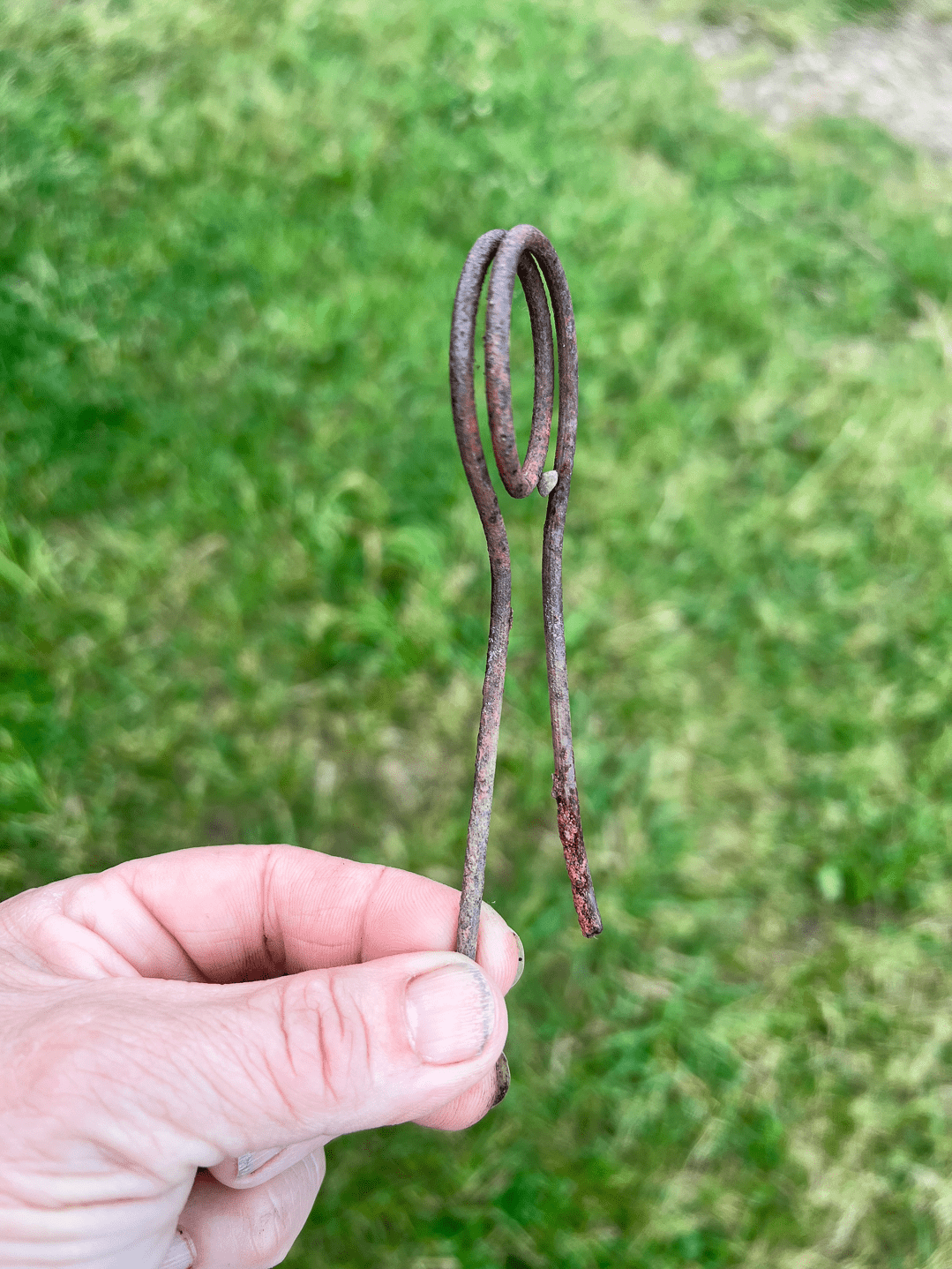 ---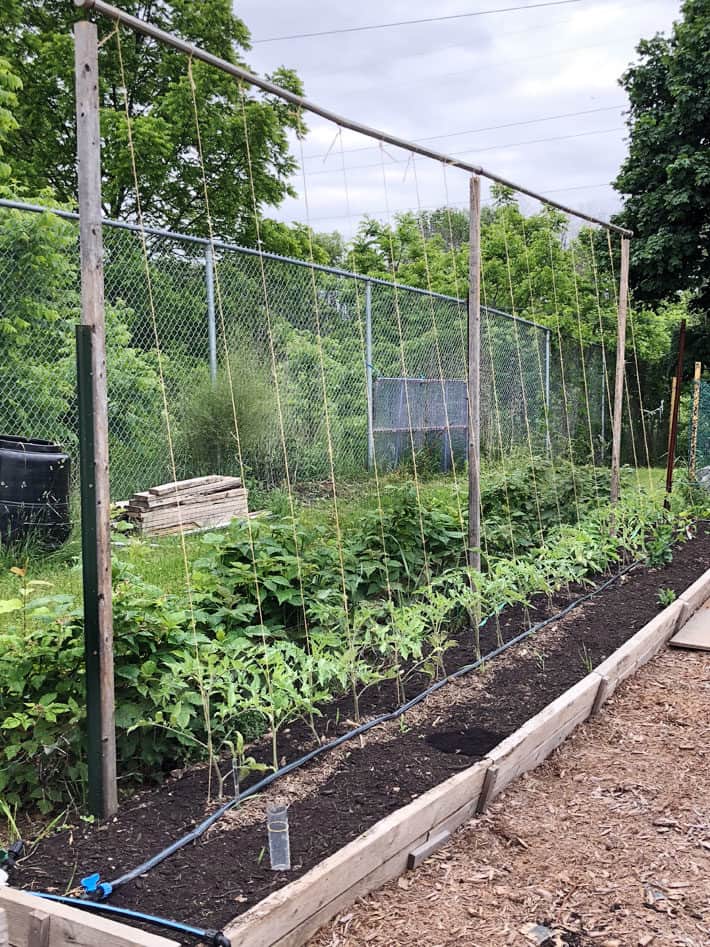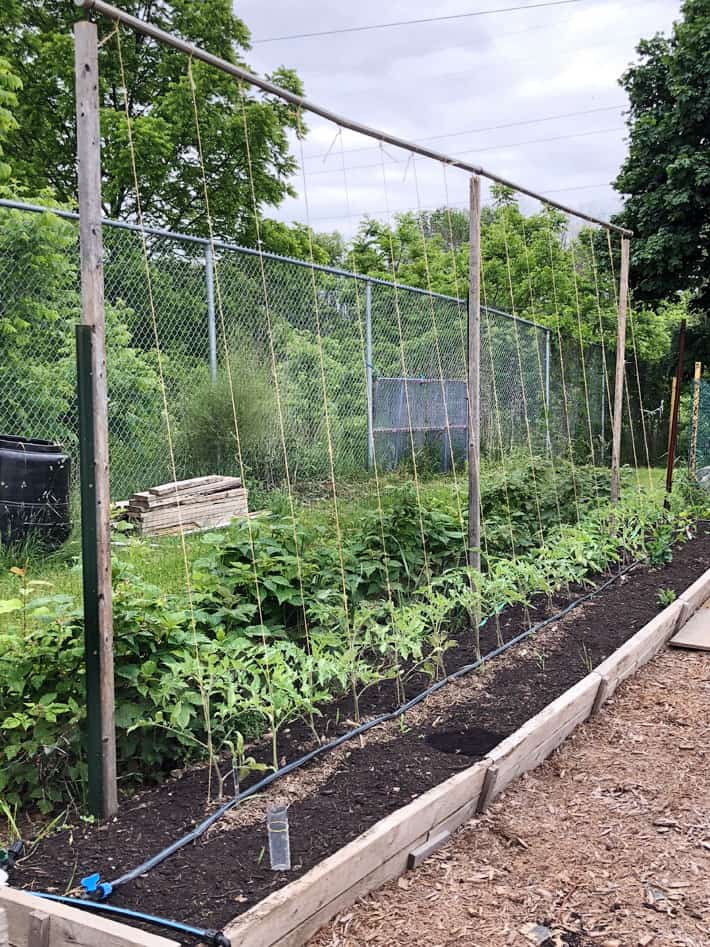 Tie a thick cotton string every 12"- 18" so it hangs down towards the soil.

Secure the string to the soil using a garden staple aka landscape staple.

Remove the lower leaves to help prevent blight and any suckers that have formed. You can read more about how to identify suckers in this post here.

Plant the tomatoes in front of the string. Plant them quite deep (up to the new first leaf on the plant).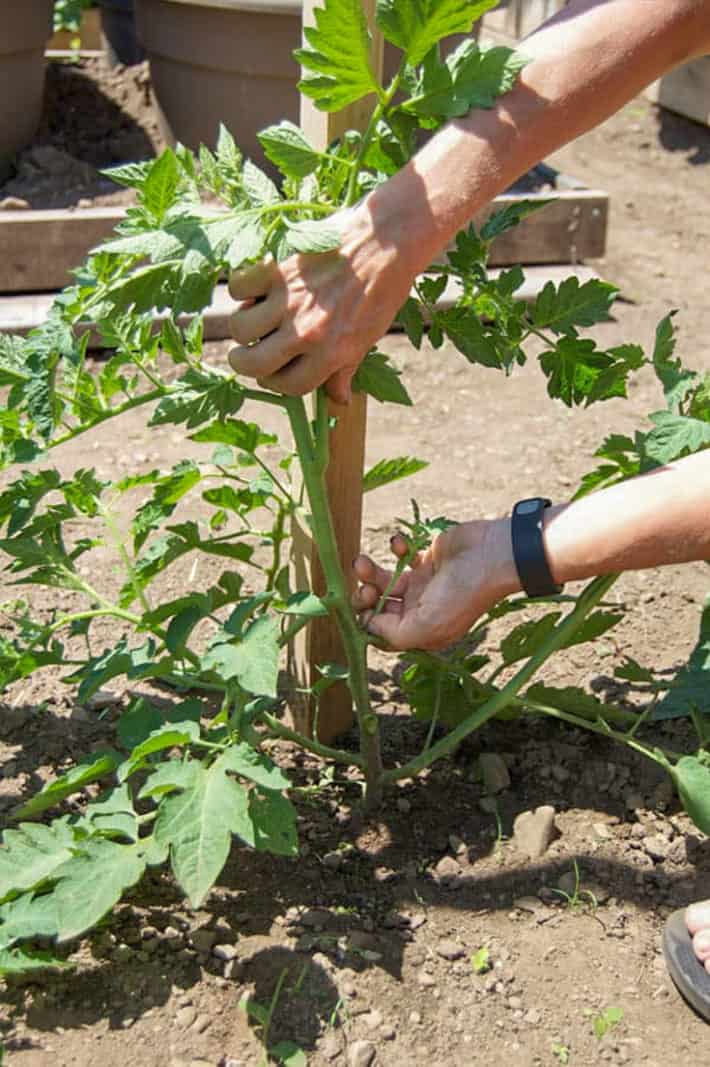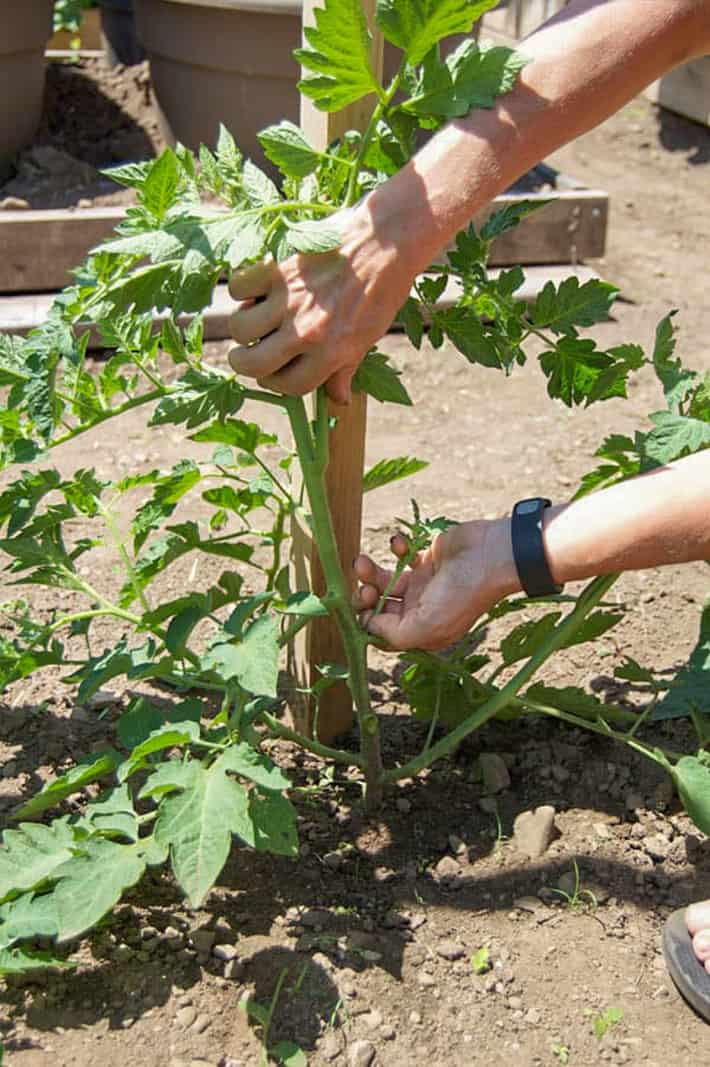 Removing a sucker. The shoot that grows between the main stem and leafy branch of tomatoes.
Twirl your plants around the string once your tomato is around 12" high and is getting its first set of flowers.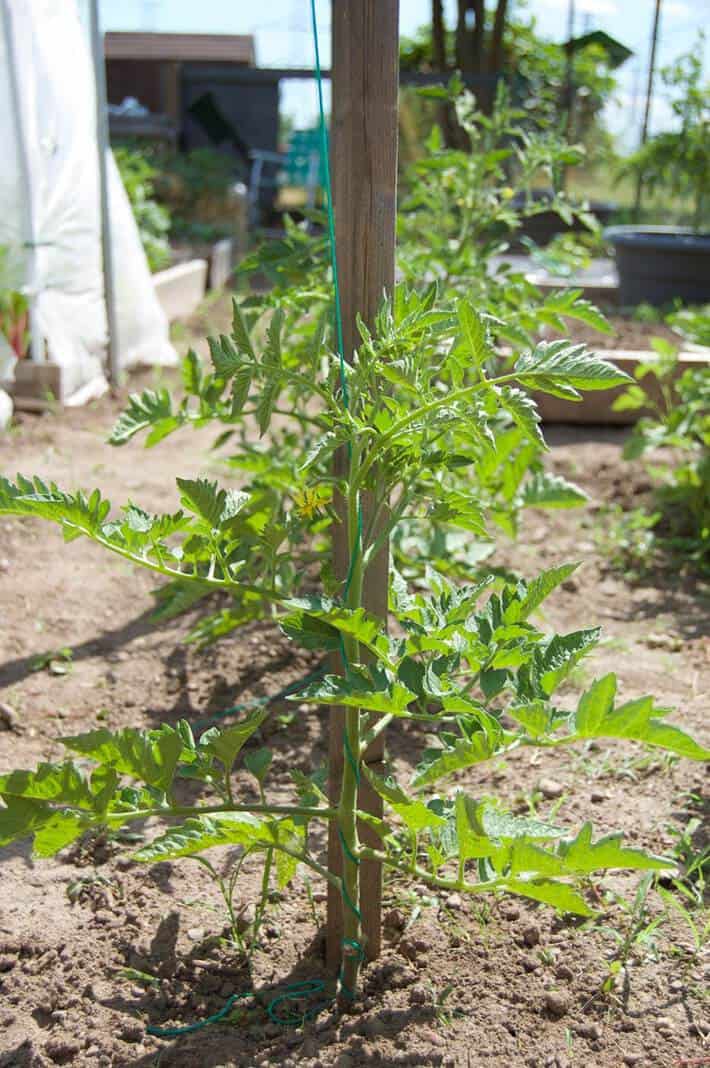 6. Continue to remove suckers and twirl once a week until the end of summer.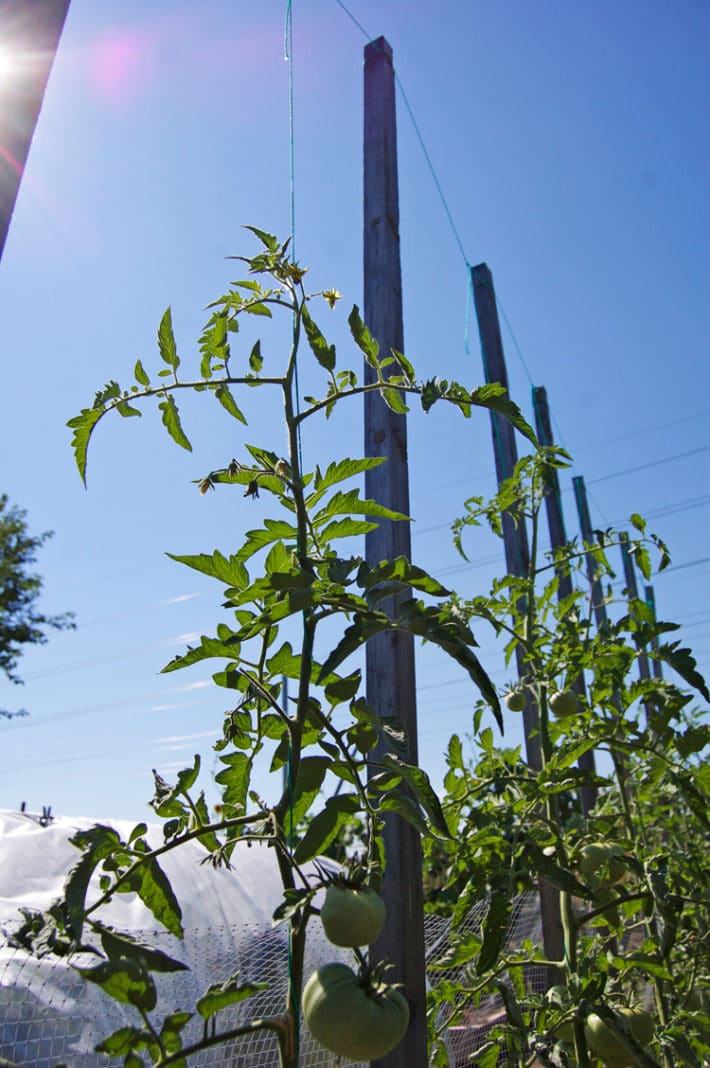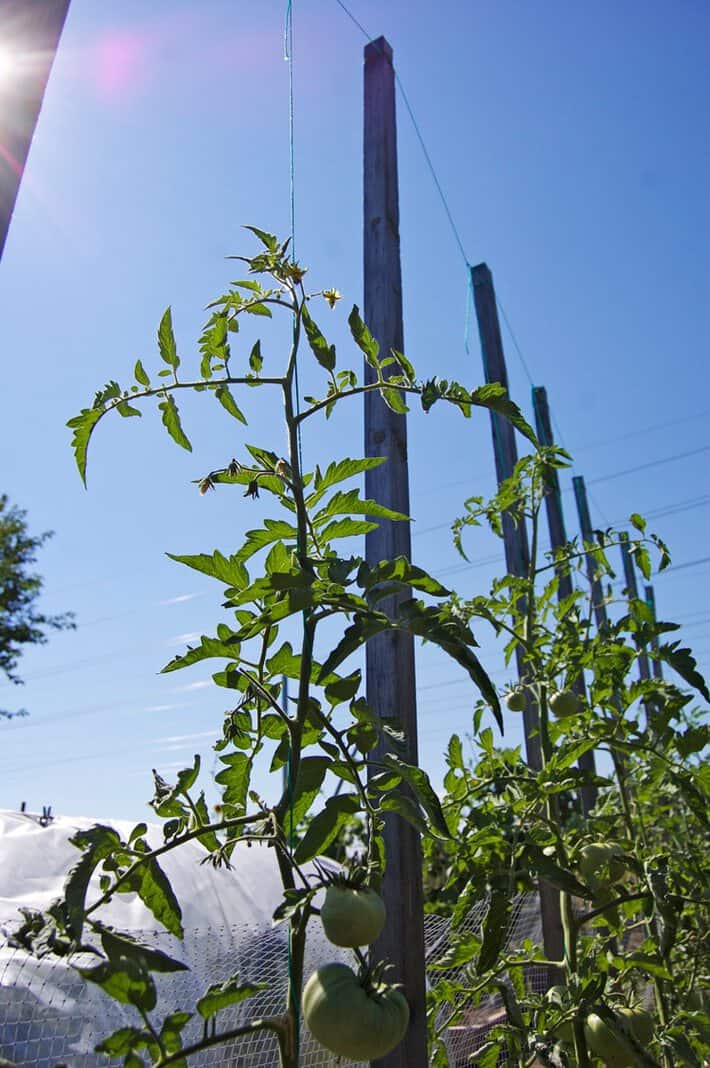 This shows the very first time I tried the method. I only had polyester string so that's what I used. It worked but disintegrated after only one season plus the thin string cut into the tomato stems. This can cause wounds for disease to enter.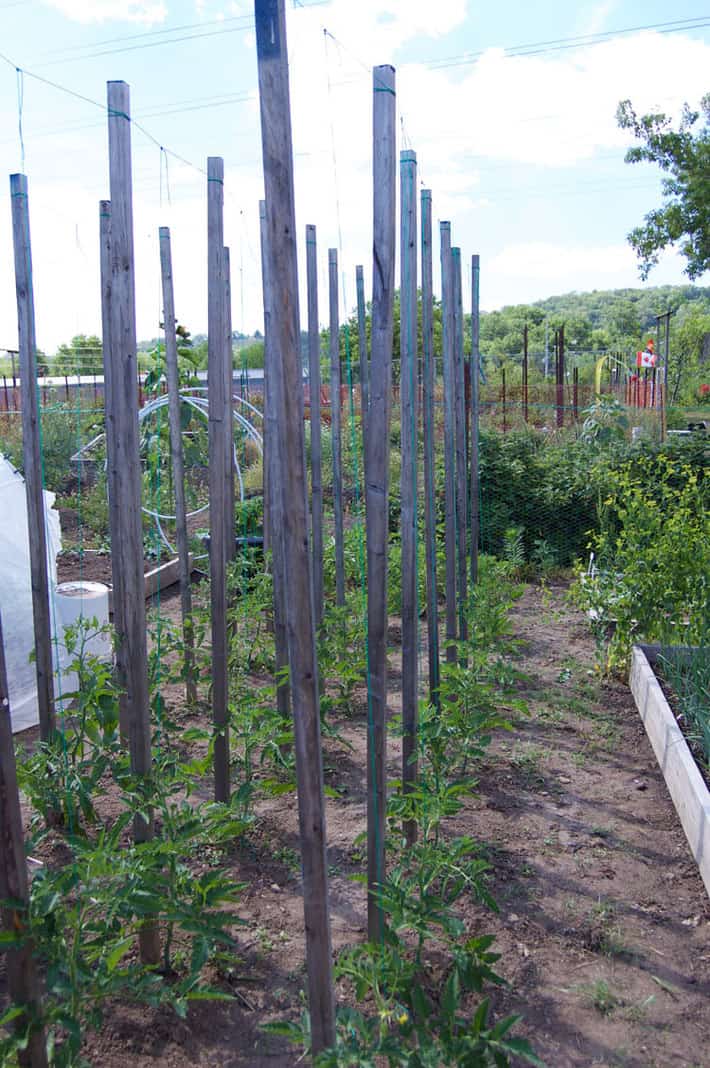 The first year I tried this method, I worked with what I had, which was stakes that were already planted in the ground every 18". I just ran a string across the top of them all and hung my string down from that.
Pruning
For a string trellis to be effective you have to keep your tomatoes to 1 or 2 leaders. This is known as the French Method.
A tomato grows with 1 stem - to begin with. Then as it grows the tomato will create other "leaders". Leaders are the suckers that grow between the main stem of the tomato and a leaf.

If the sucker/leader is allowed to grow it creates a whole new strong stem for the tomato.

String trained tomatoes can have 1 leader (the main stem) or 2 leaders (the main stem, plus letting 1 sucker grow into another leader).
To grow 2 leaders, allow the first sucker that develops on your tomato plant to grow. It will become another stem.

Each stem will need their

own string to climb up with a minimum of 12" between each string.



Using 2 leaders instead of one will produce more tomatoes but they'll be smaller.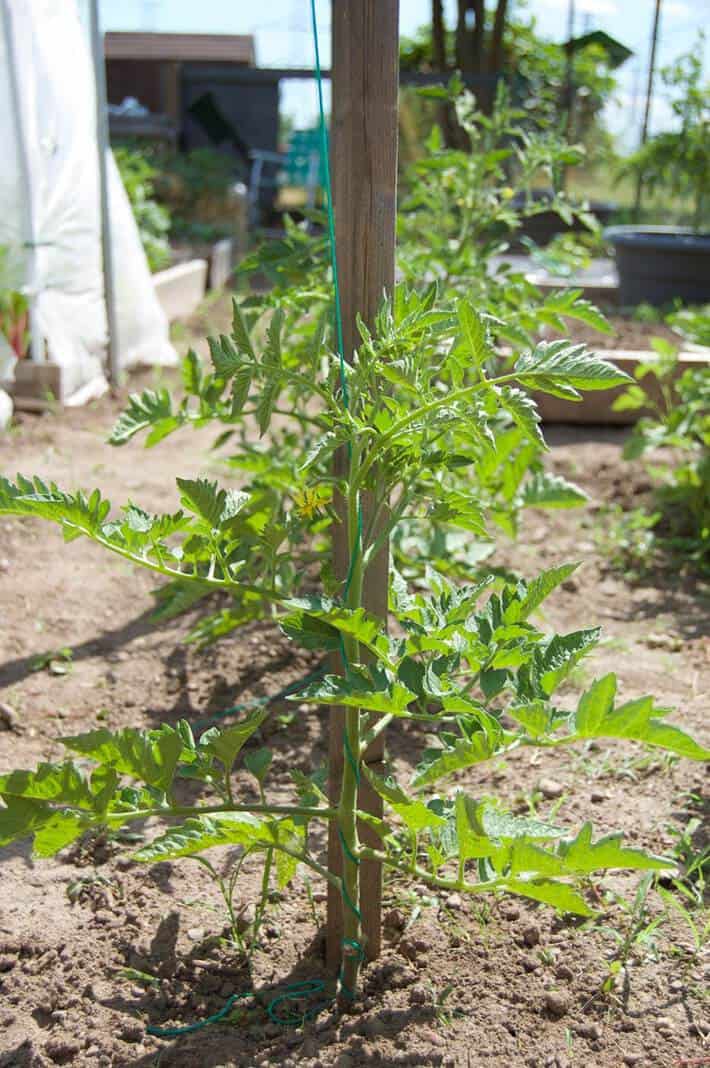 The French Pruning Method.
No suckers, no extra leaders. Only one stem with leaves coming off of it. (except now I see a sucker to the top right of the plant, lol) Oops.
Tomato varieties that work best
Heirloom tomatoes work best with string training because they get TALL. Those are the types of tomatoes you want to grow up a string.
Heirloom tomatoes are known as "indeterminate" which means their height is not predetermined. They will keep getting taller and taller until the end of the season when they die. Indeterminate tomatoes often get to be 10' high.
There are also some hybrid tomatoes that are indeterminate, but for the most part hybrid varieties are "determinate" - meaning their height is predetermined and they won't get any taller than their predetermined height - usually about 5'.
Why String Training is Better Than Staking or Caging.
Strings can be left up from season to season.
You can fit more tomato plants into a smaller space.
Plants can grow as high as 8' or more.
Keeping plants at one leader gives much better air circulation around the plants which helps keep them disease free.
String training can also be applied to growing beans or cucumbers
Wanna see how the string method worked with a single tomato plant flat against a fence? It would work flat against a house too. The string method on a single tomato plant makes it look similar to an apple espalier.
Do you have to use landscape staples?

Nope. Garden staples do work the best but you can also just pull the string tight to the ground and wind the tomato stem around it.
By the end of the summer you'll have straight, tall tomatoes which get a lot of air circulation and a lot of sun. They'll be bald at the bottom and producing healthy tomatoes at the top.
Hypothetically of course.
Because this is gardening and all hell could break loose at any moment. A wild band of twirling goats or screaming aphids could come barreling through your garden destroying everything in its wake.
You just don't know.
→Follow me on Instagram where I often make a fool of myself←