Growing your own vegetables is a wonderfully relaxing past time until it drives you to murder. Pests, predators, disease ... you want to kill them all. Try these disease resistant varieties to tip the scales in your favour.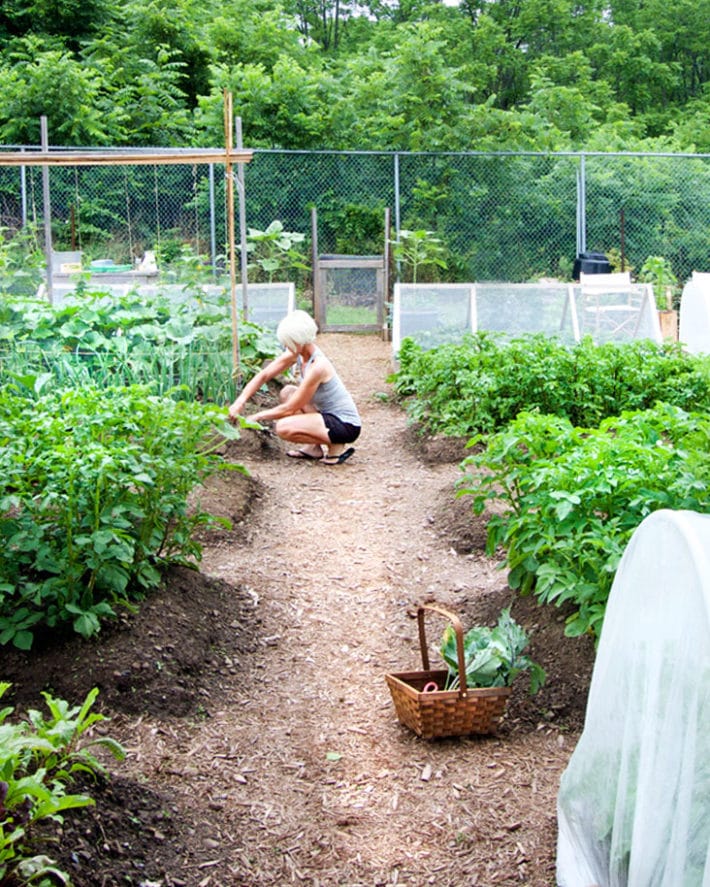 I've talked about how gardening is my therapy. How it makes me feel all calm and at peace with the cable company. There are two things that can indeed lessen the positive effects of gardening: bugs and blight.
Any disease actually, not just blight. One of the good things about gardening in a community garden, like I do, is the social aspect of it. You talk to people, you dig dirt together, learn things, and help each other out. It's like being at a commune where you get go home at night and use a real toilet.
Community gardening is a real mood booster. But community gardening is also a bug, blight and bitching booster.
If you want a crash course in everything that could possibly go wrong with every possible vegetable, rent a community plot in an established garden for a season. It's like starring in your grade 6 school play and then walking onto a Broadway stage. I've petitioned for several years asking to have a brass plaque be erected outside the gates of my community garden inscribed with the quote, "The community garden. If you can make it here you can make it anywhere. "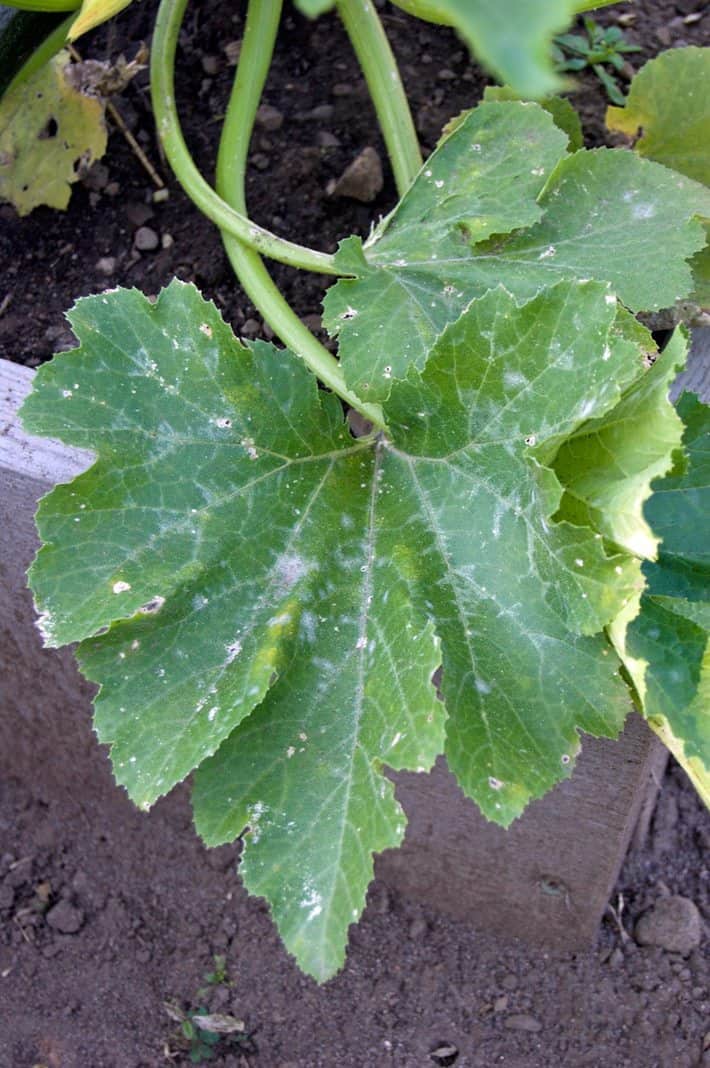 The dreaded powdery mildew.
This trouble with pests and disease is mainly a problem for people who are growing organically, which most of us are nowadays, on account of the fact that if we're going to slowly kill ourselves we'd rather do it by atrophy from binge watching all 7 seasons of Game of Thrones in one weekend.
It's amazing it took us so long to realize that spraying our food with actual poison, (complete with a skull and crossbones on the bottle) might be bad for us.
So what's a gardener to do? I've tried it all. Covering my crops with row cover, planting trap crops, kill crops, using sticky traps, naked voodoo dances, and still I'm battling diseases that most gardeners have only read about in research publications.
On this particular day I was cutting open the stem of a squash plant to find and pick out the squash vine borer that was eating my plant dead from the inside out.
---
Read my post on how to prevent and eliminate squash vine borers here!
---
This year I'm going to implement all of the above methods PLUS, I have what I think is a secret weapon; disease resistant varieties. Long gone are the days when I could plant a tomato based entirely on the fact that I liked it's colour and weird shape. Nope. I'm now going to be happy no matter the colour or shape, so long as it lives past August. Even a plain. red. tomato. Gasp.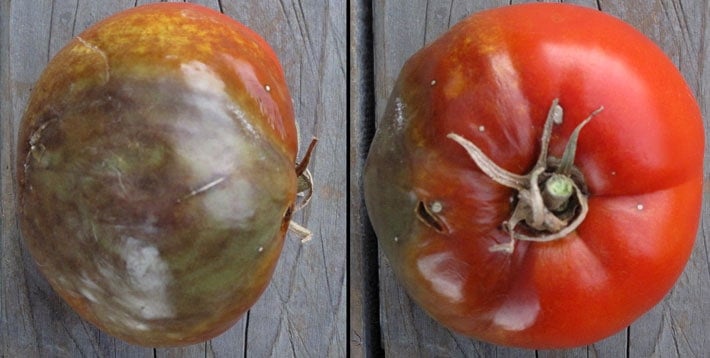 What does it mean if a plant is resistant to a disease? Resistant means the plant is inherently resistant at some level to a specific disease. It can mean it's relatively resistant or it's completely resistant. Either way it's *more* resistant to say ... blight ... than a regular tomato plant that doesn't have any resistance. Sometimes it's naturally resistant, like some heirloom varieties; sometimes it's bred into a hybrid plant by plant geneticists.
And just because a plant is resistant to one particular disease doesn't mean it's resistant to all the other diseases it might get.
In my neck of the community garden woods, there are 3 major diseases, which can completely obliterate crops.
Late blight (in tomatoes)
Powdery mildew (in zucchini)
Bacterial wilt (in cucumbers)
So this year when my seed catalogues arrived in the mail (delivered straight off the wings of singing angels) I sat down and scoured them for disease resistant varieties.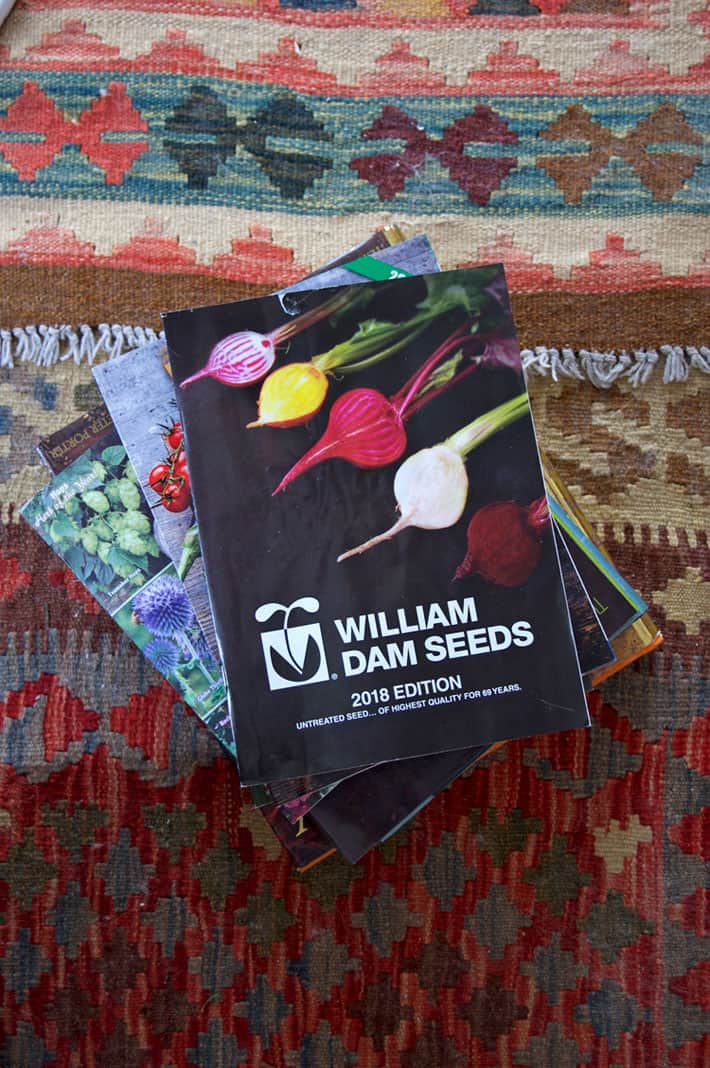 I get some kind of pest or disease on almost all of my vegetables so I focused this year on keeping my tomatoes, zucchini and cucumbers alive because the diseases they get kills them and does so quickly. After researching the catalogues, the Internet and polling gardening friends I came up with a list that I think should get any tomato, zucchini or cucumber grower through the season.
So if you too are affected by the dreaded late blight, powdery mildew or bacterial wilt (brought on by the cucumber beetle) then get ready to take notes.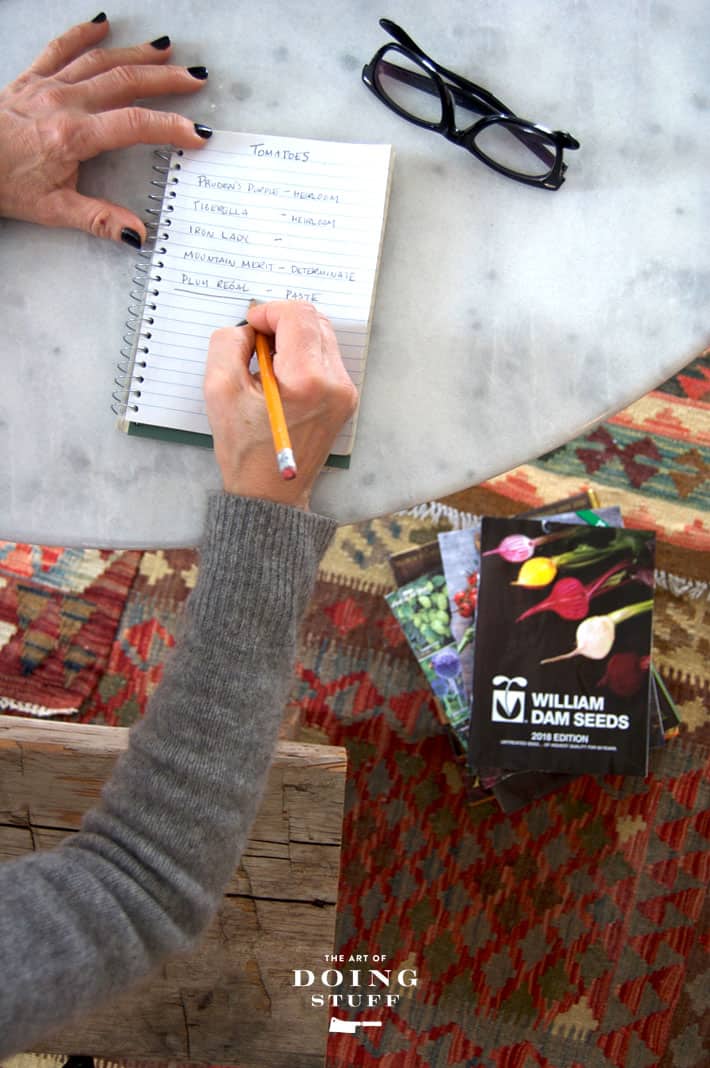 DISEASE RESISTANT VEGETABLES TO GROW.
DISEASE RESISTANT TOMATOES
Pruden's Purple – Heirloom variety tomato, resistant to late blight.
Tigerella – Heirloom variety tomato, resistant to late blight.
Iron Lady – F1 HYBRID tomato, resistant to early and late blight.
Mountain Merit – Determinate, resistant to late blight and various wilts.
Plum Regal – F1HYBRID tomato, resistant to late blight and various wilts.
ZUCCHINI
Dunja – F1 HYBRID, resistant to powdery mildew and cold weather
CUCUMBER
Regal – Pickling cucumber resistant to bacterial wilt and powdery mildew.
Marketmore – Slicing cucumber resistant to bacterial wilt and powdery mildew.
And now I sit, a cup of hot coffee in hand, staring out my window at the snow covered landscape, plotting my upcoming gardening season, vowing, that THIS will be the year it all goes as planned.
Just a heads up … it will not go as planned.