I bought myself an Aerogarden with the expectation of reviewing it and then dissing its pathetic, useless self right here on this very blog. Then it grew a tomato for me in 35 days. I changed plans.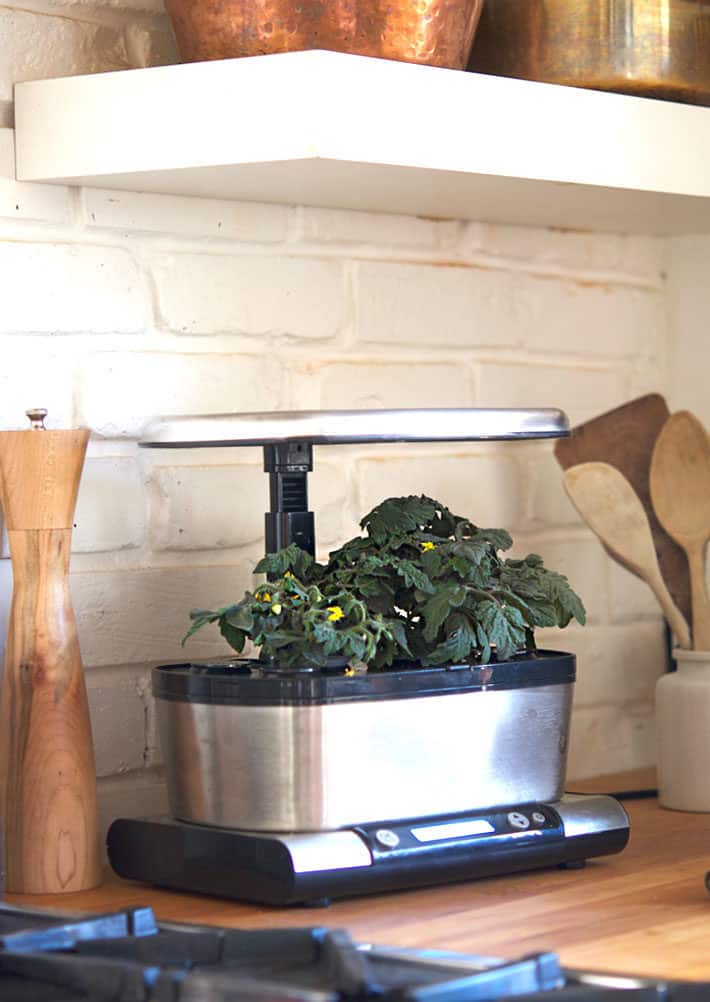 Sometimes when I'm feeling especially vile towards the advertising industry I buy a product to review knowing full well it's going to fail at whatever it says it's going to do. I know this, yet I buy it, try it, confirm it's crap and then tell all of you about how crap it is.
It makes me feel better.
I did it with these fake eyelashes for instance. I secretly hoped you really could clamp a wad of hair to your eyeballs with magnets and have it result in doe eyes. You can't. What you get is less Bambi, more Clockwork Orange.
This is the exact direction of HAH! YOU SUCK! I thought I was going to be going when I bought the Aerogarden. What is the Aerogarden?
An Aerogarden is a little countertop gadget that grows plants hydroponically (aeroponically according to some people.) With the actual Aerogarden you get funny little plastic tubes with a sponge in the centre that's embedded with seeds. It's a planting pod. This was NOT the kind of gardening I leaned towards. There was no dirt, no planting, no weeding, no bugs, no snakes - basically no fun at all.
It seemed a very clinical way to grow something.
Don't understand? Picture yourself living in a tent city on Mars. And you're a gardener. The Aerogarden is probably how you'd garden.
But here's the thing. It works. And if you're at a time of year or situation in life where you can't grow your own tomatoes outdoors (get rid of your tomato cages and use my string method for that by the way) then THIS is the solution.
The Aerogarden
I bought 3 of these Aerogardens. One for my sister (Fish Pedicure) for Christmas last year, one for my niece and one for me. I didn't set mine up until a little over a month ago because I'm not living on Mars and had enough vegetable gardening to be done in actual dirt.
The Aerogarden is easy enough to set up. You take it out of the box, rip the plastic off, and set the water holding thingee into place.
Then you fill the water holding thingee with water and add some Miracle Grow (which comes with the Aerogarden).
Once you've done that, plug it in and just drop your pods into it. For my trial run I thought I'd grow the most difficult thing - tomatoes. That would be the most fun because it would result in the biggest failure which would result in the funniest post.
Aerogarden pod.
Except it didn't fail. Curses.
The Aerogarden comes in a few different sizes, I got the one with 6 planting holes, but when you're planting something big like tomatoes (they're cherry tomatoes by the way) it's recommended you only plant two plants to give them space to grow. Then you cover up the other planting holes with little plastic discs to prevent the water in the reservoir from evaporating.
HOW IT WORKS
The Aeorgarden is digital and tells you when to do everything. The digital display tells you when you need to add water and when to add nutrients etc.
The plants grow hydroponically so they need some form of nutrients. That's where the Miracle Grow comes in. 2 small capfuls every 14 days for this machine and these tomatoes. But you don't need to remember that because the Aerogarden will tell you when to add the fertilizer.
The pods aren't just sitting in water, there's a pump inside that pumps water right through the sponge every so often, making sure that the roots stay wet from tip to tail at all times. This is the "aeroponic" part.
The machine has 3 colours of grow lights that give a broad spectrum and the lights can easily be raised up as the plant grows taller.
You can buy any seed pods you like for a continuous harvest of herbs or lettuces BUT the seed pods are stupidly expensive, so I of course am going to figure out how to make my own seed pods. I expect it just involves a type of sponge and some seeds.
THE COMPARISON
Because I really wanted to show how awful this thing was I also planted a couple of the seedlings in a regular pot with soil so I could compare my regular indoor growing method with the Aerogarden.
I just pulled a couple of seedlings out of the Aerogarden pod when they sprouted and replanted them in a pot. (Each Aerogarden pod has several seeds in it so you can weed out the weaker ones)
Within 2 weeks or so the Aerogarden plant was twice as big as the one in the pot that I watered regularly, set under my grow lights and planted in my special chicken crap compost.
The stem on the Aerogarden tomato was like a log.
After just a few weeks it had grown such long luscious roots I considered clamping them to my eyes with magnets.
Once the tomato plant gets to this size with 5 true leaves, you pinch off the top to keep the plant nice and compact.
At this point in the experiment I was full-on bewildered. I couldn't believe this thing looked like it might actually work. But I didn't want to get too excited because I mean, anyone can grow a tomato plant indoors. It's whether or not it would gro....
ACK! By the next time I looked at it, the thing had flowers on it and was well on its way to tomatoes.
Day 35 after planting.
For some reason the plant on the left is half the size of the plant on the right. It's a mystery.
Both have flowers, but the smaller plant on the left has more.
It also has tomatoes.
35 DAYS AFTER PLANTING IT, THIS THING HAS TOMATOES GROWING ON IT!
Granted, they're not huge, they're not even close to ripe but the hard part is over. It did it. Not only did this Aerogarden exceed every single expectation I had of it, it did so well I'm a tiny bit frightened of it.
---
Aerogarden Quick Guide
Remove Aerogarden from box and remove the plastic protective film.
Plug the water reservoir into the stand.
Fill the reservoir with water and add the recommended amount of fertilizer.
Insert the seed pods.
Follow the instructions on the menu for setting the clock and the length of time the lights are to be kept on depending on what you're growing.
Sit back and relax while you grow food.


---
At this rate I'll have ripe homegrown cherry tomatoes in a few weeks. And nope this isn't a sponsored post.
This is the model I bought last year. They have newer models now for the same price.
If you're still at a loss as to what to get someone for Christmas and you want something in the $100 range BUY THEM THIS. They also sell a kids version that's about half the price.
Do not buy them magnetic eyelashes.
→Follow me on Instagram where I often make a fool of myself←