Remember when I completely snapped one day, then sold everything I owned and painted my whole house white? Well, I snapped again. In the opposite direction.
I already stated this in the title of this post, but it bears repeating.
HEY! Minimalism! I'm SICK of you! Take your big, airy, ball of nothingness and suck it!
Now, I know the whole reason I redid my house was because I was getting so sick of all the "stuff" everywhere. But ... now I miss my stuff. The truth is I need something in between minimalism and utter chaos to feel comfortable. I can appreciate the beauty of a perfectly clean slate. A room so void of accessories that you truly appreciate the single big vase on the floor. Mostly because it's the only thing in the room other than the couch, a table and a lamp.
I've always been drawn to rooms that look as though they've been lived in forever. And most appealing, is a room that looks as though it's been lived in forever by a Count with lots of old money, books, artwork and do-dads. And an Irish Wolfhound.
My favourite coffee tables are always the ones that are so covered in stuff you can barely fit a coffee cup on them. Books and board games and magazines and plants. I love a room to feel as though it's for living in, not just presenting to the world.
It was while skimming through some rooms decorated by Vicente Wolf that I snapped. Vicente likes stuff too. And he kind of looks like a Count, so that's an added bonus. So, fully snapped, me and my twitching eye started to re-do the top of my dining room table.
In the past, my dining room table has looked like this.
And this ...

And this ...
And even this ...

Looking at Vicente Wolf's pictures I realized, I can have a whole bunch of junk on my table if I want. And I want. So taking inspiration from him ... I did this. Now be forewarned. This is not for the faint of heart, and not for everyone. And I'm sure most official Interior Designers and decorators will look at this and gasp. Things aren't at varying heights, and it looks a bit off ... but I like it. Besides ... it's a work in progress. I'm sure I'll fiddle with it , adding and taking away different things. But whatever I do ... it's going to stay un-minimalistic. And it's going to stay that way for exactly until I get sick of it.
Yup. That's a whole lotta stuff.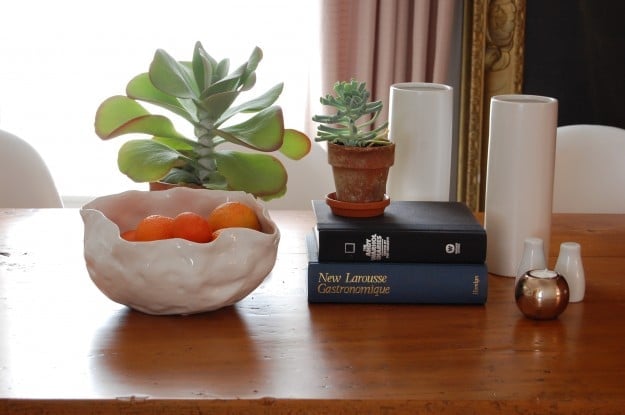 Now to do something like this on your dining room table what you put on it should make a little bit of sense.
For instance, I have plants ... it makes sense to have those on a table.
I also have books ... including one of my favourite cook books.
Some food makes perfect sense ... in the form of a bowl of oranges.
A candle in a candleholder with a bit of shine or sparkle to it. Plus salt and pepper shakers. Which of course, makes perfect sense for a dining room table.
And finally a couple of vases just in case I ever get any flowers. There's nothing wrong with having empty vases on a table by the way.
Don't let anyone tell your differently.
I'm sure I'll continue to tweak my dining room table. Maybe stick some silver candlesticks on it, or a silver jug.
Who knows what I'll do! I'll have to restrain myself a little bit, but in this case more really is more.
Take THAT minimalism.
When I snap, I snap good. A complete and utter snap show. I'm sure if you give me another month or two I'll snap back. But for now, I'd like to say once more, HEY! Minimalism! I'm sick of you. Really, I am. For now.