As you know, I was once married to a stuffed animal. No wait. Wrong story.
As you know, I'm growing my own vegetables from seed this year. I ordered a bunch from Cubits and Twig & Tree and hoped for the best about a month and a half ago.
Right about Easter as a matter of fact, I got out all of my soil, pots, and seeds, threw the grow lights on and got to work.  I planted heirloom tomatoes, basil, Amish Cockscomb and a few other things including sweet potatoes.
So far so good as they say.
In less than 2 months I am now preparing my plants for their big move from a cramped condo with artificial lighting to their spacious new home with lots of natural sunlight and a really great landlord, I might add.
It's now time to harden off.   Hardening off is getting your plants acclimatized to their new environment.  You can't just take a plant you grew indoors and throw it outside and wish it well.  It will up and die on you immediately.  And then it might punch you in the nose.
For your plants to grow up into healthy happy, vegetable producing adults, you need to harden them off.  I keep saying harden.  Heh.
Basically all you have to do is take your plants outside for a few hours, increasing their time spent outside by a few hours, every day for around a week.
Everyone does it a bit differently, but this is a hardening off schedule you can use because you don't have any other friends to help you with hardening. Off.
Day 1 - Set plants outside in the shade, protected from wind and direct sunlight for 3 hours.  Bring  inside.
Day 2 - Do the same for 6 hours.  Bring inside.
Day 3 - Do the same for 9 hours.  Bring inside.
Day 4 - Set the plants where they get a little less shelter for the day.  A tiny bit of breeze and sun can hit them now.  Not for HOURS and HOURS.   1-2 hours in a partly sheltered area.  Bring inside.
Day 5 - Same as Day 4, but allow 1-2 hours of direct sunlight.  Bring inside.
Day 6 - Allow the plants a bit more sun than they had the day before.  (allow them to stay outside all night for the first time unless it's unusually cold.
Day 7 - Set the plants out so they're in the sun most of the day and leave them outside at night again.
Day 8 - Plant your plants outside.  (do NOT plant outside if frost is still a possibility)
A tip for keeping your tomatoes frost free courtesy of the Good Dr. Richardson, is to do as the Mennonites do.  Plant your tomatoes really deep and if frost is expected just put a plastic bucket over each of them for the night.  Those Mennonites.
You can extend your hardening off to 14 days as well to be extra safe and sure.
This is especially important for things that aren't in love with the cold.  Like tomatoes.  I grew a few varieties this year. And many of them.  Too many.  Wayyyy too many.  I will be giving away a LOT of tomato plants once they're hardened off.  One goes to the Good Doctor for his excellent Mennonite bucket tip.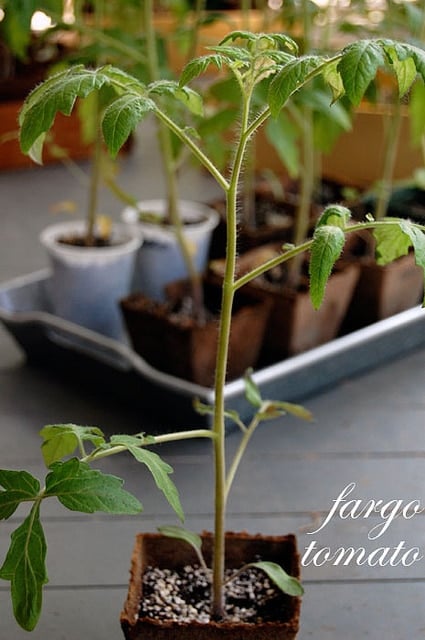 I'm also growing one flower.  Cockscomb (Celosia).  This Amish cockscomb is also a heritage seed which I bought from Linda at Twig & Tree.  Which, for some reason, whenever I type it out, I type Twit & Tree.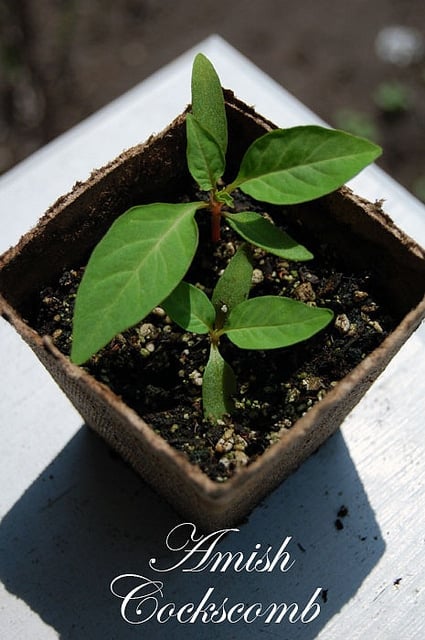 Once it blooms, Cockscomb looks like this.  I figured, if I was going to grow one flower, given my newfound hobby of hen farming ... Cockscomb was the way to go.
 photo via Twig & Tree (where I ordered this seed from)
Also grown from seed, Acorn Squash.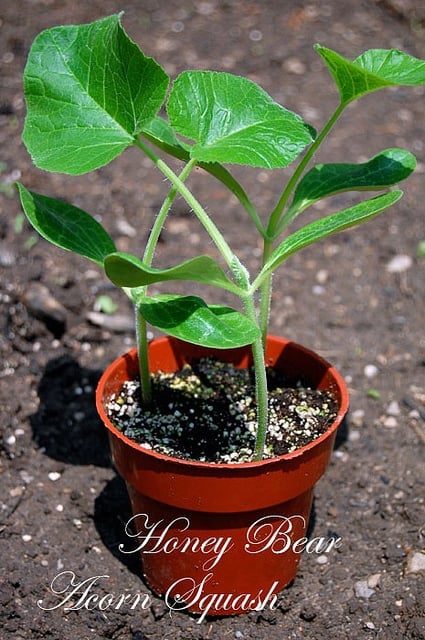 Several Basil plants which I've already pinched back to promote bushy growth.
And then there's the
Great Sweet Potato Slip
experiment.    Around the same time I started my tomatoes I started sweet potato slips.  I experimented with about 6 sweet potatoes all bought at different places at different times.
3 of them look like this.  Nothing.   Not a root, not a sprout, nada, nothing.  Zip.
One sweet potato is barely trying to sprout.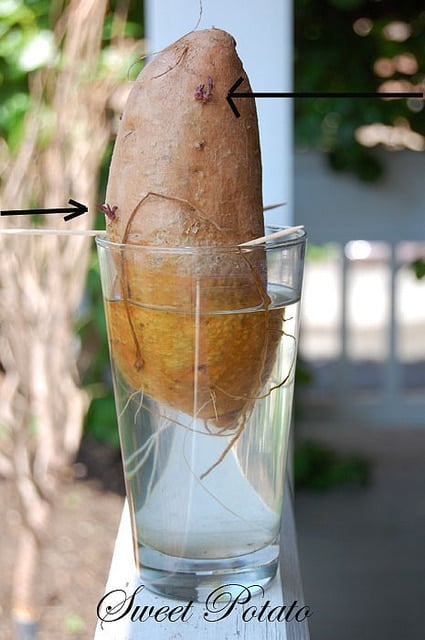 The much heralded "Organic" sweet potato isn't doing much better.  So much for that theory.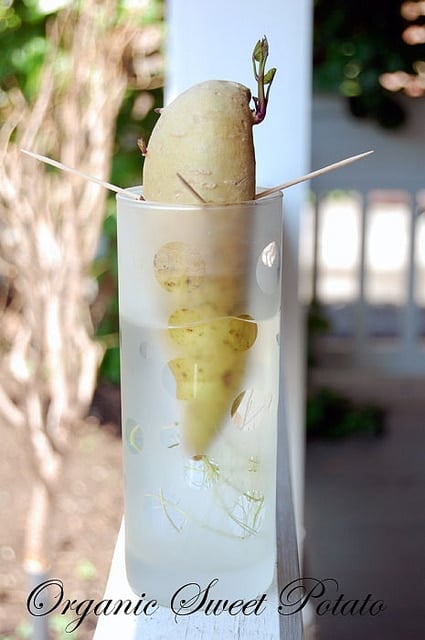 Finally, there's this great big mother of a sweet potato.  It's got sprouts coming out in all directions and they're just starting to grow really quickly.
These will be the slips I plant, plus the white organic sweet potato if it ever amounts to anything because it's a different variety.  I'm not sure what this big one is, but my best guess would be Beauregard.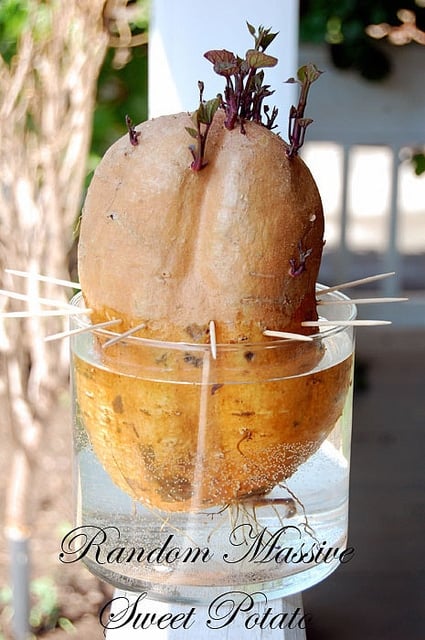 And finally ... a look at what is probably the most impressive thing from my garden yet.
Asparagus.  Which I was assured wouldn't be ready for cutting for at least another year or two.
Tada!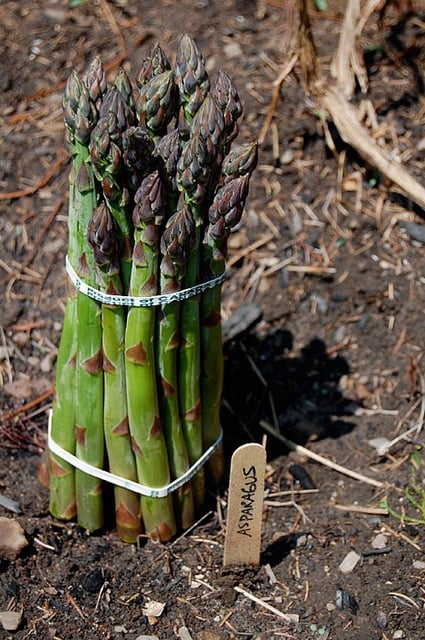 Ahem.  Cough, cough.
→Follow me on Instagram where I often make a fool of myself←