Before you go any further you need to know I had every intention of making this the most entertaining post in the history of my blog.
Then I got sleepy. And now I'd like to have a nap. So instead, this is going to be the least wordy post in the history of my blog.
This is more of one of those informative type posts anyway so you should be fine with the lack of all redeeming value, other than the information.
If you'd like to be entertained today, might I suggest throwing rubber snakes at your neighbours.
Onto the information!
If you're on the hunt for a large, good quality Lazy Susan you're out of luck. There are no Susans, lazy or otherwise to be found anywhere. Stores like Lowes and Home Depot carry the HUGE stacking Lazy Susans that go in base cabinets, but no one carries a regular Lazy Susan. There are a few tiny plastic models around that you might use in your refrigerator but nothing for big cabinets.
I told you a couple of weeks ago that I'd show you how to make your own custom sized Lazy Susans and even though I am a notorious liar, this wasn't one of my lies.
The best part is it's incredibly easy to do and very, VERY affordable.
The larger Lazy Susan mechanisms (bearings) are round, and more expensive ($9) than the smaller, square ones ($4). You can get away with the smaller, square mechanism for pretty much as big a Lazy Susan as you'll ever need. The larger one however will make your Lazy Susan more stable if you choose NOT to screw it to your surface. On other words to your countertop, tabletop or cabinet shelf.
Basically what you're going to do is measure your cupboard to see how big a Lazy Susan you can fit into it, cut that sized circle out of a piece of MDF, prime it, paint it and attack the Lazy Susan bearing onto the bottom. Easy, right?
Here it is in pictures …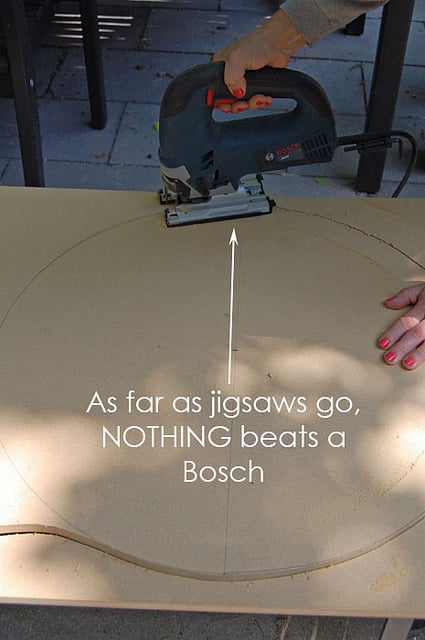 I'm not kidding about the Bosch Jigsaw. They make the best jigsaws around and if you're looking to buy one, spend the extra money and get a Bosch.



In case the pictures were a bit confusing (and it is confusing until you make your first one) let me know and I'll explain whatever you need to be cleared up.
The point of the big screw hole (the access hole) is so once your Lazy Susan is in place on the shelf, you have a little hole to fit your screwdriver through so you can screw your Lazy Susan mechanism to the base of your shelf. It seems confusing and weird but once you do it yourself with the help of these instructions you'll see that it all makes sense.
I took these pictures outside on my patio table because the lighting was better and there was more room. I was pretending to screw the Lazy Susan to my patio table, but in fact you wouldn't be doing that, unless you wanted a Lazy Susan in the middle of your patio table. (but don't do it with MDF … MDF will NOT do well outside). You would be screwing the Lazy Susan onto the shelf in your cupboard.
The round Lazy Susan mechanism gets attach in a similar way, but not exactly the same.

And that's all there is to it. I made 7 of these for my kitchen. The cost of each will be slightly less than $8 for you if you make smaller Lazy Susans.
Now speaking of lazy, it's time for that nap.
[shareaholic app="share_buttons" id="5342563″]