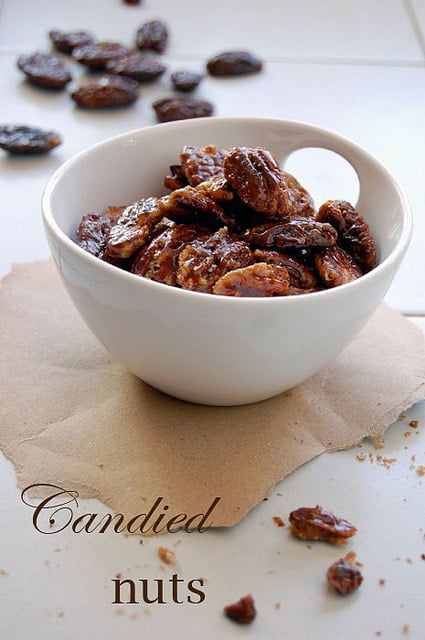 Last week I gave you a recipe for the salad that could land me in culinary jail. It included sugared/spiced pecans. A few of you out there asked for the recipe for these smashing little nuts. Since I am both a proponent of and a bit of an expert in smashing nuts I am proud to share my technique.
Although I have to say if you want hot nuts, it's probably easier to just pay for them. Bulk Barn carries them oddly enough.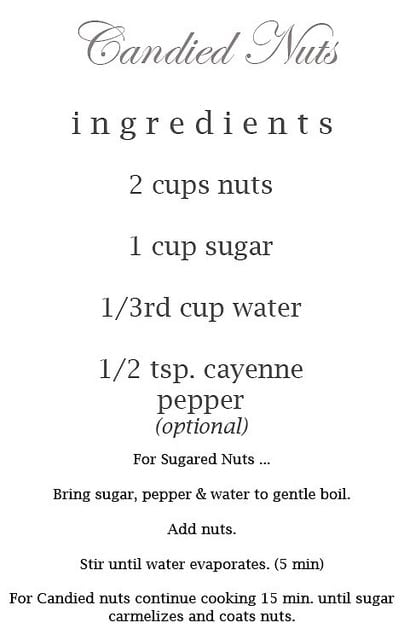 This recipe can be halved or quartered or whatever you want.
Grab your nuts.  And your sugar and water.
Go overboard with the nuts.  This recipe makes plenty of syrup for a heaping 2 cup pile of nuts.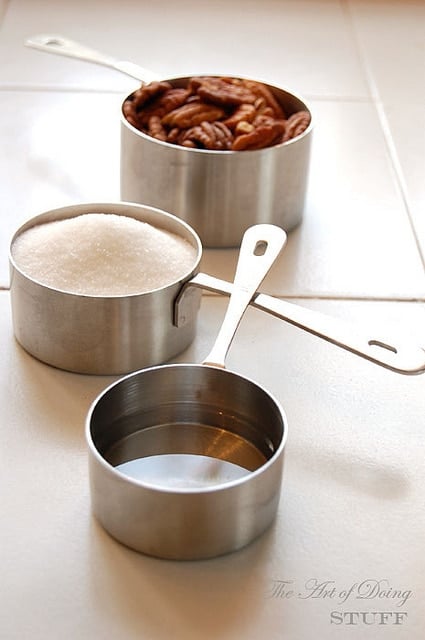 If you want a spicy nut, also grab your cayenne pepper.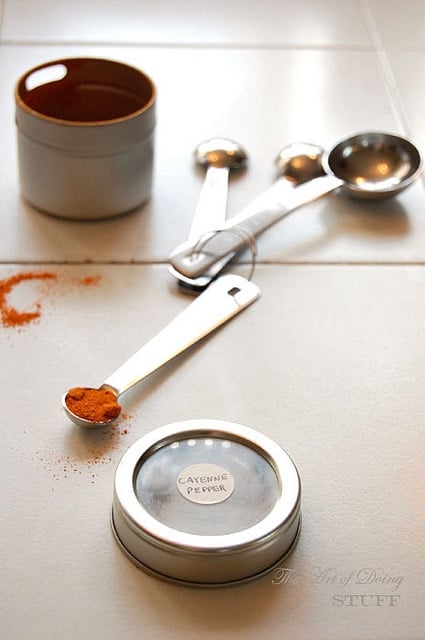 Pour the sugar (mixed with the pepper) and water into a pan.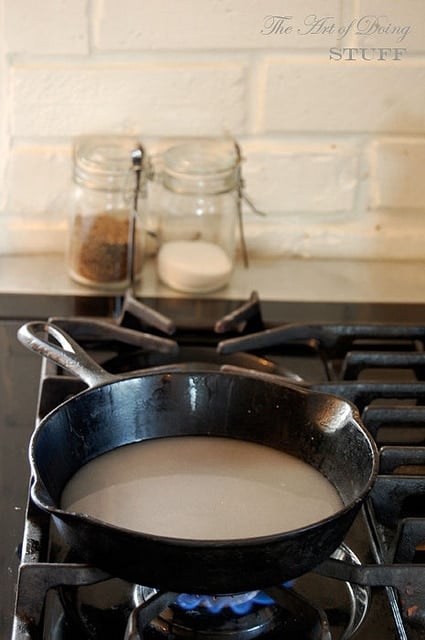 When the mixture starts to boil, add your nuts.
Did you notice I  keep saying  nuts?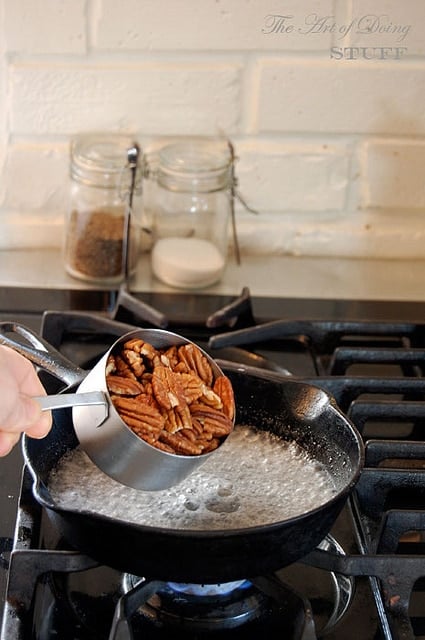 Stir the mixture on medium/low constantly for about 5 minutes.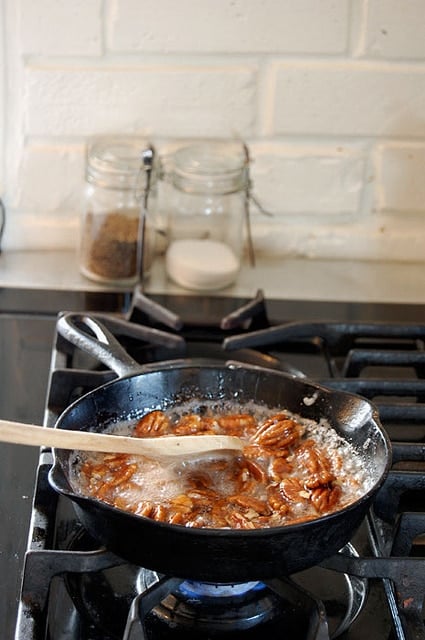 Eventually all the water will magically evaporate and you'll be left with the sugar which is now sticking to the nuts.
You can end it all here and be happy with "Sugared Nuts".  They're really good.
Or ....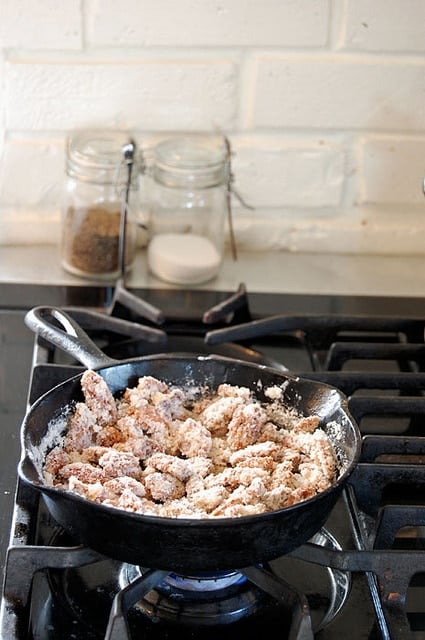 You can do the bravest thing ever done by any individual in the history of the world.
You can caramelize the sugar and make candied nuts.
Just continue cooking and constantly stirring the nuts on a slightly lower temperature.  The second you see any smoke, pull the nuts off the heat and stir, stir, stir your little heart out.  Set back on the heat.  Repeat this until the sugar caramelizes and coats the nuts.  This will take around 15 minutes.
*special note:  If you're using the cayenne pepper be careful not to inhale the smoke.  It'll burn.  I know.  I did it several times.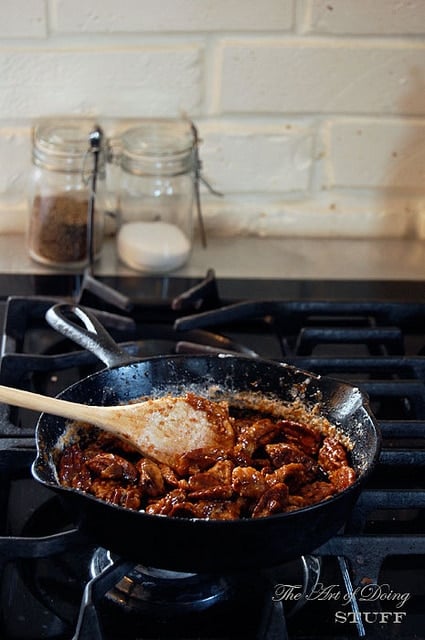 For the candied (caramelized) nuts you'll need to spread them out on a baking sheet so they're not touching.  Otherwise they'll all clump together into an alarming, enormous, single candied nut.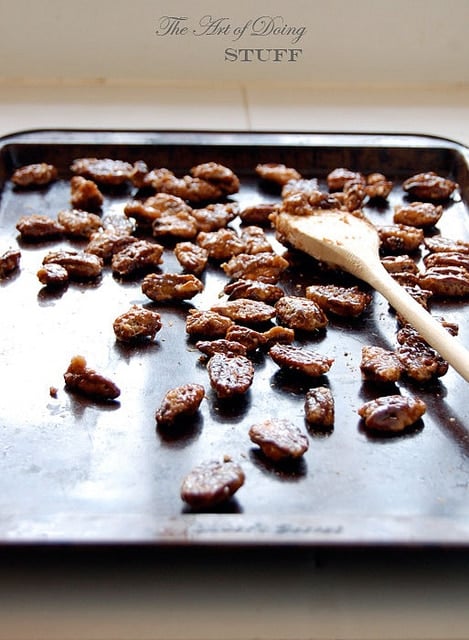 Like I said earlier, unless there's some sort of special occasion where you need thickly coated, candied nuts, I'd really just go buy them at the grocery store.  It's difficult to not burn them once you get to the caramelizing stage  (although it's entirely possible) and the coating when you make them at home is inevitably thicker than the store bought ones.  If you like a thick skin on your nuts, the homemade ones are the way to go.
Nuts, nuts,  nuts.