If you liked building sand castles as a kid you're going to LOVE making soil blocks. It's basically the same thing without the threat of having all your work being taken out by a wave or overly waxed beach bully.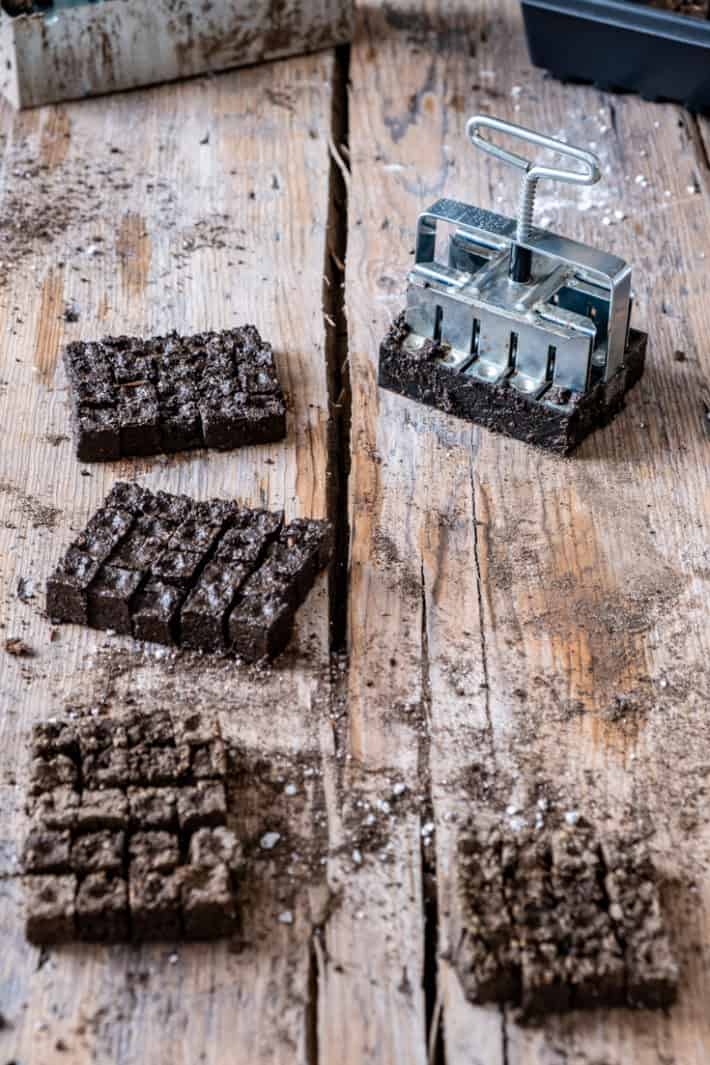 I've been making googly eyes at soil block makers for a few years but have always been too cheap and skeptical to buy them. That was until I decided to clean out my basement and discovered enough plastic pots to build a sand castle replica of Manhattan. To scale.
Therefore, this spring I justified the purchase of the block makers by rationalizing anything that could get rid of those pot pyramids was worth it.
And so far so good. At this point I have limited experience with them but I've started seeds in them they've already outperformed plastic cells and pots.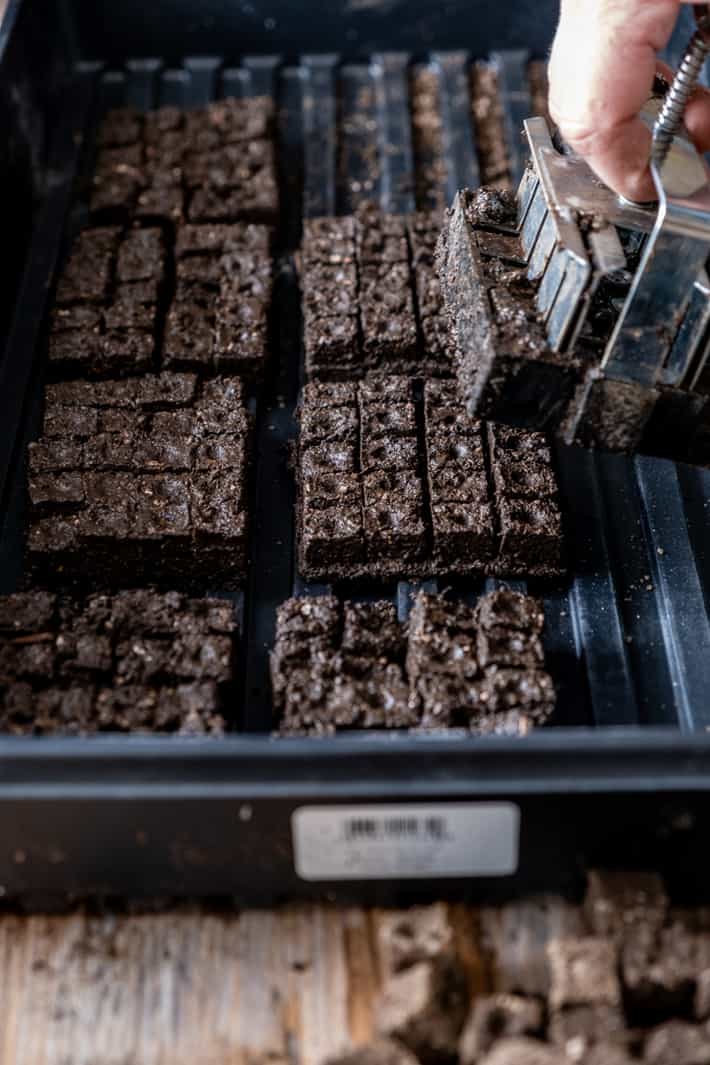 Here's why:
Storing soil block makers from year to year take up less space than storing plastic pots
Soil blocks eliminate the need to WASH and disinfect plastic pots because - well, because you don't have them.
The germination rate seems improved.
You can fit more seedlings on a tray using soil blocks as opposed to pots.
Transplanting from a small soil block to a larger one is a BREEZE and doesn't disturb the roots at all.
There are other supposed advantages to using soil blocks, but I haven't got that far along in my experiment to confirm them. Things like the fact that soil blocks are supposed to allow plants to "air prune" their roots as they grow out of the blocks which creates a more robust root system.
I feel like that's probably not going to be the case, but soil blocks WILL stop plants from becoming root bound because there's no plastic interrupting their growth making them twirl around and around looking for somewhere to grow.
SO HOW DO THESE MAGICAL LITTLE SOIL BLOCKERS WORK?
By smashing them into very wet soil and them pushing them out. I can't imagine you need more information than that.
Oh. You do? Alright then.
The soil blocks come in different sizes. Tiny for planting seeds, bigger for growing on seedlings and a BIG 4" soil blocker for making blocks for large plants.
How to Use a Soil Block Maker
What You Need: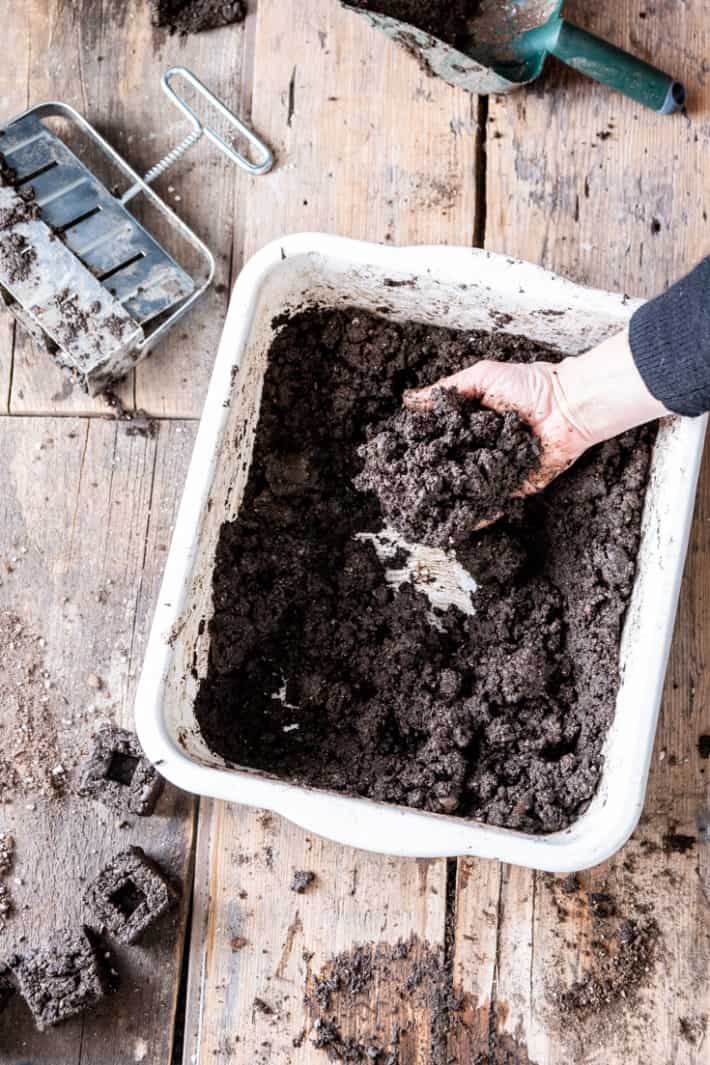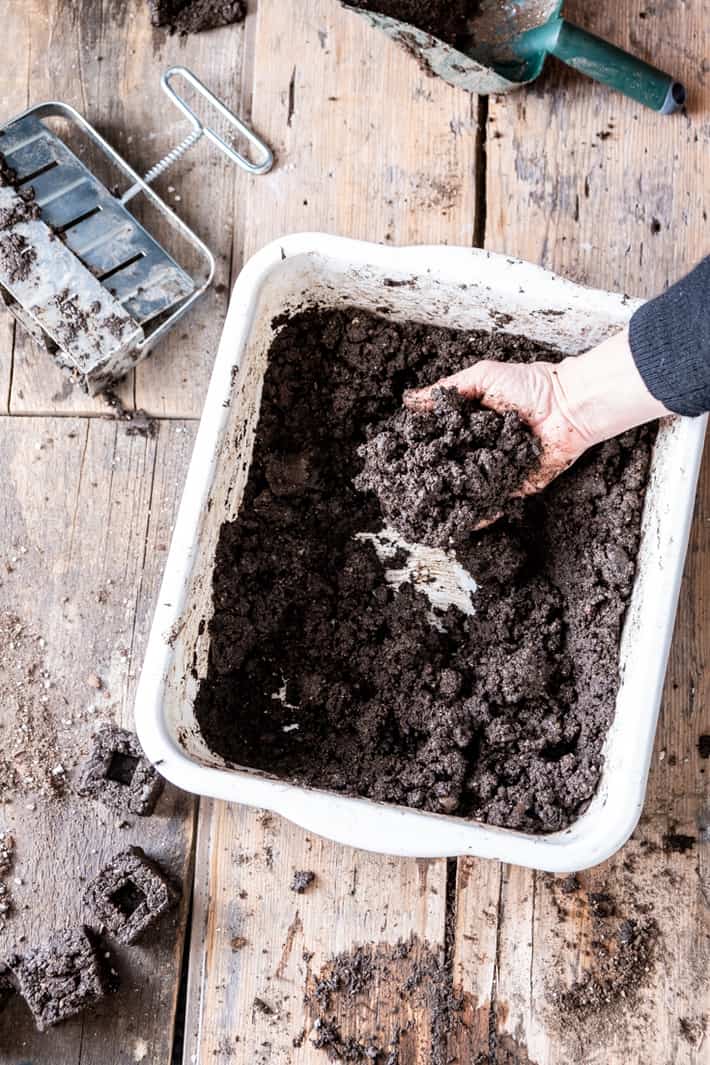 Dump some of your soil blocking dirt into a tub with a flat bottom. Water your soil until it's really wet. Like brownie mixture. Then let it sit for a few hours to absorb.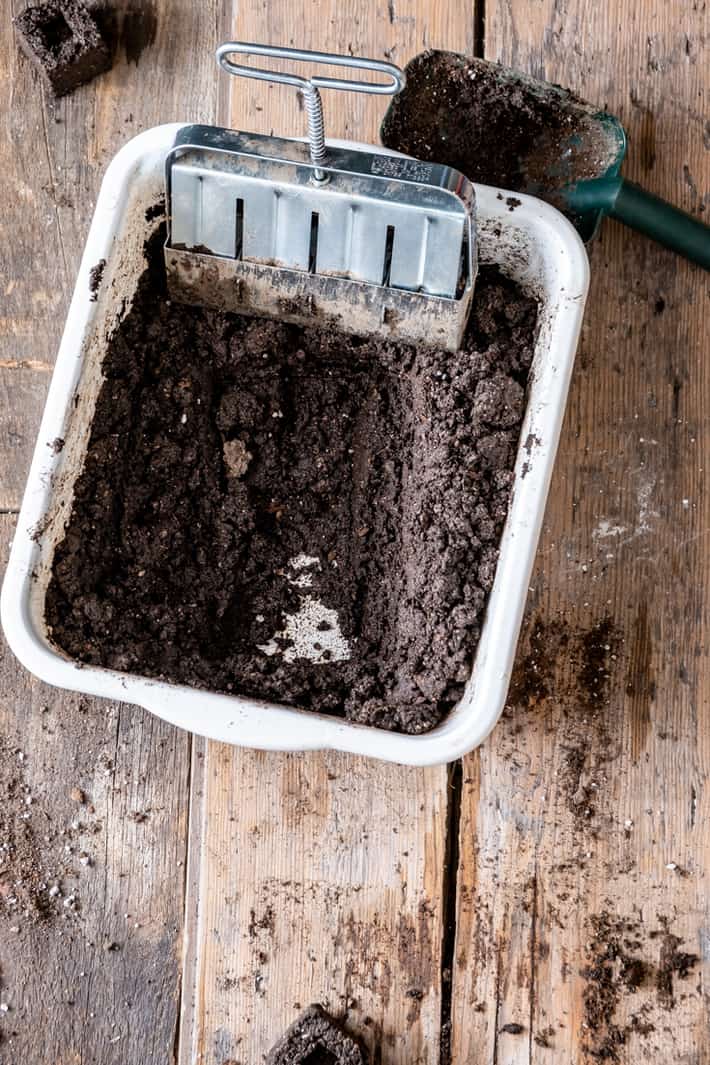 Pile your soil so it's around 1.5x the depth of the soil blocks you're making.
Push the block maker into the soil, packing it down hard so the blocks fill up completely with soil. You might have to twist it or wiggle it to lift it up off the bottom of the tub (it can suction onto the bottom a bit.)
Check to make sure each of the blocks is filled up then knock off any excess dirt so the blocks are flat and even on the bottom.
Push the block maker down onto a flat surface and press the handle down until a bit of water oozes out of the bottom of the block maker. This means you've compressed the soil enough and the blocks should hold their shape.
Once you get that bit of water coming out you can release the soil blocker and lift it up. You might need to jiggle it or help the blocks out. Rinsing the block maker after every use helps with that but ... I mean who is seriously going to rinse it out after every use?
That's IT. You made soil blocks.
The smaller of the block makers (above) which is for sowing seeds makes 20 blocks at a time and has a little indent on the top where you drop your seed. Push the seed down with the end of a pencil to make sure the seed has good contact with the soil.
There's NO need to cover the seed unless the packet specifies that the seed needs to germinate in darkness.
Soil blocks are always watered from underneath. To make sure each block gets the right amount of water leave a pathway between all of your blocks for water to flow. You let the blocks soak in the water until they're saturated and then just tip your tray to dump out the excess water. For small blocks like this it only takes 1-2 minutes of soaking before the blocks are ready for you to dump the excess water.
WHAT?!! HOLY CRAP.
Instead of having to dig out started seeds from their cell packs to transplant them into larger pots, these seed starting blocks just DROP right into the soil blocks that are the next size up.
See?
It's dirt genius.
Nothing gets disturbed. And any plant that's sensitive to transplant shock like those with taproots or the famously pissy loofah plant (yes you can grow your very own loofah sponges because they grow on a vine and not in the sea) will thank you for soil blocks.
Obviously not with words because plants can't talk, but they will thank you by not going into cardiac arrest when you transplant them into their next size up or into the garden. If you're lucky, they'll give you a little wink too.
There's a tiny bit of a learning curve so if you aren't making perfect blocks right out of the gate don't worry about it. You'll get there.
→Follow me on Instagram where I often make a fool of myself←