I started making my own yogurt about 6 years ago. I didn't really think I could make it any better than they did in the stores (my homemade yogurt actually is marginally better) and I wasn't even sure it was going to be any cheaper (it's not) but I really wanted to make homemade yogurt just out of curiosity.
The other reason I wanted to be able to make homemade yogurt is because of my imaginary world. This is the world many of us let our minds wander to when we should be thinking about insurance rates, mutual funds or other gross things. In my imaginary world I'm usually at the cottage (that I don't own) and everyone is gathered around when we all realize, much to our horror, that we don't have any butter, or bread or … in this case … yogurt. "Everybody calm the hell down.", I say, my arms outstretched, palms facing the ground, in the internationally known gesture of "calm the hell down". "We have whipping cream, flour, yeast and milk. We've got this."
Butter as you know is made by shaking whipping cream.
Bread is made with flour, water, salt and yeast.
And Yogurt … is made with milk. (And a little bit of yogurt. But that ruins imaginary world where I miraculously produce yogurt with just milk. So.)
Therefore 6 years ago I started making my own yogurt so if I ever own a cottage and am ever stranded there with a group of yogurt starved people I need to impress, I will be able to impress them.
It's so easy and so fun that I've literally forced my yogurt making enlightenment on others. Strangers in fact. This particular episode took place about 5 and a half years ago.
I was standing in my local health food store minding my own business when a woman opened up the refrigerator and pulled out a tub of Liberté Greek Yogurt.
Well.
I couldn't even believe she did it. She stood there, right in FRONT of me, holding yogurt. To purchase. I mean, I don't want to say there was something wrong with her, but clearly … there was something wrong with her. To do that and not expect to me to jump right up in her face and start telling her about how she can make her own yogurt, is insanity.
INSANITY I SAY.
I tried to be kindda cool about it, but 3 sentences into my inspirational diatribe on how she could make her own yogurt, I realized my speech was getting really rapid and maybe a touch too animated for anything outside of a meth amphetamine lab. I … I couldn't help myself.
I once stopped a lady in line at Costco to tell her she shouldn't be buying pre-cut stewing beef because it'd end up making her stew gross instead of delicious. Go buy a blade or a cross rib roast and cut it up I told her. These shopping situations always pop up when I'm by myself (because no one will go shopping with me anymore.).
So, the woman with the yogurt. I spent a couple of minutes telling her how easy it was to make yogurt, and how I was actually going home right that second to make yogurt myself. As I was telling her the 2 temperatures she had to remember, her eyebrows scrunched together and she appeared to be trying to commit them to memory. Either that, or she was trying to memorize my facial features for the police sketch artist.
I skipped out of the store, confident in the notion that I had either supplied this woman with a life changing recipe, or gave her a really good story to tell her family. Or the cops.
As I mentioned, I just can't help myself. I'm not being a know it all, I just want people to do things better, smarter, cheaper. I want everyone's life to be more enjoyable.
And homemade yogurt is a one way ticket to an enjoyable life. It really is. Hell, even if you only do it a few times a year you still get that "I'm just a little bit better than everyone else" feeling.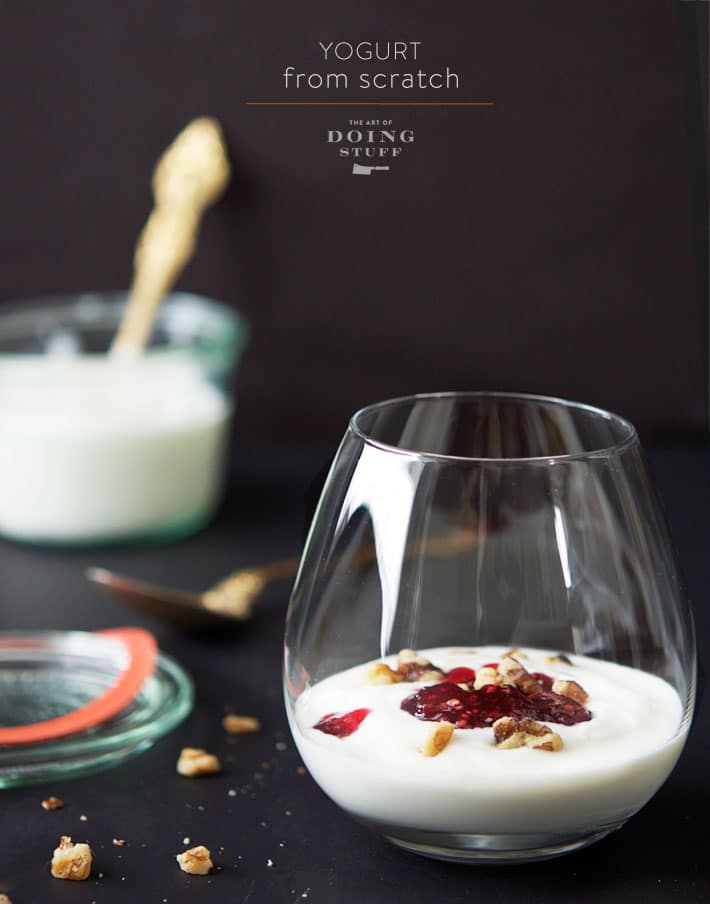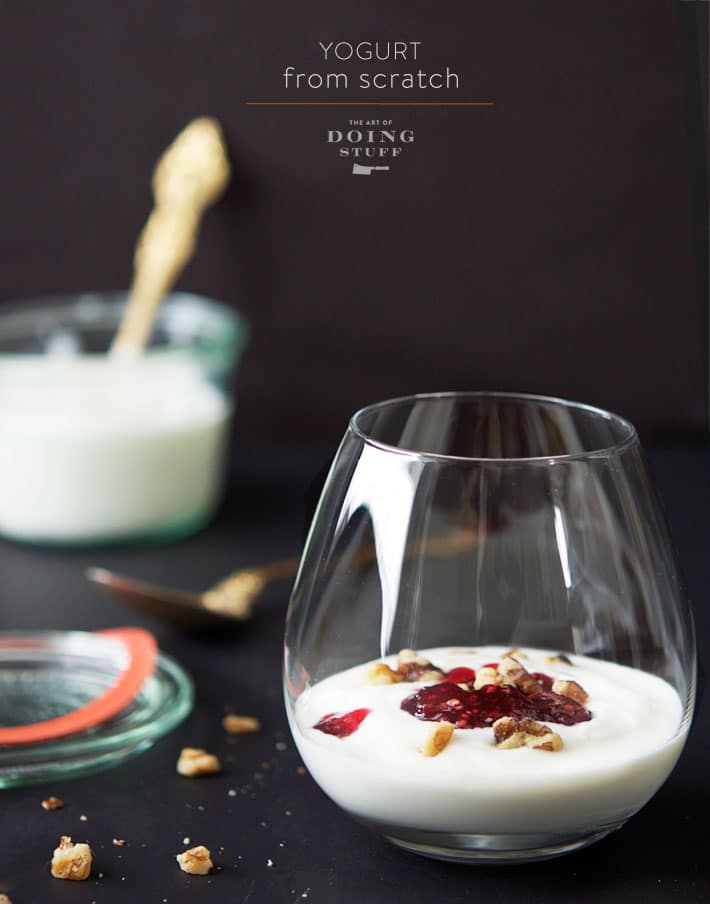 How to make Yogurt.
Making your own yogurt is easy, fun and gives you that little feeling of superiority we all like to experience every now and again.
Print
Pin
Rate
Servings:
2
cups Greek or 4 cups Regular yogurt.
Ingredients
1

litre

quart of Milk, (whole, 2%, 1% or skim)

1

Tbsp

active yogurt

plain
Instructions
Heat your milk in a saucepan over medium heat to 180 F (almost boiling, this happens quickly)

Remove pan from heat and allow milk to cool to 115 F. This will take around 30 minutes.

Once the milk is at 115 degrees, stir in 2 Tablespoons of yogurt until combined.

Now your job is to keep this concoction at 115 degrees for the next 8 hours. There are a few ways to do this:

Pour your milk mixture into a mason jar (or similar) with lid and place the entire jar into a small cooler filled with warm water. Leave for 8 hours. Or ...

Pour your milk mixture into a good thermos, wrap it in a towel and leave it for 8 hours. Or ...

Put your yogurt in the oven if your oven has an oven setting as low as 115 and leave it for 8 hours.

After 8 hours you will have 4 cups of yogurt that's probably thinner than what you're used to.

You can refrigerate it as is, or you can drain the liquid whey out by straining the yogurt through cheesecloth for a couple of hours in the fridge. Just pour the yogurt into cheesecloth, tie it up and hang it over a bowl.
Here are a few tips and a visual step by step:
You can use whole, 2%, 1% or skim milk.
I always use homogenized milk. (do not use ultra pasteurized)
To "activate" your yogurt, you need 2 Tablespoons of plain yogurt with active cultures. Just look for the words probiotic or active cultures.
Heat your milk to 180° F (until almost boiling) over medium heat. It won't take long so keep an eye on it.
Remove your milk from the heat and set it on the counter until it comes down to 110-115° F. This will take around half an hour to 45 minutes.

Once your milk has cooled to 115° F, stir in 2 Tablespoons of active plain yogurt.
Stir well until combined.
Pour your milk mixture into a glass jar. I used to use a large mason jar with a lid on it. Now I use a large, good quality Thermos.
Your yogurt has to stay at 115° F for the next 6-8 hours. Overnight is best.
So. How to do this? Well some ovens have a warm temperature that will keep the oven at 120° F. Heat your oven to this temperature, then put your yogurt in the oven and turn OFF the oven. Leave the oven door closed with the yogurt inside for 6 hours.
If you have a big enough insulated thermos, you can just put the yogurt in the thermos, wrap it in towels and leave it. Like I mentioned, this is how I do it now.
Or you can do what I used to do. Put a mason jar of yogurt into a cooler, fill the cooler up with hot water from the tap (hottest possible) and close the cooler. Let it sit for 6-8 hours.
For extra insurance, you can wrap the cooler in a towel.
Once the milk has sat for 6-8 hours like this, you will have yogurt! You can either put it in the fridge as is (your yield will be 4 cups) or you can make Greek Style yogurt, which is what I do. I love a good, thick, creamy yogurt.
To make Greek Yogurt, after letting your yogurt sit for it's prescribed 6-8 hours, just pour it into a cotton dish towel or cheesecloth and allow it to drain over a bowl in the fridge for 1-2 hours. You'll be amazed at the amount of whey they drips out. Once it has drained, just scrape the yogurt out of dish towel/cheese cloth and stir it up well with a whisk. Your yield will only be 2 cups of yogurt, but it will be a smooth, rich, delicious Greek Yogurt.
You can either eat it plain, stir in some honey for sweetness or top it with a dollop of jam to make a fruit yogurt. Of course, you can also put the jam on the bottom and top it with yogurt, creating a fruit on the bottom yogurt.
I always remove 2 Tablespoons right away and put them in a little dish in the fridge. That way I know I have my starter for the next batch of yogurt.
I really hope that woman I accosted went home and made yogurt. She admitted she'd better go home and do it right away, otherwise she'd forget about it and never make it. And I could see she really wanted to. Honestly.
I liked that health food store yogurt woman. I wonder if she has a cottage.