You probably know that I have a love for mason jars and all that they stand for.  They stand for a time when bottles were made out of glass, when folks made their own preserves, when people would use them to display their gallstones.  You know.  A good time.  A better time.
So whenever I have the chance I use the beauty of the mason jar to brighten up my day.  If that involves throwing one at the fella's head for not making the bed ... so be it.  That's the beauty of the mason jar.  It's so very multipurpose.
Today I'm going to show you one of my all time favourite uses for the time honoured jar.
Watch this video to find out all about it ...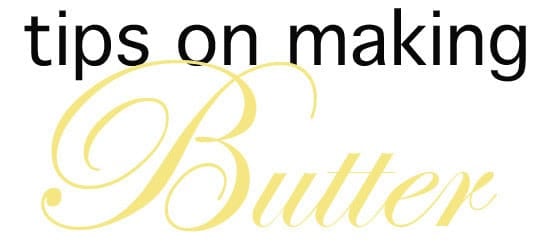 1.  Get your whipping cream to room temperature by leaving it on the counter for a couple of hours.  This helps move the process along so you won't have to shake it for as long a time period.
2.  Pour enough whipping cream into a mason jar to fill it about halfway.
3.  Shake the jar vigorously until the cream turns into whey and a lump of butter. (7 - 15 minutes)
4.  Drain the whey from the jar.
5.  Once you've created your butter, plunk it into a bowl and mash away at it with a spoon to remove any remaining whey and drain it off.
6.  Continue to mash the butter and rinse it with cool water until all the whey is gone.  It's fully rinsed when the water runs clear.
7.  Add a pinch of salt and stir it in with a spoon.  Not too much.  Just a pinch, and then taste it.
8.  Ta da!  Creamy, fresh butter.
Way nicer to eat than a chewy set of gallstones.