Smoking chicken wings is a fan-freaking-tastic way to cook them. You get crispy, charred smokey sticky goodness in about 2 hours.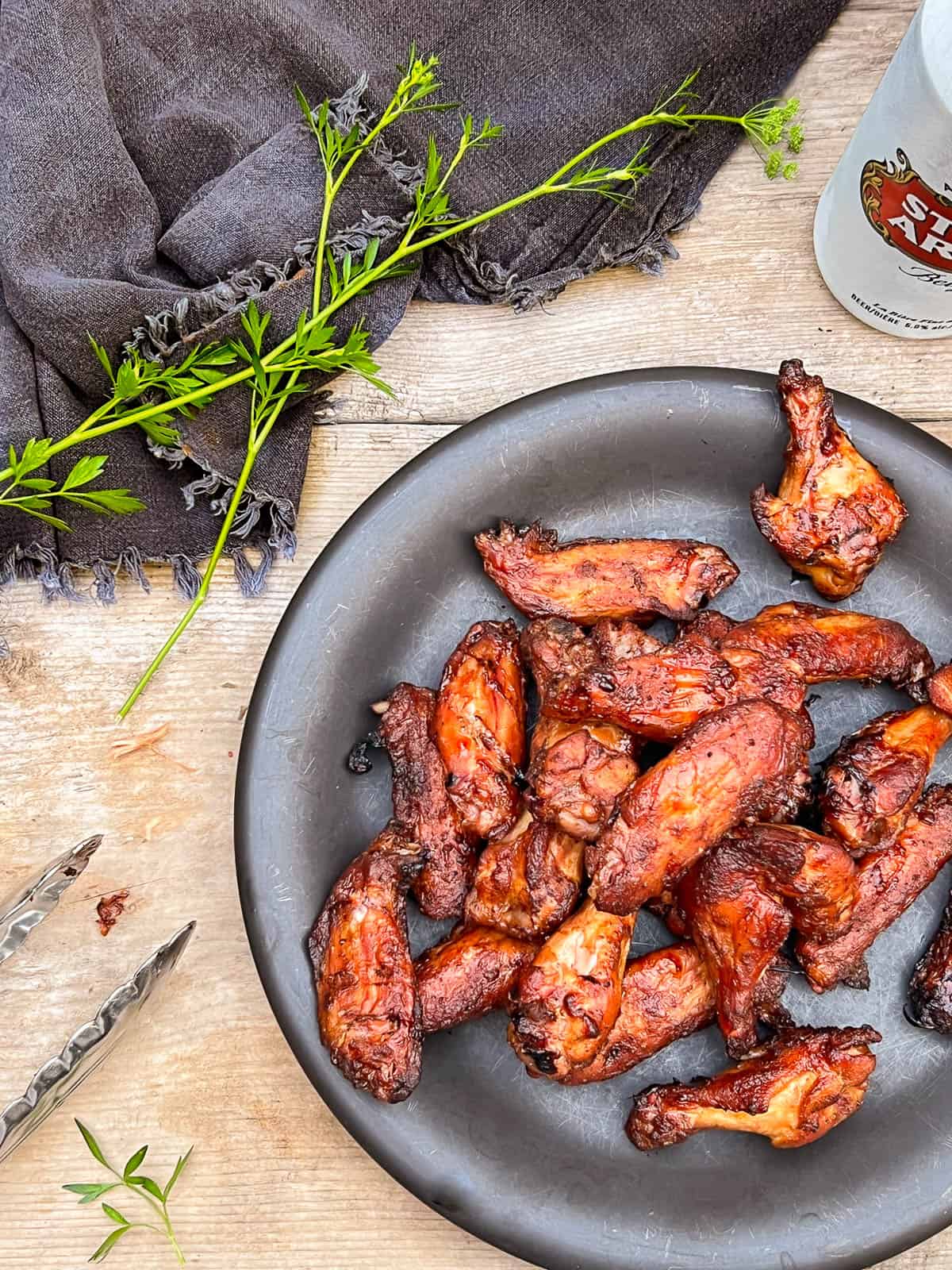 It's still BBQ season in my neck of the woods because I live in Canada and it is always BBQing season here. Also I don't live in the neck or even elbow of any woods.
This is also known as grilling season for some of my American folk. I'm not sure which American folk use the term "grilling" but I suspect you're the same Americans who refer to pop as soda.
These are going to be perfect for baseball playoff viewing or the Superbowl, which I know hasn't arrived yet but since Rihanna has been announced as the performer for this year, the Superbowl food celebrating can begin now.
If you do happen to be planning your Superbowl menu right now the other things you should add are these antojitos that are an exact copy of Montana's courtesy of a loose lipped Montana's manager. And my chili obviously.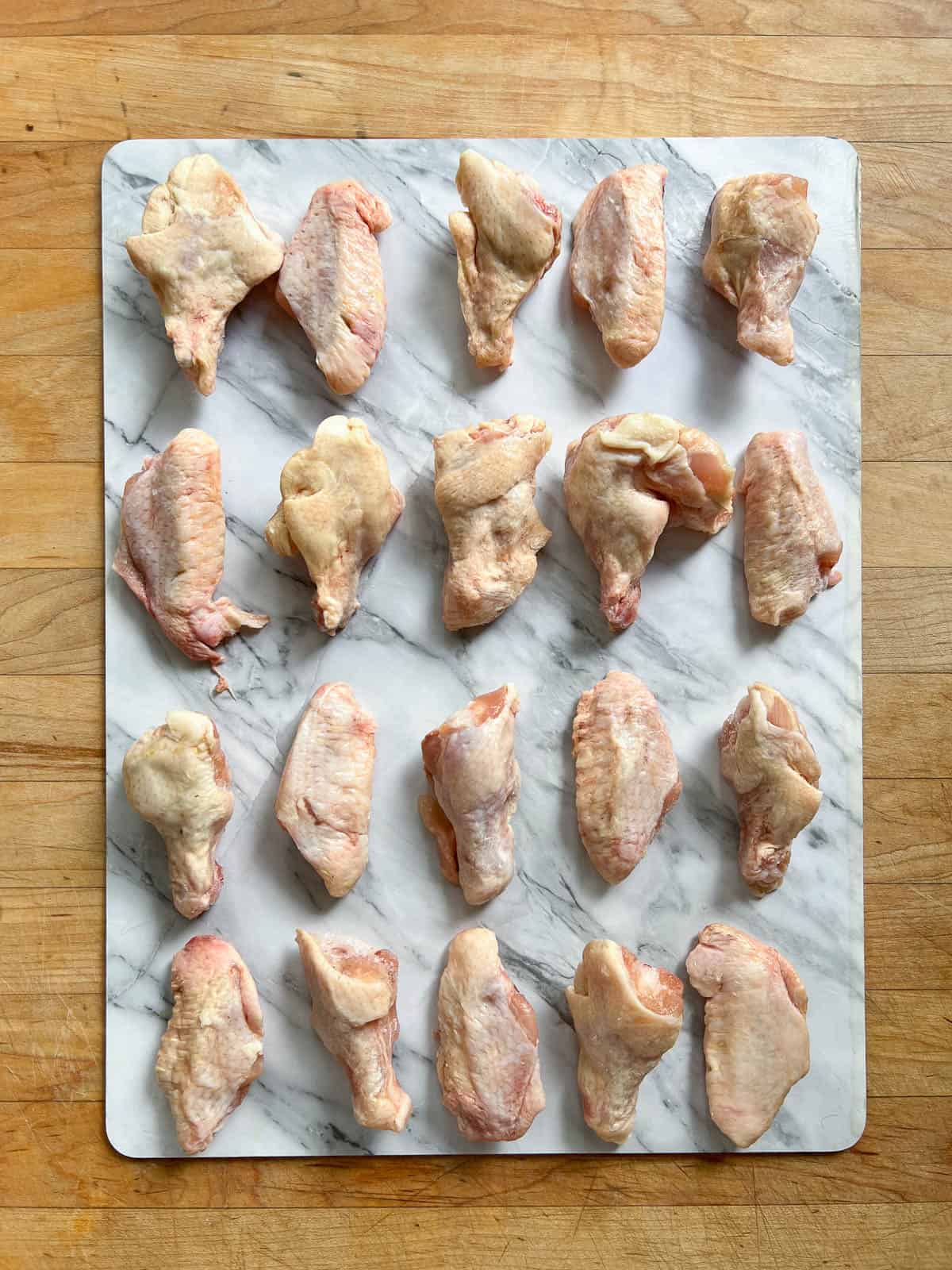 I'm getting off track here. I'm extremely susceptible to food holiday daydreams so just give me a shove if at any point in this post I fall off course and start talking about Christmas cookies.
SMOKE your chicken wings. Just do it.
What you need
Christmas Cookies.
Just kidding.
All you need for this is a smoker (or a BBQ and a small smoker box like this one) and some dry rub.
You can buy a dry rub at the grocery store or you can make the one I use which is a Kansas City Rub. I make a big WHACK of it and use it all summer.
Instructions
➡ THIS IS HOW YOU SHOULD BE LIGHTING YOUR GRILL OR SMOKER
Smoked ribs need to be smoked for 2 hours plus they'll also need 1 hour before to marinate.
TOTAL TIME 3 hours
SMOKER TEMPERATURE 225F - 250F
Drizzle the oil of your choice over your wings and mix 'em up so they're coated.
Sprinkle with dry rub. Toss them around to make sure they're fully coated.
Put the wings in a baggie and refrigerate at least an hour to marinate.
While your wings are marinating get your smoker going. (No there was no snow on the ground when I made these wings, but wanted to make a point that yes you can grill in the winter like a true Canadian.)
Hint: Keep a close eye on your smoker or grill. You're aiming for a temperature of 225-250 F. It's much easier to coax the temperature up than it is to get it down if it goes too high.
Add a fist sized chunk of wood to the coals for this smoke. I like apple and pecan but also all the other woods because I really can't taste any difference at all ever no matter what wood I use.
After an hour of marinating and once the smoker is at 225 F and your chunk of wood is smoking, put your wings on the grill and close the lid. They'll now smoke for about 2 hours. Keep the temperature between 225 and 250F. You do not need to flip them.
HINT
Kill two birds with one stone. Or a bird and a pig with one smoker.
To make this a FEAST add ribs to the grill the same time you add the wings. The wings will be done a couple of hours sooner than the ribs, giving you a handy grilling day snack before the main event of the smoked ribs. The link for how to make ribs including a really good sauce recipe is below.
Variations
You don't have to stop with just the rub. If you want to change things up a bit ...
Spicy - add chili pepper flakes to your rub mix
Sweet - Drizzle your ribs with honey when they're almost done.
Saucy - There's no reason you can't toss these in your favourite wing sauce like Franks Red Hot Sauce once they're cooked.
Equipment
Smoker
Smoking ribs in a smoker
Make this exact recipe and technique on any smoker. I have a lump charcoal Bayou smoker but obviously you can make them on whatever type of smoker you have.
BBQ
Smoking wings on a BBQ or Charcoal Grill
You CAN make these on a charcoal grill or a propane BBQ. You just need to cook them with indirect heat and need to add smoke with a small metal smoker box and some nice apple wood chips.
Indirect heat means the wings aren't going to go over any burning elements or coal. They should be off to the side away from direct flame. They'll get cooked only by the surrounding heat.
Soak your wood chips for 30 minutes.
While the chips are smoking get your grill heated up with the coals only on one side of the grill. If using propane, just turn 1 burner on. Remember, you want low indirect heat.
Drain the wood chips and put them in the smoker box. Place box over the fire side of your grill, close the lid and check in 10 minutes to see if the wood is smoking. Continue to check for smoke. (If it fits, you can also put your smoker box directly on the burning charcoal or propane burner)
Once the wood is smoking put your marinated wings on the cool side of the grill.
Close the lid and keep the temperature as low as you can. 225 - 250F is ideal.
Check the wings the odd time. The wings should be cooked and smoked to perfection in 2 hours or so.
HINT: It can be hard to keep a grill down to such a low temperature, so if you can only keep it at 275 or 300F, the wings will be done well before 2 hours.
Storage
Don't worry about it. Y'aint gonna need to know how to store these.
Top tip
You know when I told you up above you could add some chili flakes to the rub or a honey drizzle near the end of cooking? Add both of those things and get ready for one of the best wings you've ever had.
K. I'm going to eat a piece of lasagna right now. I'm not sure what holiday that might be associated with but I'm sure there's one.
---