This is not a revolutionary recipe. It is not a complicated recipe. It is a fast recipe for anyone who likes gravy but can't be bothered to make it.
Since I am writing this post you can correctly assume that I am a gravy person. It doesn't matter whether we're talking about brown gravy, white, an au jus, or tomato sauce. If I can put it on my food and then in my mouth, I'm a fan.
But we don't often make gravy with our meals because it takes time. And by we I mean you and I because I think I can speak for all of us when I say we love gravy.
But making it is the last step, the finishing touch, the thing you do after the dinner is actually made. And most of the time after the dinner is made you just want to eat it and get cleaned up. And the thought of stopping that to make gravy ... IS A RIDICULOUS THOUGHT.
And then you scarf your dinner all down without gravy.
The next time you make chicken breasts try this.
Sour Cream Sauce
Ingredients
Pan drippings
Sour Cream
Dijon Mustard
Broth
Instructions
After you've cooked your chicken in a pan you just have to add a couple of things to it to create a complex tasting sauce that's done before the chicken cools down.
Remove your cooked chicken from the pan.
With the heat still on the pan, add chicken stock (about ½ cup) and scrape up the fond (cooked, browned, delicious bits on bottom of pan).
Scrape up and mix all the fond with the broth.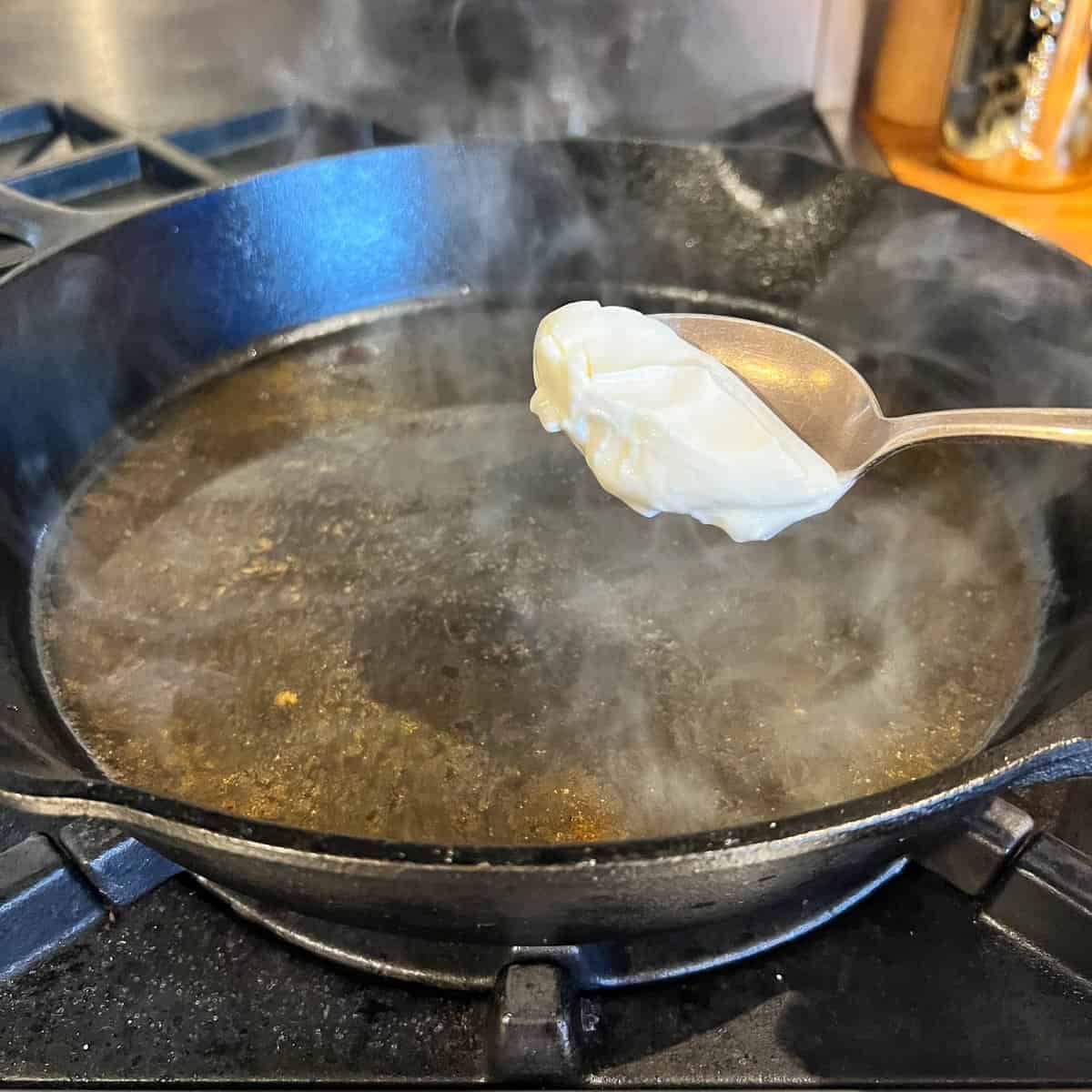 Drop 1-2 tablespoons of sour cream into the mix.
It'll look awful and you'll suspect this isn't going to work. It will. Keep stirring. The sour cream just needs to melt.
See?
Add 1-2 tablespoons of dijon mustard & any herbs you want. I added dill.
Mix to incorporate. Add more broth if needed. Simmer to reduce by a bit if it isn't thick enough or flavourful enough.
When in doubt add a big grind of pepper.
Also when in doubt, MAKE POTATO PANCAKES.
If you were wondering if I overcooked my first picked batch of asparagus, the answer is a resounding yes. I oven roasted the asparagus. And forgot about it. I also overcooked the chicken - a very common occurrence for me which could be what's behind my love of gravy and sauces.
NOT JUST FOR CHICKEN
You can do this little trick with any meat. The sour cream replaces flour and water for thickening, and dijon gives a KICK.
A few nights ago for instance, I made a quick sour cream sauce for the Danish frikadeller I made.
If you're not sure whether to believe my love of gravy I'll remind you I did eat french fries and gravy every single day for lunch in high school.