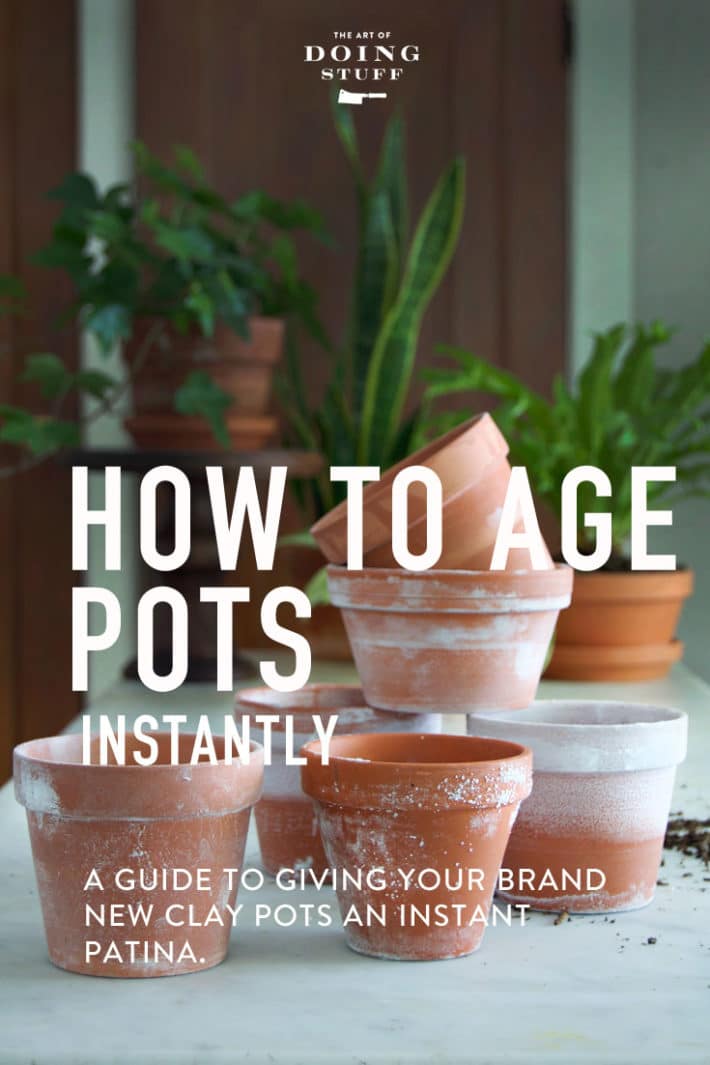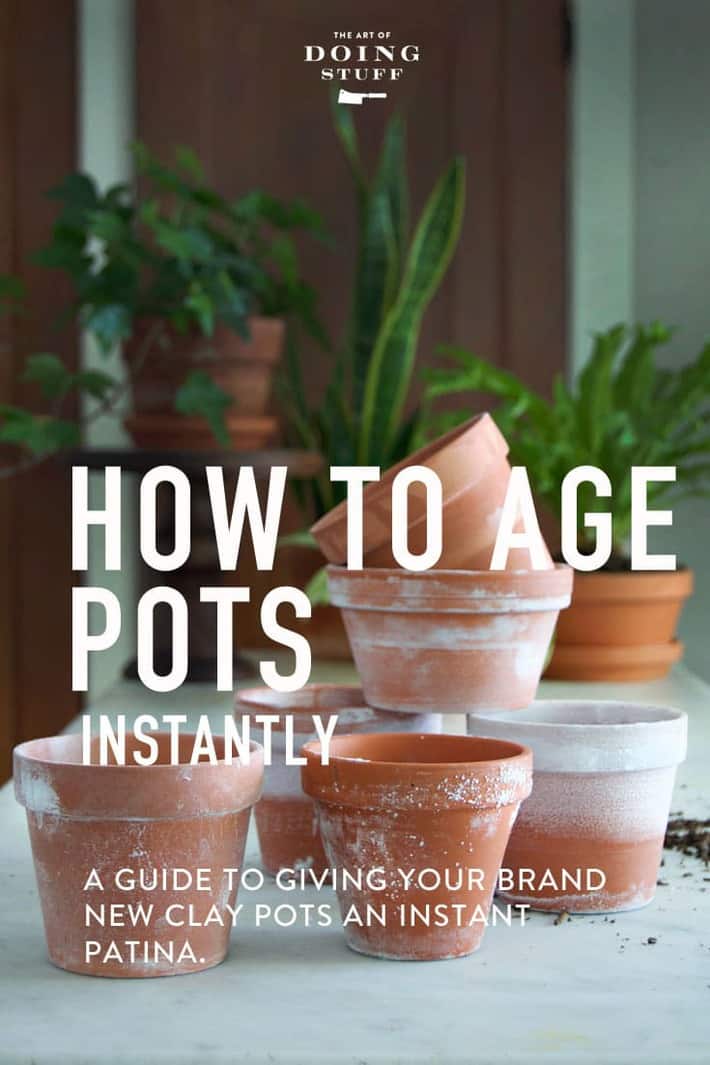 I can kill an indoor plant in 4.6 days.  I've talked about my skill in this particular area before, but when  you're good at something you want everyone to know.  Some person in Waynesboro, Virginia for example is really good at shaving cats bellies.  As such, they've taken to ... shaving the bellies of all their neighbourhood cats.
7 cats in the past few months in Waynesboro have returned home with shaved bellies. They aren't hurt or injured or anything.  They're mainly just a little bit indignant.  But cats are like that all the time - so.  Local authorities are now involved and the town of 21,000 is on the lookout for anyone looking to purchase a loom and/or wearing calico sweaters.
Waynesboro police captain Kelly Walker,  has used his own finely tuned cunning and intuition to solve this mystery, saying,  "Probably the best solution is for whoever is doing this to just stop," Walker said.
Amen. Someone get this guy on a plane to the Israel/Palestine border.
So these plants of mine.  When The New York Times came to shoot my house I had to replace my dead houseplants with some live house plants because you can only get away with dead houseplants in some of your more avante garde publications, like The Addams Family Circle.  When I was picking up some new plants I grabbed some new clay pots as well.
The problem with new clay pots is they look new.  Looking new is never a problem with white tee shirts, shoes or manicures, but with pots?  You don't want them to look new.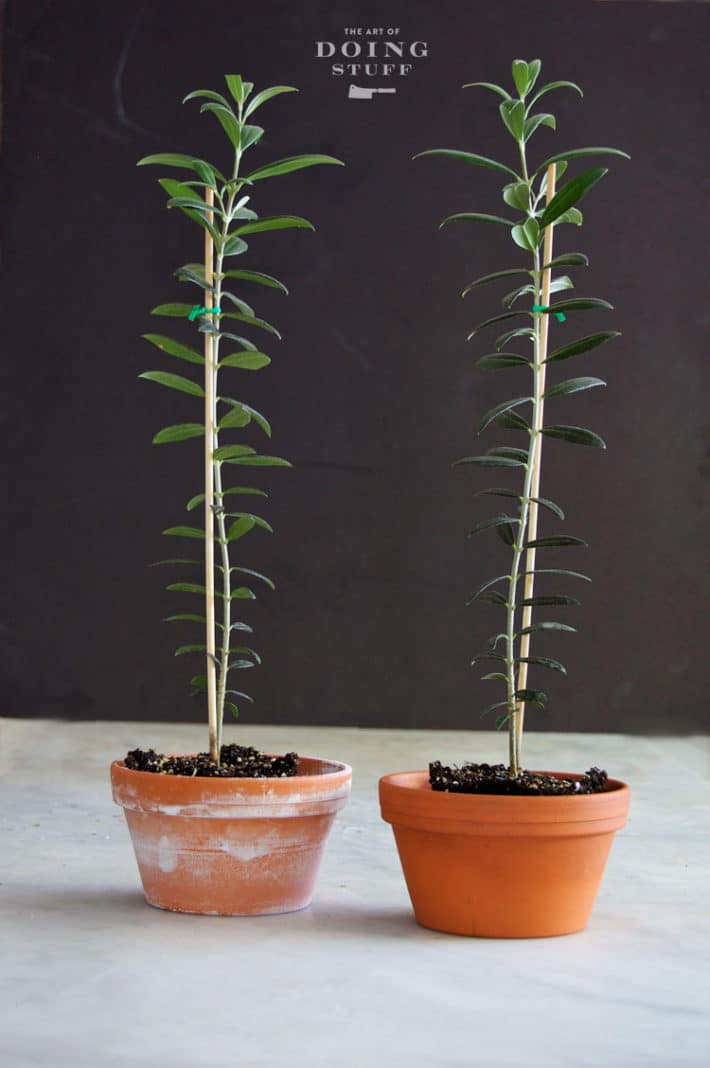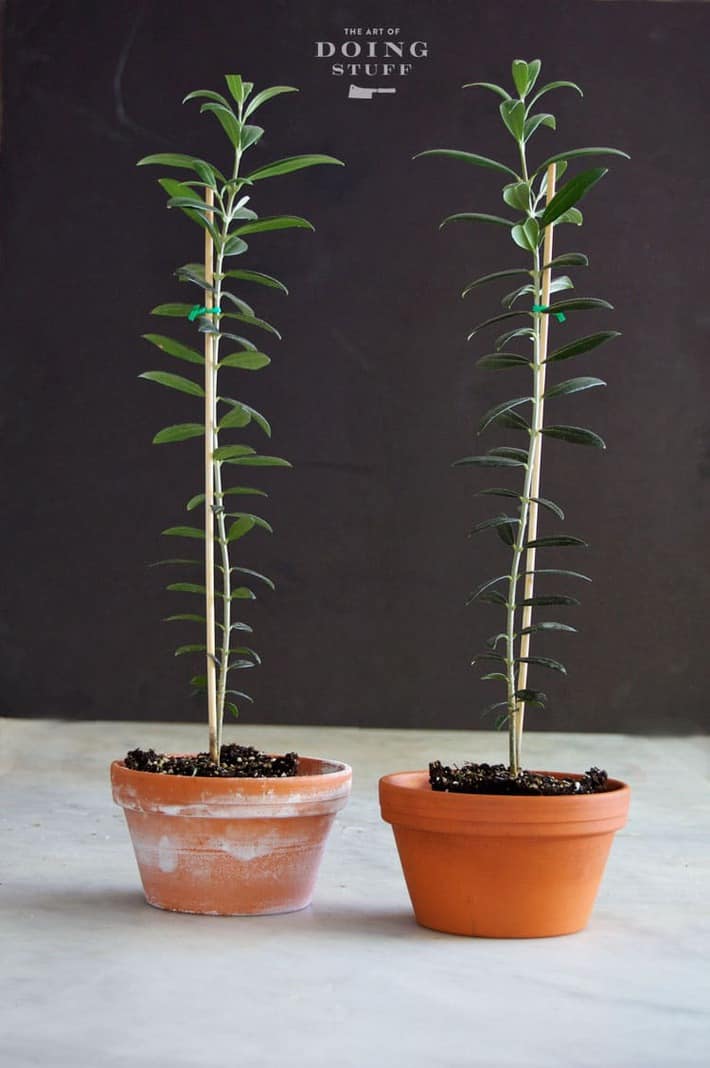 The pot on the left is my instantly aged clay pot.  The one on the right is a regular old clay pot.  No insta-age on that one, it's fresh out of the store.
I couldn't figure out a way to age these pots instantly.  I was not going to sit around all night painting them before the photographer showed up and I didn't have a handy bottle of moss and buttermilk to spray on them only to discover in 6 months that you can't really grow moss that way.
So I thought of salt.  Salt stained things and left a white residue, which is what the minerals in water over a period of time does to pots.  Leaves a white residue.
After some experimenting and mishaps that involved open wounds and multiple brand new swear words I figured it out.
I tried 3 different methods and all of them worked in their own way.  Which one you use will depend on how much patina you want on your pot and how permanent you want it to be.
How to instantly age clay pots
Fill a bucket or bowl that's larger than your pot with hot water.
Pour salt into the container until no more will dissolve. The water will be fully saturated with salt.
Set your clay pot in the water for a few hours until it's fully absorbed the salt water.  If you have to, flip the pot over in the water so both the top and bottom get immersed.
Remove the clay pot from the salt water and let it dry.
After drying it will be instantly aged with white patina all over it.
The longer the pot dries the more salt will appear.  This continues over the period of a week, but the salt is noticeable after only a few hours of drying.
As you continue to dip your clay pots into the salt water the amount of salt saturation will be less and less because the first pots have absorbed so much of it.  Just continue to add more salt to the water OR be pleased with the fact that all the pots will have different levels of the white patina on them.
You can also take your salt solution and fill a spray bottle with it. Spray the pot until it's fully saturated.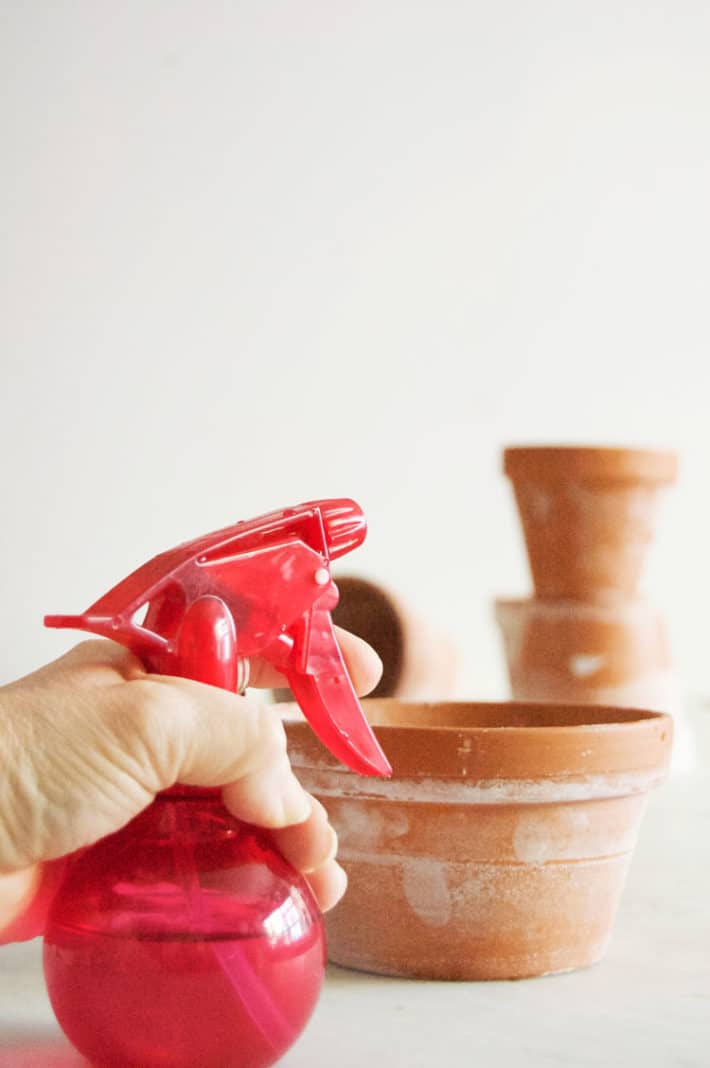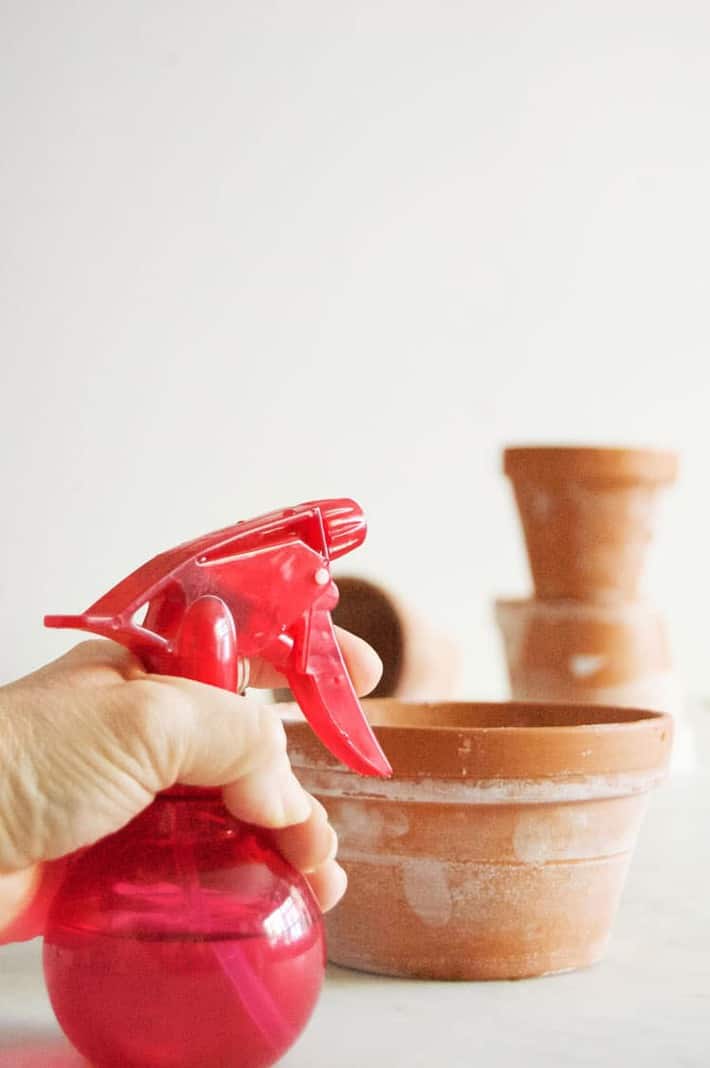 This method works well, but the salt doesn't get pulled as far into the clay so it's more easily removed with  handling and watering.
The last method you can use if you don't even own a spray bottle is to soak your clay pot in regular water and then sprinkle salt all over you want the patina to appear.  You have to sprinkle the salt IMMEDIATELY so the salt melts on contact allowing the clay pot to pull the salt into itself as it absorbs the water.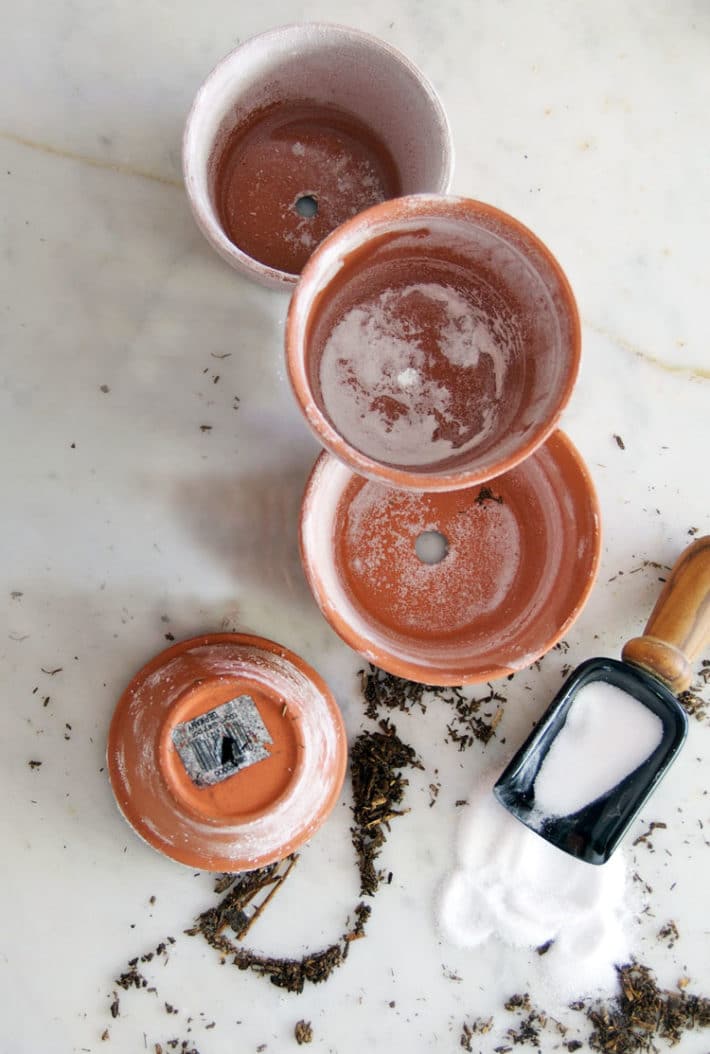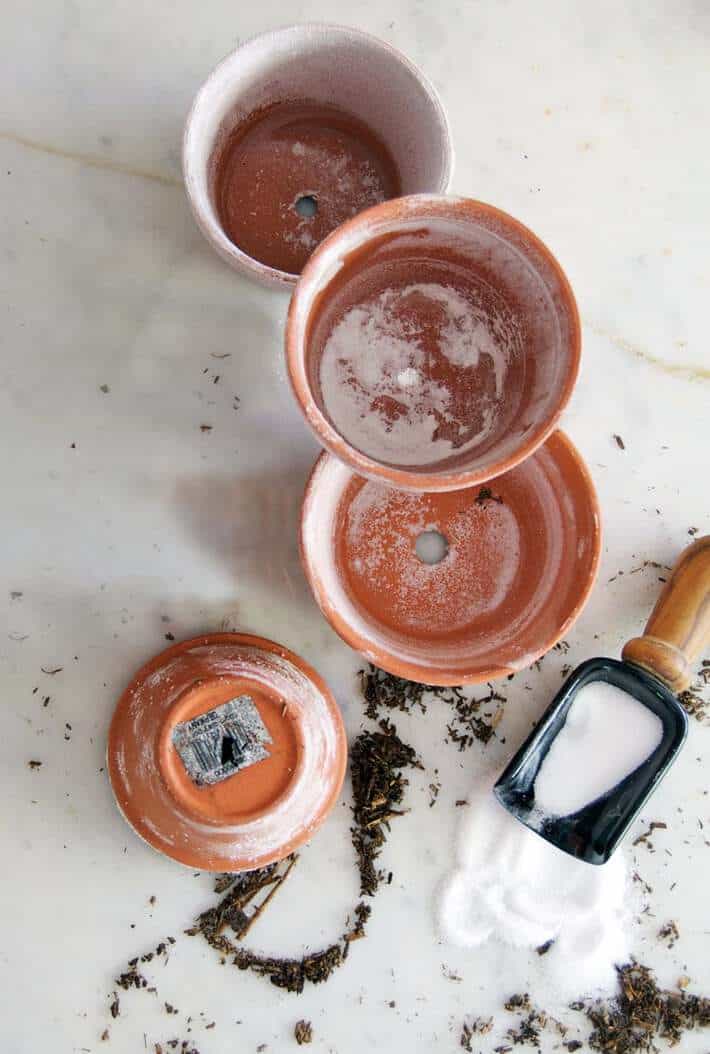 If you use the soaking method you'll have to use a plastic liner in the pot.  As a professional plant killer I can tell you that a sure fire way to kill a plant is to set it in a pot filled with salt.  Salt kills plants.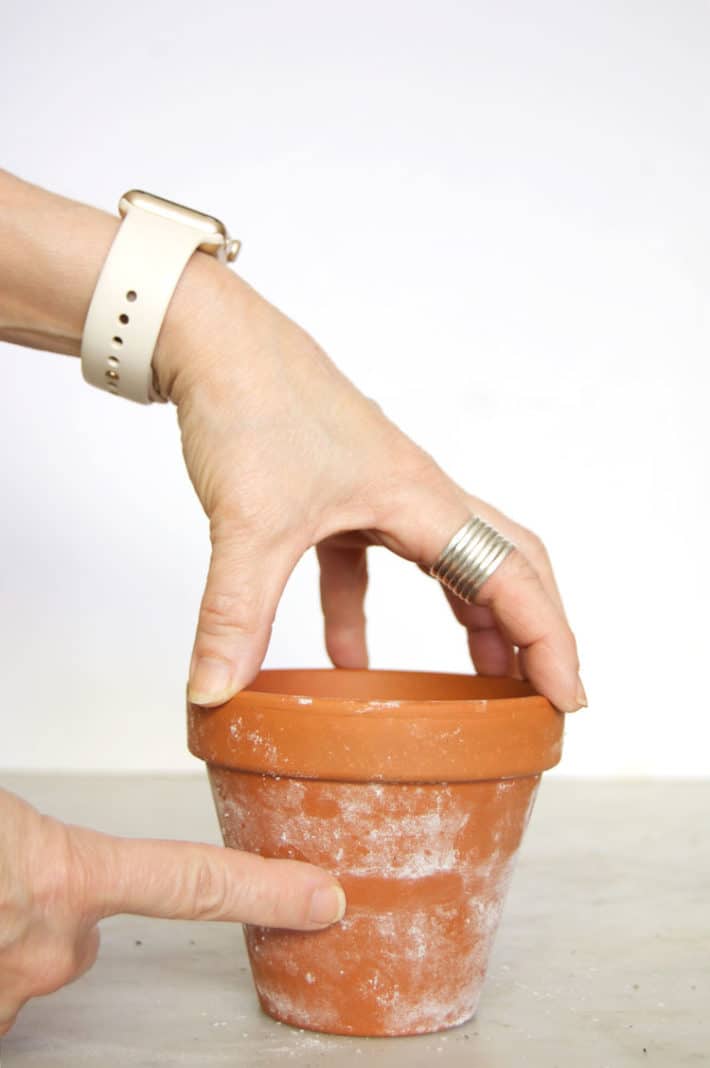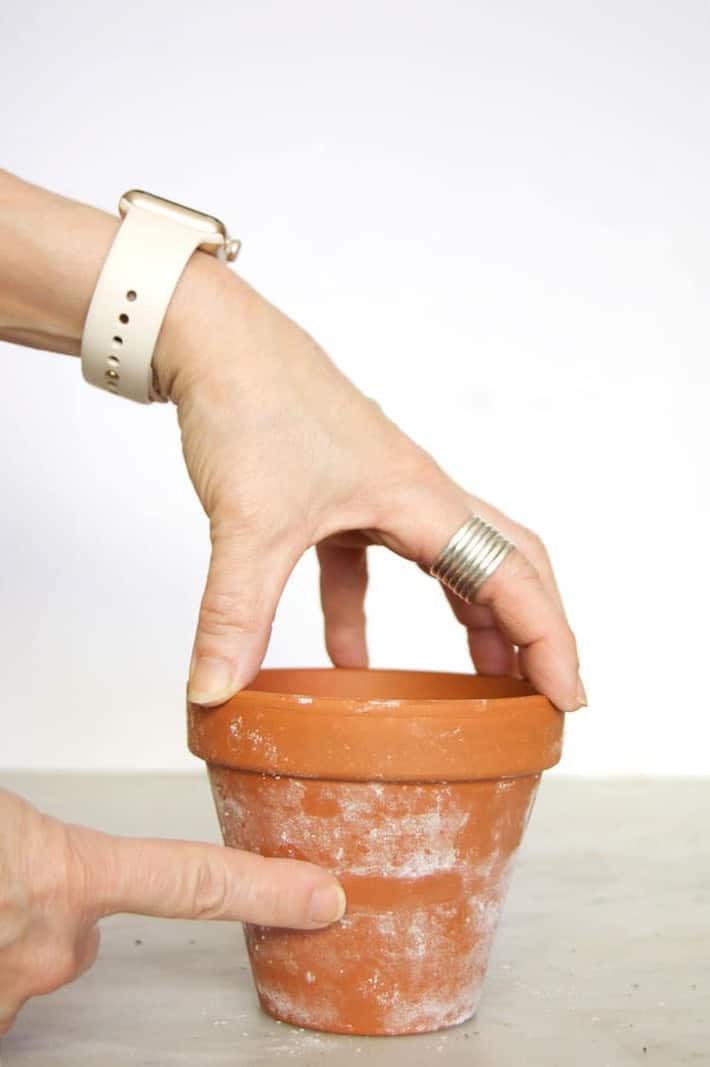 You can see here how easy it is to rub off the salt patina from a pot that's only had salt sprinkled onto it.
A soaked pot on the other hand really pulls the salt into itself and is much harder to remove the patina from.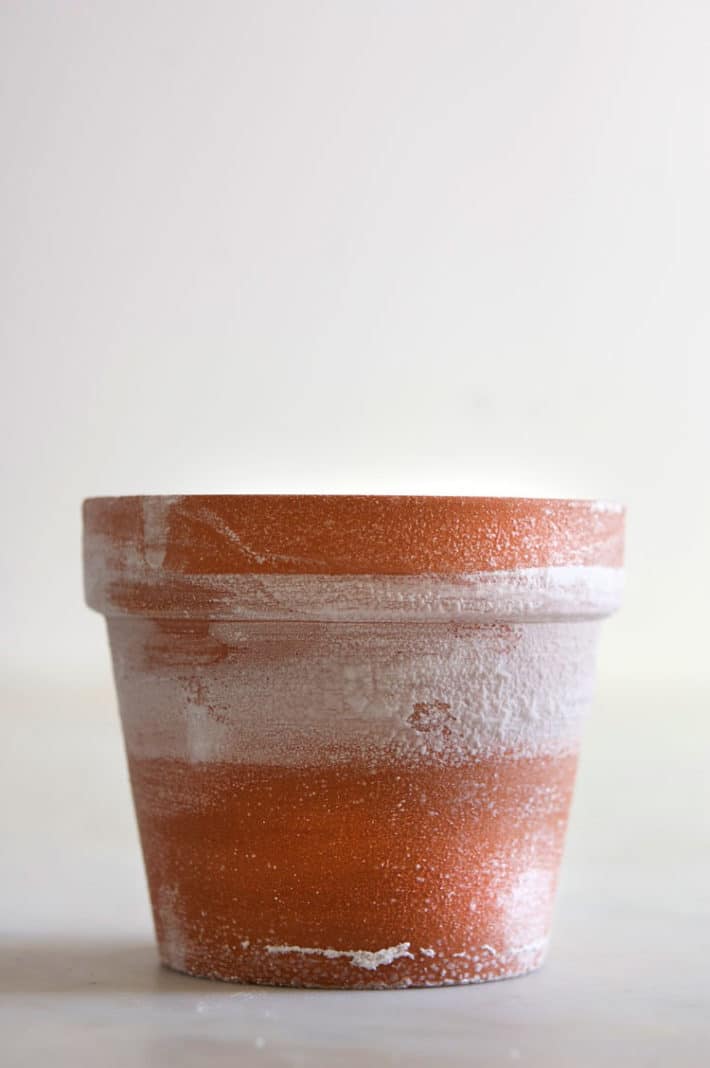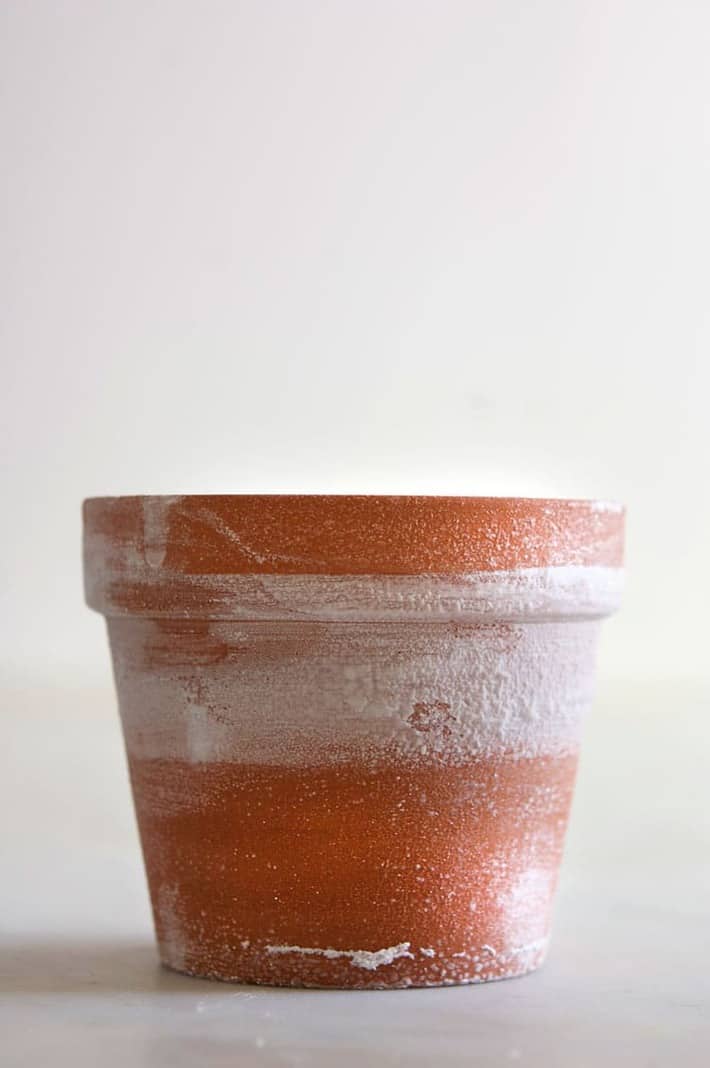 If you decide there's too much salt patina on a soaked po,t you can scrub it down with a brush or scouring pad.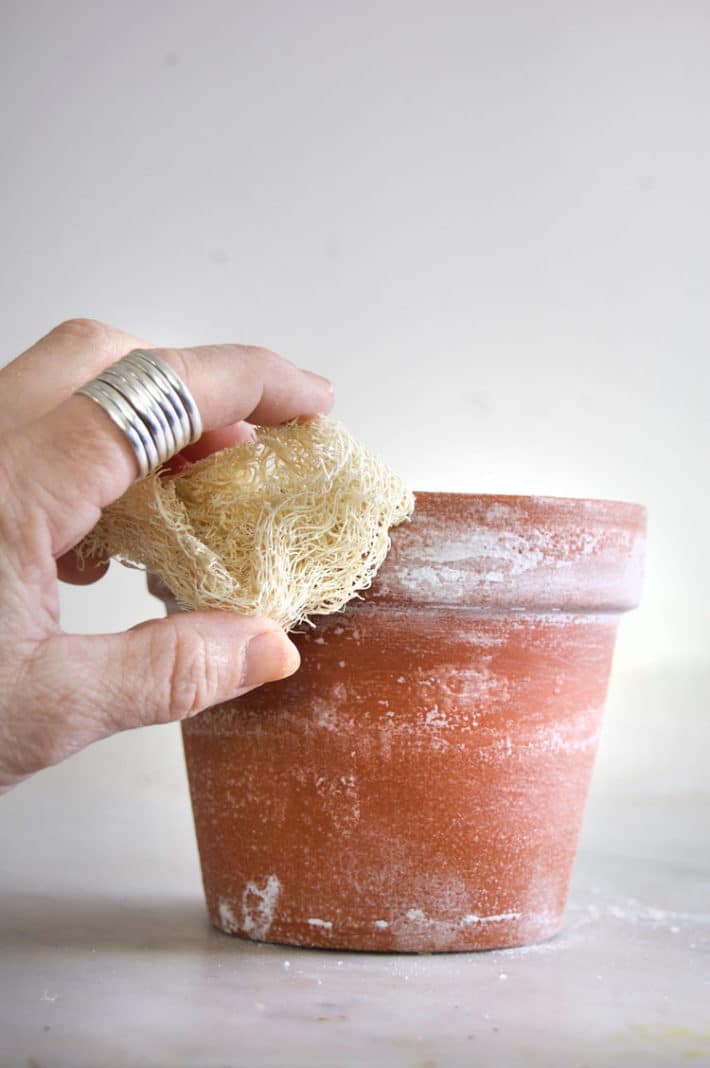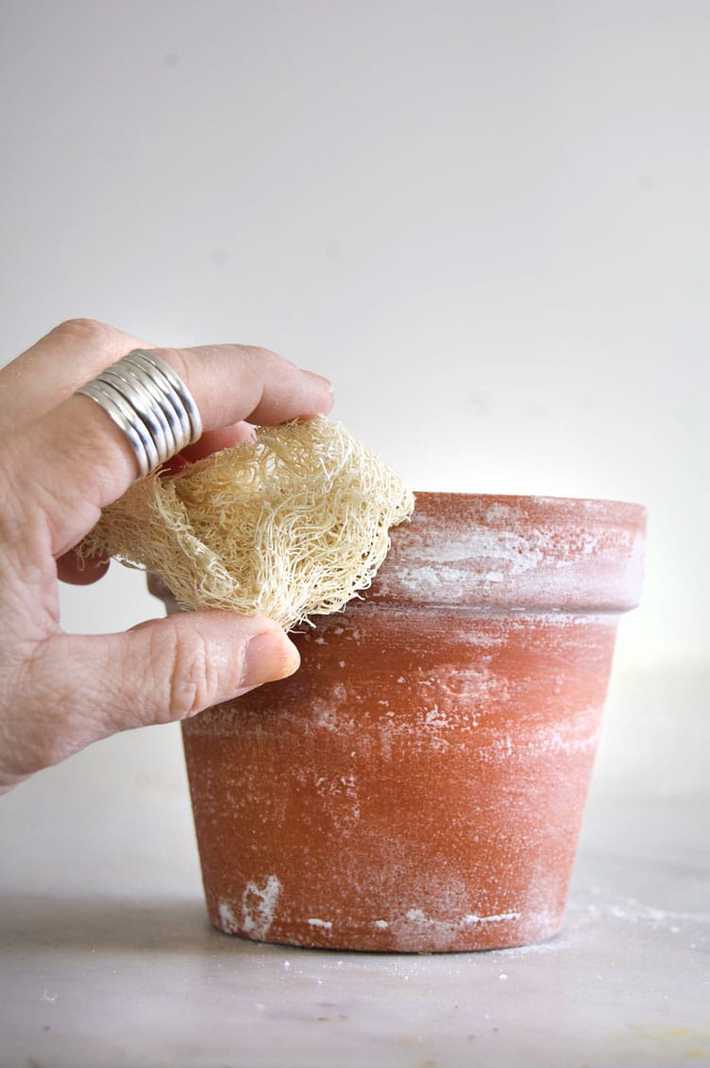 I used a piece of my homegrown Luffa sponge.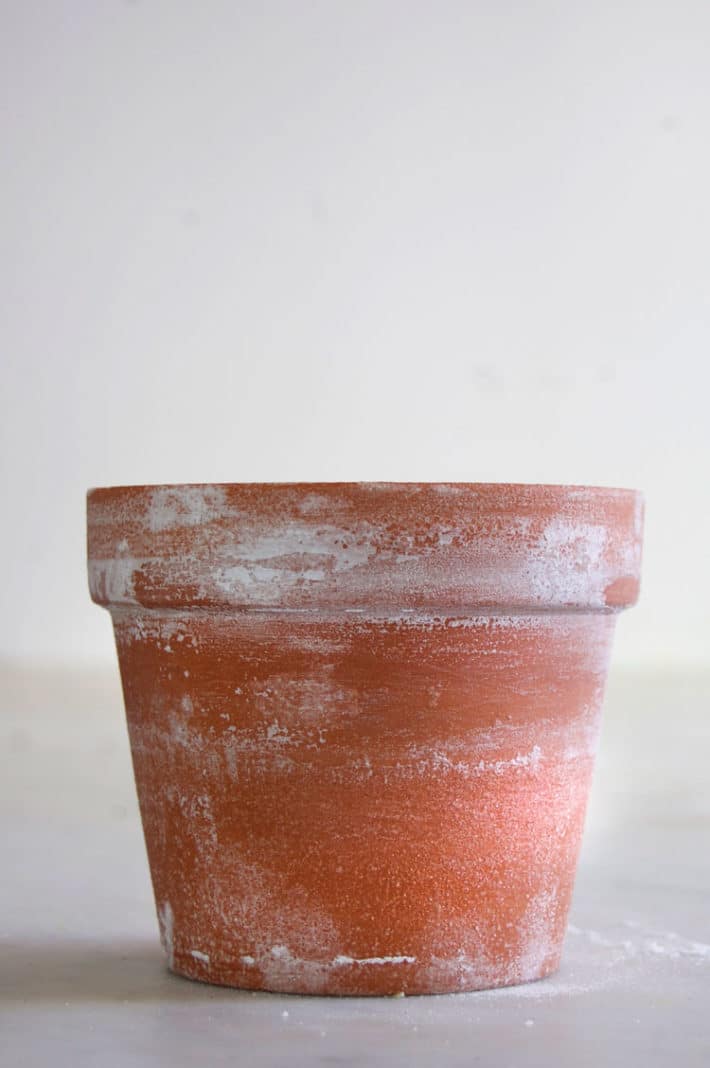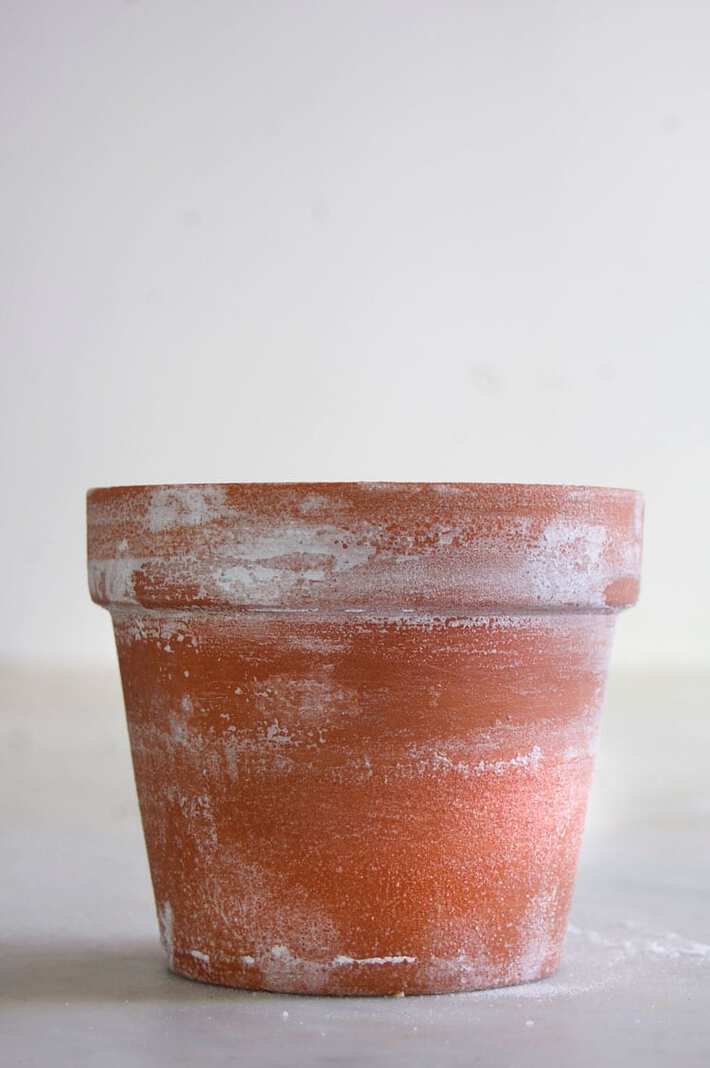 See?  Too much salt isn't a problem.  A little elbow grease and it's toned down.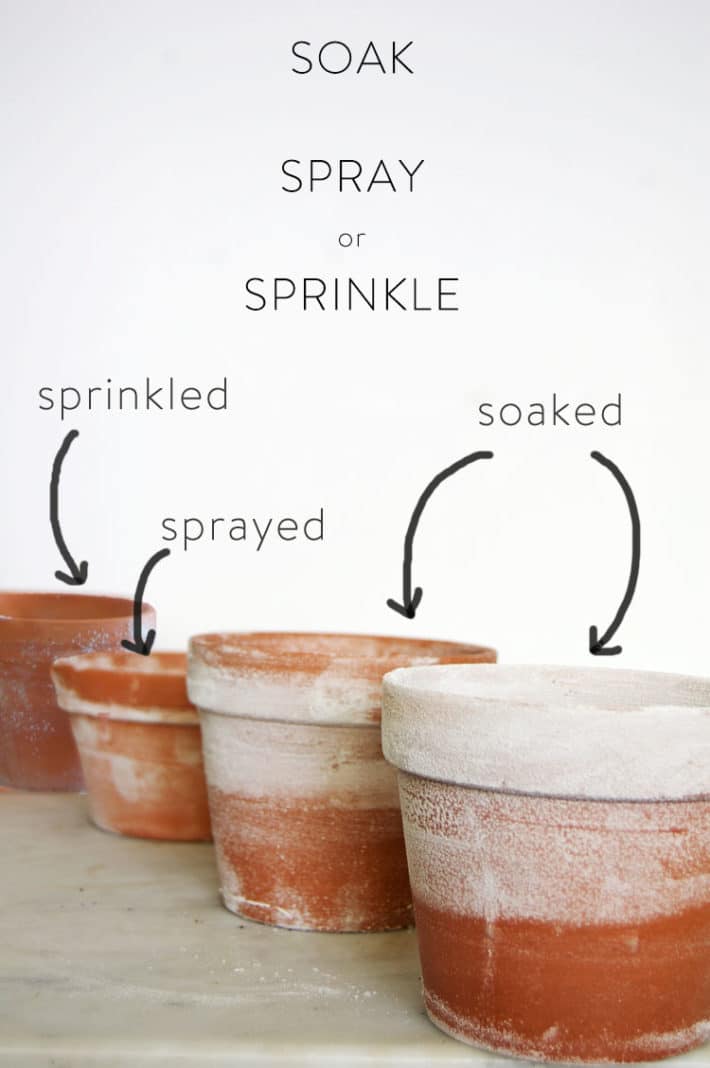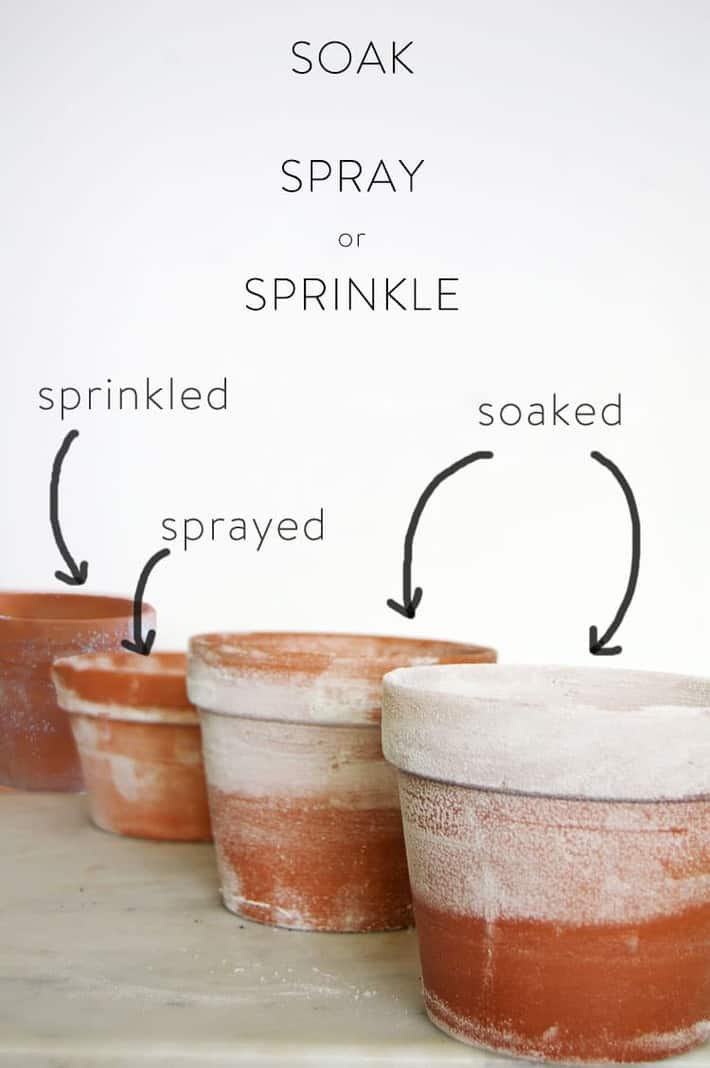 INSTANT aged pots.  You can make 'em quicker than a loon can shave a cat's belly.