I know it seems like summer is a ways off, but one of the very first things you can plant are radishes (they like cooler temperatures) and I know you're all itching to buy some seeds and get started, so why not take part in this little experiment with me and plant some radishes right NOW?!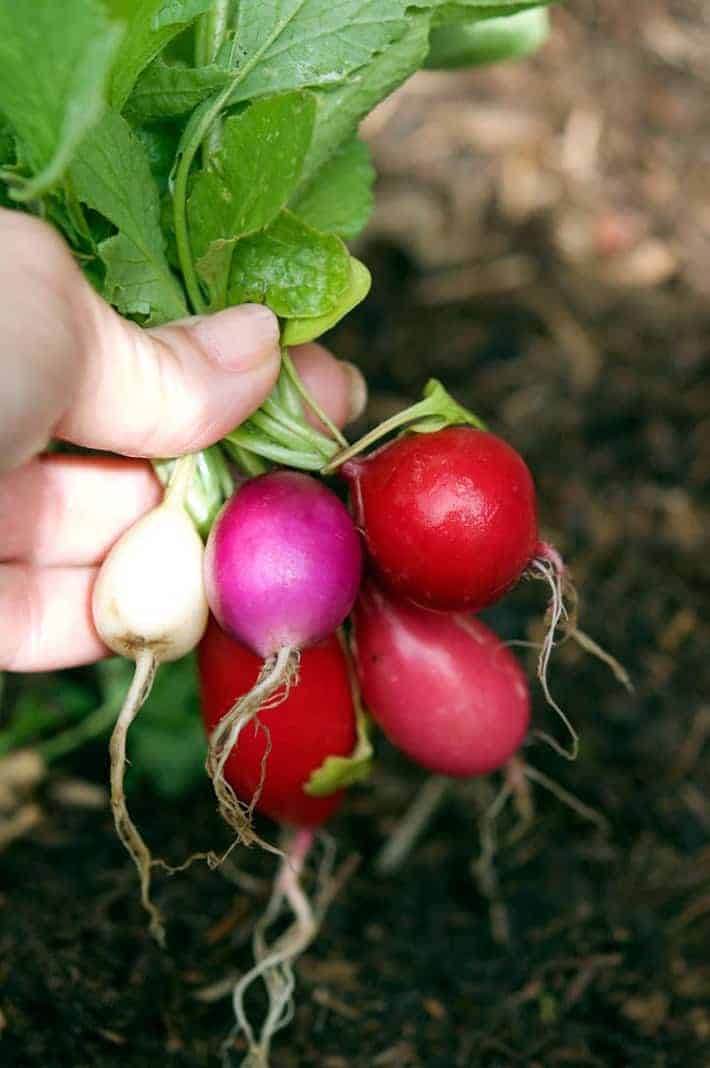 I am 100% sick of sitting around with nothing more to do than anxiety organize my cupboards. Admittedly I do think that's kind of fun, but it can't be the only fun one has. So I thought you might like to try out a little experiment with me.
We're going to grow radishes right here, right now with mounds of snow outside.
I've been growing radishes (outside in spring) for years, and giving them away as hostess gifts for summer BBQs, but this year I wanted to grow some even earlier than normal to hand out like little bouquets as soon as it gets nice out.
This might work and it might fail. Either way we'll have learned something. I'll have learned that radishes can't be grown in winter and you'll have learned not to listen to me.
OR
We'll all grow radishes in the winter and wonder why we never thought to do it before.
For the purpose of this experiment I'll be starting the radishes mid-winter indoors. This post explains everything you need to know about how to start seeds yourself at home.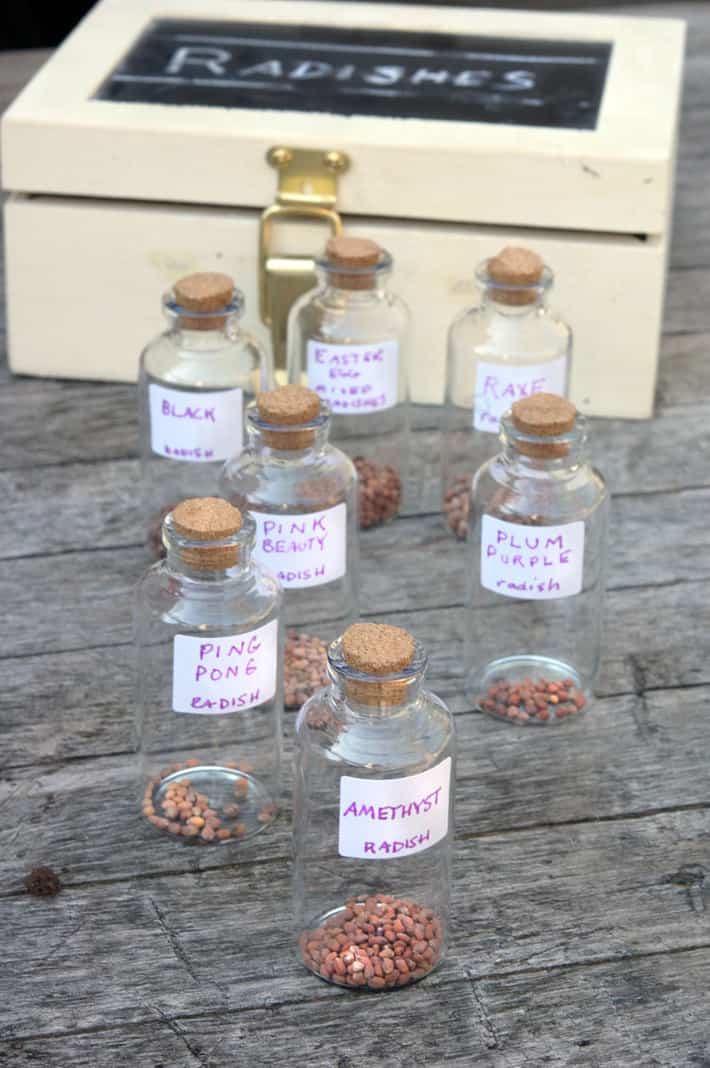 I'm going to use a variety of radishes like I do when I grow Radish Bouquets for housewarming presents. You can get a lot of radish growing tips in that post.
Radishes aren't just the red round ones you see in grocery stores, my favourite radish isn't even round it's cylindrical with a white tip: The French Breakfast Radish.
Above all else don't just stick to the classic red radish. Radishes come in a ton of colours and spice levels. The classic red radish (I grow RAXE, a classic cherry type radish) forms a perfect round ball but some of the others are elongated and bi-coloured like my favourite, the French Breakfast Radish.
I also grow purple, pink, pure white, jet black and watermelon radishes, which makes growing radishes and giving them away way more fun than just handing over a bunch of plain red ones. You can find most of these types of radish seeds are your local seed supply store.
Since gardening has become so popular you can even find some of the more interesting varieties in grocery stores, hardware stores and nurseries.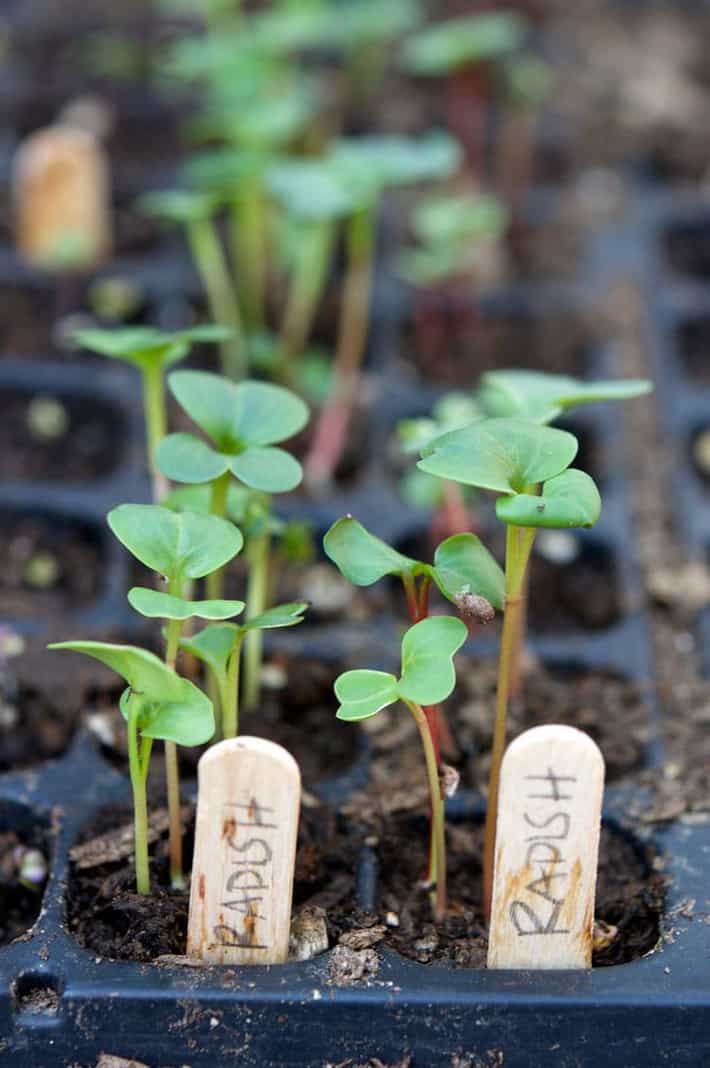 Plant several varieties of radish seeds in a single cell block with up to 6 seeds. Then grow like you would indoors.
Normally as soon as they have germinated, each bunch of 5 or 6 radishes is popped out of their cell and planted outside as an entire bunch.
BUT in this experiment things will go a little differently.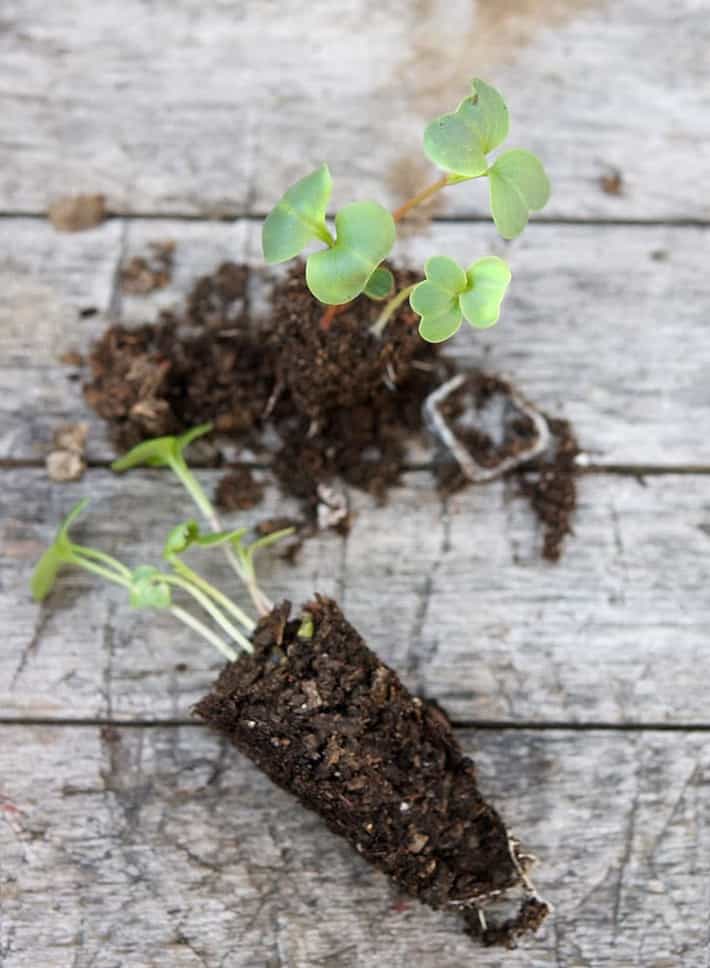 In winter once the seeds have sprouted and we want to plant them outside it will mean tricking the radishes a little bit into thinking it's further along in the season than it actually is. There are a few ways to go about this.
By protecting the radishes and warming their environment with a small hoop house or low tunnel covered with plastic.
In an outdoor greenhouse.
In a cold frame.
Or in a pot in a window with a LOT of light. A south facing is your best bet for success.
I'm going to use my very small outdoor greenhouse that I bought last year. In the spring I used it to get my luffas outside early and in the fall to cure my squash harvest.
As soon as the seedlings have sprouted, but before they've had much of a chance to get used to the lavish indoor growing conditions - I'll put them in pots, and put those pots out in the greenhouse and wait for them to reach maturity.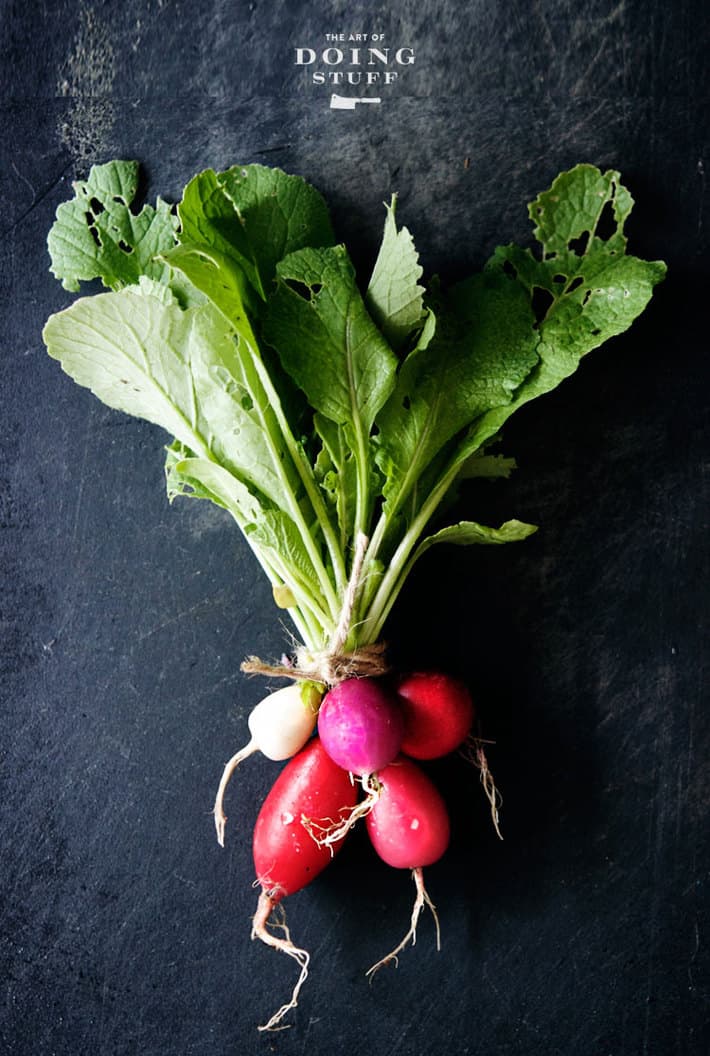 For optimal greenhousey performance I'll keep the greenhouse flat up against the wall of my house on the porch to take advantage of radiant heat from my home's bricks.
I will also set up my seed starting mats (which are like heating pads) in the greenhouse for added warmth.
Then we wait to see what happens. If things go according to plan each pot will have a bouquet of various coloured radishes growing close together.
If you plan to try radishes right in the ground in winter you'll have to either put them in a cold frame (you can get instructions on how to build a cold frame here) or in a low tunnel with plastic over it. A low tunnel is the same thing as a hoop house, but lower.
So what do you say? Wanna give it a shot with me? If it works it'll be rad. If it kind of works it'll be rad-ish.