Making lard is easy and there is NOTHING that makes a better pie crust than lard. Plus shock of shocks ... lard is a heart healthy fat just like avocado or olive oil. All lard is, is slow melted pig fat. Here's how to make it.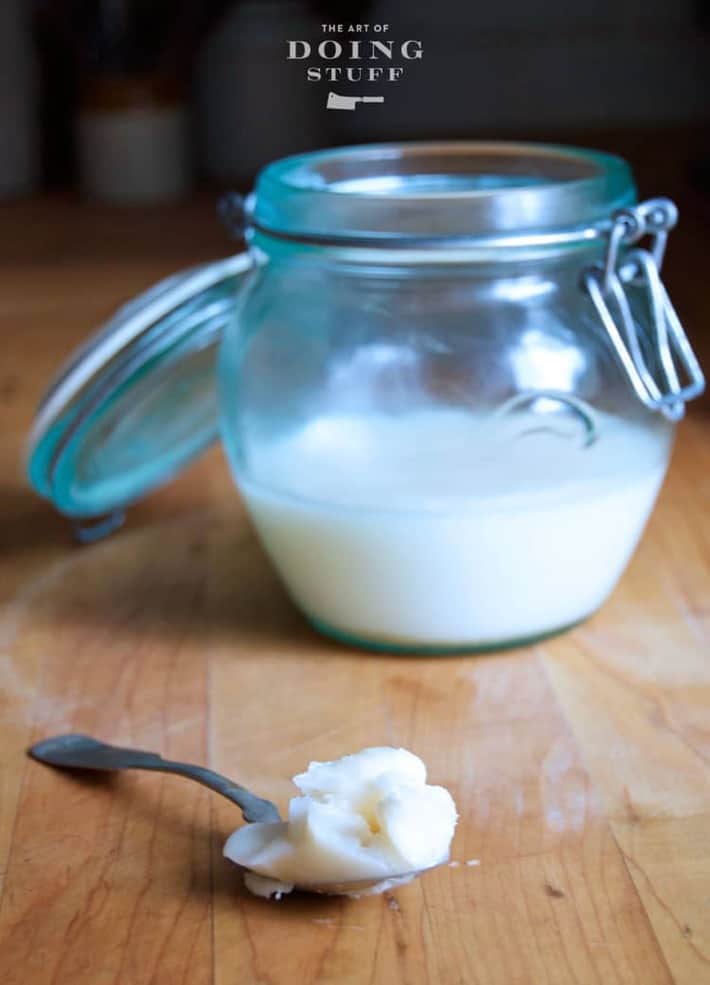 Skip right to the printable tutorial.
Hey, you know that thing you thought about lard being bad for you? Well it isn't. So you can just file that thought away with your previous thoughts on eggs, wine, chocolate, coffee, and red meat being bad for you. I give it a year before we find out stabbing yourself in the eye isn't bad for you either.
It seems scientists had jumped to the wrong conclusion about lard many years ago. The theory was animal fats were bad for you and plant fats were good for you. Think Olive Oil and Avocado Oil, the darlings of the fat world. They're good for you, have high smoking points and are heart healthy.
Well guess what. Turns out lard is that type of fat too. Ergo, lard is good for you. Scientists have recently taken a big backtrack on their analysis of it being bad for you because it's high in the heart healthy monounsaturated fat.
Lard is now seen as a fat that's good for you. But there's a catch. It should be homemade lard.
Grocery store lard has preservatives BHA and BHT added to it so it has a longer shelf life. Those 2 preservatives are thought to be bad for you. But hey ... that's this week, right?
Luckily homemade lard is stupid easy to make.
HOW TO MAKE LARD
Ingredients:
Leaf lard (your butcher will know what this is)
Steps:
Step 1: Dice the fat into small pieces or (even better) put it through a grinder.
Step 2: Place the fat into a slow cooker along with ¼ cup of water.
Step 3: Slow cook on low/medium until all the fat has melted. If it sticks add a bit more water. This will take several hours.
Step 4: Strain the fat into a jar. I don't like cheesecloth for this because it soaks up too much of the precious lard. I prefer a very fine mesh strainer.
Step 5: Store the lard in your fridge.
IDEA: Lard makes the world's best pie crust and pumpkin makes the world's best pie. And if you're going to make pumpkin pie, make it with real pumpkin.
1. Why leaf lard? Because it's the cleanest and softest fat on the pig which has no "piggy" smell or taste once rendered. It's gathered from around the kidneys of the pig. Fat from pasture raised pork is the best because you are what you eat. And so is the pig.
Where to find leaf lard? You can get it from a farmer's market or butcher shop.
Murray Thunberg, owner of Murry's Farm in Cambridge, Ontario which produces pasture raised heritage breed pork, firmly believes fat from his pigs (which is what I used) is especially good because his pigs are not only pasture raised but they aren't given any corn or soy products in their diet at all. I asked him what he thought of leaf fat as being the premium fat for rendering and he laughingly said he can't tell the difference between lard rendered from leaf fat or other fat. It all tastes good.
2. To dice, grind or grate? Lard takes a long time to render and it HAS to be done at a slow temperature otherwise it'll brown. The smaller your lard bits are the better it will render. No matter how you get your fat ready (dicing, grinding or grating) it'll all be easier if you're working with refrigerated fat that's easier to grate and slice because it's firmed up. Room temperature fat is soft, wiggly and harder to work with.
BEST - Grinding
2nd BEST - Grating or finely chopping in a food processor
3rd BEST - Dicing. It will still work, as I've shown in this post, but it's the most time consuming and least effective for getting the most out of your fat.
I also should invest in an actual Crock Pot (or any slow cooker) as opposed to this Instant Pot which I have very unfriendly feelings towards. You can read my unfriendly review of the Instant Pot here.
3. Why the water? Adding a bit of water just helps to stop the fat from burning/browning.
4. How to store it? There are a LOT of differing opinions on this on the Internet so take my advice with a few words of caution: I'm no expert. But I store my lard in the refrigerator.
I'm gonna say you could probably just store it on the counter being that fat is a natural preservative AND lard has more saturated fats in it than vegetable/seed oils so it stores longer without fear of going rancid. Also I think we've all become a little crazy when it comes to the fear of getting sick and dying from food.

I don't have enough yet but when I stock up on more fat from Murray I'm going to use it in my deep fryer for making what I suspect will be the world's best french fries. And you know
I'm serious about my french fries.
For now, with the jar that I have, it's going to be used for a deep dish cigarette pie. Because didn't you hear? Those are good for you now too.
Just kidding. Cigarette pies have an aftertaste. Blueberry pie it is.