- Have you made any desserts for the blog you wanna get rid of?
- Nah. Try me next week.
That's how a conversation with my neighbour goes every so often. She knows I don't particularly like scarfing down sugar covered sugar with a dollop of caramelized sugar so she's always at the ready in case I've made a dessert for my blog that I want to get rid of. It's fun to be my neighbour.
Just the thought of super-sweet desserts, in fact, makes me feel nauseous. Imagine eating sidewalk barf. That's how I feel about pecan pie.
I think that's a perfectly classy segue into discussing the very delicious lemon tart I'm about to introduce you to today!

THE LEMON DROP TART
Give me a tart, lemony dessert instead of an overly sweet, caramel covered pile of sacchariferousness any time. Summertime especially, seems to call for lighter, citrusy after dinner treats. I started making this dessert a couple of years ago after reading about homemade lemon curd in Signe Langford's cookbook Happy Hens & Fresh Eggs. It's one of the kazillion recipes I use from her book. Signe, a former restaurant chef, has chickens and with the help of my friend photographer Donna Griffith she created a cookbook about keeping backyard chickens and what to do with ALLLLLL of those eggs. The very first Happy Hens & Fresh Eggs recipe I tried was Signe's lemon curd recipe which I used in the birthday cake I made for Betty's 80th birthday.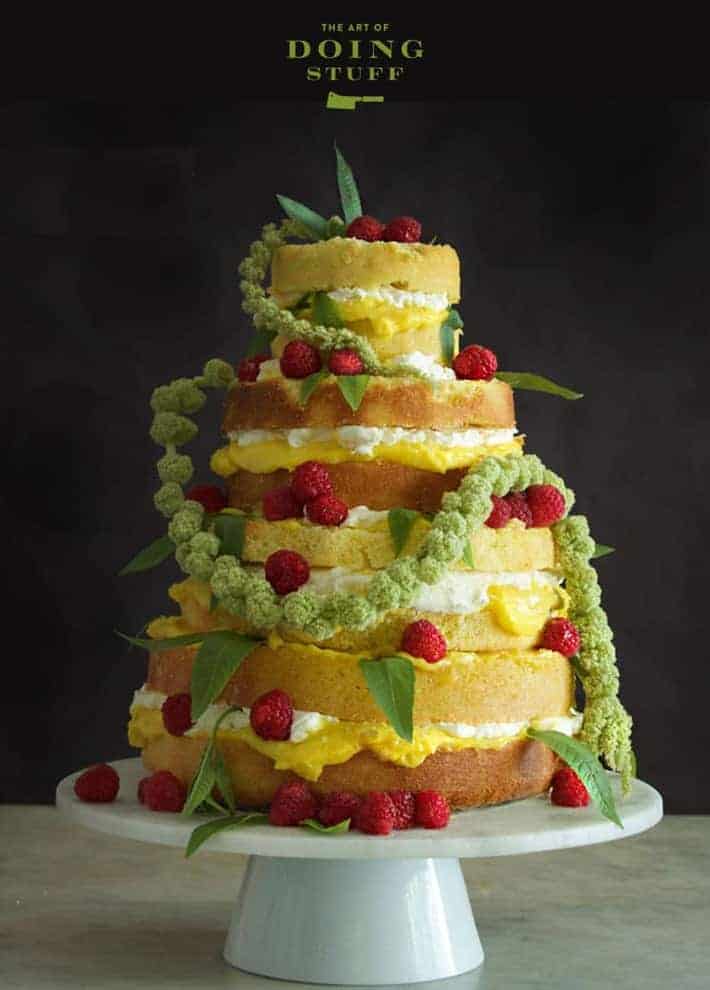 The Naked Cake. Decorated with raspberries, amaranth and lemon verbena leaves. Honestly though? I'd have been happier eating a bowl of plain lemon curd. Which I have done on many occasions. Often without the aid of a spoon.
The secret to this lemon curd is using the entire egg, not just the yolks. It. Is. Spectacular. Since I started to feel weird about answering the door with a plain bowl of lemon curd in my hands and a huge wooden spoon sticking out of my mouth, I started to think maybe it would be a good idea to figure out a more socially acceptable way of getting my fill of lemon curd without having to make an entire birthday cake.
Enter the Lemon Drop Tart. Aptly named by me because it tastes like a ...... O.K., honestly if I have to tell you what it tastes like we've got some serious issues here. It tastes like a lemon drop. Just enough sweetness to make you sidewalk barf eaters happy and just enough tart to make the rest of us purse our lips in pleasure.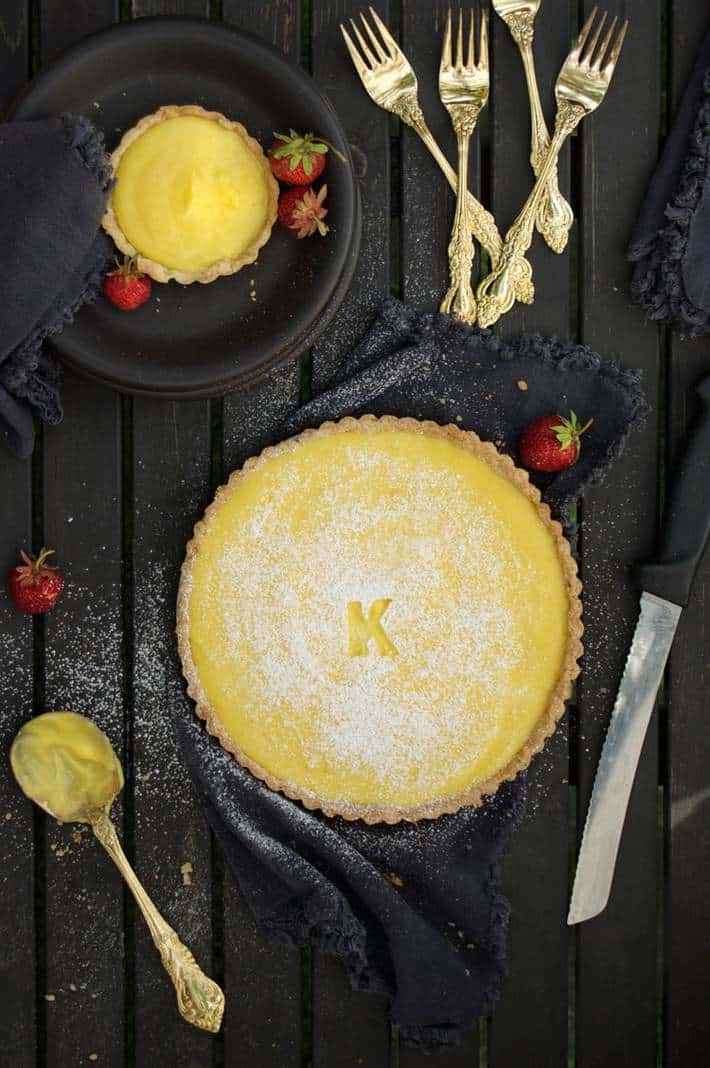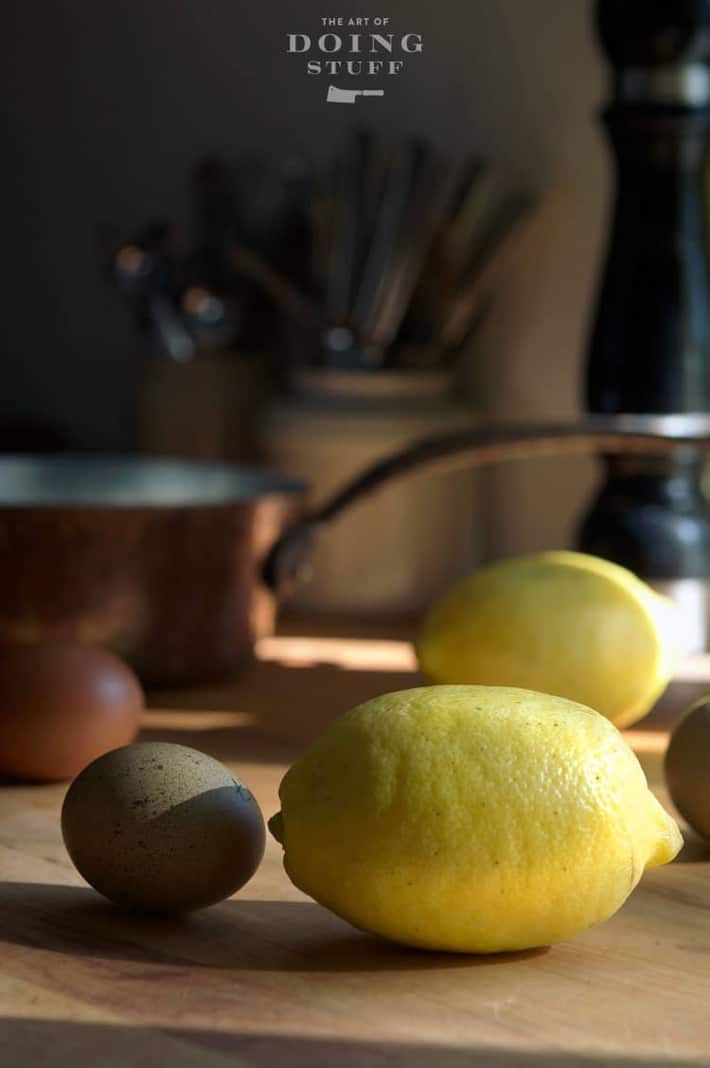 You can't get away with using RealLemon lemon juice in this recipe though because you WANT the zest. The zest makes all the difference in the world, so you need to use actual lemons. Normally I sub with RealLemon juice all the time, but you want the ZEST this go around.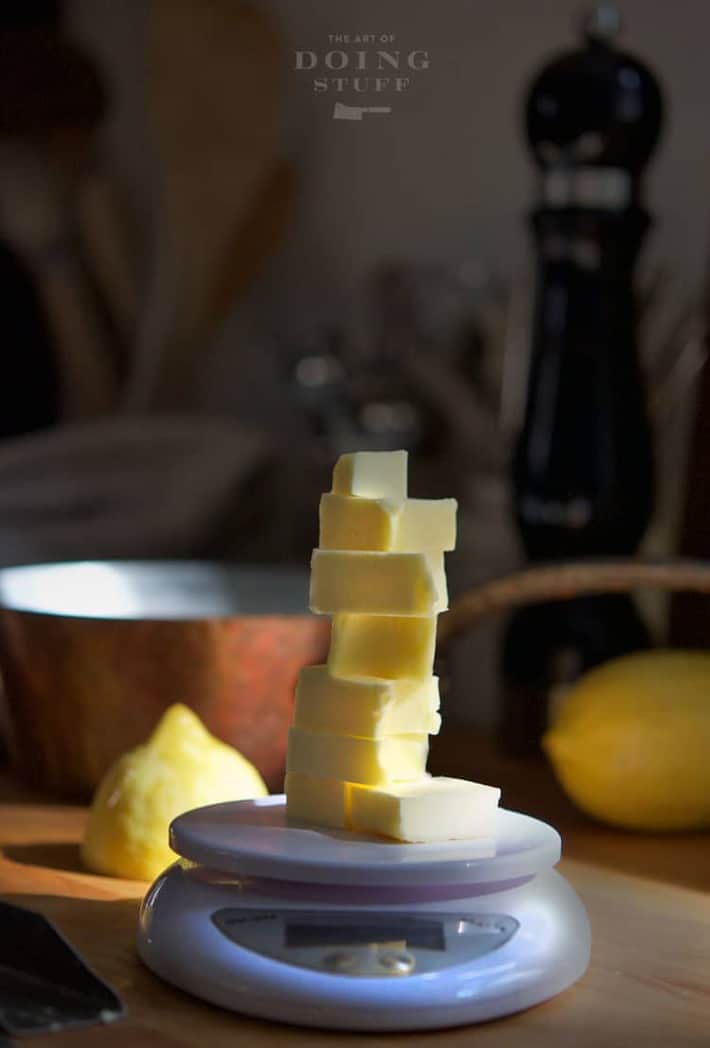 If you want things to be exceptionally accurate when baking you really should weigh your ingredients as opposed to just measuring them. 6 Tablespoons of butter = 85 grams. I cut off what I *thought* was 6 Tablespoons of butter, but after weighing it I saw that I was 25 grams light and had to add some more. That's why you weigh. It's accurate.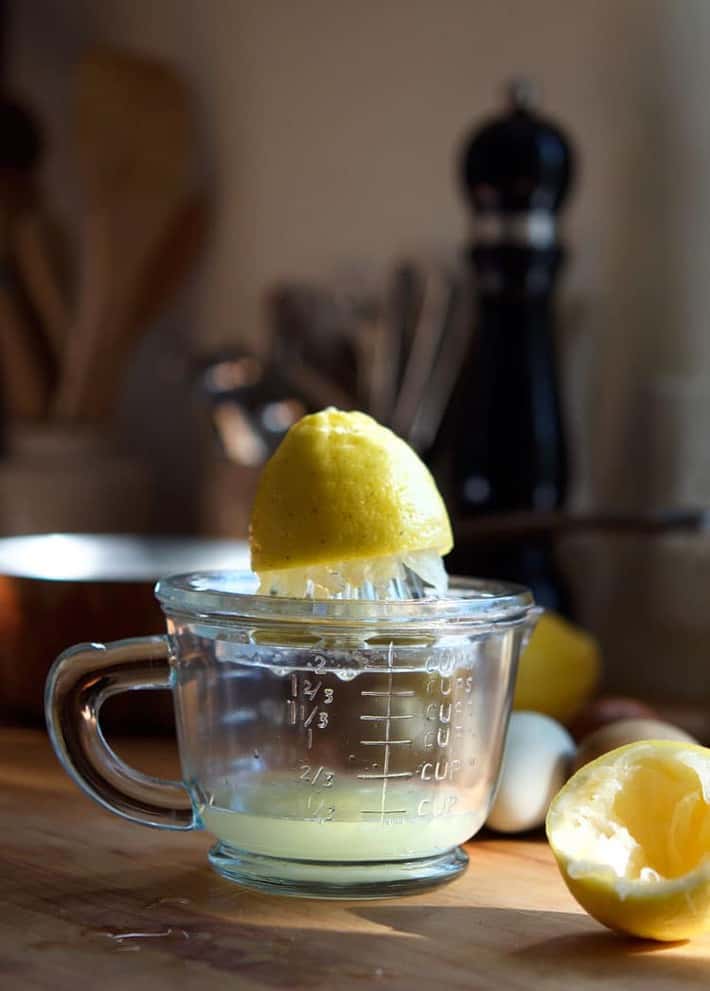 This recipe calls for ½ a cup of lemon juice which is the juice of one large lemon if you have the strong, strong squeezing hands of a retired bricklayer.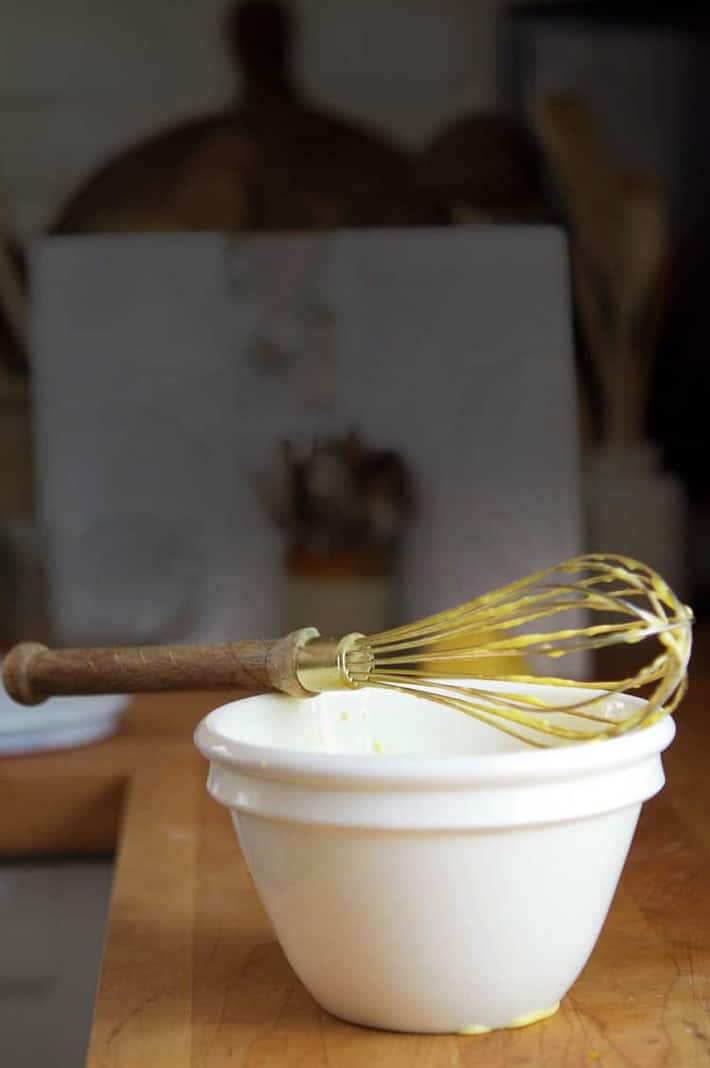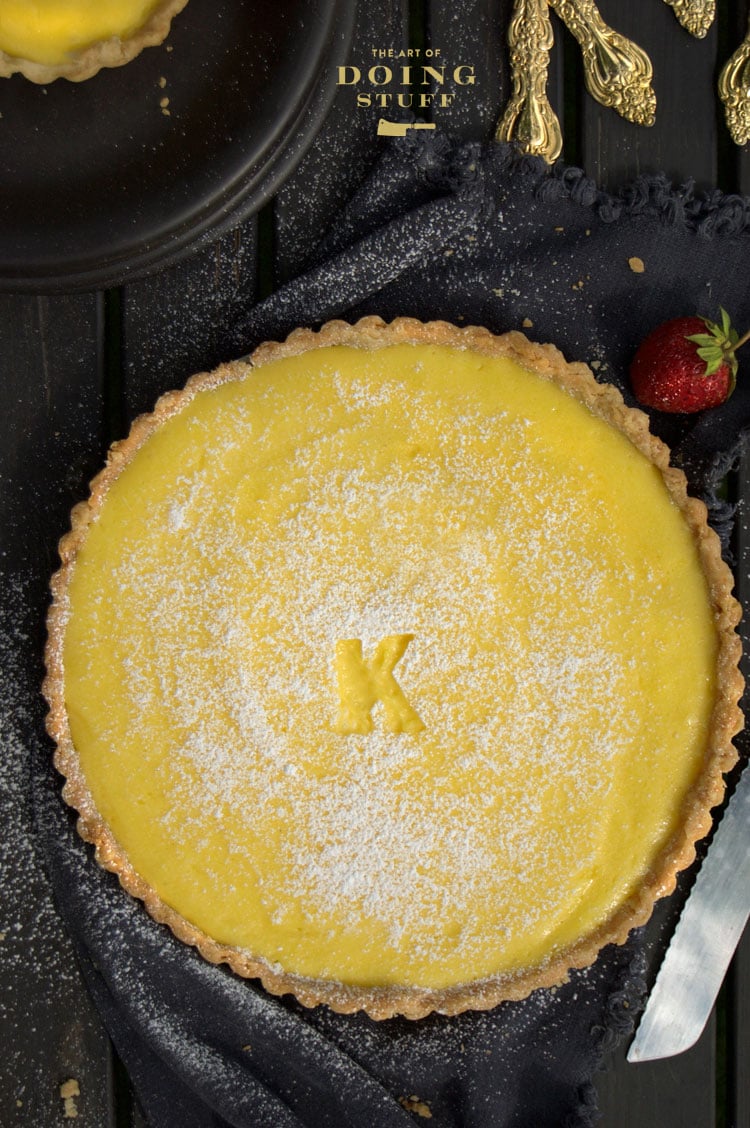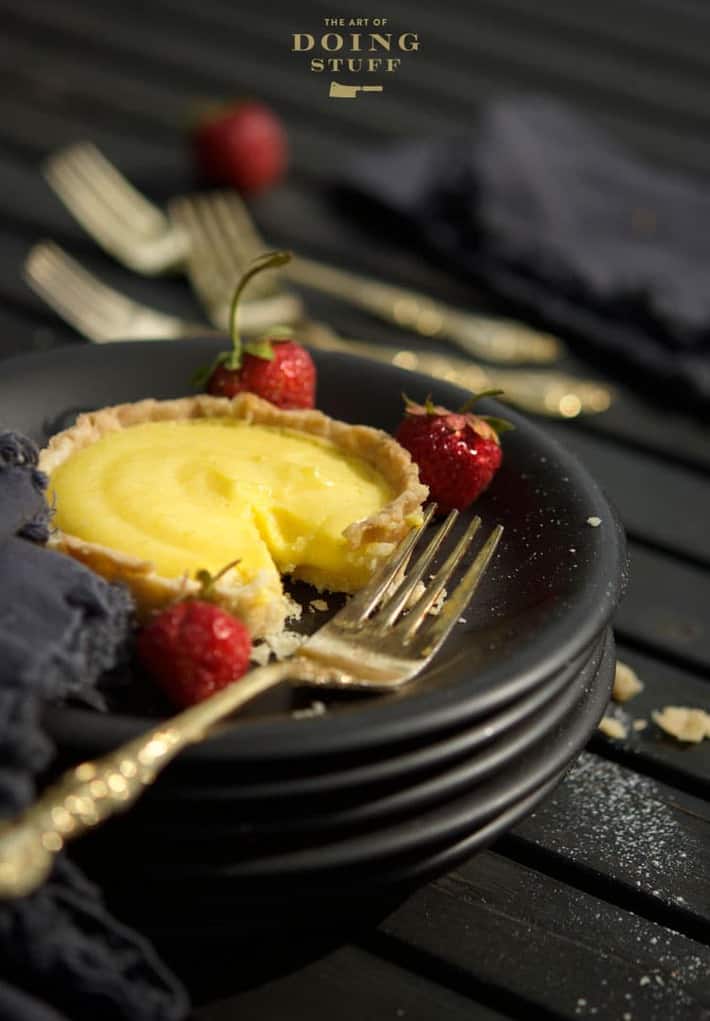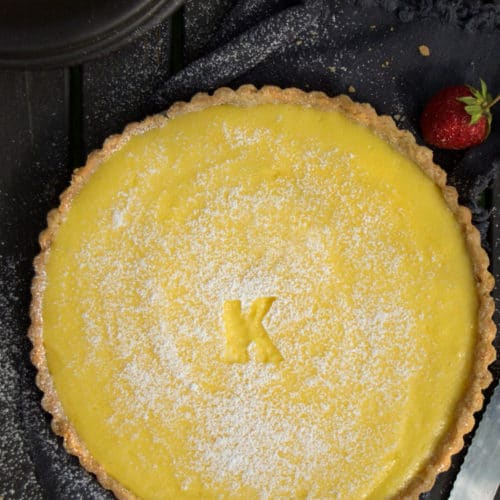 LEMON DROP TART
This lemon tart is a quick and easy dessert perfect for a summer night.
Print
Pin
Rate
Ingredients
*DOUGH INGREDIENTS*

2 ½

cups

unbleached all purpose flour

1 ½

teaspoons

sugar

1

teaspoon

salt

½

cup

1 stick chilled unsalted butter, cut into ½-inch cubes

½

cup

chilled lard

or solid vegetable shortening, cut into ½-inch cubes

5

tablespoons

or more ice water

*CURD INGREDIENTS*

½

cup

120 mL vanilla sugar

½

cup

120 mL freshly squeezed citrus juice

Zest of 1 lemon or other citrus fruit

4

free-run eggs

6

tablespoon

85 grams butter, at room temperature, cut into chunks
Instructions
Preheat oven to 425 and place a metal baking sheet in the oven.

For pie dough, mix together flour, sugar and salt in food processor.

Add butter and lard and pulse until crumbly. Your fat pieces should be around the size of a pea.

Dump contents into a bowl and add ice water. Mix with a fork. Add more ice water (1 teaspoon at a time) until the mixture holds together when you clench some in your fist.

Divide dough in 2, press into flat circles, wrap in plastic wrap and chill for at least 1 hr.

Roll dough out and fill a full sized or individual tart pans with dough. Chill for another half hour. (this helps prevent the dough from shrinking as you bake it!)

Prick dough with fork, line with 2 sheets of aluminum foil then weigh down the foil with either ceramic pie weights or dry beans.

Reduce oven temperature to 400F then place shell on preheated baking sheet to cook for 10 minutes. Edges will be golden and bottom of the dough shouldn't look raw.

Remove shell from oven and remove foil and weights.

Return shell to oven to cook until done - another 15 minutes apx.

Once golden and cooked remove the pie shells from the oven and cool.

Into the top part of a double boiler or bain marie whisk together the sugar and juice. The water in the bottom pan should be simmering gently.

DON'T let the water get too hot or you'll end up with scrambled eggs, not lemon curd.

Add the eggs and whisk for the next 15 minutes or so. Remember to scrape down sides.

Once the mixture starts to seem like curd (around the thickness of Greek Yogurt) whisk in the butter one pat at a time, and the lemon zest.

Transfer curd from hot pot to bowl and allow to cool a bit.

Once cool to the touch but not completely cooled, spoon the curd into tart shell, refrigerate and enjoy once completely set.
I know the recipe looks long, but if you already have a favourite pie crust recipe, just do that. In fact, if you want, just use a frozen crust. Who the hell cares.
By the way, did I mention that I'm also featured in Signe's book, Happy Hens & Fresh Eggs? 'Cause I am. And this isn't like the time that I told you I was dating Idris Elba when I really wasn't, because we had already broken up. This is for real. I'm in the book.
This Lemon Drop Tart is made for warm summer nights on the porch, bare feet up, listening to the sound of Cicadas and the click clack of a far off push mower.
Tonight when my neighbour asks me the question "Have you made any desserts for the blog you wanna get rid of?" I will happily and honestly tell her, Nah.