Maple Cream aka Maple Butter
Maple Butter, Maple Spread, Maple Cream, whatever you want to call it, now that you know it exists you're doomed. IT'S deadly DELICIOUS and it only takes one ingredient. Maple syrup.
If you've never had maple butter I need you to stand at attention and listen for once. You need to make it right now. There is only one ingredient - maple syrup. Maple butter is solid, creamy, spreadable maple syrup.
---
HOW EASY IS IT TO MAKE?
Like all delicious things it's kind of complicated.  Here's what you need to do.
Pay close attention to the following instructions:
BOIL MAPLE SYRUP ... THEN STIR IT. Yup. That's all there is to it.
---
 People overuse the word miracle all the time because they have no respect for the true meaning of it.  If they can fit in their pants after Christmas they say it's a miracle. That's not a miracle, that's Spandex.
Maple butter however, is a maple miracle.
I make my own maple syrup by tapping my own maple tree and trees in my neighbourhood.  So I've been trying to figure out a few different ways to use it beyond hiding behind a curtain and chugging it straight out of the bottle.
Enter Maple Cream. (Maple butter and maple cream are the same thing)
What's maple cream aka maple butter?
It's maple syrup that's been (miraculously) transformed into a creamy, spreadable, butter-like consistency through a process of crystallization.
It's meant to be spread on English muffins, or toast or even ... on a grilled cheese with bacon and green apples.
I prefer to eat the maple butter by taping the jar to my head and licking my way to the bottom like an anteater.
So you want to make some?
Let's do this.
How to Make Maple Cream
What You Need
Wooden spoon
Icecubes
Maple Syrup
Bowl
2 pots
Thermometer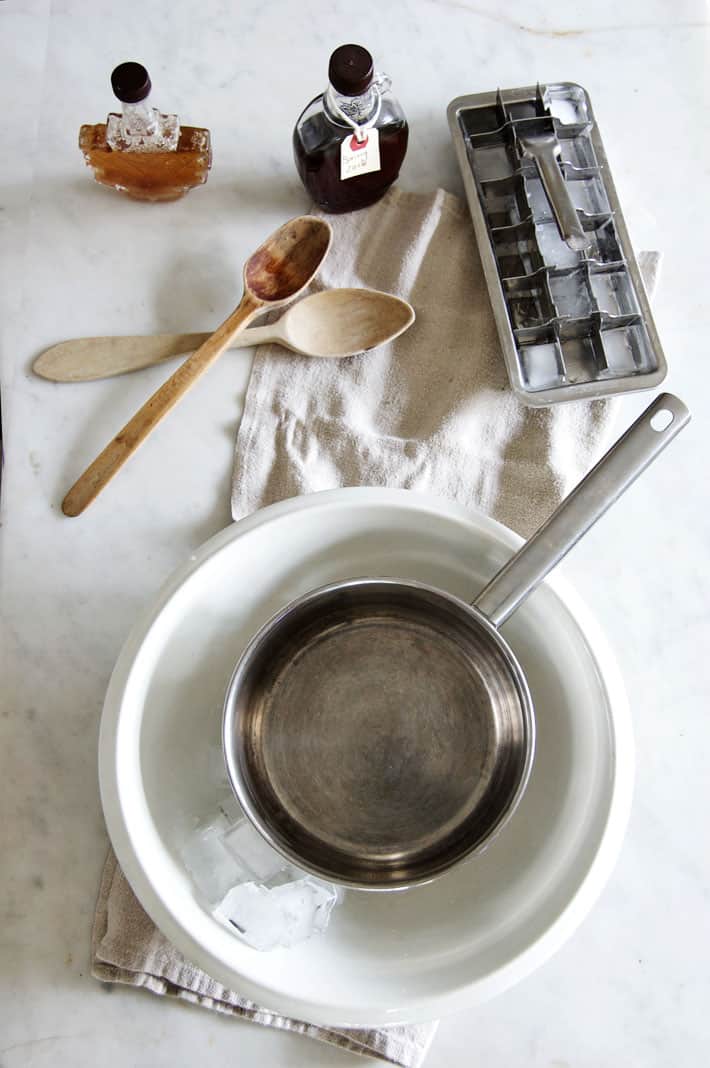 Pour 3 cups of light to medium maple syrup into a pot.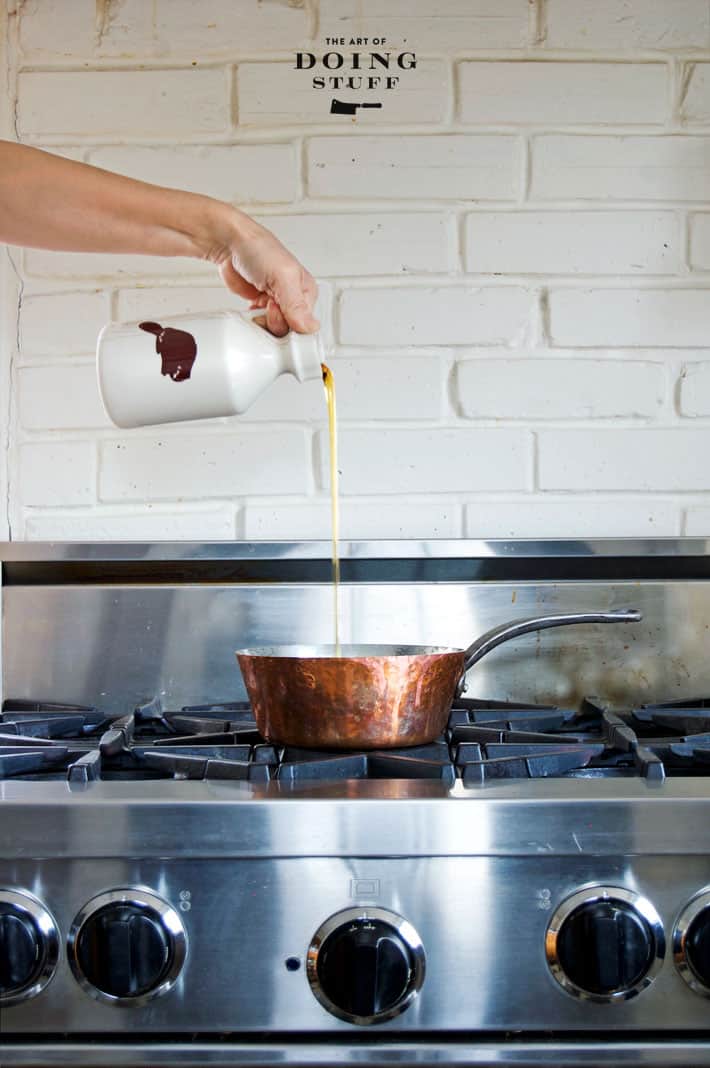 Do it with flair.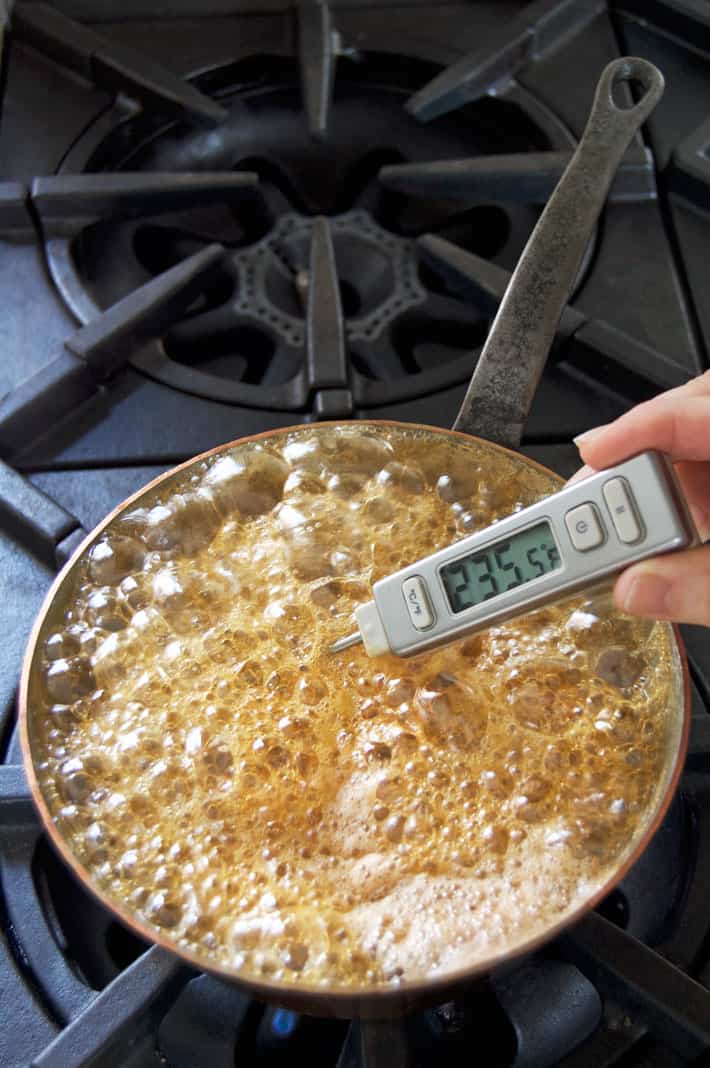 2. Boil over medium/low heat WITHOUT STIRRING until the syrup reaches 235 F.
3. Immediately pour syrup into a pot set in an ice bath. Let stand WITHOUT STIRRING until the syrup cools to 100 F. (this will take around 10 minutes)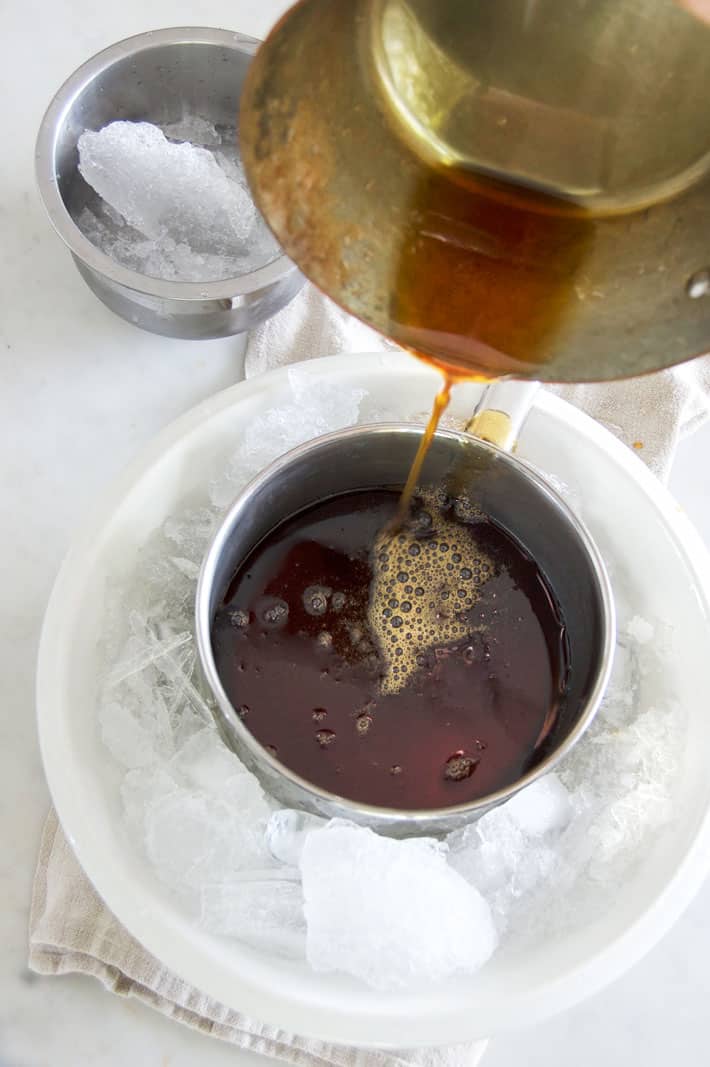 Please enjoy this Little House on the Prairie moment ... I didn't have enough ice for an ice bath so I went outside and pulled some frozen sap out of my sap buckets to use as ice.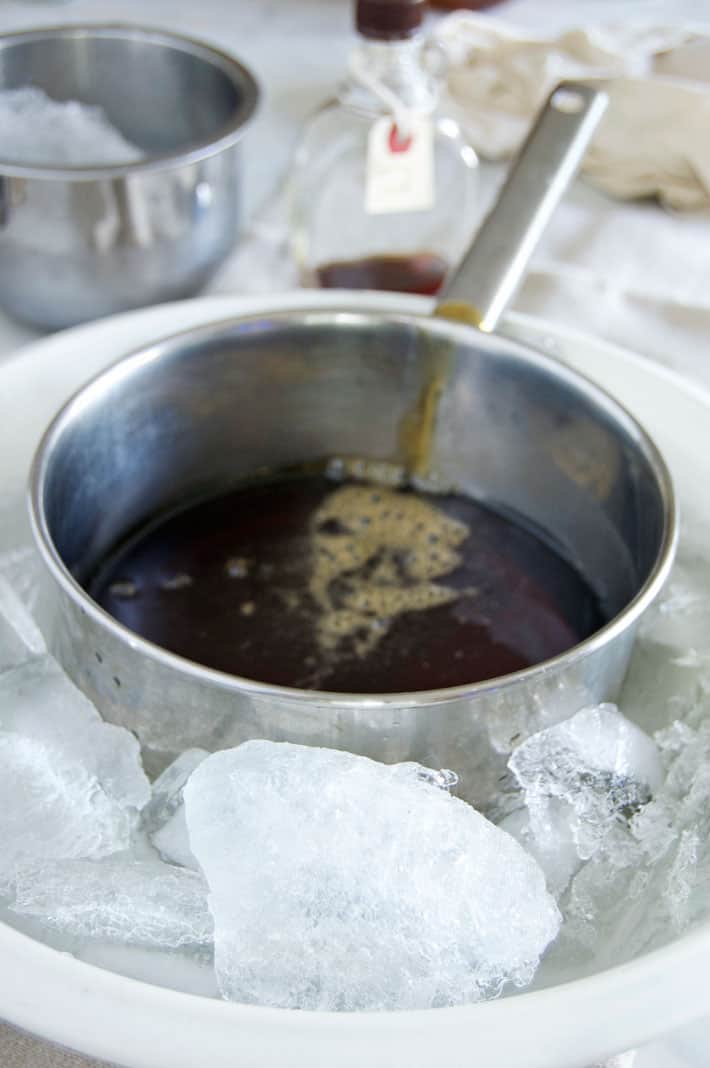 4. Once the syrup has lowered in temperature to 100 F., remove the pot from the ice bath and start stirring.
Don't stir like a crazy person, you don't want to beat air into it. You just want to stir it. You will be stirring for a long time. Like, half an hour. I focused on watching television to get my mind off of my sore arm.
Eventually the syrup will start to lighten (after about 15 minutes of stirring) and then you have to keep stirring. Once it gets to be this very light colour, you don't have long to go.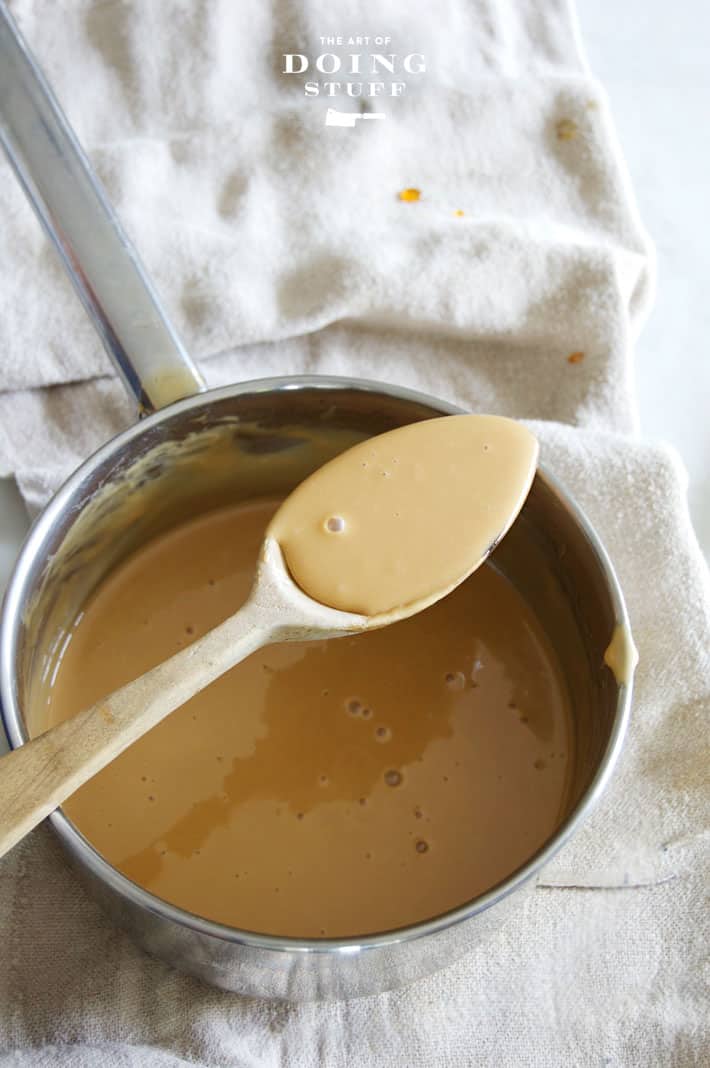 5. Continue to stir the syrup until it goes from shiny to dull and holds its shape as you run the spoon through it. This means it's set up, the crystallization process is complete and you can STOP STIRRING!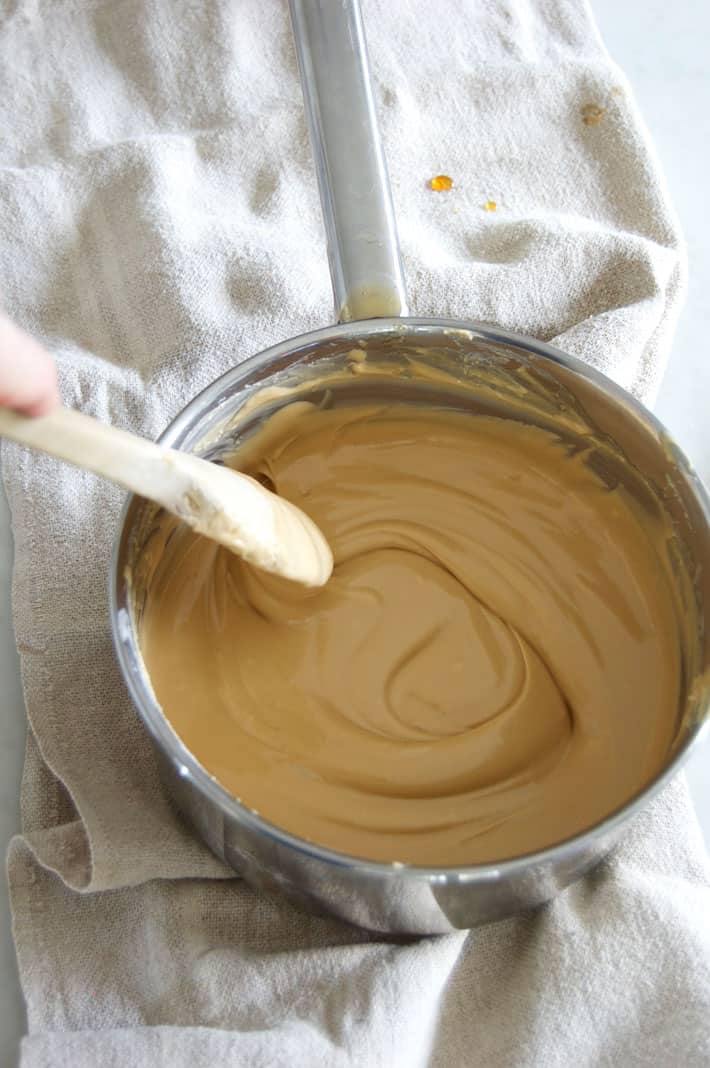 6. Immediately pour it into your containers before it sets up too much to pour.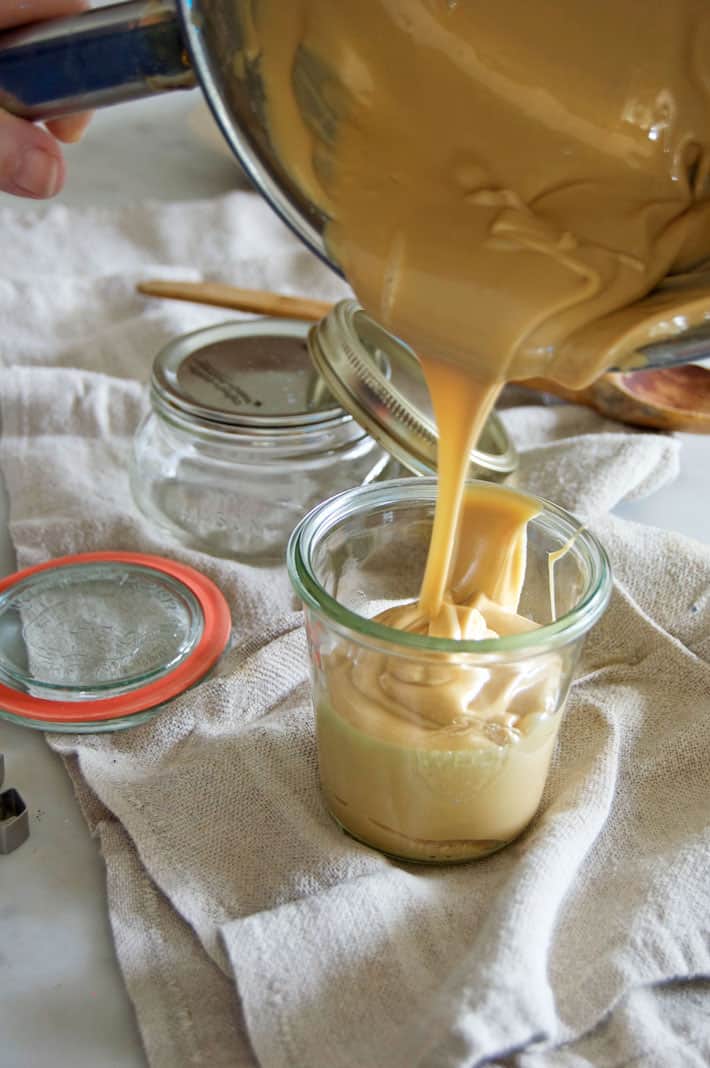 You now have maple cream which you stirred by hand which makes you a badass.
It's now that I let you know you can also use a stand mixer to do this. But then you won't be a badass with maple cream you'll just be some schmo with maple cream. The choice is yours.
To do it with a stand mixer, instead of stirring it by hand use the stand mixer set to "stir", or "low" with the paddle attachment. Whichever your stand mixer has as the lowest setting. Don't forget to scrape down the sides.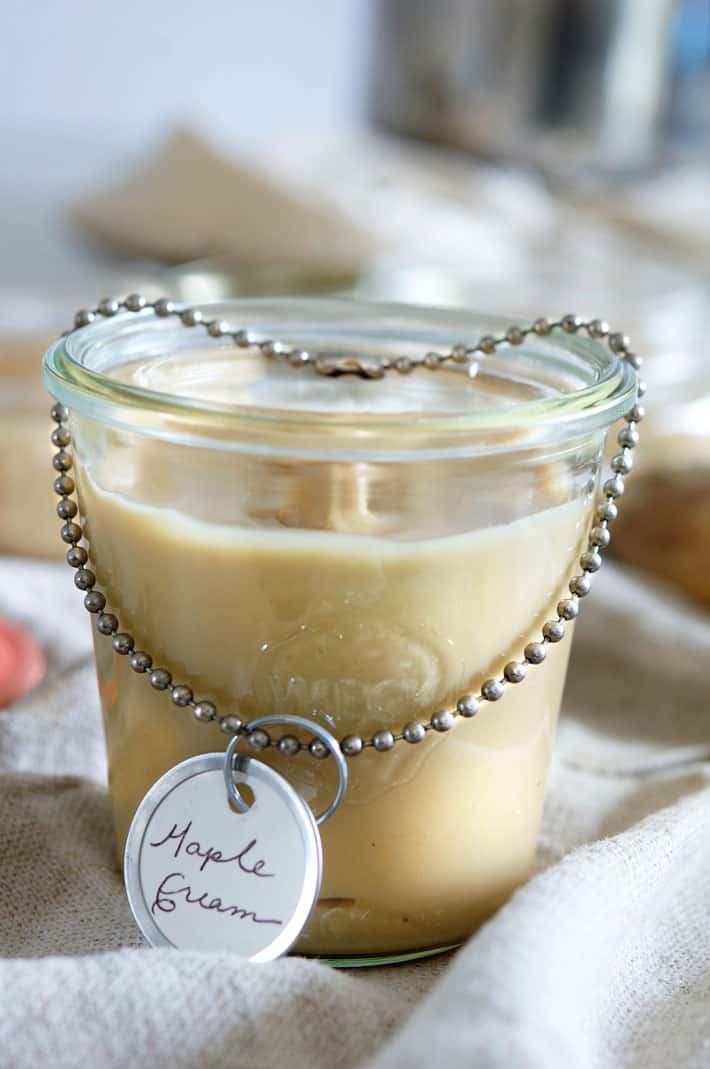 Maple butter will last for 6 months in the refrigerator. Which is a handy little tip in case you take a blow to the head and forget you own delicious Maple butter. (There would be no other explanation for not eating it all in a week.)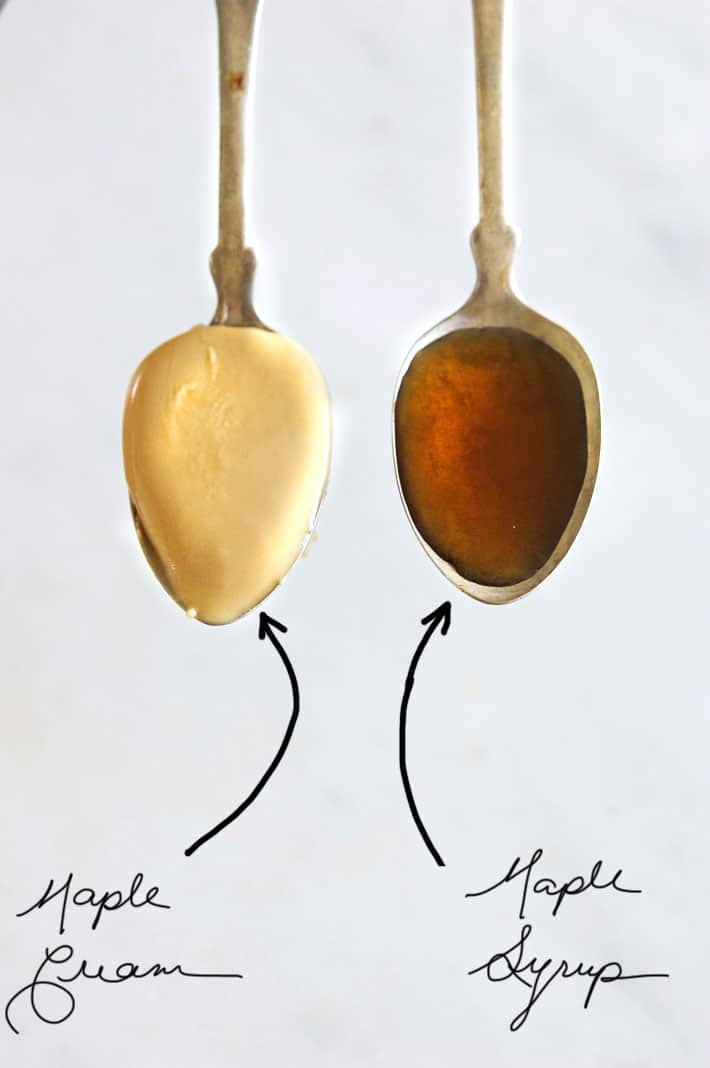 The difference in these two forms of maple syrup is amazing. It is the exact same thing, just the structure of it has changed through the heating and then stirring of it to achieve crystallization.
The crystals are so small your tongue can't detect them.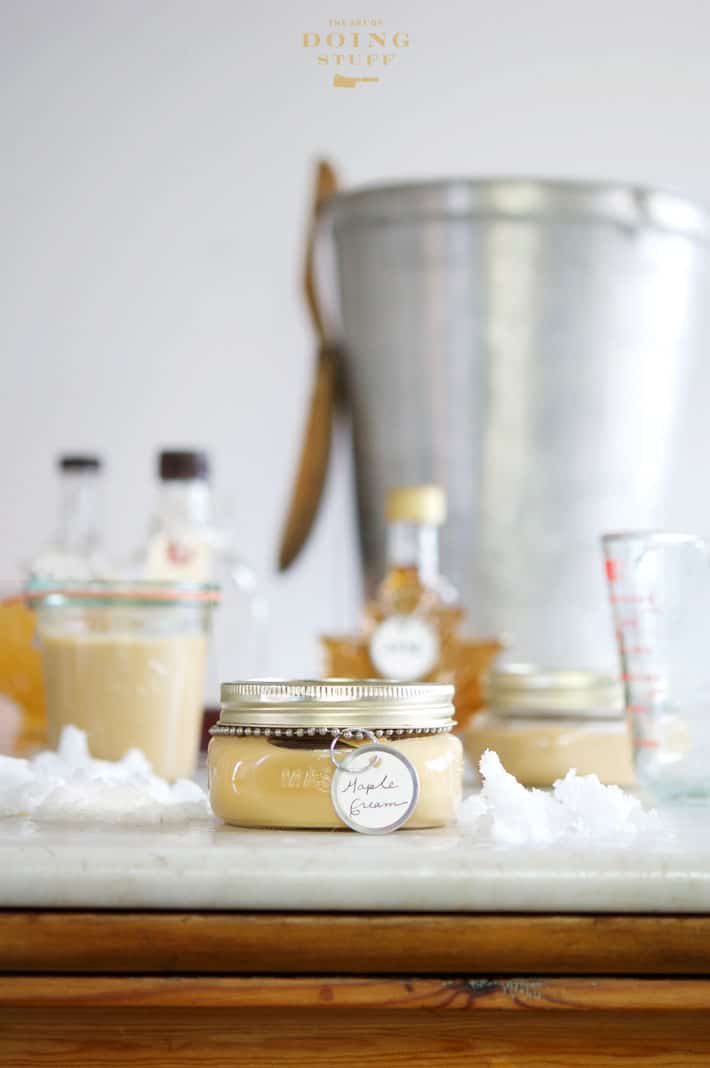 `
Every person I've had taste this has had the same reaction. Their eyes roll into the back of their heads.

Traditional Maple Cream
A spreadable version of maple syrup.
Print
Pin
Rate
Instructions
Bring the Maple Syrup to a boil in a pot over medium/low heat. Boil until it reaches 235 degrees F. without stirring then remove from heat immediately. This will take around 15 minutes.

While the syrup is boiling get an ice bath ready with a pot set in a bowl of ice.

As soon as it has reached 235 degrees F, pour the boiled syrup into the pot set in the ice bath. Leave it until it the syrup drops in temperature to 100 degrees F. Don't disturb it at all while it rests.

Once at 100 degrees F. remove the pot from the ice bath and start stirring. Don't stir vigorously ... you don't want to beat air into the syrup ... just stir it.

Keep stirring. The syrup will start to lighten. Keep stirring. After about 30 minutes of stirring the syrup will be very light and resemble tahini but still be glossy with the consistency of cream. KEEP STIRRING.

The syrup will now finish crystallizing, set up and be come duller. Once your spoon starts to leave paths in the syrup you can stop stirring.

Pour the Maple Cream into your jars right away before it becomes to difficult to pour.
Notes
Remember to use only light to medium, Grade A maple syrup.
Do NOT stir while heating or cooling the syrup. Stirring will cause premature large crystals to form and your cream will be grainy not smooth and creamy.  
I even go so far as to leave the thermometer in my syrup as it's cooling so I don't have to stick it in and pull it out for temperature checking.
Maple Cream will last 6 months in the refrigerator.
Nutrition
Serving:
1
tablespoon
|
Calories:
65
kcal
|
Carbohydrates:
16
g
|
Sodium:
2
mg
|
Potassium:
54
mg
|
Sugar:
14
g
|
Calcium:
26
mg
If you're wondering about that whole grilled cheese thing I mentioned at the beginning, this is the sandwich I'm thinking of trying it on. I realize maple syrup on a grilled cheese sandwich might sound gross, but it's not. It's a miracle.
→Follow me on Instagram where I often make a fool of myself←