O.K. That's it. I'm not changing it again (having said that I've already changed it since I took these photos a few hours ago). But that's not because anything was terribly wrong in my living room, things are only terribly wrong in my head.
And a head is a much easier thing to fix than a f*>k ugly sectional. Do I hate the sofa? Absolutely. Will I replace a couple of things. Sure. But I feel cozy and comfortable in my living room and that was the goal.
You know when a dog sniffs and circles and digs and digs and circles and almost lays down then changes direction because ALL the spots to collapse seems so good?
That is now me in my living room.
In fact, it hasn't officially been confirmed but I broke the world record of putting 23,000 steps on my watch - while sitting.
Let's take a look at my living room over the years.
This monstrosity is within the first 5 years or so of buying my house. So. Many. Things.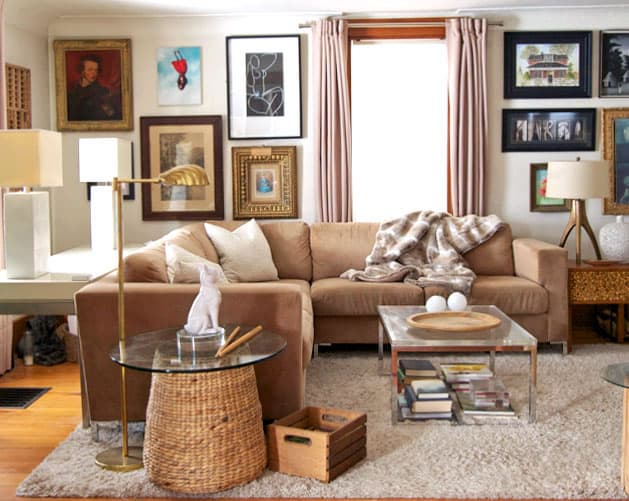 Nothing makes sense here. The whole left side is light, the whole right side is dark, there's a reading light and a lamp right beside each other and there are no less than 4 hides (sheep or cow) - that is entirely too many hides ... and yet all you see is sectional.
O.K. well it feels cozy I'll give it that. Raise your hand if you TOO had that shag rug from Costco. 🙋🏼‍♀️
Things improved a lot in 2018 when I made interior shutters for all my windows. But it still wasn't right. Feels too fancy and austere.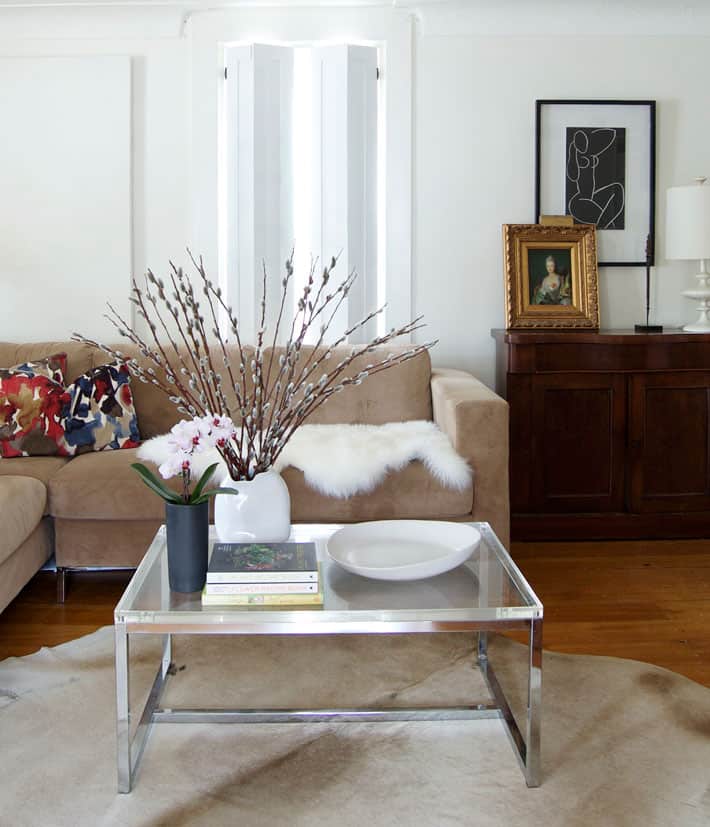 These versions of my living room (which is also my family room) were all unfortunate. And I knew it. But I just couldn't get it any better no matter how many Elle Decors I bought but forgot to flip through.
But now? Now I just go from seat to seat marvelling at the perfection of all of them. Over and over and over again. To the point of it not even being relaxing if I'm being honest. I just can't pick a favourite spot.
All the seats have a good view. There isn't a clunker corner in the bunch. The proximity to the fireplace, the television, the windows, the foyer ... the layout is the best it has ever been.
I'm honestly a bit unsettled by it. I really don't know where to sit and liking this room feels - weird.
I've hated and felt the need to apologize for my living room for 25 years now.
Oh, hi, it's so good to see you, come on in. You haven't been here before have you? O.K. I hate my living room so don't look in that diritttACKnocrap Avert your eyes!! Well, you've seen it now so just ... be a sport and gouge your eyes out. I SAID GOUGE YOUR EYES OUT.
Why I think anyone cares at all about my living room, let alone in a deep way, is something I should probably examine about myself.
I now know my living room has the potential to be my favourite room in the house. Just by doing that one little thing.
And there are a few more little things in my future.
Painting for one thing. These walls were Simply White at some point. Now they're fireplace and old-age yellow.
This view needs a bit of work but if I move the television to another wall it would help. I could also get and hang a Frame TV with landscape art over the fireplace and it would look MUCH better. Plus then I'd make a thin, natural wood frame for it, so it would be perfect.
It's the Bermuda triangle of design - a corner with a black chair, the black hole of a fireplace and the black hole of a television. It's icky.
Huh. I didn't even really realize that was the problem until I just had to explain it to you. Thanks for listening.
Plus I have to make the bookcases less ... well just less. They either need to be completely decluttered or completely filled with books so there isn't as much commotion.
I could replace both the sofa and the upholstered thrift store chair, or replace the sofa and have the chair recovered. And I need a rug - nothing dramatic. Something like this.
In conclusion, I really, really thought I was going to quit apologizing for my living room.