You are only 4 ingredients away from a perfect snacking sized portion of creamy homemade guacamole.  I know!  It's all very exciting for those of us who understand the allure of good snacking.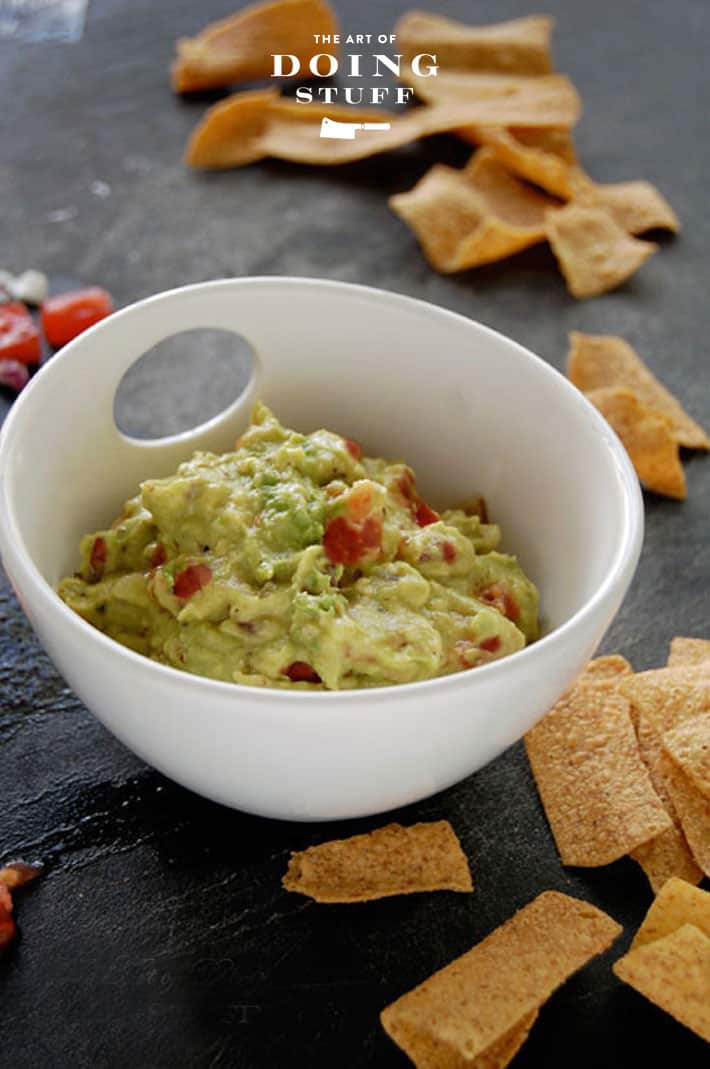 Now, normally I like to rotate my midnight potato chip snacking binges.  Ya know?  Mix things up a bit.  Maybe Pringles on Monday night,  Ruffles and dip for Tuesday, scrounge the bottom of the Salt & Vinegar bag on Wednesday.  Keep things interesting and fresh.
But every once in a while I go on a Guacamole RAMPAGE.
Well, it's kind of Guacamole. I figure there are so many different Guacamole recipes out there you can practically call anything Guacamole. Stick an avocado in a shoe and step on it and in some districts ... THAT'S GUACAMOLE! 
I make it fresh and only a small amount, since old Guacamole gets the colour of a cadaver pretty quickly. I don't want to make enough for a crowd, I just want to make enough to get me through an episode of Big Little Lies.
It's  literally as the name suggests.  One slice of everything and it's done.  I made up the name.  It kind of sucks, but it makes my point.
You need a 4 ingredients and a knife.  And of course ... a vehicle for the guacamole.  I like to use very thin, whole wheat cracker type things or pita chips.
Here we go ... grab these ingredients find out how to make homemade guacamole!
Homemade Guacamole
You'll need ...
½ an avocado, mashed with a fork.
One squeeze of lemon or lime juice.  Lime is really what you should use but if you only have lemon don't let that stop you.
One slice of tomato, diced.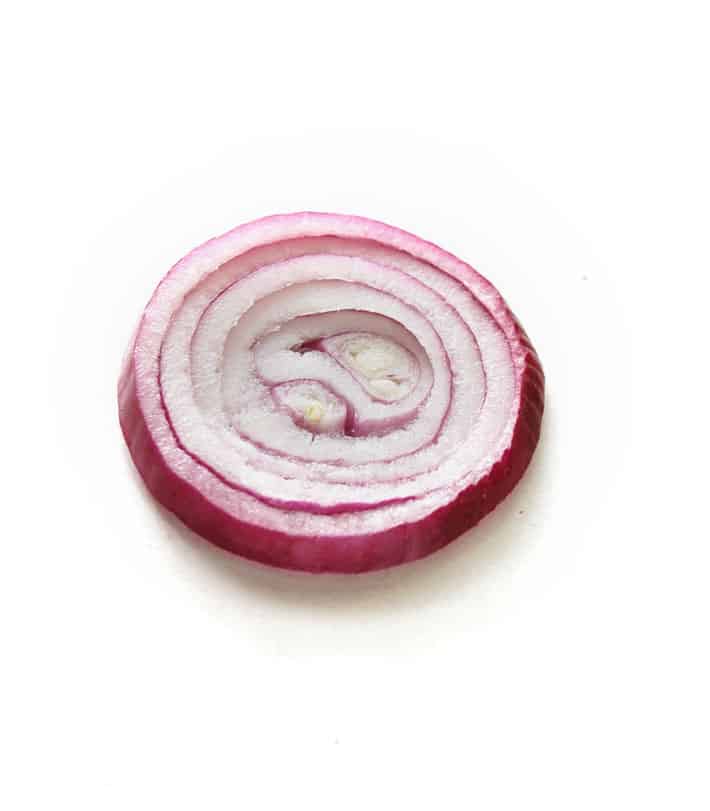 One slice of red onion, diced finely.
Once you have all your ingredients prepped all you have to do is  mix them together.
This is a simple, homemade guacamole recipe, in case you didn't notice. No garlic, no mayo, no spices.  Just 4 delicious ingredients.
And salt!  Good homemade guacamole needs big, loving pinches of salt.
This makes exactly enough for a midnight snack.  Not too much, not too little.   Which of course is pretty much the definition of  exactly enough.   If you  have cilantro hanging around and  you like it, throw that in too.  Same for garlic or whatever else tickles your tongue but you don't need them.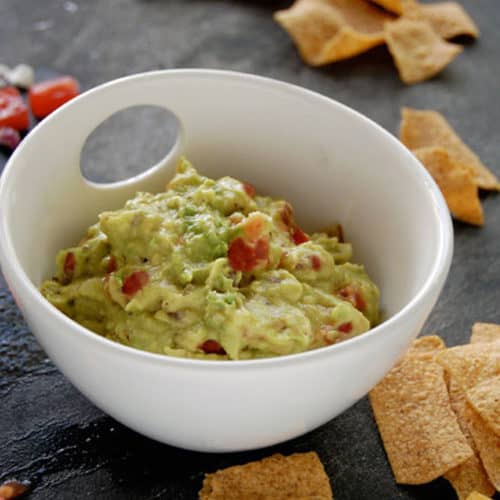 Homemade Guacamole
This simplified version of guacamole is quick enough to whip up during a commercial break. If you happen to watch the kind of television that still has commercials.
Print
Pin
Rate
Ingredients
½

avocado

mashed with fork

1

slice

tomato

diced

1

tablespoon

lime juice

1

slice

red onion
Instructions
Mash half an avocado with a fork.

Dice tomato and red onion.

Mix together and stir in a squeeze of lime juice.

Salt to taste.
Nutrition
Calories:
175
kcal
|
Carbohydrates:
12
g
|
Protein:
2
g
|
Fat:
14
g
|
Saturated Fat:
2
g
|
Sodium:
9
mg
|
Potassium:
551
mg
|
Fiber:
7
g
|
Sugar:
2
g
|
Vitamin A:
370
IU
|
Vitamin C:
19.3
mg
|
Calcium:
12
mg
|
Iron:
0.6
mg
I'm sure I'll get tired of the one slice guacamole eventually.   Then I'll have no choice but to move on.
To the two slice guacamole.
→Follow me on Instagram where I often make a fool of myself←