I'm a naturally curious person constantly looking for answers. Just today for example, I wondered how long I'd been walking around in public with a chicken feather hanging off my ass. A big feather. Long. Probably a tail feather in fact.
Sometimes I have to relent that some of these life questions have to go unanswered.
But others do not.  What to do with my fireplace in the summer is one of those questions I have figured out the answer to.
Painted logs.
This was an idea that came from Pinterest.  My niece (the one who made herself sick doing Bikram Yoga and had to go home and drink all of her kids Pedialyte.) has become addicted to Pinterest and is constantly sending me things.  She forgets all about them once she's sent them while I … do not.
This fireplace idea was inspired by a pin that did a similar thing, but with a stack of wood as opposed to wood in the actual fireplace.  Either way it looks great.  Thank you Pinterest.  (sorry can't attribute to where it came from … it was one of those stupid pins that doesn't seem to lead anywhere)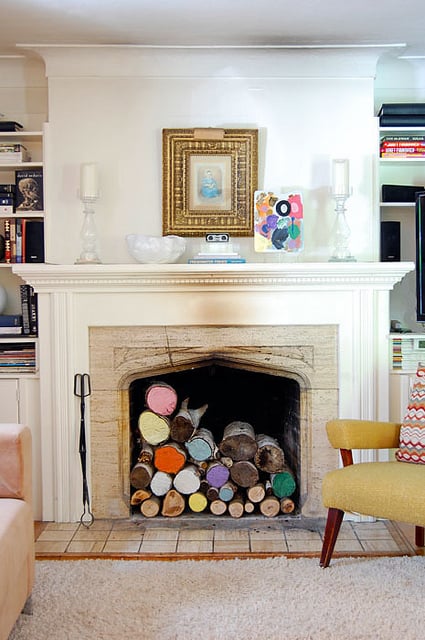 I took the idea one step further and displayed the painter's palette that I used to mix my colours on.  It's on a picture stand on the mantle.
I just grabbed some old water based folk art paints I had in the basement and a cruddy Dollar Store brush.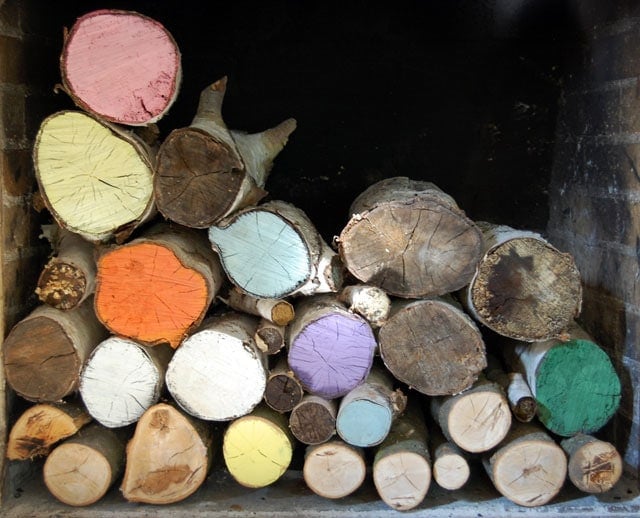 I sat my feather covered ass down and got to work.  An hour later it was done.  Where did the hour go?  Well … 5 minutes can be attributed to mixing and painting the logs.  The other 55 minutes involved  staring at the wood deciding which pieces to paint which colour.
It looks great, took no time at all and cost nothing.  Where's that ass feather now you ask?  Right in my cap.