Anyone can plant a seed, but not everyone can grow a garden.  Why?  Because there isn't a monster, insect with disease dripping fants trying to rip that seed out of your hand when you're trying to plant it.  There is, however, a variety of diseases and insects doing exactly that the moment your little seed sprouts.
It's like having a baby.  That baby is all warm and safe while it's travelling around in its mother's belly and the mother doesn't have to think much about it beyond not running belly-first into a wall of nails.  But once it makes it out into the world that baby can get into all KINDS of trouble. That mother has to do everything in her power to keep her child safe, including putting up gates, treating them for lice and hiding the car keys and their favourite short shorts  when it looks like they're going on a date with that no-good boy from down the street who incidentally also wears short shorts for some bizarre reason.
So.
Planting a seed is easy.  Keeping that seedling safe throughout its life is hard. Today I'm going to show you a few ways you can baby proof your garden next year. Or this year if you're in a part of the world where your'e just about to start planting!
NYLONS/KNEE HIGHS
(protects against cabbage moths, slugs)
Cabbage moths.  Those little white, fluttery moths dancing around your garden are the bane of my existence.  They lay eggs on anything in the brassica family (kale, broccoli, cabbage, swiss chard ...) and then those eggs hatch and proceed to never move from the most delicious dinner of their lives.  They eat and they eat and they eat.  They will eat an entire swiss chard plant, burp, fart, then move onto the next plant.
My gardening life revolves around protecting my plants from this horrid little green caterpillar.
The latest measure I've taken is to put a knee high stocking over my plant the moment it starts to form.  The knee high expands with the plant and helps to keep moths from laying eggs on them.  "Helps" being the operative word.
I don't find it keeps the vegetable completely clean because a tiny caterpillar can make its way in if it really wants to and ... it always really wants to.  But the vegetables are much cleaner than they would be without the added protection of a stocking.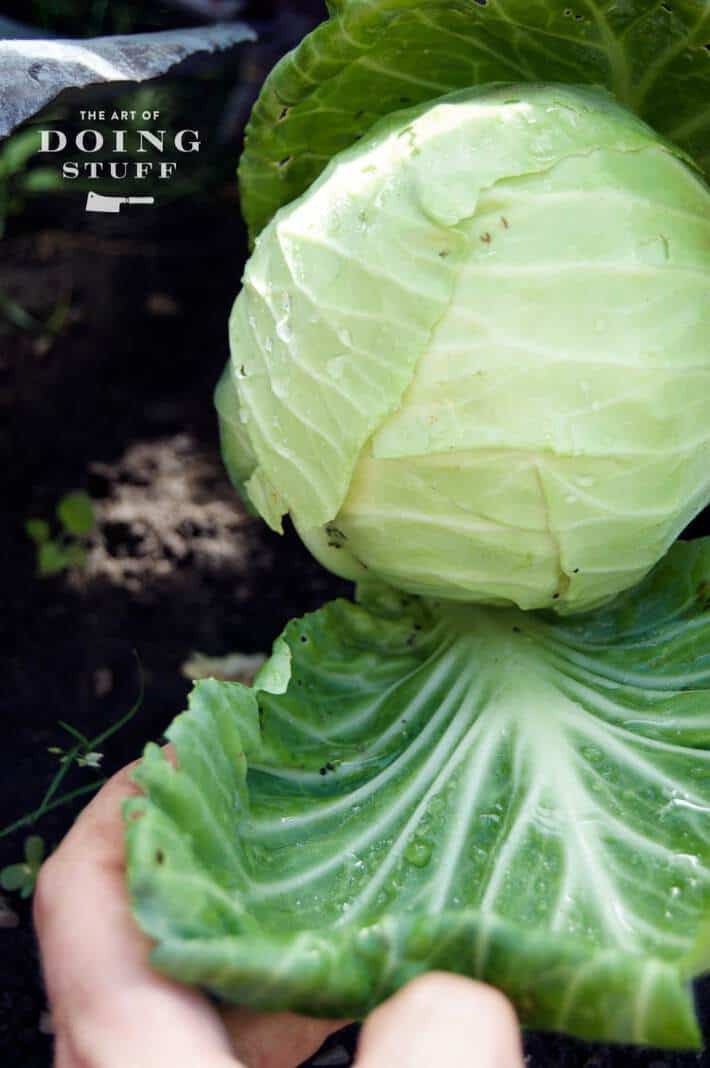 It's easy to see evidence of cabbage moths by their poop.  Their little, black, cabbage filled poop.
HOOP HOUSE
(protects against cabbage moths and other flying insects)
A little hoop house made out of PVC plumbing pipe and row cover is a GREAT way to protect anything you want against cabbage moths and other insects.  The only problem with it is you have to make sure whatever it is you have under the hoop house isn't something that needs insects for pollination.  If it flowers (tomatoes, peppers, squash) chances are it needs insects for pollination.  Some self pollinate, but for that they need movement from wind and the covered hoop house can even prevent that so you'd have to tap all of your plants individually to get them to pollinate once they're flowering.
BUT for things like protecting non pollinating plants like kale, swiss chard, cabbage and broccoli, a hoop house is a really easy, relatively inexpensive way to protect your plants.
It's a happy little house.
The row cover also seemed to give these cold tolerant plants a tiny bit of shade and retained some moisture which helped them to thrive.
To water, weed or harvest you just raise up the cover, do what you need to do, then close it back up.
And yet I still got cabbage moth damage.  How?  The plants have got so huge that their leaves pushed out into the scary outside world, where yes ... cabbage moths found them and proceeded to lay their stupid little eggs all over them.  Once on the outside leaves they chewed their way into the inside of the hoop house leaf by leaf.
But still, the damage was far less than if they hadn't been protected at all.  Plus now I know for next year to not plant my plants so close to the edge of the hoop  house.
I could also dress myself like a giant fly swatter and hook myself up to some sort of generator so I automatically bounce and slap around the garden (I might need rollerblades or wings or something as well) but honestly, building a hoop house seems easier.
HARDWARE CLOTH
(protects against voles, moles, mice, raccoons, chipmunks, squirrels)
In the last post on my garden I showed you how I used wire hardware cloth on the top of my sweet potato bed to protect the growing sweet potatoes from voles.
This was not a particularly easy set up because the hardware cloth has to be screwed into a raised bed and then you have to figure out how to plant your slips through it.  You can't reach under the cloth because it's screwed into place, so you have to make a hole in the soil by sticking a pencil or something similar through a hole in the hardware cloth, gently put your slip through the hardware cloth and into the hole, then using the same pencil press the soil around the slip.
I lost one slip because I just couldn't get the soil pressed around it.  But the rest of the slips have done great. Now we just have to wait and see if it actually does stop the voles.  I usually dig up my sweet potatoes around the middle of October, so I'll get you an update in a month or so.
PLASTIC HARDWARE CLOTH
(protects against raccoons)
It's a bit hard to see here, but if you don't like hardware cloth or chicken wire because it rusts and is sharp and generally a very angry sort of material, you can also search out plastic hardware cloth.  That's what I'm using around my tomato plants.
The BENEFIT to using plastic netting whether it's plastic hardware cloth or plastic bird netting (which is much easier to find and also works great) is that it's so flimsy that raccoons can't climb it.
If you're fencing in tomatoes, corn or anything else you're trying to protect from raccoons DON'T staple or tie it tight.  Keep it loose and flimsy so they can't climb it.  If you pull everything nice and tight you're just creating a ladder for the raccoon to climb up and into your plot.
For the base of the netting either dig it 6" into the ground or secure the bottom with something the raccoons can't move like heavy pipe, rocks or bricks.
THE JUNKYARD HEAP
These are my two remaining cantaloupe. I harvested half of the previous cantaloupes and a raccoon was nice enough to harvest the other half.
THESE two are MINE.  I was running low on materials to fence in the cantaloupe.  It happens.
If you find this happens to you, that you need to protect something temporarily then I present to you ... the junkyard heap.
Metal pipe elbows, a rake, wood, netting, hoops, a bucket of rocks, a bucket of heavy compost, a garden gate.  ANYTHING to make it difficult enough to get into, that the raccoon decides it isn't worth it.
Come to think of it, a baby gate would probably work very well in this situation.
Looking at this photo I'm not sure why I didn't just turn a bucket over the ripening fruit for these last few days of ripening.
In fact, scratch this whole junkyard heap suggestion. Just throw a bucket over them.
This weekend I'll be picking the first of my corn that was protected from raccoons by plastic hardware cloth, harvesting the last of my potatoes and because my mother isn't the boss of me anymore ... digging out those short shorts.
*CONGRATULATIONS to Jamie!
"The last time I attempted making bread, the dough fell on the floor and my dog Max got to it before me – had I had a proofing cloth, This tragedy could have been averted (although Max didn't seem to mind). Please send me the cloth, your fellow Hip fan in Mississauga (think of the small shipping cost ?
Shameless aren't I ?"
You're the winner of the Rough Linen / The Art of Doing Stuff proving cloth!  Email me to claim your cloth! (winner was randomly chosen)
Didn't win?  I'm really sorry.  You can buy one here though for just $20!