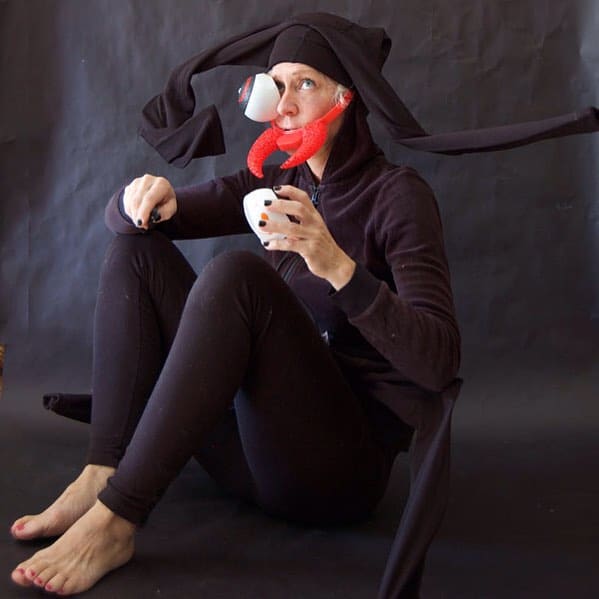 That's me kind of dressed like a spider. I do things like that.
You can learn all about how I left my career as a television writer and host to start a blog on the about page.
Now that that's out of the way, let me tell you about The Art of Doing Stuff.
MY NAME'S KAREN AND I DO STUFF.
Most of the Stuff I do is the kind of stuff you're interested in. Growing Vegetables, Raising Chickens, Decorating your Home so it's Magazine worthy, Fixing Stuff, Cooking and Training your Cat to use the toilet like a civilized human being.
Sometimes I just write about random shit. Like Vomiting at Bikram Yoga.
Every Monday, Wednesday and Friday I post about these things. I post when things go right, I post when things go wrong.
If you want to skip the rest of this post and cut right to the chase, get ALL of my tutorials, DIYS, Recipes and Life Hacks right this very moment.
If you want to discover a little more about The Art of Doing Stuff, let's start with the basics.

Or maybe you're here because you heard the rumour that I Dated Idris Elba. Then broke up with Idris Elba.
That is the very abridged version of what goes on here on any given day. There could be vomiting, dating movie stars or learning how to fix your dryer yourself and save hundreds of dollars.
You can expect to learn. And laugh. There will be laughing and learning.
Except math. You will not learn math. For real. Math is like, really, really hard. If I ever get married it'll be to a guy who knows how to perform math because it's difficult to hold a measuring tape, a jig saw and a pencil and still be able to use your fingers for counting. My husband would be my official off finger counter.
Also, since we're suddenly living in imaginary world, I'd like him to be swarthy and go by the name Pablo.