Strawberry Rhubarb Pie is a dessert that floats in on the breeze of spring. Sweet and tart with a flakey crust that begs to be eaten on a warm front porch. Since it's that rare time where strawberry AND rhubarb season overlap it seemed like a good time to pull out this strawberry rhubarb pie recipe.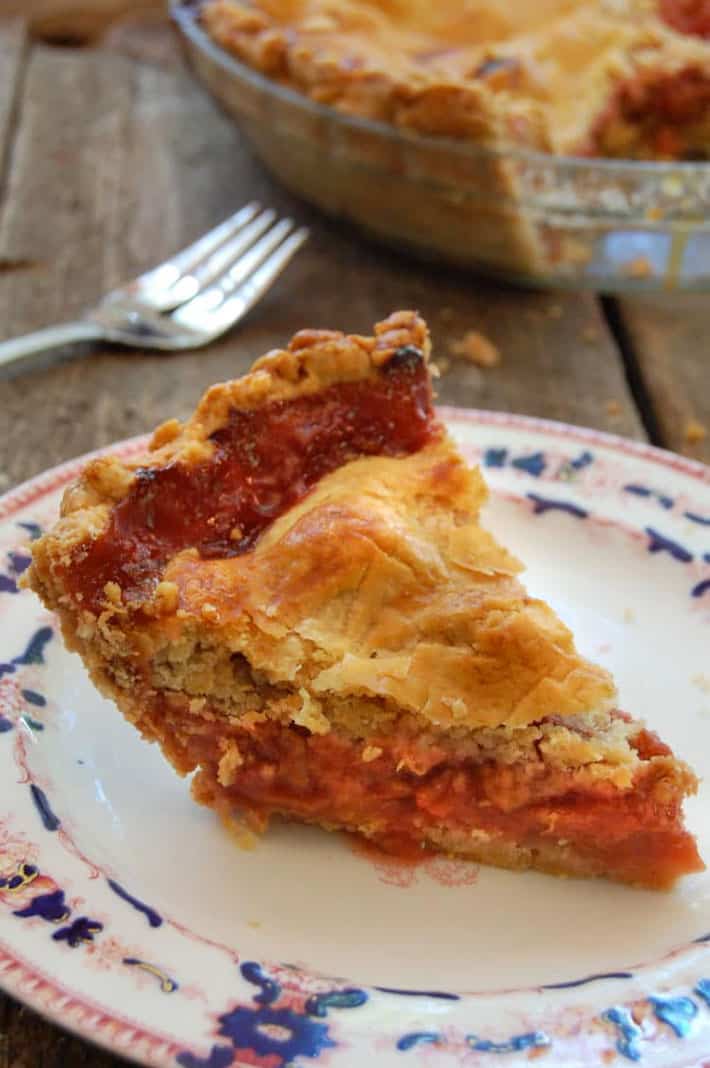 There are about 2 weeks in the year that rhubarb season and strawberry season collide. Rhubarb is just on its way out (you're supposed to stop picking rhubarb in June so it can replenish its strength for next year) and strawberries are just on their way in.
Strawberry Rhubarb Pie
Strawberry Rhubarb pie is the kind of old timey, classic dessert that I love for two reasons. One of them I've already told you. It's old timey. Floral apron, cooling on an open windowsill, old timey. The second reason is ... and I'll need you to sit down for this ... I don't very much like sweet things. Desserts actually. That explains why, if given the choice, I'll always go Lemon Tart over Chocolate Caramel. I'll also go Strawberry Rhubarb over sickeningly sweet Pecan Pie. Every. Single. Time.
How to Make Strawberry Rhubarb Pie
Firstly you have to decide if you have what's known in the baking world as "pastry fingers". Pastry fingers can be found on the ends of the hands belonging to someone who has a feel for pastry. I do not. I have a feel for power tools. And french fries. And pizza dough. So I used a food processor to do my pastry dough. Works like a charm. Don't know if you have "pastry fingers"? Trust me. Kind of like blobs of back fat, if you had them, you'd know.
If you do not have pastry fingers, use a food processor to make your pie dough. It works great. Just don't overwork the dough in it.
Once your dough is made and chilling in the fridge, go out and pick some rhubarb. Because you're old timey. Don't have a rhubarb patch? I hear you can also buy it. So go do that instead.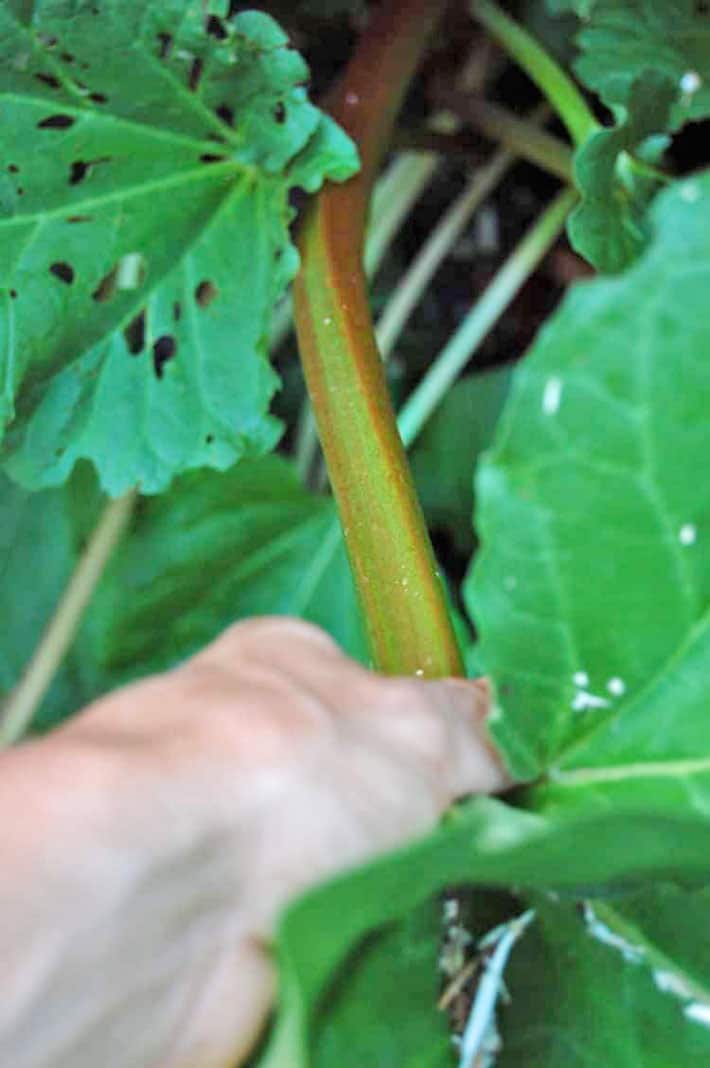 4 or 5 stalks should do it.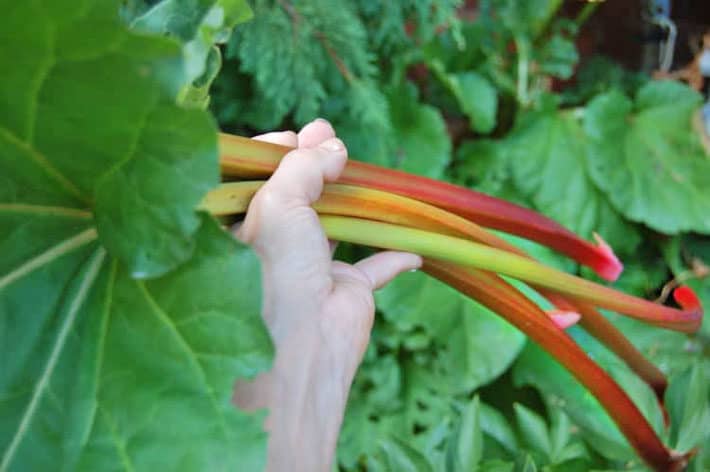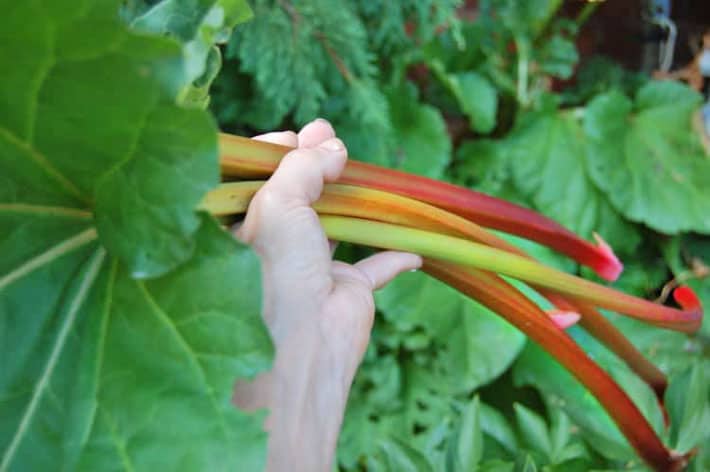 Cut the rhubarb into 1 inch lengths.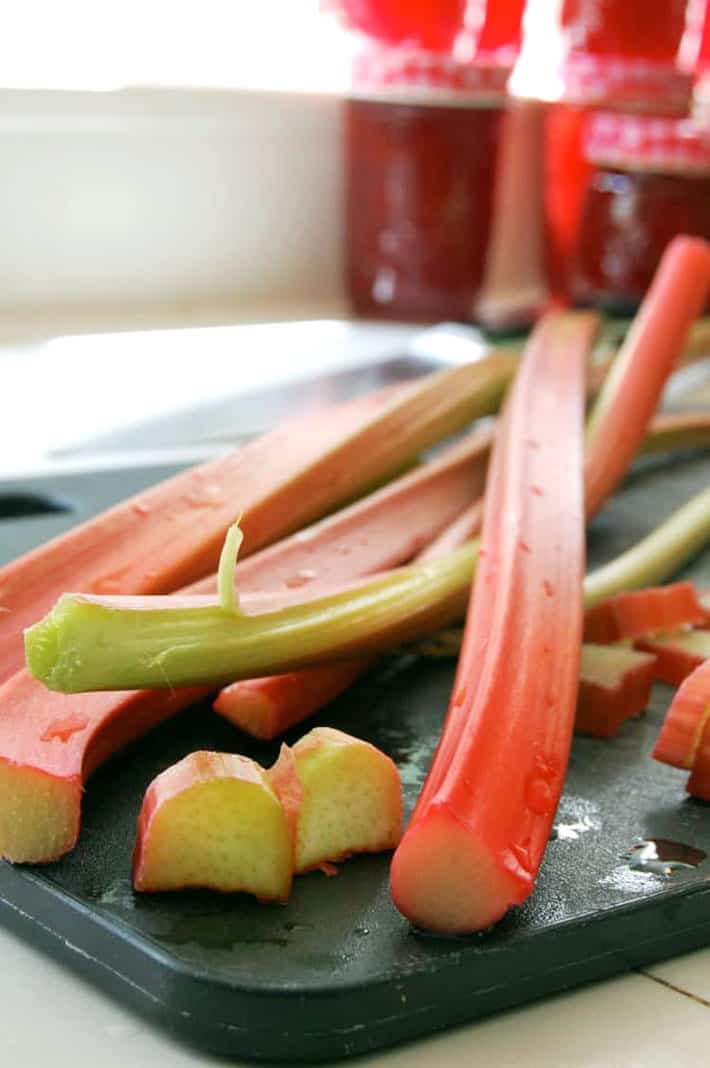 Hull the strawberries, then half or quarter them depending on the size. You might notice in the background the jars and jars of homemade strawberry jam. I used the leftover strawberries to make the pie. It's smart to buy extras of something delicious like strawberries. It's not smart to buy extras of something not delicious like rancid meat. Or sour milk. Because you won't eat them on account of their grossness. Just a little helpful tip.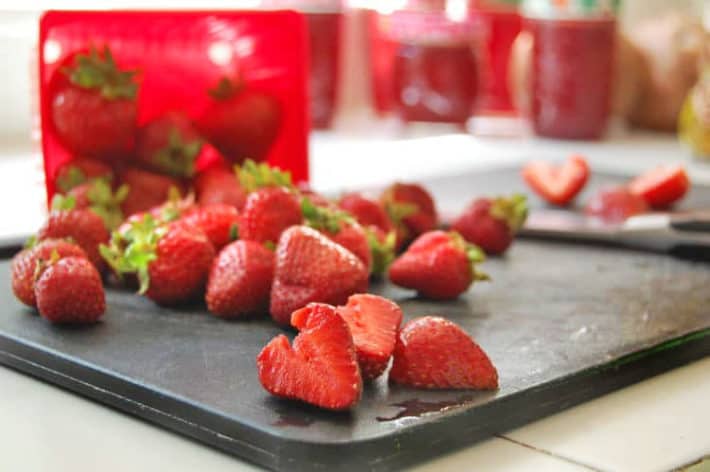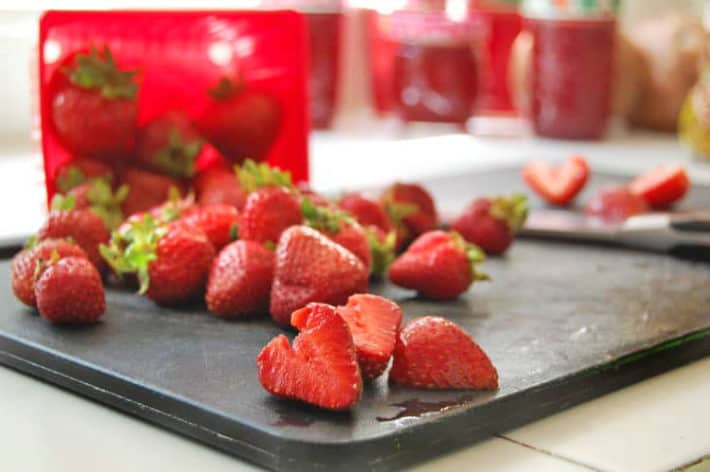 Combine all of the filling ingredients in a bowl and mix 'er up. (don't include the egg yolk and water ... that's just for glazing the pastry).
Once your ingredients are mixed, grab your most favourite pastry board. Mine is an old marble tabletop. Roll out your dough on your most favourite pastry board. I used to have a favourite pastry board. Now I have a pastry counter and a butcher block counter. You can see my *new* kitchen here.
TIP:
Pastry likes to be COLD so marble and other natural stones are the best materials for working on pastry.
Pasta dough likes to be WARM so wood is the best material for working pasta dough.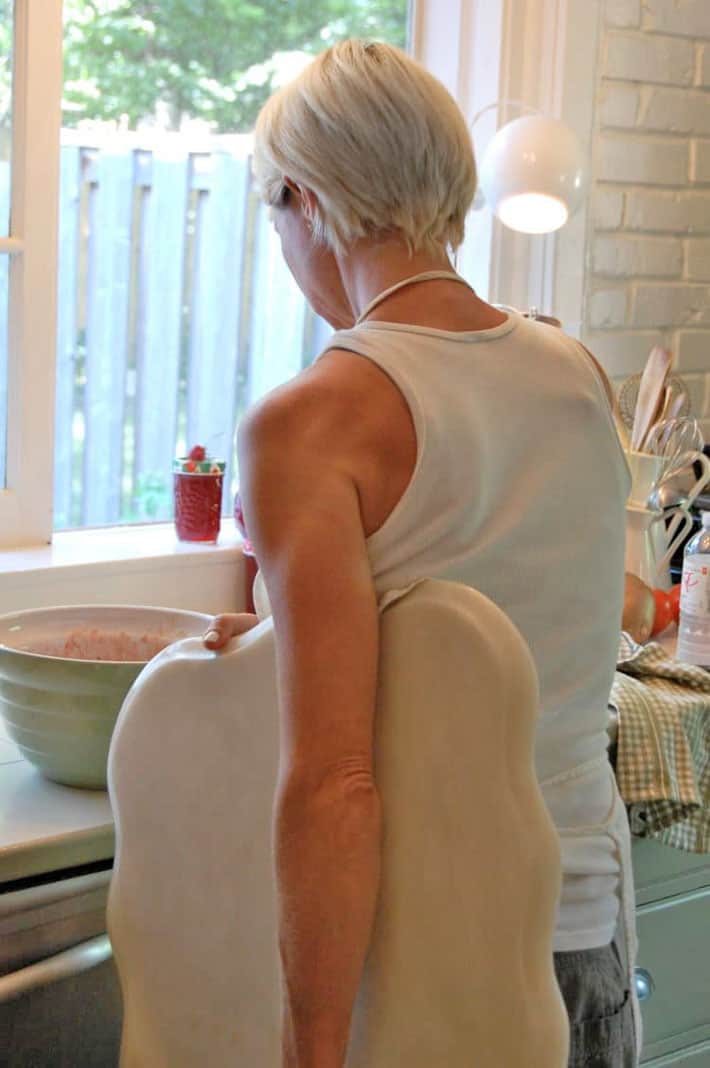 Line your pie plate with the dough and then pour in your filling.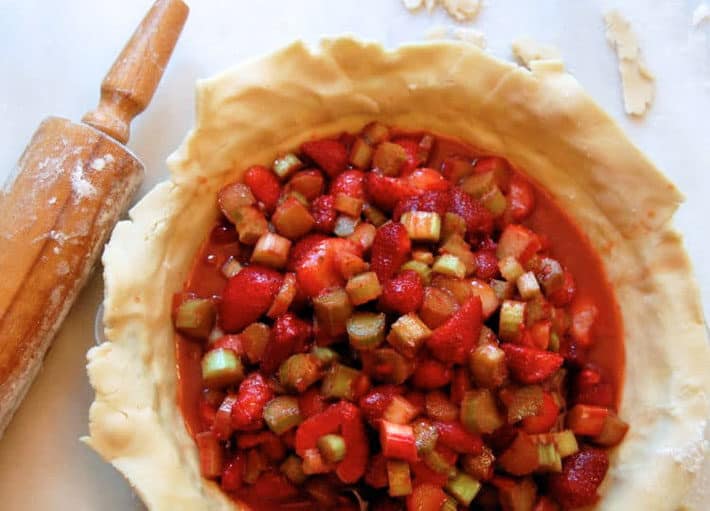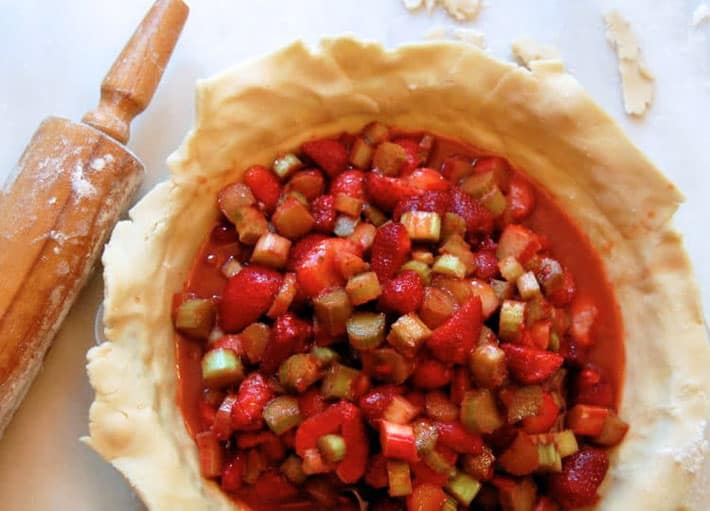 Add the pastry top, pinch the dough together, brush with glaze. You may notice the curious look of the top of my pie. It's a disaster. Note to readers: Do not attempt to roll out/make pastry when it is 172° outside with a humidity level of 117%. It does funny things to pastry.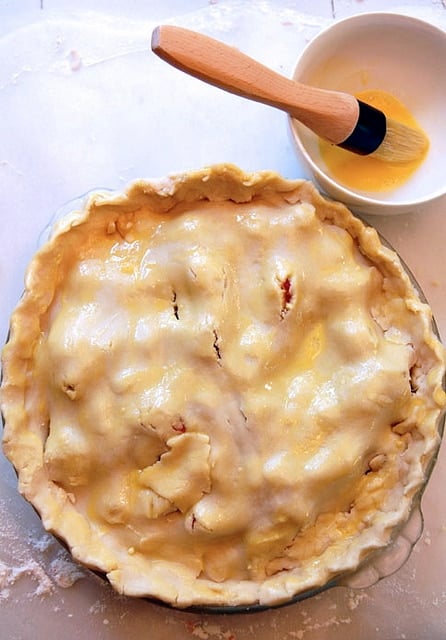 Bake for 20 minutes at 400°. Then, reduce heat to 350° and bake for another hour. Cover the crust with tinfoil if it starts to brown too much.
And there you have a delicious, delicious Strawberry Rhubarb pie. That you can't eat until tomorrow.
The filling needs that time to properly setup. But once it DOES ... it tastes like a super-healthy Pop Tart.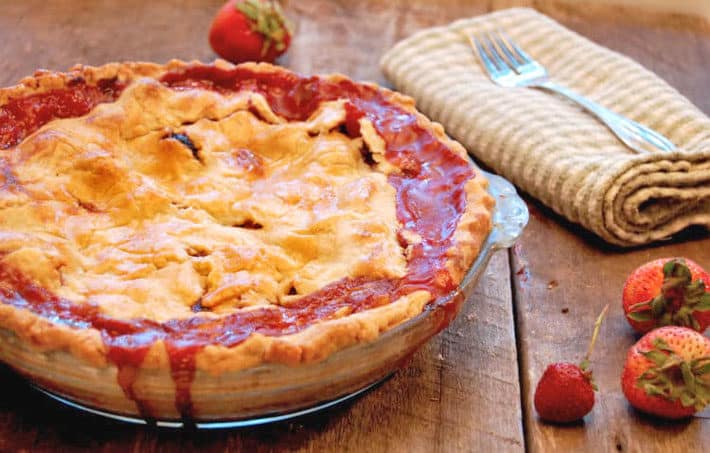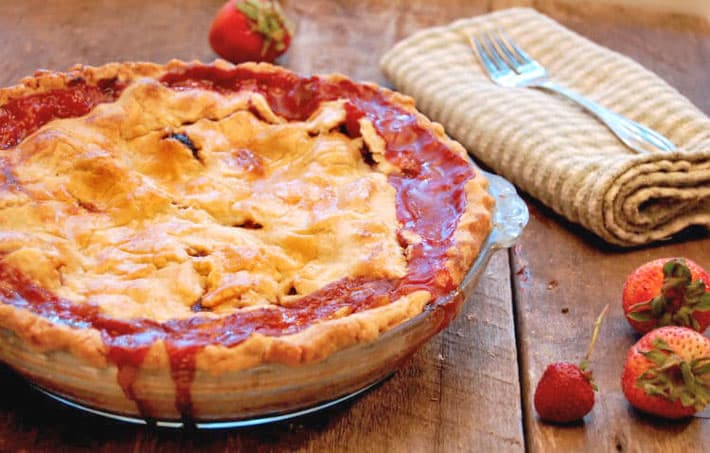 Now, if you haven't heard, there are apparently only 4 true pies in existence. This was according to my ex-boyfriend's father. He believed this to be true with such ferocity that I once saw him turn his face completely inside out when someone offered him a piece of questionable pie in a restaurant. It was lemon meringue. Not a true pie. I know. With all due respect to him, since he died a few years ago I'm still going to have to call him a Weirdo.
He would appreciate that.
I would like at this moment, to challenge that list.
Yeah. That's right. You heard me. I am, right now, without warning or approval, declaring Strawberry Rhubarb Pie to be a true pie.
Strawberry Rhubarb Pie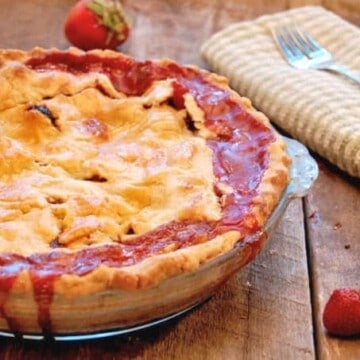 Ingredients
For crust
2 ½

cups

all-purpose flour

1 ¼

teaspoons

sea salt

½

cup

unsalted butter, chilled and cubed

½

cup

shortening or lard

¾

cup

ice water
For filling
3 ½

cups

½-inch-thick slices trimmed rhubarb

1 ½ pounds untrimmed

1 16-

ounce

container strawberries

hulled, halved (about 3 ½ cups)

½

cup

packed golden brown sugar

½

cup

sugar

¼

cup

cornstarch

1

teaspoon

ground cinnamon

½

teaspoon

nutmeg

¼

teaspoon

salt

1

large egg yolk beaten to blend with 1 teaspoon water

for glaze
Instructions
Make crust:
Mix flour and salt together.

Cut the butter into medium sized cubes.

Cut the butter into the flour using two knives or a pastry blender.

Stop blending when the mixture resembles coarse meal with pea sized lumps in it.

Add ½ cup of the cold water to mixture and work in. Add the remaining water 1 tablespoon at a time until the dough begins to form a ball.

Divide the dough in half, form into discs and wrap each in plastic or put them in an airtight bowl to firm up in the fridge for a minimum of 1 hour.
Make filling:
Preheat oven to 400°F.

Combine first 8 ingredients in large bowl. Toss gently to blend.

Roll out 1 dough disk on floured work surface to 13-inch round. Transfer to 9-inch-diameter glass pie dish.

Trim excess dough, leaving ¾-inch overhang.

Roll out second dough disk on lightly floured surface to 13-inch round.

Transfer filling into crust. Place the second crust on top of the pie and crimp the edges.

Cute vent holes in the top with a knife or pierce with a fork.

Brush egg wash over the crust.

Transfer the pie to a baking sheet (because this pie is going to bubble as it cooks and make a bit of a mess).

Bake 20 minutes at 400°F. Reduce oven temperature to 350°F and bake another 1 hour until the pie is gold and the filling has thickened.

Cool on a rack.
→Follow me on Instagram where I often make a fool of myself←