Strawberry-Rhubarb Pie
While I was up at the cottage a couple of weeks ago I came across the kind of  recipe book you're likely to find at a cottage.  It was a home made book, with yellowing paper that included all the recipes of someone's grandmother.  It was filled with grandmotherly favourites.  Like jello salad.  And sandwiches.  And things made with cucumbers.
Also in that cookbook was a super-secret recipe for pie pastry.
Leslie, a friend of the family, has always made delicious pies.  And we all know a delicious pie is made delicious by the pastry.  Frankly, I think it's the best part.  The recipe she uses, her grandmother's, was in that book.  When no one was looking, I took a picture with my iPhone of the super-secret recipe.

My apologies to Orma for outing this recipe to the world.  Actually, I have no idea if this is a secret recipe or not, it just seemed to make for a better post if I told you it was secret.  It probably isn't. In fact, at some point in time it was probably printed on the back of the box of shortening.
As soon as I got home from the cottage I wanted to try out the pastry recipe, so I decided to make a pie.  Since I have a rhubarb patch, access to fresh, local strawberries and a rolling pin,  Strawberry Rhubarb Pie was my choice.
Now, I've never actually made a Strawberry-Rhubarb pie before, so I went digging around the Internet to find a recipe.  That's right.  I'd never made the pastry or the filling for this pie before.  Clearly, on this particular day I was feeling adventurous and daring.  I even wore my hair a bit differently until it automatically reverted back to it's normal state.
After much consideration I ended up going with this recipe which I found on Epicurious.   And here it is … from Epicurious to me to you.
How to Make Strawberry Rhubarb Pie
First I made the pastry dough as per Orma's recipe (not the Epicurious pastry recipe).  I should let it be known that I do not have what my friend Michelle refers to as "pastry fingers".  Pastry fingers can be found on the ends of the hands belonging to someone who has a feel for pastry.  I do not.  I have a feel for power tools. And french fries.  So I used a food processor to do my pastry dough.  Works like a charm.
Pastry Recipe
1 lb. Crisco (chilled)
5 cups flour
Salt  (yeah, um … only salt …  no actual measurement.  Gotta love hand-me-down recipes.  I went with 1 ¼ teaspoons)
1/2 cup orange juice
Blend Crisco, flour and salt until crumbly.  Gradually add in orange juice and blend lightly.  Divide into 4 balls.  Wrap in plastic wrap and refrigerate.  Unused dough can be frozen.
Strawberry Rhubarb Pie Filling Recipe
(adapted from Epicurious)
3 1/2 cups rhubarb
3 1/2 cups strawberries
1/2 cup brown sugar
1/2 cup white sugar
1/4 cup cornstarch
1 tsp. cinnamon
1/4 tsp. nutmeg
1/4 tsp. salt
1 egg yolk plus 1 tsp. water for glaze on pastry.
Preheat oven to 400°.
Once your dough is made and chilling in the fridge, go out and pick some rhubarb.  Don't have a rhubarb patch?   I hear you can also buy it.  So go do that instead.
Cut the rhubarb into 1 inch lengths.


Hull the strawberries, then half or quarter them depending on the size.  You might notice in the background the jars and jars of homemade strawberry jam.  I used the leftover strawberries to make the pie.  It's smart to buy extras of something delicious like strawberries.  It's not smart to buy extras of something not delicious like rancid meat.  Or sour milk.  Because you won't eat them on account of their grossness.  Just a little helpful tip.


Combine all of the filling ingredients in a bowl and mix 'er up.  (don't include the egg yolk and water … that's just for glazing the pastry).



Once your ingredients are mixed, grab your most favourite pastry board.  Mine is an old marble tabletop.  Roll out your dough on your most favourite pastry board.


Line your pie plate with the dough and then pour in your filling.  Oh! And then take a pretty picture.

Add the pastry top, pinch the dough together, brush with glaze.  You may notice the curious look of the top of my pie.  Note to readers: Do not attempt to roll out/make pastry when it is 172° outside with a humidity level of 117%.  It does funny things to pastry.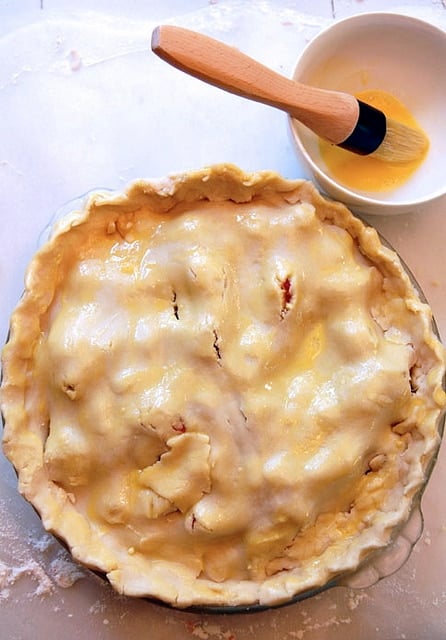 Bake for 20 minutes at 400°.  Then, reduce heat to 350° and bake for another hour.   (the original Epicurous recipe called for you to bake the pie for 20 minutes at 400° and then at 350° for an hour and 25 minutes!)
And there you have a delicious, delicious Strawberry Rhubarb pie.  That you can't eat until tomorrow.
Seriously.  I thought there was something drastically wrong with the Epicurious recipe because after baking for well over an hour, and resting for a few hours the pie filling was as runny as 3 year old's nose.  Which is not attractive in a pie or a child.
However, by the next morning the filling was perfectly set and the pie was ready to eat.  For breakfast.  Which is kind of perfect.  Like a super-healthy Pop Tart.
Now, if you haven't heard, there are apparently only 4 true pies in existence.  This is according to my boyfriend's father. He believes this to be true with such ferocity that I once saw him turn his face completely inside out when someone offered him a piece of questionable pie in a restaurant. It was lemon meringue. Not a true pie. I know. Weirdo.
I would like at this moment, to challenge that list.
Yeah. That's right. You heard me. I am, right now, without warning or approval, declaring Strawberry-Rhubarb Pie to be a true pie.
It may even be the truest of the pies.
I don't actually believe this to be true, but that statement alone is enough to make steam come out of a certain someone's ears. His hat may even blow off his head, cartoon-style.
To reiterate, I, Karen, from this day forward, declare Strawberry Rhubarb Pie to be a true pie.
Wait'll he hears what I'm adding to the list of true jams.

Coop injury #2. I'm ready for my close up Mr. Deville. http://wp.me/pPpVJ-5iR