It's my favourite day of the year. Christmas Eve Eve. You still have all the excitement and anticipation of Christmas without the pressure of the Christmas Eve party and the sinking feeling that comes at the end of Christmas Day. My life has been made slightly better by the fact that I've decorated my chicken coop for Christmas. It will stay decorated until after New Years.
So Christmas Eve Eve it is! The most wonderful day of the year.
I plan to take things a little bit easy today. I have a few things to get ready for my annual Christmas Eve party, but it's only family so it's not like I'm out to impress anyone. I just want to have a warm, comfortable night where none of the adults leave crying.
I'm going to knit a little, drink some Eggnog and see if I can't start to like wine or any other alcoholic beverage for that matter. I used to like Cognac. I used to have class. Now I like Diet Coke out of the can and sometimes I suck water out of the tap.
Of course I'll spend a small portion of the day with the chickens. I wander out to check on them several times a day, usually when I take my coffee break, so I expect today won't be any different. I'll put on my parka, pull on my Bogs and wander outside to see if there are any eggs. Then what I typically do is go inside the run, squat down and have a little chat with the chickens. Yes. Yes I really do. I can't tell you how many times people have come wandering into my backyard to find me sitting in the run with Cuddles, the friendly chicken, in my lap, sleeping. The chicken is sleeping. I am not. You can never let your guard down that much in an enclosed area with animals that can't tell the difference between a grape and your eyeball.
If you don't care about seeing a chicken coop all dolled up for Christmas (gasp) you can take a look at my house decorated for Christmas over the past several years.
So in an effort to make us feel like we're spending a bit of this, my favourite holiday, Christmas Eve Eve, together, I have for you my final post until the New Year.
THE CHICKEN COOP DECORATED FOR CHRISTMAS
Update: These original lanterns on my coop have since been replaced with black, matte lanterns very similar to these.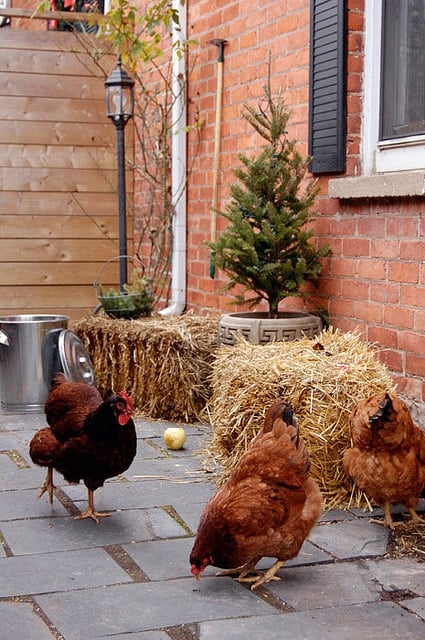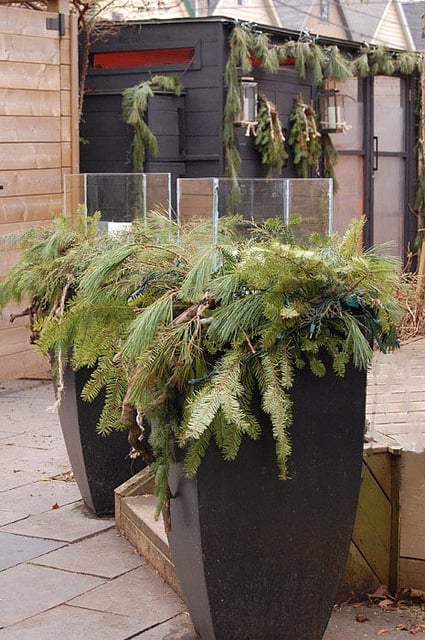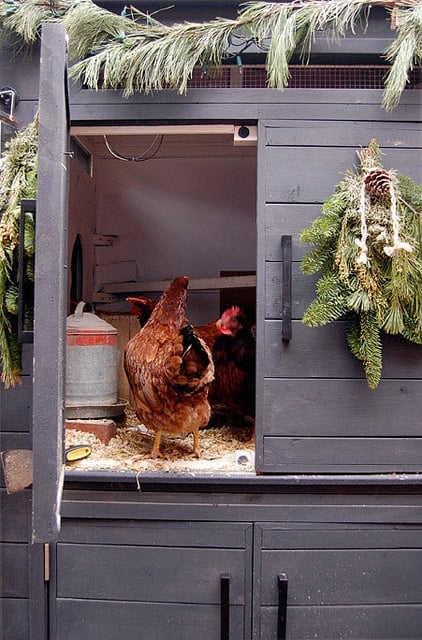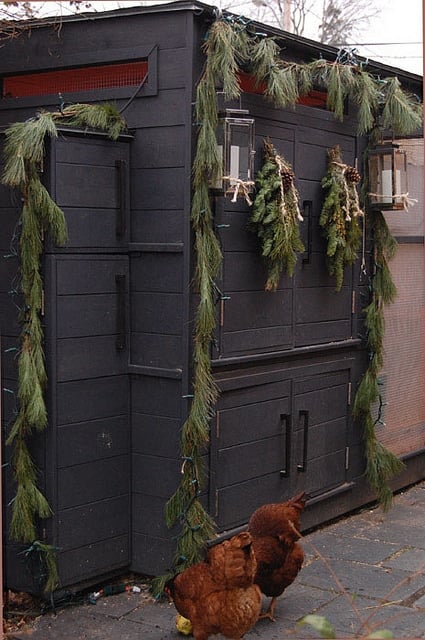 Merry Christmas everyone.