This year's garden is nicer than last year's, and last year's was better than the year before. This is all going as planned, so in an act of extreme enthusiasm I even hauled out the drone for photos.
Welcome to an aerial view of the English cottage garden. As soon as I whirred up the drone Philip the standard poodle scrambled to me with his tail tucked between his legs.
So inside he went as I finished up working.
This isn't a perfect garden and I am not a landscape architect or a retired person who has all day to obsess over it. It's a work in progress, as am I. As is Philip.
O.K., let's take a walk around.
Colleen Mooney
Dark purple, formal decorative dahlia with soooo many petals
---
Most of the dahlias this year are up at my community garden where I can hack them off with abandon for flower arrangements and giving away. The dahlias in the front yard on the other hand also get hacked off for flower arrangements and giving away, I just don't do it with quite such abandon.
I am going to have my largest apple harvest ever from my two espalier apple trees on my front porch. In 2016 I planted 2 espaliered apple trees that I got at Home Depot.
Things always start out great with hundreds of apples forming, then the squirrels do a little covert plotting about how to best ruin my life. They inevitably agree that picking and throwing my apples all around the neighbourhood is the way to go.
Every year I try a new method to keep the squirrels away including bagging the apples, using clear deli containers over the fruit and the method you see above: green plastic dollar store cloches cut and stapled around the apples.
I've used this method before and reverted to it again this year. It looks ugly, but I don't care anymore. It's the best way I've found to save home grown apples from squirrels.
The cloches last a few years so you can reuse them until they get brittle.
The same cloches are available on Amazon US if you don't have a Dollarama around you.
They're also available on Amazon Canada.
A La Mode
Peachy/Orange & White formal decorative dahlia with different variegations.
---
This is the first year I've had real earwig damage on my blooms. you can see in the above photo how all the petals are chewed.
This fall I'll be testing 2 methods for dealing with these disturbingly gross bugs.
The drone I use is a DJI Mini 2
Yes, I still have lawn and plan on keeping it because I like the bit of calmness it brings to the riot of the flower beds.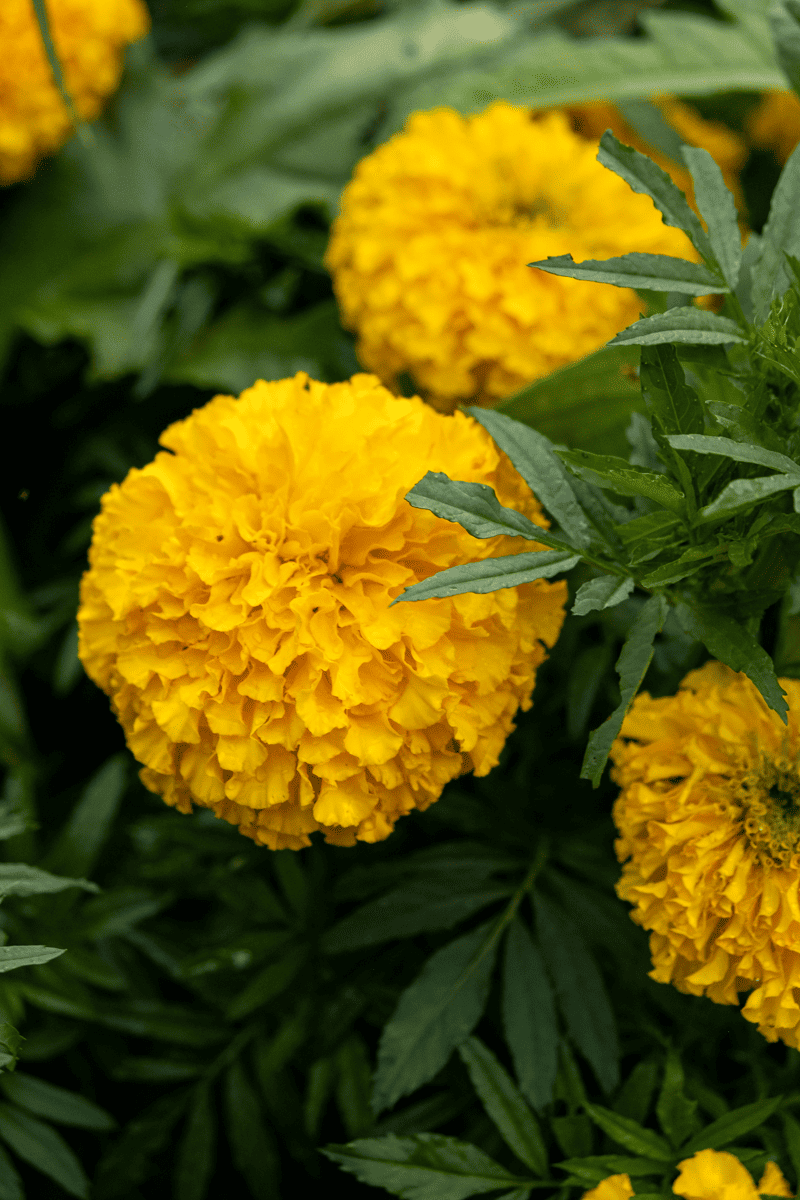 Big Duck Marigold
These AAS seeds were went to me earlier this year. I wasn't sure how big a marigold could be but as it turns out ... really big. The plant is more like a bush and the main stem is more like a trunk. Each single plant is about 30" high and 2' wide.
I'm not a big marigold fan but this plant is huge with countless 3" across blooms that are long living cut flowers as well.
As I've mentioned before, if you plant Amaranth once, you'll never have to plant it again. This is more true of some varieties than others, this Opopeo variety for example is relentless.
I remove thousands of seedlings every year, leaving just the ones I want.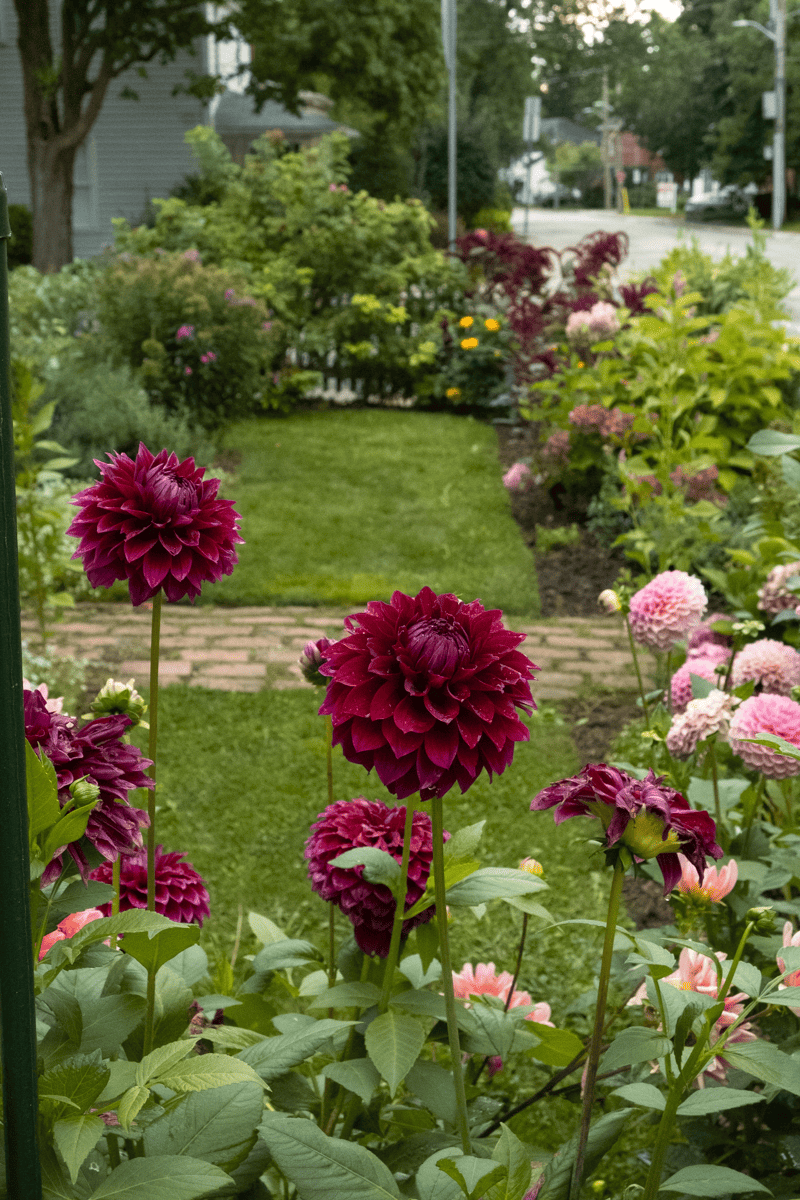 By comparison to the Big Duck marigold, the small ferny greenery to the right of the hydrangea in my garden is also a marigold. This one has no flowers.
BUT IT MAKES UP FOR IT BY TASTING EXACTLY LIKE SWEET, BLACK JELLYBEANS.
Perfect for in salads where you would normally use fennel and apple.
Another new variety from AAS is the Doubleshot snapdragon above. It's a bi-colour orange Chantilly style snap and it's very prolific.
Black Satin is a dark formal decorative dahlia that blends and goes with pretty much any flower arrangement.
Outside of the picket fence the small raised beds are filled with self seeding snapdragons, alyssum and in the spring, tulips.
Alyssum is one of my favourite things in the garden. I can't smell it anymore, but anyone who arrives at my house comments on how good the yard smells.
I LOVE A SCENTED GARDEN.
Scented Garden Plants
The ones I personally grow marked with *
Alyssum*
Heliotrope*
Honeysuckle*
Sweet pea*
Roses*
Lilac
Gardenia
Hyacinth*
Alyssum will reseed itself year after year and it is VERY accommodating when it comes to transplanting.
You can rip the seedlings right out of the ground with very little care and stick it wherever you want it. I took rogue seedlings that were growing through the cracks in bricks and transplanted them in front of the apples.
Hopefully by next year I'll have enough that I'll be able to fill the entire front bed with just a circle cut out around the base of the apple tree.
We'll end with the dahlia that started it all for me.
Yvonne
Yvonne is a water lily form dahlia (it looks like a water lily). It was the first dahlia I knew I wanted to buy when I first started growing them. I grew it once and then every one I planted since then croaked on me.
Because things, even though they're supposed to go as planned, rarely do.
I gave them another shot as I do every year and this year they seem happy and look beautiful beside the purple Colleen Mooney.
At the moment I'm still apple trapping and earwig picking but when the time comes I'll update you on how the apple picking and the earwig trapping went.