Before I continue, I'd like to take a moment to mourn the loss of several neighbours and a moulting squirrel. All entered my garden in the month of July. Not a one of them have been seen since.
I should point out this isn't quite as alarming as it sounds because all of the neighbours were really quite small. Freakishly small. They were probably allowed to drink coffee as small children or something.
So anyhow, in a sly display of irony ... my garden ate them. I'm sure it never could have taken down a full sized adult. Not a healthy one anyway.
I may find one or two of the missing in the sweet potato patch when I dig it up on October, but it's a long shot.
Luckily I had some time off last month so I had a bit of time to train it. The garden is slightly more well behaved now.
Not a whole lot is different from last year other than a few experimental vegetables including ground cherries, cape gooseberries and a mouse melon.
I think I did a better job of it visually this year. I made it a bit more balanced and allowed for slightly more negative space.
Left side of the yard
I flanked the porch with my favourite of favourites the Dinosaur Kale. They're the leaf eating type of dinosaurs, so they'd never hurt a fly let alone a moulting squirrel. I also hid a couple of kales in another area of the garden so I wouldn't have to completely decimate the kale by the front porch. It looks too pretty. I do eat it, but it's hard to tell because it's so big and there are other kale plants I take from throughout the garden.
Centre of the yard
The space in front of the kale is where I've already harvested cauliflower. I've now planted beets there for a wintertime harvest.
Right side of the yard.
Jalapeño Peppers for Jalapeño Poppers.
9 foot tall "Dinnerplate Beefsteak" tomato
The tomatoes are the size of an elephant's foot ... they'll be getting a post of their own later.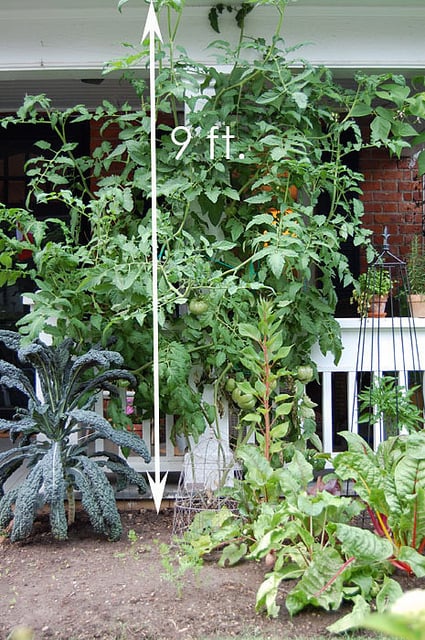 3 varieties of green beans run up the porch post and swag over to meet the huge tomato plant, framing the pots of herbs on the railing.
(Scarlet Runner, Lazy Housewife, French Pole beans)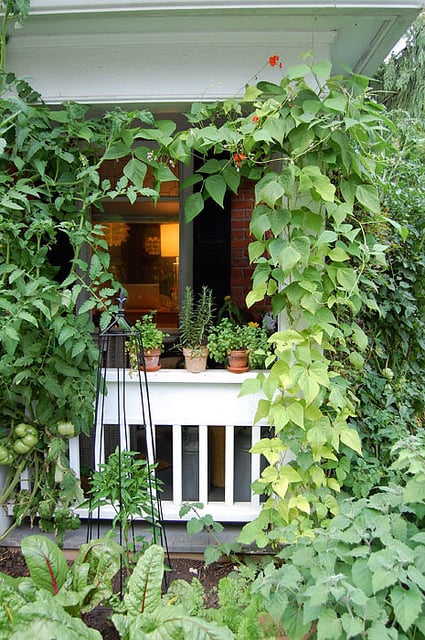 This is the experimental patch. One Ground Cherry plant and one Cape Gooseberry. I've been harvesting Ground Cherries for over a month now and I love them. They have an odd taste like nothing you've ever had before. Sort of a cross between a tomato and a pineapple. Tropical tasting. People have definite opinions on the taste. Not always favourable. But those people are stupid.
Ground Cherries are toxic while they're green and on the plant so if you come across them DON'T pick them. They're called ground cherries because when they're ripe, they fall to the ground. The yellow one in the background that you see is close to being ripe and falling off.
Two squash plants. One acorn, one Delicata.
Something happened with the potatoes this year. Everything beyond the hydrangea is potatoes. They're huge and I have high hopes for my harvest. This is one of 5 potato patches in the garden. I've already harvested many small, red fingerling potatoes and they're GREAT.
Herb plot. The tall grassy stuff is lemongrass. Then there's sage, oregano, rosemary, thyme, basil, lime basil, regular parsley, Italian parsley and more.
The tiny beet seedlings which will grow up to be my winter harvest.
In a few months those tiny beets will look like this beet which I planted in May.
Yet again I planted far too many tomato plants. Especially when you consider I don't really love tomatoes.
I do, however, love growing them.
This is last year's favourite, Green Zebra, which is green when ripe, but tastes like a red tomato.
It's zingy.
These are Fargo Yellow Pear tomatoes which I also grew last year.
These ones I grew by accident. They just popped up and I didn't have the heart to pull the plant out.
Besides, these are the tomatoes I let grow on the opposite side of my fence so they're the ones the neighbours and kids pick from on their way to school.
Behold ... the exceptionally bad picture of my FIG!
Yes. This year I invested in a fig tree. And this year it shall produce one fig. Maybe.
From left to right, top to bottom.
1. Bright Lights Swiss Chard 2. Zapotec tomato 3. Early Wonder beets
4. Celery 5. Delicata squash 6. Swiss chard

1. Sweet Baby Girl cherry tomatoes (in hanging basket) 2. Red chile peppers 3. English cucumbers growing along fence.
1. Mouse melon (failure for me) 2. Variety of lettuces 3. Portulaca
4. Dragon carrots
Oh! And by the way, Canadian Gardening was here 2 weeks ago photographing my vegetable garden for an upcoming issue. Want proof? Here's the photographer Donna Griffith and her assistant.


Sadly, neither one of them have been seen since.
→Follow me on Instagram where I often make a fool of myself←