I'm not sure if I mentioned this before but this ENTIRE kitchen renovation actually started because of a sink.
I wanted a new one. Specifically, I wanted this apron front sink from Ikea.
I liked that it wasn't an undermount sink. Because in the olden days (when people got scurvy and rickets) sinks would not have been undermount. They would have sat on the counter like a regular sink.  So that's how I like an apron front/farmhouse sink to sit  now.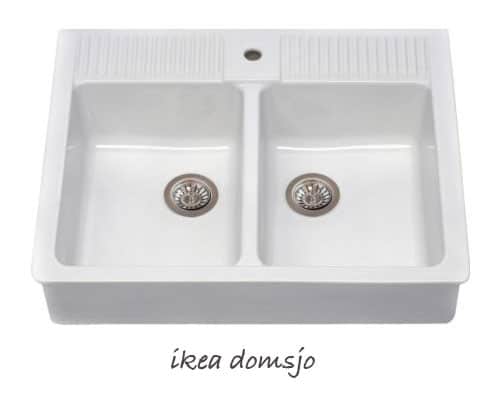 It was cheery and big and had an apron.  Like Mrs. Butterworth.  Or Mrs. Garrett.
The only problem was it was cheery and too big and had an apron.   It didn't fit my non-standard depth counters.
Which got me to thinking about new counters.  But, just getting new counters wouldn't work because they'd stick out 6" from my non-standard depth cupboards.
The only solution was to forget about it and realize I should just appreciate everything I already had.
Let's see ... I had a life that was falling apart, an 11 year old relationship that ran away from home, a grunge filled countertop and a fridge that was so volatile I'd nicknamed it Kanye.
57 seconds later it was decided.  I was getting a new kitchen.
And it would allll revolve around the apron sink I've wanted for years.  A big, farmhouse sink.
Big sink.  Farmhouse.  Apron.  Crap.
As it turns out apron sinks take up a lot of space underneath the counter.  If under the sink  happens to be where you keep your kitchen garbage, you'll have to  either rethink where you keep the garbage or rethink how big your garbage can is.   I have 2 large garbage bins under the sink.  One for compostable items and one for regular old, can't do anything with it, can't be recycled, can't be turned into a baby mobile garbage.
And with my small kitchen with limited cupboards there really wasn't anywhere else to put the garbage.
So the sink that started it all ... was out.
Funny how things like that happen.
After doing a bit of research and listening to my kitchen designer Carol Reed I went with a simple sink and faucet combo.
The faucet actually came first because it was generously provided to me by the fine folks at Brizo.  I never knew I had a dream faucet, but as it turns out I did, and this was it.
It's a touch faucet, which means to turn it on or off all you have to do is tap the faucet with any part of your hand or arm. No more salmonella scares! Plus since I don't have a utility sink in this whole house, at any given time I could be washing just about anything off of my hands.  Things that really shouldn't come into contact with anything but a biohazard suit.
The other thing I LOVE, love, love about this faucet is it's white.  WHITE.   Plus I was drawn to the general design of it immediately.  Something about it says, "Hey!  Karen!  You're doing a Scandinavian Farmhouse kitchen?  Tap this!"
And I thought that before I actually went to their webpage and read the caption that described it as sleek, stylish and ...  Scandinavian.
I knew I also wanted a white sink, so Jean, the designer that Home Depot assigned to me (yes, I had two designers working on my kitchen, 3 if you count my sister with the pink tool belt and 4 if you include me) picked out this white, cast iron Kohler sink.  Nice, plain, pretty. Perfect.
I now officially have every SINGLE thing for my kitchen sitting in my house.  The new fridge, range, sink, cabinets .... everything.
The only thing I don't have?  Anywhere to sit down.
I've been standing for a week and a half now.  Good thing I don't have rickets.