What makes a leek, a leek, is the tender white flesh. The dark green leaves are tough and unusable other than for stock. So how do you grow leeks with at least 10" of white part? Here's how.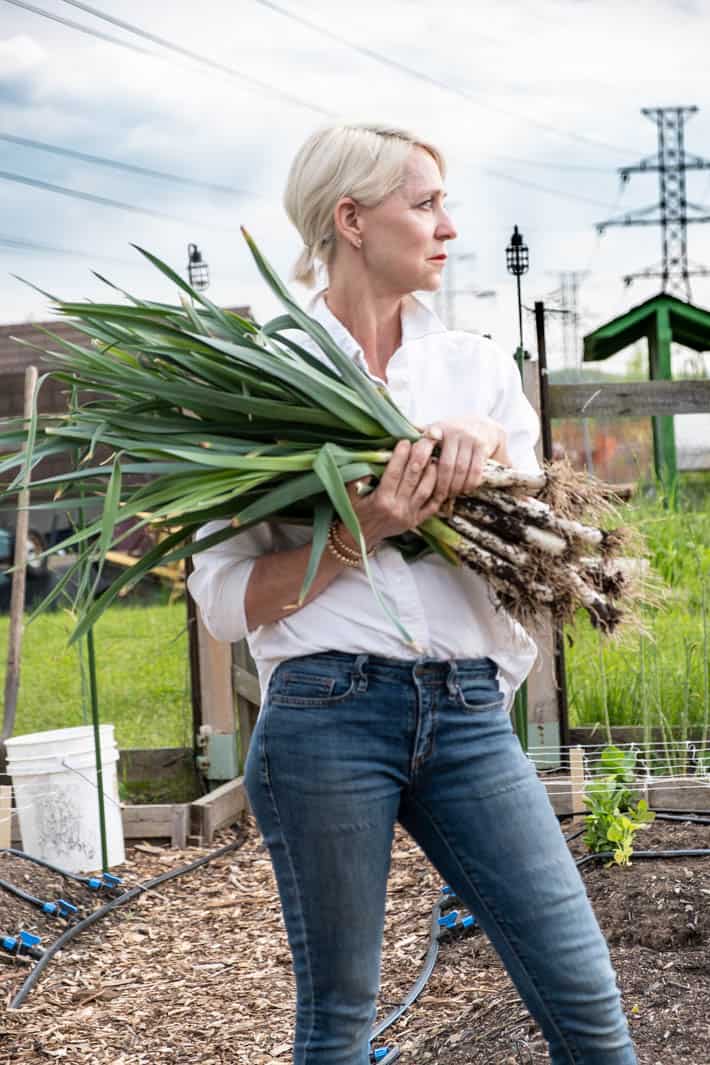 Me doing my very best "Floret" pose.
Leeks are one of the things in the grocery store that I cringe when I have to buy them. The other thing is celery which at the moment is $5 per bunch. It's like someone told celery it's the new beef bones (which apparently used to be given away for free). I blame the celery juicers and can't wait for them to find a new vegetable to adore so I can go back to paying $1.99 for celery. If they start up on potato juice I'll have to kill them.
Last year I tried an advanced leek growing technique that completely changed my leek harvest. It was developed (or at least made popular) by Eliot Coleman. If you're serious about vegetable gardening and getting the most out of your space and seasons you need to buy at least one of his books.
Before I get into the technique I want to remind you a couple of things about growing leeks that I've mentioned in previous posts.
Leek Growing Tips
Leeks can be ruined by leek moths. The moths lay eggs on the leeks which proceed to hatch and kill the leek. You can lose an entire crop to them. Here's my post that explains them and the best ways to deal with them.
Didn't remember to plant leek seeds back in February or March? Not to worry, leek seedlings from gardening centres work perfectly well.
Leeks started in February or March and planted out in May or June will be ready for harvest in late summer or early fall.
Leeks started outside in May or June will overwinter and provide you with a spring crop. That's how I grew them this year.
---
Eliot Coleman Leek Growing Technique
Leeks are normally grown by planting them in a trench and then hilling soil up around them as they grow. There is no hilling with this technique and you actually, at one point, dig up the entire plant, cut it apart and replant it!
This technique can be used regardless of whether you're growing a summer or spring crop of leeks.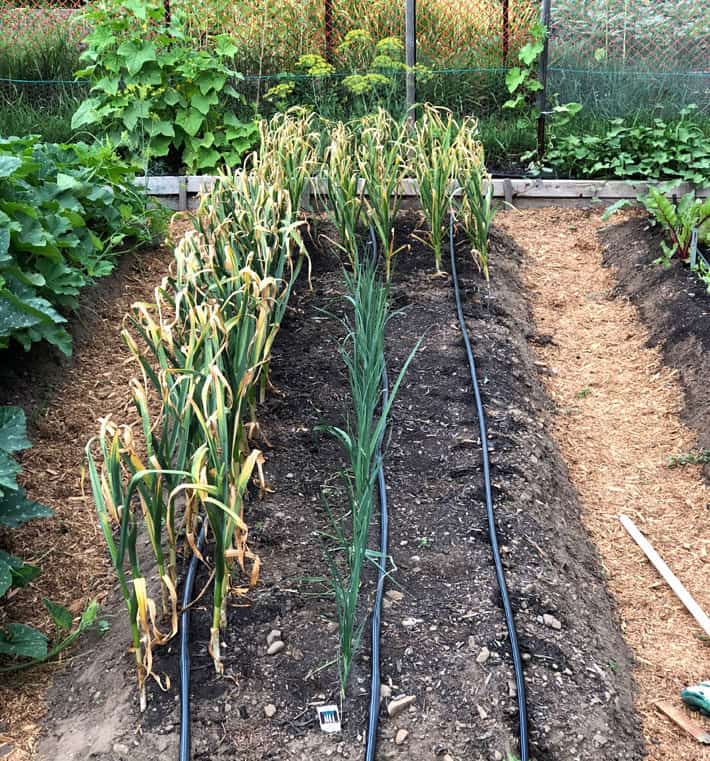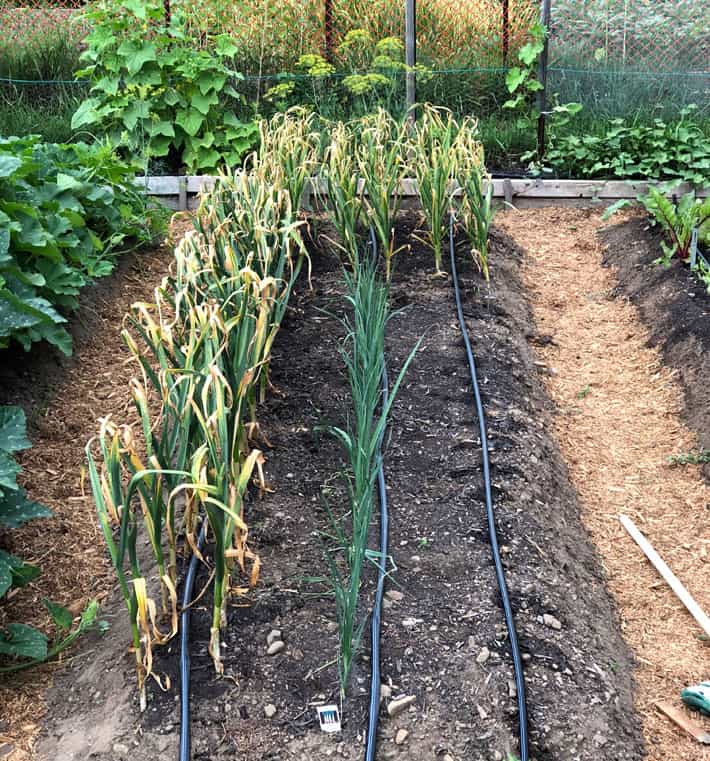 Plant your leeks.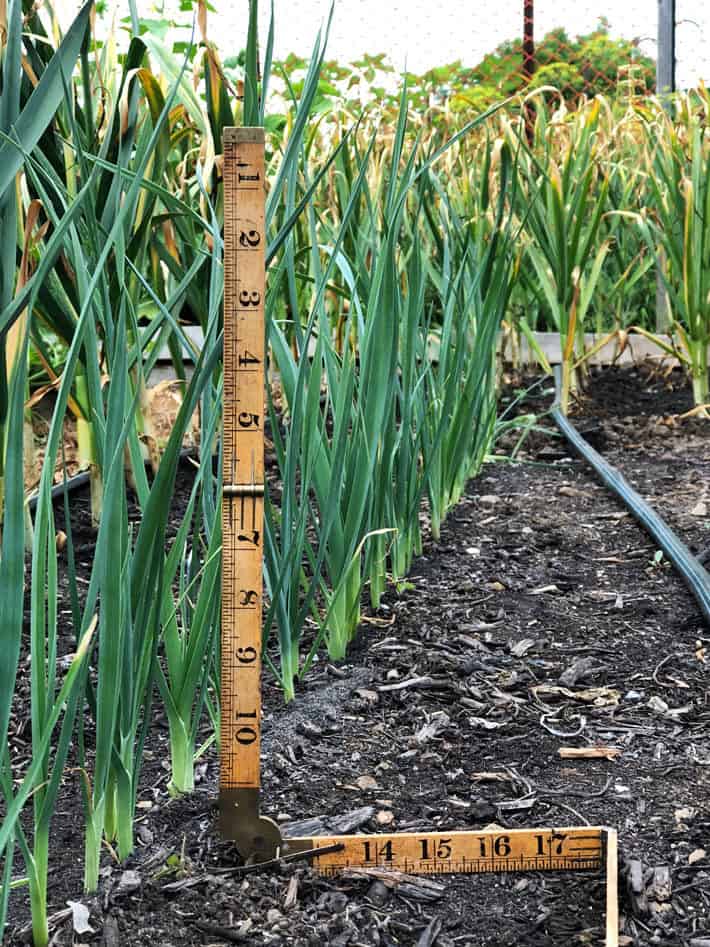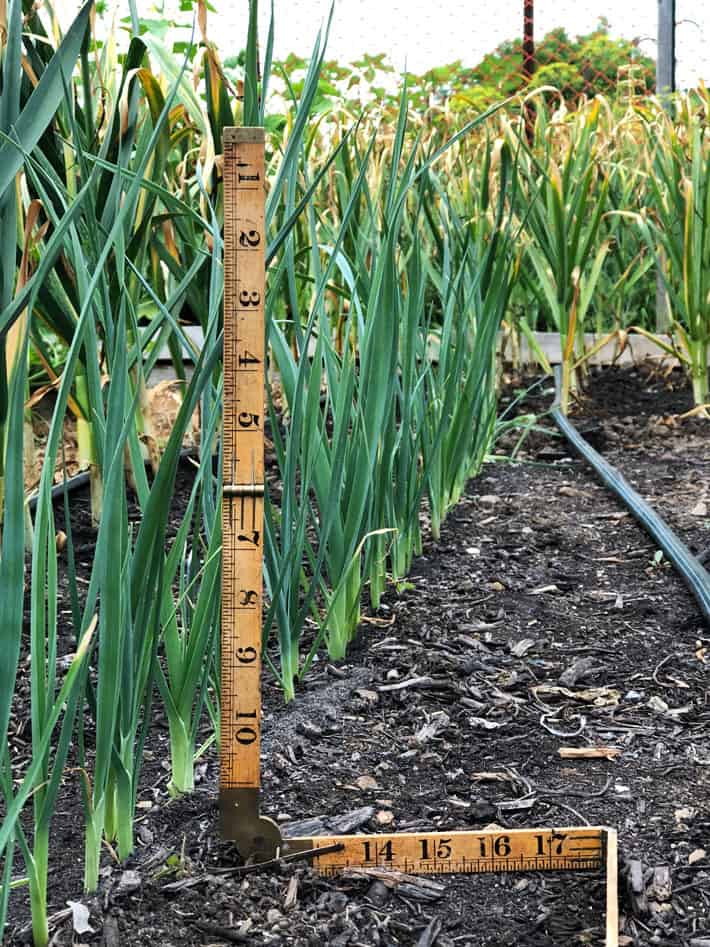 2. Once they reach 10-12" tall (like the ones you see in the photo above) carefully dig them up. Yes. Dig up the leeks that you planted. You're going to replant them into new holes that you make with a dibber.
This is the type of dibber you'll need. You'll have to make one, but it's easy. It's just a broom pole.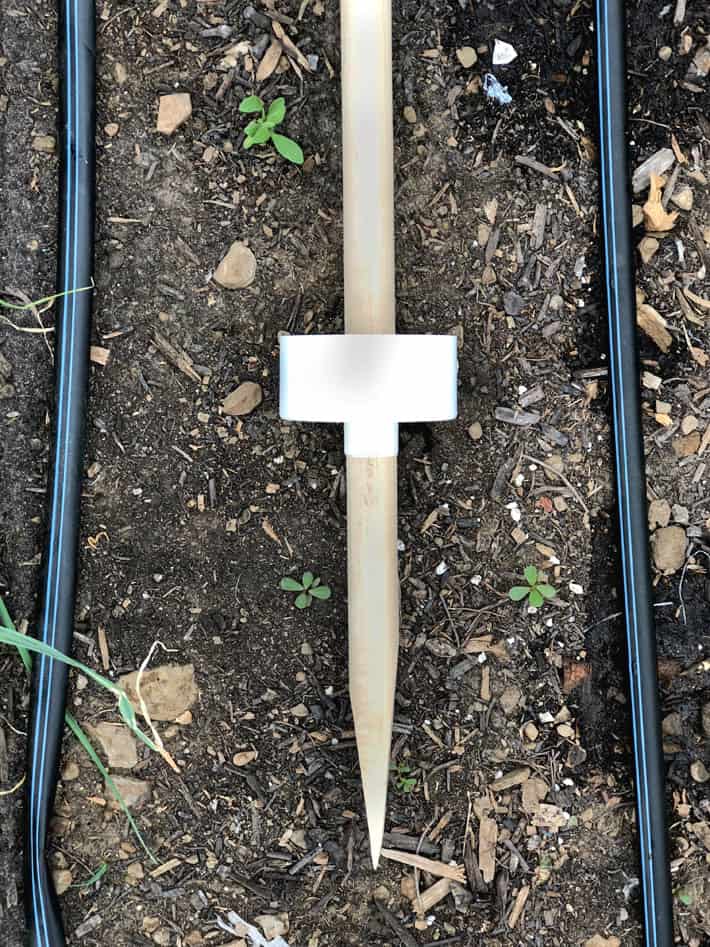 Your dibber needs to be specific.
1" or so in diameter. (like a broom pole or even better a hardwood dowel)
Pointed on the bottom but flat. Like a V. The flatness on the bottom of the dibber is important because you'll use it to create a flat surface at the bottom of your hole.
Something to indicate a 9" mark from the bottom of the dibber point. So masking tape, just a line of permanent marker or some type of disk fixed on the pole at the 9" mark. That's what I did.
From the side and back your dibber will look like this ...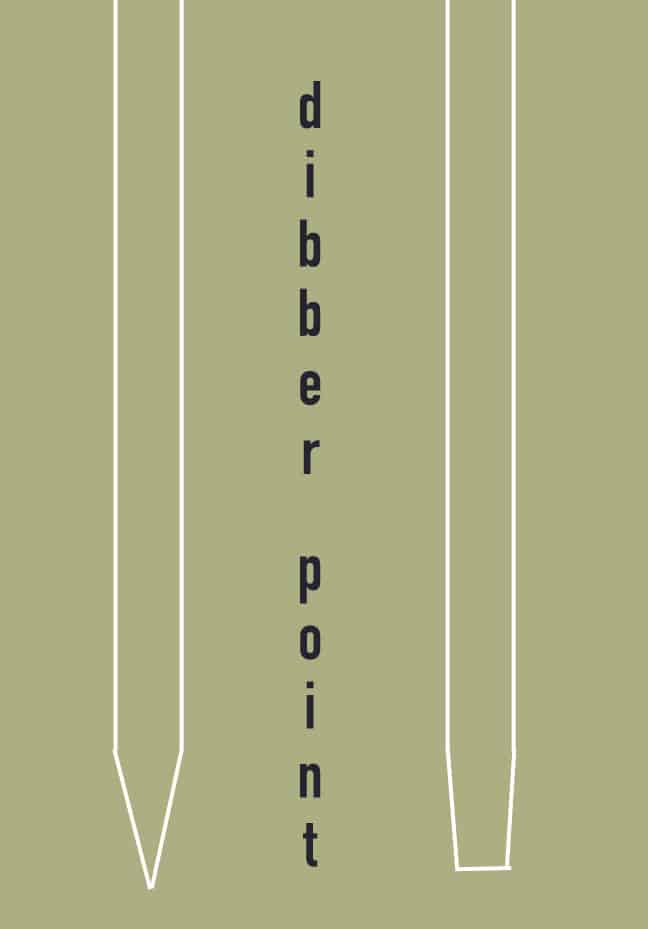 I made my dibber out of an old broom handle and sanded the tip down with a belt sander. I also added a plastic cap 9" up the neck of the dibber so I can push it in exactly 9" for a 9" deep hole.
That's the magic depth for your leeks. 9".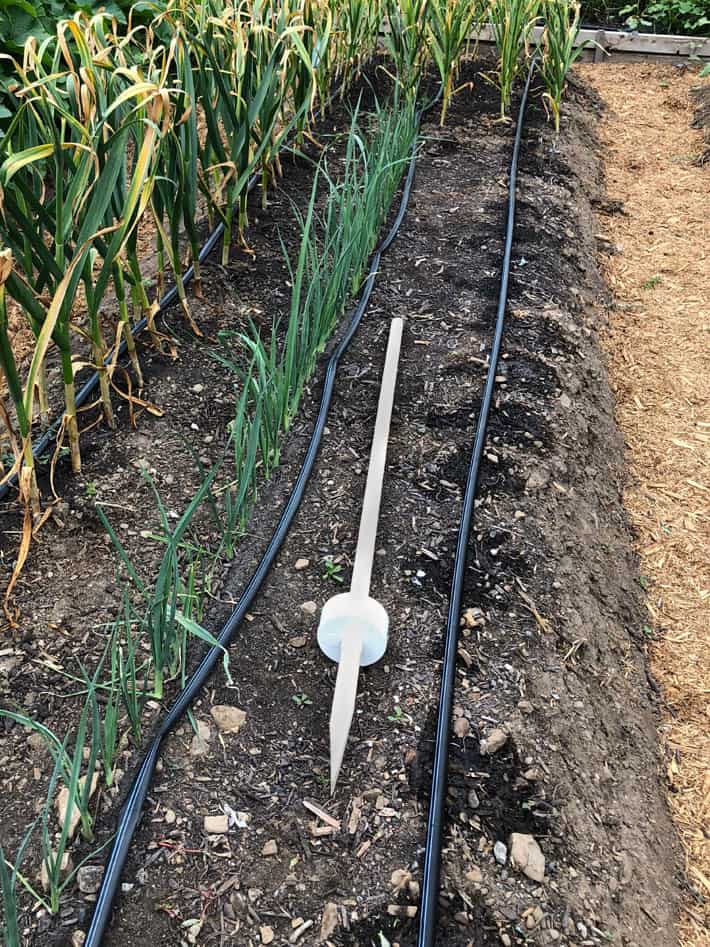 3. Using your dibber, punch holes in a new bed every 4". It's easiest to do this if you've watered the soil, otherwise the dry soil just caves in the holes. Once your dibber is pushed in 9", twirl it around in a circle. This will make the flat bottom spin and create a nice flat surface at the bottom of the hole.
4. Once your holes are created, cut the roots of the leeks off to 1".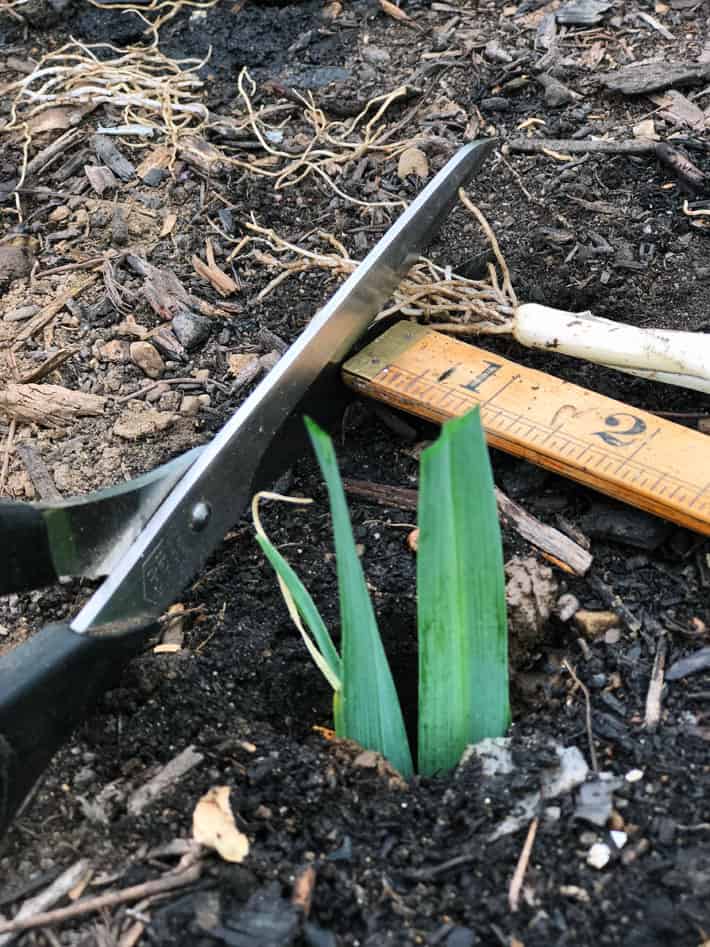 5. And then cut the greens of them off so from tip to tip they measure 10".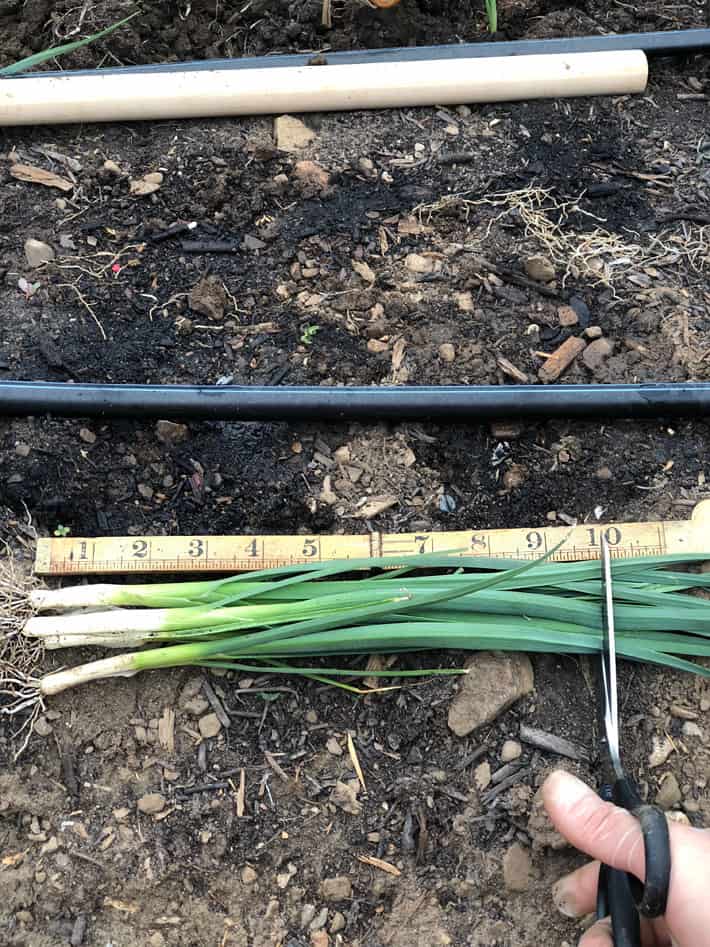 6. Drop one leek into each prepared hole.
Your 10" leeks will now only be sticking out by an inch or two from the 9" deep hole.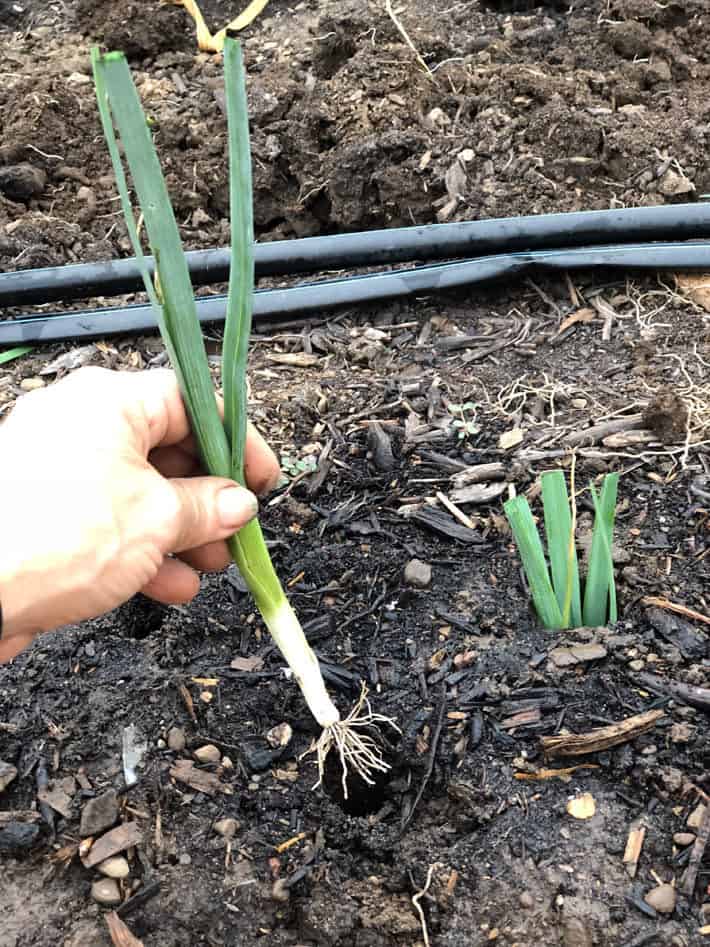 You're done.
Eliot Coleman says that soil falls naturally into the holes, filling them in, with irrigation and weeding and such, but I didn't find that to be completely the case with my leeks. If you notice the holes aren't filling in after a couple of weeks, just hand push some soil into them yourself.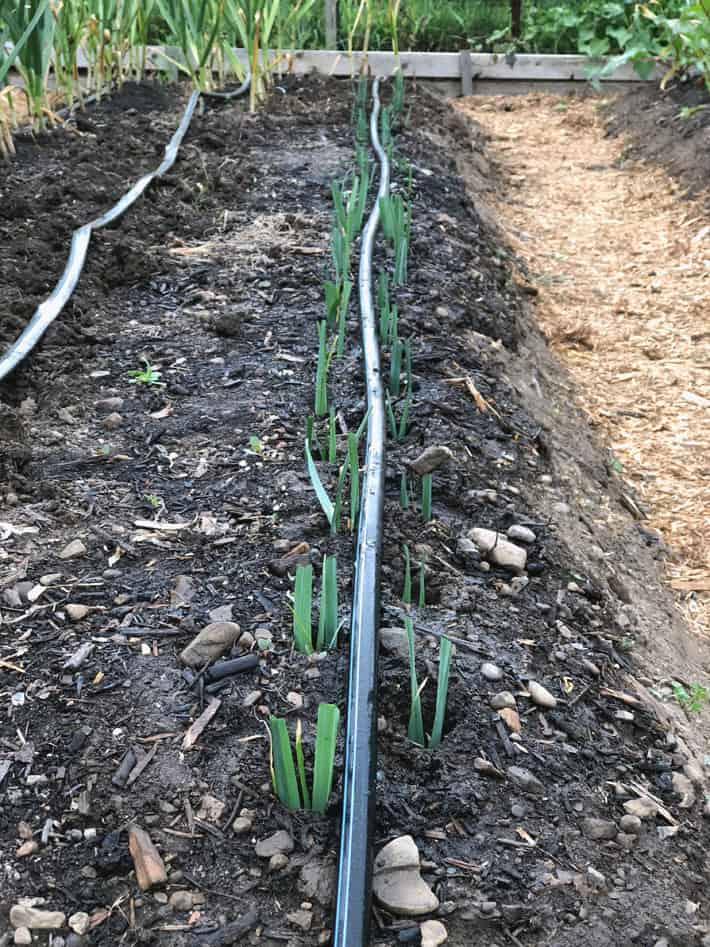 Now you leave your leeks. They will continue to grow and get taller and taller, while the portion 9" underground will be getting bigger and bigger producing the most white you've ever seen on a leek.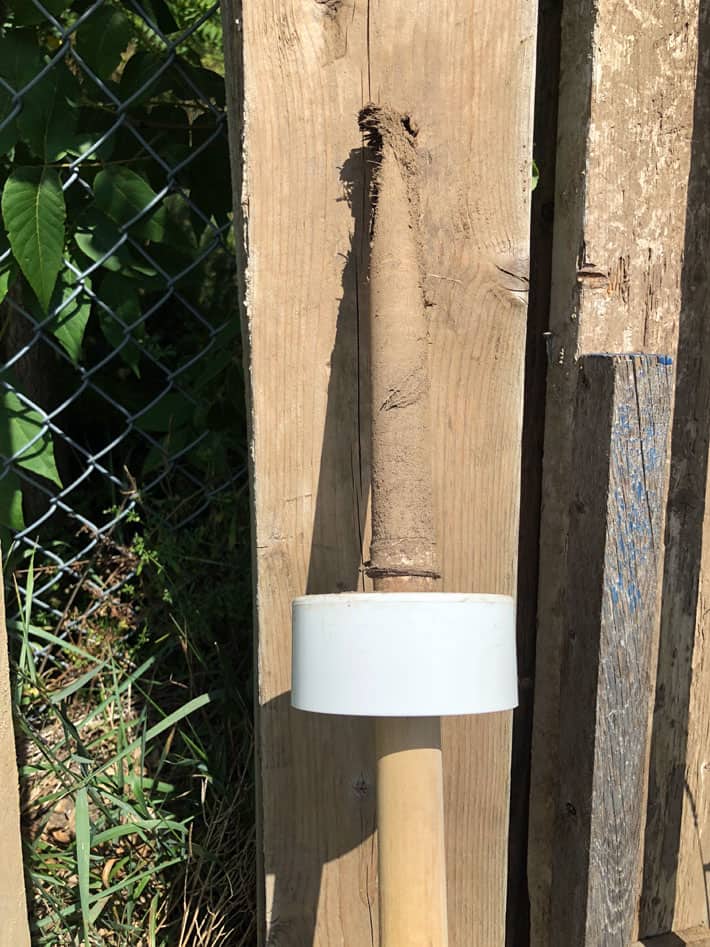 When I mentioned earlier that you're better using a dowel made of hardwood than a broom handle, it's because I used a broom handle that was soft because I figured it would be easier to sand down into a point, which it was. However it was also so soft that by the end of planting my leeks the tip was a muffled, mangled mess. It's now unusable for another season so I'll have to make another one ... out of a hard wood dowel.
Now you just let your leeks do their thing and once they're at least 1" thick you can start pulling them.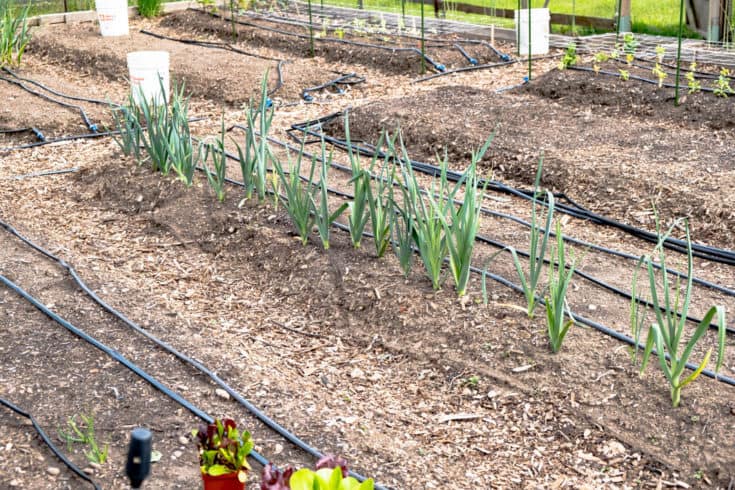 A Spring Leek Timeline.
Plant seeds in February/March.
Transplant outside to garden bed 2 weeks before last frost.
Transplant leeks once they are 12" high to a regular garden bed that's been prepared with the dibber technique. (don't forget to trim both ends of the leeks)
Harvest leeks from August - November.
A Spring Leek Timeline.
Plant seeds outdoors in May-June in a nursery bed. (a nursery bed is just a wood square that's 6 inches deep or so filled with good potting soil). If you have small seedlings instead of seed you can plant them in a regular garden bed.
Transplant leeks once they are 12" high to a regular garden bed that's been prepared with the dibber technique. (don't forget to trim both ends of the leeks)
Harvest leeks from March - May.
For these leeks, I started with seedlings I bought and planted in June. They were ready to transplant into their dibber holes in late July. I started harvesting them in March and picked the majority of them the middle of May.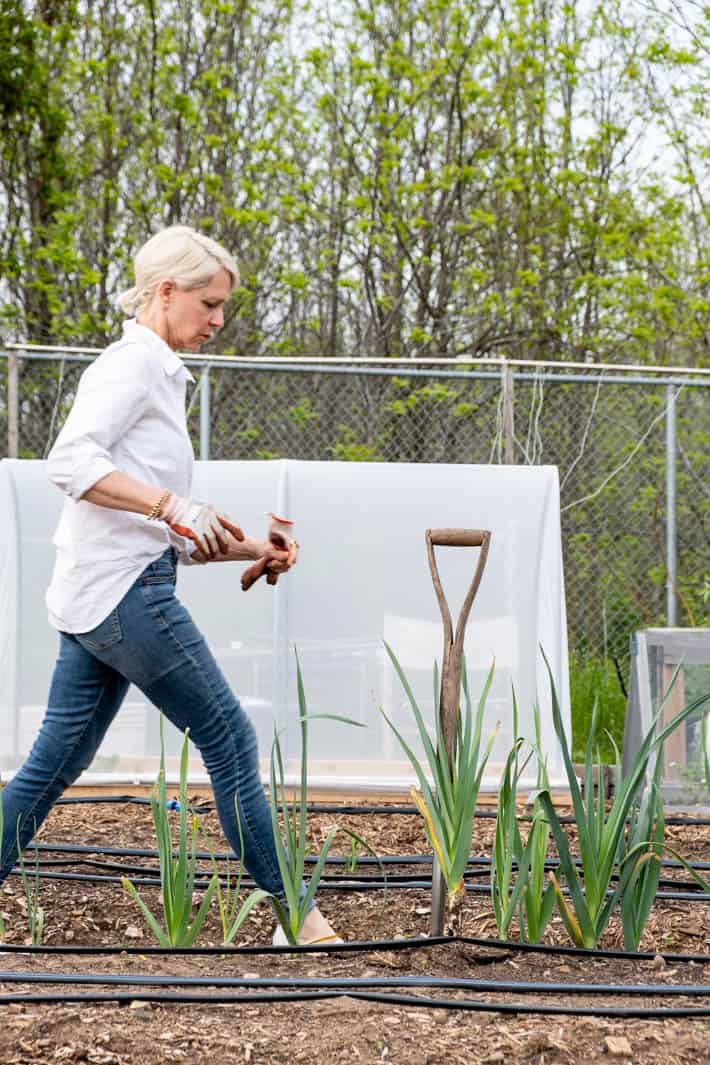 I had high hopes for this technique but really wasn't prepared for what I was going to get.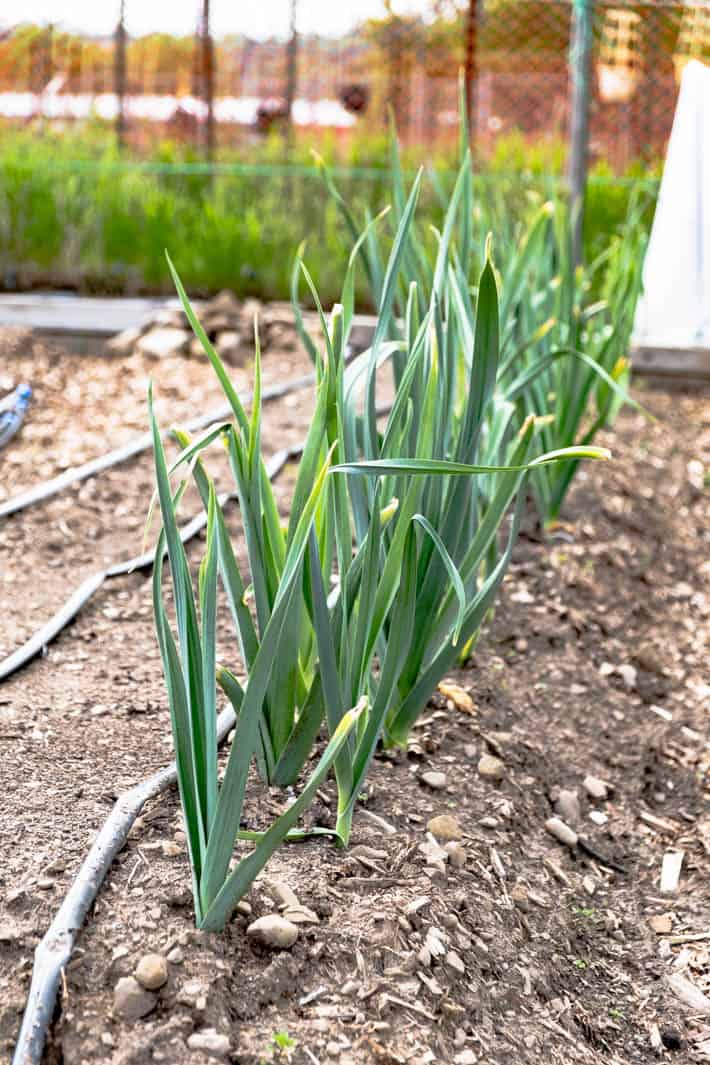 The leeks weren't huge in terms of thickness but they had more white on them than I'd ever seen on any leek anywhere.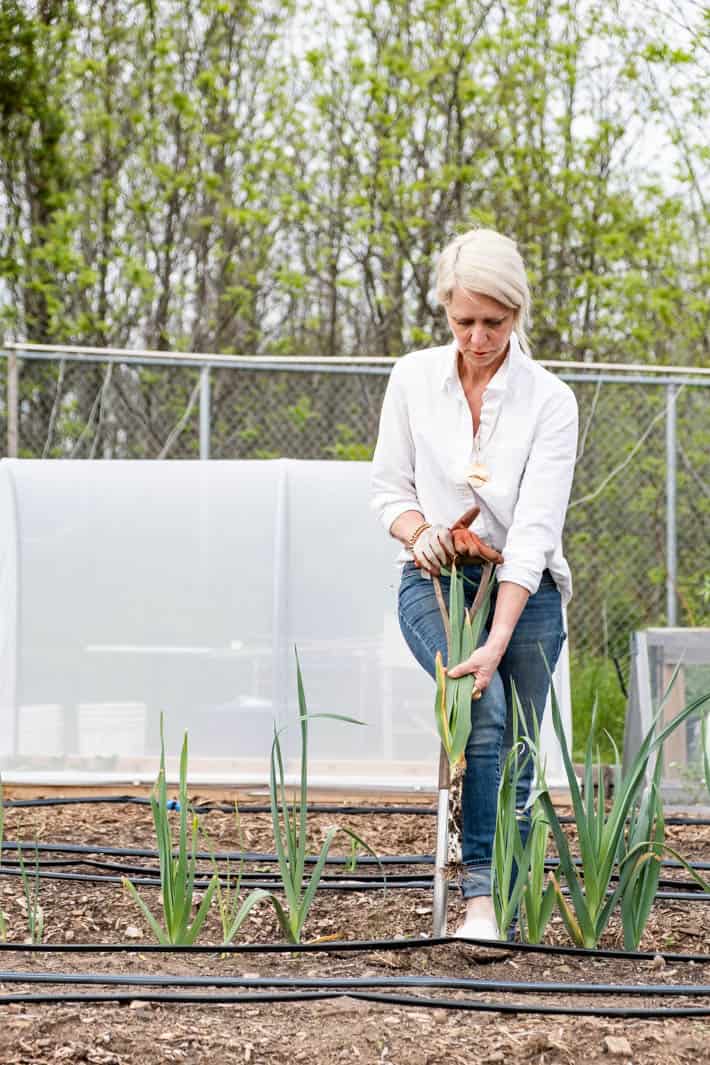 You too can be this happy about your leek harvest.
Using this growing technique, you're guaranteed a minimum of 9" of tender white leek.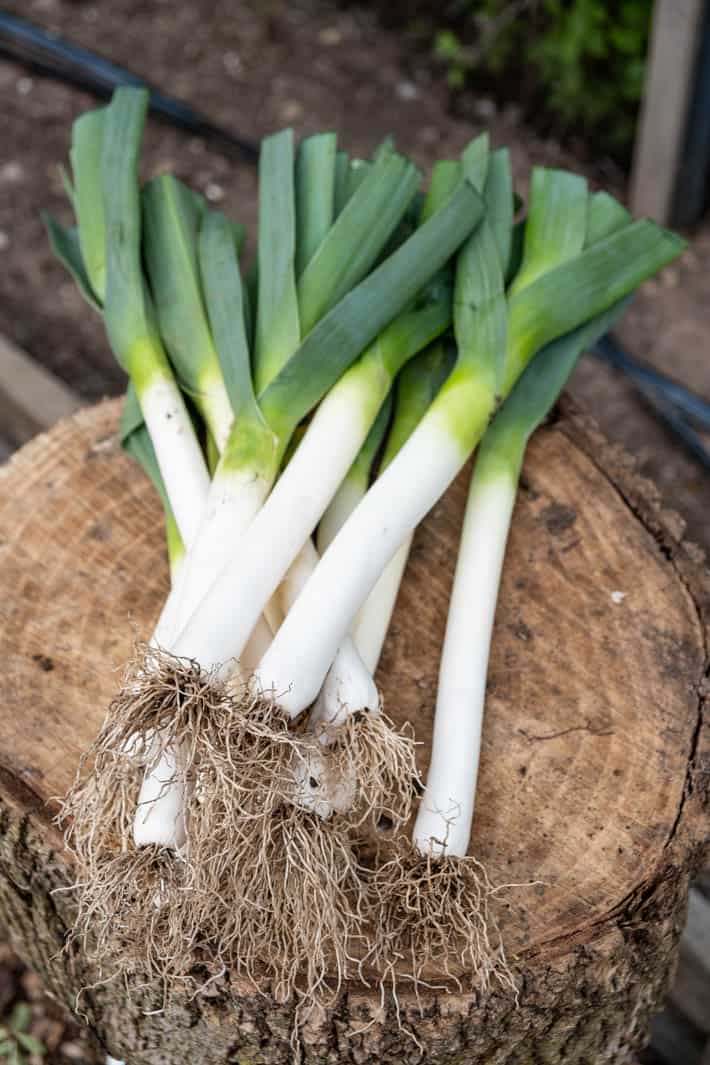 When you first start growing vegetables it's all about just getting things to grow. As you get more experienced and obsessed it becomes about growing the very best vegetables you can.
Now. What to do with all those leeks? My two favourite ways to use them are in potato leek soup of course, and tarts and quiches. Next week I'll have an incredibly easy Leek Quiche recipe for you in fact.
Then there's the roasted leek. Cleaned, split in half and roasted in the oven at 350 F (175C), leeks become sweet and caramelized. Just toss them in a coating of olive oil and roast them. That's all you have to do to bring out their flavours. After you've roasted them you'll probably find the outer skin of the leek has gone dry and papery. Just peel it off before serving.
Next up of course will be mastering growing celery.
→Follow me on Instagram where I often broadcast dirt covered from my garden.←