Hoooooooo, me? I'm just sitting here still waiting for an owl to roost as one does. This year I'm becoming serious about attracting screech owls to my owl box.
Two years ago I hung this owl box in my yard. I have been owlless ever since. THIS year is going to be the year I attract an owl! And I'm starting my "Hey Owl, come live at my house" campaign RIGHT NOW.
Screech owl breeding season starts in March so if you want to get them living in your yard you have to get an owl house up now for the male to pick out as a nursery for his birdie mama.
This owl box was sent to me by a reader who thought I'd like it. She knows my weakness; animals with feathers that eat mice. Owls are excellent rodent control but if you have serious mouse issues in your house, my mouse control post is probably going to be more helpful.) Owls even have the added distinction of barfing up tiny bones after their dinner so they're pest control and Halloween decoration providers all rolled into one. Not even goats can claim that.
When I first got the owl box two things stopped me from hanging it. Thinking it was going to be difficult to hang and thinking I liked how it looked right here in my house. Like maybe it'd make a nice salt cellar.
Dry leaves go into the bottom of the box.
Ultimately I decided putting it up was the only way I was going to attract a Screech Owl. In my particular area of Southern Ontario, Screech Owls start looking for nests from February to April. Owls are always looking for possible nesting places, but making sure you have one up during mating increases your chances of getting an owl in your box on account of the fact that they prefer home births. And therefore need a comfy home.
So let me answer a few questions you probably already have.
Aren't you afraid the screech owls will eat your chickens? No. Screech owls are tiny owls. They're the same height as a starling, but way fatter. I mean rotunder. If anything, the screech owl should be afraid of my miserable chicken Baby.
Won't the screeching become annoying? You know, cause Screech Owls screech. No. Oddly, they don't really screech. The noise Screech owls make sounds more like a horse whinny.
I LOVE THIS! I WANT ONE! ARE SCREECH OWLS IN MY AREA? Probably. They breed around most of North America.
What's with the handful of leaves? That's the one and only thing you have to do to prep your owl box. Put a few inches of dry leaves or pine shavings in the bottom of the box. Then you hang it. Screech owls don't bring nesting material into their nest. They nest on what's there.
As it turns out, hanging an owl house is simple. If you order a pre-made one like this it'll come with the screws you need. Mine even included a couple of brackets to make it extra secure if I wanted. I'm not sure what about this I thought was going to be hard.
Hang the owl house from 10 - 30 feet high. I have NO idea how you'd get it 30 feet high but that's an option for you if say, your legs are 20 feet long.
To hang the box, I propped the ladder against my maple tree and rested the Owl house on the top rung while I screwed the first screw in. That way I didn't have to worry about holding the box up and I could keep one hand on the ladder while I attached it.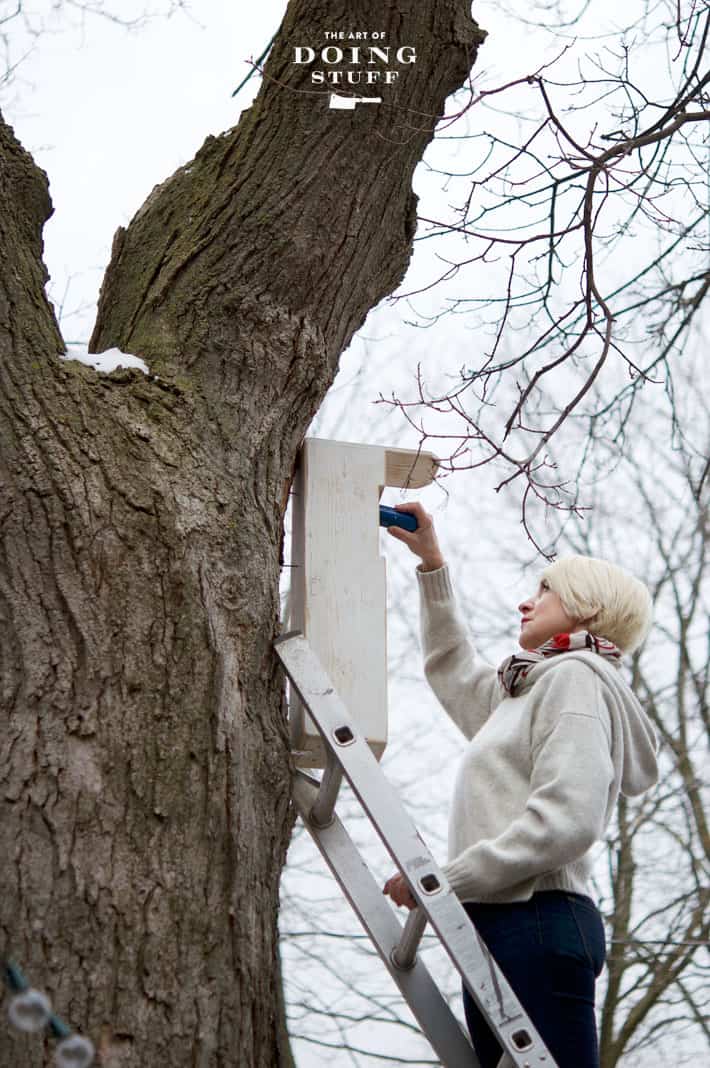 If your tree is old and gnarly like mine you might have to make a few adjustments while you hang the house. Bark was in the way so I had to bang some of it off for the box to lay flatter against the trunk. And because of the way the trunk is shaped only the very top and the very bottom of the box are against the tree. Because of this I wasn't able to screw the middle screw deep into the tree (as you can see above). So I put the bracket I got with the owl box on the bottom of it to keep the house sturdy on the tree.
Hanging the owl house isn't hard and you can hang it high enough with a regular 12' ladder.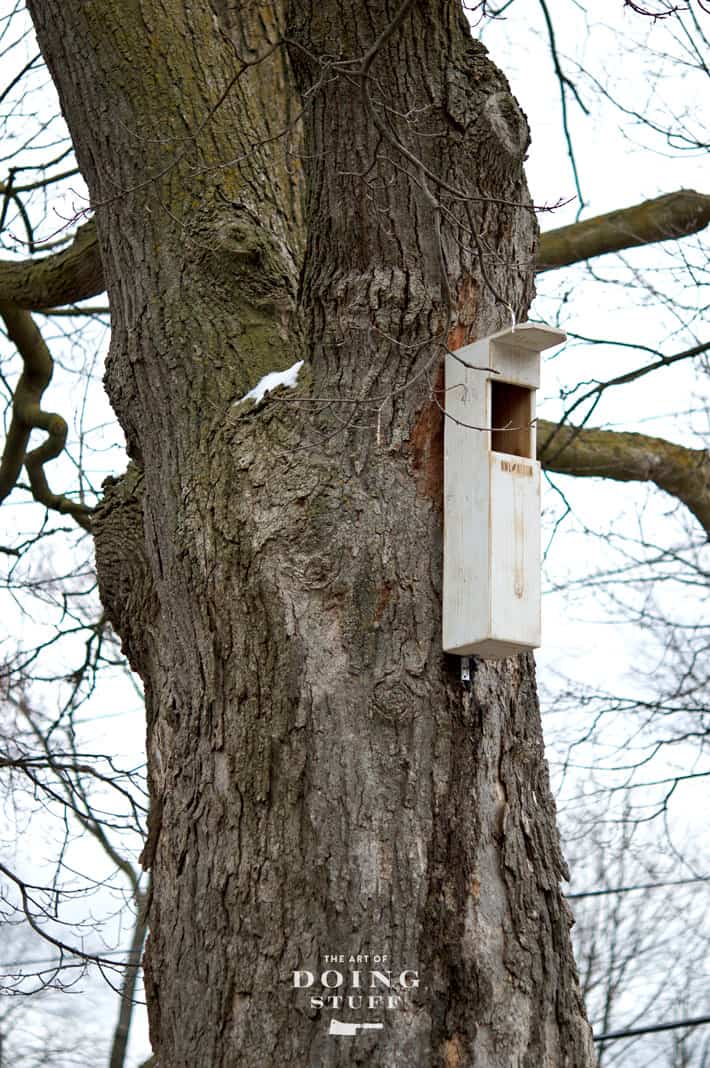 Tips for Hanging an Owl Box
Hang the box from 10 - 30 feet high.
The box can hang facing any direction except North.
Make sure nothing is blocking the flight path into the box like a nearby building or branches.
Stuff a couple of handfuls of dry leaves or pine shavings into the bottom of the box before hanging it.
If you don't have a tree you can hang it on a pole.
Make sure the box is hanging level or tipped forward a tiny bit from the top. That way when it rains, water won't get into the box.
At the end of each season or early in the new year, place another handful of leaves into the nesting box as new nesting material for the owls. :)
You can build your own Screech Owl house, or you can just buy one already made and finished. Owl Reach who sent me mine sells 3 finishes, whitewashed (like mine), blue washed, and natural. It's a small company owned by a woman and the boxes are all handmade and finished in Texas. Nope. This isn't a sponsored post. I just love my Owl Box.
Like I mentioned in the notes above, you should add a new handful of dry leaves or shavings into the nesting box once a year prior to nesting season to get the box ready for the next (or first!) owl. I just did that today, plus I inspected the ground under the nesting box to see if I could see any evidence of owls there, like whitewashing (white poop stuff) or a little welcome mat. Neither were under the tree.
So now I watch and hope. The maternity ward is ready and waiting.
→Follow me on Instagram where I often make a fool of myself←