Hoo me? Just sitting here ready to give you an update on my Screech Owl box after having nothing to screech about since I hung it in 2018. That all changed last week.
Years ago I hung this owl box on the big maple tree in my yard and it has remained owless ever since. I'm starting a new "Hey Owl, come live at my house" campaign RIGHT NOW.
The reason for that is because for the past few nights while I was sitting outside in the backyard around dusk I've heard this ... (it's a bit difficult to hear over the army of crickets).
I paid attention to the sound because it was NOTICEABLE. It sounded like something out of a rainforest, not the songbirds I'm used to hearing.
It sounds to me like a Screech Owl in the neighbourhood.
A few years ago I had to have my big maple tree chopped down because it was at the end of its life. The owl box affixed to the side came down with it and hasn't been hung back up since.
With an owl never showing up for an open house, let alone moving in, putting the house back up didn't seem very important.
It does now. So I grabbed it, a ladder, my cordless drill and some pruning sheers to hang it once again. 🤞🏻
To rehang the owl box this time I put it 13' off the ground, facing S/E, and I pruned away any branches hanging in front of the box opening so the owl has a clear path.
It is a kickass owl home if you ask me anything.
South-East facing cedar shingle two story, nestled in amongst a forest of Nootka false cypress; this single-family home exudes rustic charm at its most authentic. Close to owl amenities.
This owl house was sent to me by a reader who knows my weakness; animals with feathers that eat mice.
Owls are excellent rodent control but if you have serious mouse issues in your house, my mouse control post is probably going to be more helpful. Owls even have the added distinction of barfing up tiny bones after their dinner so they're pest control and Halloween decoration providers all rolled into one.
How to Hang an Owl Box
Owls are always looking for possible nesting places, but late winter/early spring is their nesting season and when male owls are looking for homes for their spouses to give birth in.
Having a house up during this time increases your chances of getting an owl in your box. They prefer home births.
And therefore need a comfy home. This is my original tree hanging setup.
A handful of dry leaves go into the bottom of the box.
Then it gets hung 10'-30' from the ground with the opening facing any direction except North. S/E direction is generally best, but as long as it doesn't face North, you're O.K.
In my particular area of Southern Ontario, Screech Owls start looking for nests from February to April.
Hanging an owl house is simple. If you order a pre-made one like mine from Owl Reach it'll come with the screws you need. Mine even included a couple of brackets to make it extra secure if I wanted. I'm not sure what about this I thought was going to be hard.
I can HIGHLY recommend the Owl Reach owl box because even though I haven't yet got an owl, after years of being outside it still looks as good as new. (I don't get a commission or anything if you buy from them, I'm just letting you know that it's a quality product).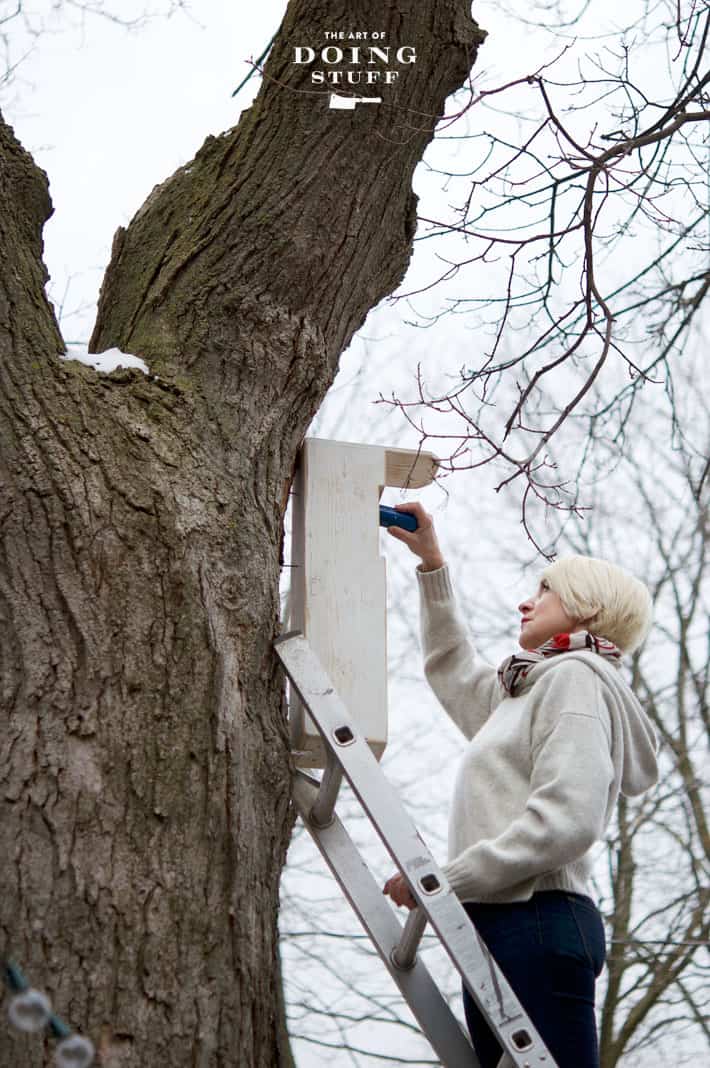 To hang the box, I propped the ladder against my maple tree and rested the Owl house on the top rung while I screwed the first screw in. That way I didn't have to worry about holding the box up and I could keep one hand on the ladder while I attached it.
Hanging the owl house isn't hard and you can hang it high enough with a regular 12' ladder.
I have NO idea how you'd get it hung 30 feet high but that's an option for you if say, your legs are 20 feet long.
If your tree is old and gnarly like mine you might have to make a few adjustments while you hang the house. Bark was in the way so I had to bang some of it off for the box to lay flatter against the trunk.
Questions people have asked me:
Aren't you afraid the screech owls will eat your chickens? No. Screech owls are tiny owls. They're the same height as a starling, but rotunder.

Won't the screeching become annoying? You know, cause Screech Owls screech. The noise Screech owls make sounds more like a horse whinny like the one you heard at the beginning of this post. They don't actually screech.

I LOVE THIS! I WANT ONE! ARE SCREECH OWLS IN MY AREA? Probably. They breed around most of North America.

What's with the handful of leaves? That's the one and only thing you have to do to prep your owl box. Put a few inches of dry leaves or pine shavings in the bottom of the box. Then you hang it. Screech owls don't bring nesting material into their nest. They nest on what's there.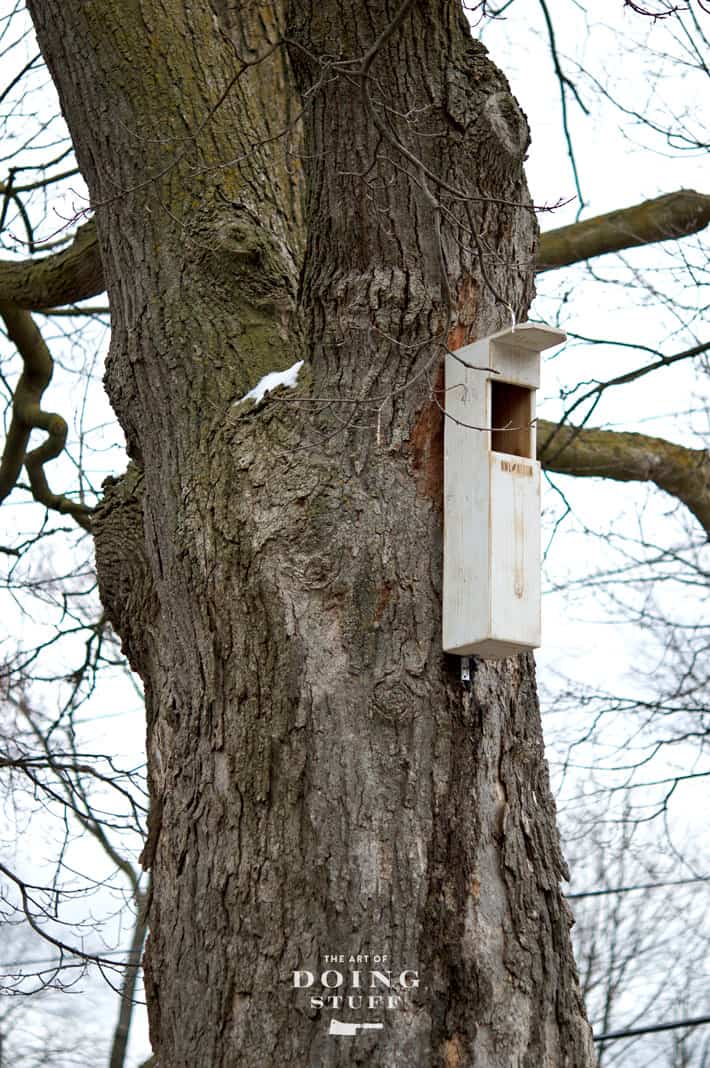 Tips for Hanging an Owl Box
Hang the box from 10 - 30 feet high.
The box can hang facing any direction except North.
Make sure nothing is blocking the flight path into the box like a nearby building or branches.
Stuff a couple of handfuls of dry leaves or pine shavings into the bottom of the box before hanging it.
If you don't have a tree you can hang it on a pole.
Make sure the box is hanging level or tipped forward a tiny bit from the top. That way when it rains, water won't get into the box.
At the end of each season or early in the new year, place another handful of leaves into the nesting box as new nesting material for the owls. :)
You can also build your own Screech Owl house with these free plans.
Like I mentioned in the notes above, you should add a new handful of dry leaves or shavings into the nesting box once a year prior to nesting season to get the box ready for the next (or first!) owl.
So now I watch and hope. The maternity ward is ready and waiting.
→Follow me on Instagram where I often make a fool of myself←