A look at this year's Thanksgiving dinner table setting complete with antique flow blue, gold chargers, silver domes and a few bugs.
I have a Thanksgiving tip. If there's someone coming to dinner that you want to make a good impression on go ahead and uninvite them. Or keep them, but lock the rest of your family out.
Family dinners on this scale are only likely to impress arsonists and other seekers of chaos.
At the very least make sure that person is the first to arrive, so they walk into a perfectly calm sanctuary of fresh flowers, china and jazz. You won't have to lie to them to accomplish this. Just tell them the correct time to arrive.
The rest of your family will show up at least half an hour late giving your timely first guest at least a snapshot memory of how things could have been had you only been part of a less maniacal bloodline.
You, my friends, are getting the first guest impression of this year's Thanksgiving dinner.
The flow blue and silver plate were set, a single Big Duck marigold at each place setting. Those same marigolds could have remained fairly anonymous on the table, just adding a little personal touch for each diner.
And in any other family that is how it would have remained.
In this family of pokers, prodders and general menaces of fine manners, it was pointed out the marigolds held a hibernating bug or two.
This led to guests strumming their thumbs across the petals like a Vegas card dealer to see how many bugs they could get to jump out.
Which wouldn't have been all that terrible if they'd chosen to do it either before or after the food was set on the table. Instead they did it during dinner.
There was no HUGE formal arrangement for the centre of the table because I used most of my flowers and floral time making individual arrangements for the guests to take home.
One arrangement was granted to each household through a game of chance at the end of the evening.
Moments before the first guests arrived I made sure I was looking my best so as to set the proper tone of elegance for the evening.
Because I had to do the messy arrangements outside in the pouring rain 10 minutes before their arrival, my particular brand of elegance came in the form of a stained windbreaker and a 3 year old manicure.
5 arrangements for the 5 different households that came for Thanksgiving dinner.
I knew these were going to cause panic and fighting so I decided the best way to allocate who would get 1st, 2nd, 3rd, 4th and last pick of the bunches was a sword fight.
Not a single guest agreed to it. No one. This is exactly the problem with my family. They are never willing to fight to the death for anything.
However, they will continue to indulge until their stomachs are stretched tight, their movements slowed to a pace that a first-year medical student might mistake them for dead, perhaps as early as the second helping of mashed potatoes.
By the end of the meal, forks teetering with the weight of pie could no longer be lifted to their mouths. They didn't have the strength. Instead people were just letting their heads fall forward in the hopes their mouth would hit pie. Most heads just hit the table with a thud.
Drawing straws was mentioned as a way to disperse the flowers and I agreed because it seemed like a quick and easy way to get them out of my house if they weren't going to reconsider the sword fight.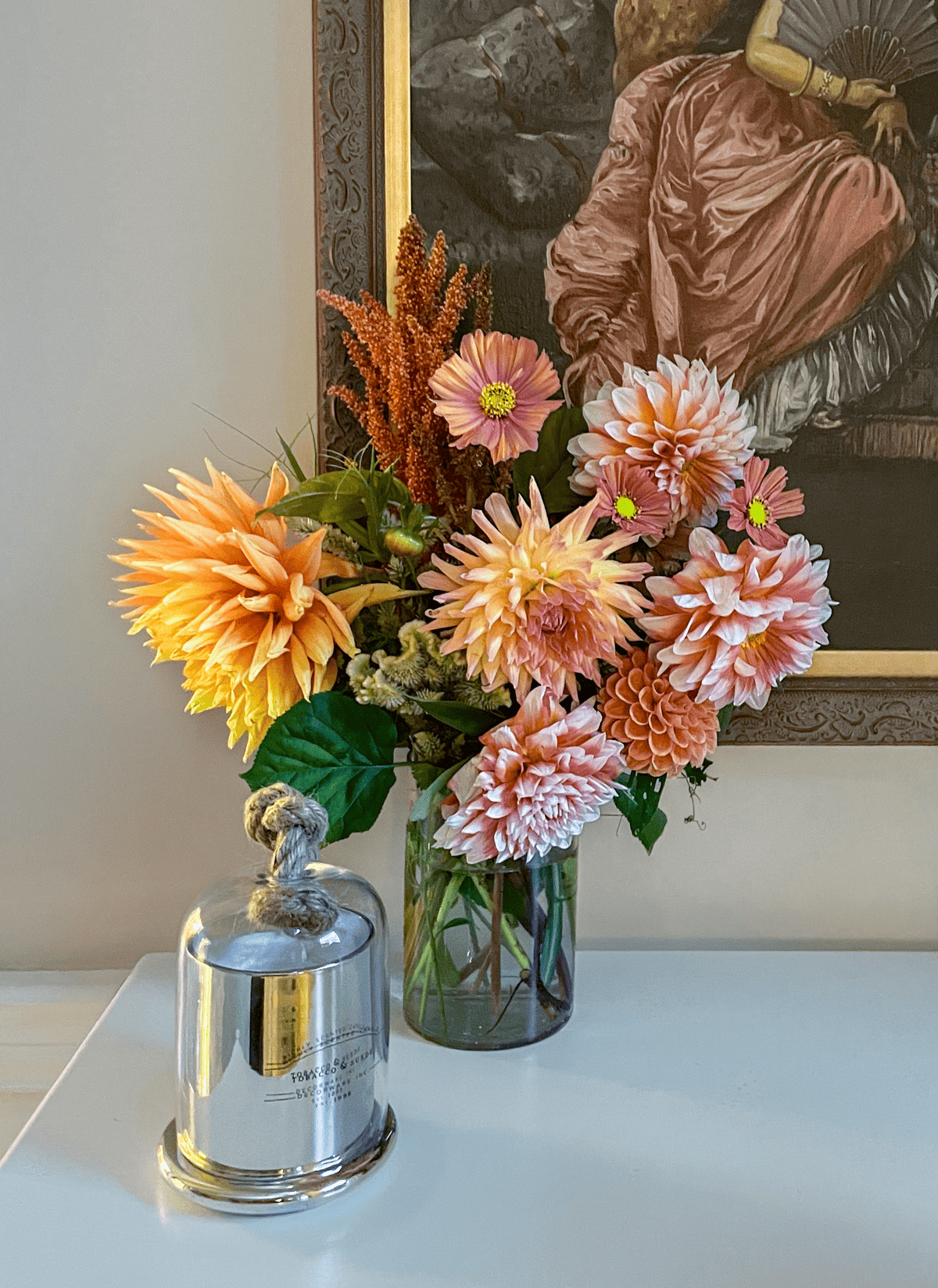 A few family members sent me pics of their new arrangements in their natural environments. To look at their homes you'd think they were perfectly normal, reasonable people.
Betty's selection
But they're not. My family is not normal. They are bug flinging pie eaters who descend on my house, set off an explosive without me seeing it and then leave.
I know. It's awful. They're just like your family.