I'm not even sure where to begin with this DIY so I guess we'll just go chronologically through my never ending steps of stupid.
Here we go!
Day 1.  Discovered a really great vintage Flytrap on Pinterest.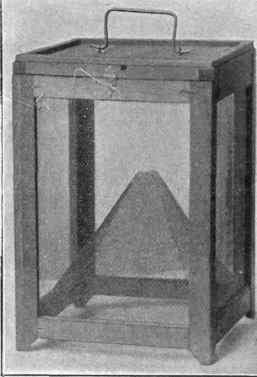 Day 2.  Mentioned on Facebook how I was SO going to build one of these vintage Flytraps so I could do a post on it.  That way you all would be able to build your own Vintage inspired flytrap.
Day 48.  Decided spring was here, it was probably time to figure out how to build the vintage flytrap.
Day 49.  Took a handful of stupid pills and went to bed.  (this part I can't actually remember but there's no other explanation for what followed)
Days 50, 51 and 52.  Somehow managed to waste 3 days turning what could have been the World's Greatest Flytrap into a literal pile of shit.
O.K. so that gives you a bit of background.  Now let's get into the details of how I managed to singlehandedly figure out, build and then destroy what could have been a great project by being stupid.
In other words, by cutting corners trying to oversimplify it.
By reading this maybe you'll learn something and avoid turning one of your projects into a big pile of poo. Unless it's some sort of art installation and that's what you were actually going for.
When I do DIYs I try very hard to make them easy for you to do and understand.  Unless it's building a pizza oven or building a chicken coop.  Those things you just sort of have to dive into and if you need a ton of instruction on the little things like how to plug your miter saw in, then it probably isn't the DIY for you.
But for the smaller things like the DIY Advent Calendar, The Original World's Greatest Flytrap, or the DIY Water Dispenser I try to really keep in mind what people are likely to do.  Mostly what readers want are things they can do for $10 and in 10 minutes.  Not always, but usually.
So I thought this is one of those DIYs I can simplify to make it appealing to more people.
I followed the  "Keep it Simple Stupid" philosophy.
I kept it simple.  Which was stupid.
Did I mention I also photographed my whole stupid process because I thought it was going to be a world class post?  So we might as well throw those photos in to further prove my point.
I know what you're thinking. You're thinking. Holy crap. That looks great.  And I think it does too.
Here it is 3 days later.
The first mistake I made was deciding I was going to do this entire DIY out of paint sticks.  PAINT STICKS.  You  need 32 of them by the way so here's hoping you have a paint store that once had an employee die from a vicious fly swarming at some point.  That way they'll be sympathetic to your crafting needs.
Why did I go with Paint Sticks?  Because I KNOW how much a lot of people detest going to a lumberyard to get wood.  It's a pain, you might feel out of place, you don't know where to get the wood (haha I said wood), and a big long piece might not fit in your car.  (haha I said big, long piece).
So in order to alleviate some of your anxiety I decided to go with paint sticks. They're easy to find, paint stores give them away and if they don't they're willing to sell them to you for cheap.  So paint sticks it was in order to keep it simple for you.
Mistake #2.  I didn't get double of everything so I could do a prototype to work out all my mistakes on.  I did this flytrap "on the fly" taking photos all the way.  NOTHING ever turns out perfectly on the first try. The first try is to figure out everything you're doing that's wrong.  The second try is the one that actually works. That's why if you're ever figuring something like this out, you do a prototype and then the real thing.  I won't bore you with all the things that went wrong during this phase but here's a photo of some of my blood.
Mistake #3.  This project was taking a lot of fiddling and fixing.  Making paint sticks sturdy is no easy task.  They're too skinny to nail and I ended up using a stapler and glue to hold everything together. Which actually worked.  Until it fell apart.  I used regular wood glue to hold things together along with clamping and staples.
I knew I should use Outdoor Wood Glue, but by this point doing things the right way had started to seem illogical.  Dangerous even.  I was going to do things wrong if it was the LAST thing I did.  And judging by the amount of blood by Day 2, crafting 'til I croaked was looking like a good and even enticing possibility.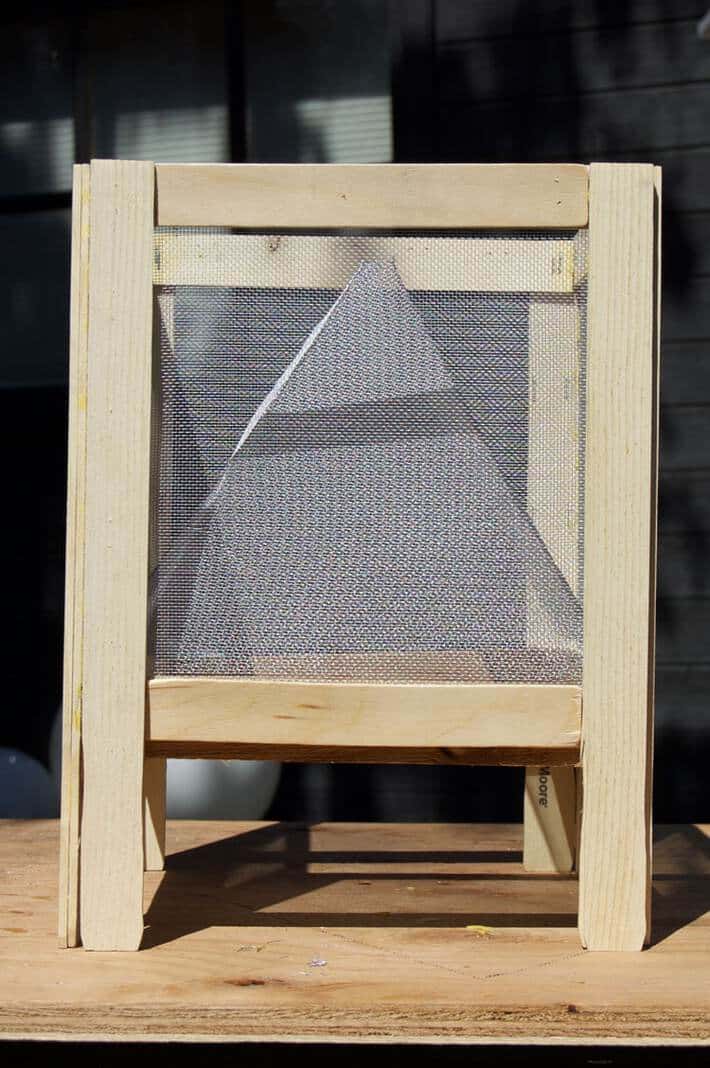 After 3 days of screwing around, trying this and that, running out of supplies, buying more supplies, begging more paint sticks,  I finally finished the fly trap and the 35 step by step photos that went along with it.
I was so proud I went inside and slept for two days.
At which point I woke up and my fly trap looked like this.
You'll notice I was extra careful about making sure my logo was prominent on that photo because it's exactly the type of awe inspiring project  people try to steal and claim as their own.  You always have to protect your work.
So where does this leave us and this fly trap project?
I'm going to make a new one and I'm going to make it exactly how I would normally make it.  With regular wood from a lumberyard (probably 1x1"s) with some trim pieces.
And I'm going to do a post on it again.
And in that post.  I'm going to also teach yo how to go to the lumberyard.