This week I was so inspired by something I saw on Instagram I almost forgave it for the time it made me think I was the only person in the world who couldn't afford a $30,000 oven.
Meet Charlie. More specifically meet Charlie's garden. Actually most specifically meet the love of my life, my reason for living, the inspiration for every song ever written, every love poem ever written and possibly the eventual cure for depression, hysteria, eczema and bloating - Charlie's dahlia border.
Yep. I follow Charlie McCormick on Instagram and the moment I saw this photo my whole world slowed down and I could her the beckoning song of Charlie's Angels.
I also fell in love with actual Charlie for a bit, but that wrong turn turned out to be very similar to the time I fell in love with Rufus Wainwright.
I MEAN SERIOUSLY.
LOOK AT THAT PATHWAY.
I see absolutely no reason why I can't do this in my own front yard. I choose to ignore the fact that Charlie lives in Scotland on what appears to be the set of Pride & Prejudice.
He has 3 acres. I have a lavish 400 square feet.
He has a vision, executes it and it looks perfectly imperfect.
I have a wisp of an idea, partially execute it before getting bored and discouraged with my front yard garden and it looks perfectly pathetic. And barren.
Of course, that's partly because of the time of year and partly because much like with my living room I have a love/hate relationship with my front yard. It could be SO perfect but so much of my time is spent growing vegetables that I never feel like I have enough time to devote to getting my front yard right.
Creating a jumbled English Cottage garden that looks authentic and GOOD is harrrrrrd. We've been through this. I may have complained about it once or twice before.
But now in my moment of need, mid-pandemic when I can't go to garden centres, when I'm out of chips, when it's still so cold out 90% of things that are green are on a work stoppage, I have been INSPIRED to just screw it and start throwing in dahlia tubers.
Charlie has generously included a lot of information about his border on his Instagram page. So from that I learned he's planted his tubers 15-20" apart and keeps them staked with some sort of intricate weaving of bamboo stakes, string and I Scottish threats.
If you've ever tried to wrangle dahlias you understand.
I was trying to figure out how I could whittle my allotment garden plantings down enough so I could devote a full 16' x 4' bed to my local food bank. Speaking of my community garden ...
---
ALERT ALERT - Saturday morning the Ontario premier announced that community gardens are allowed to open! However - gardens aren't actually open. They won't be allowed to operate until each local city's health department has come up with a set of health guidelines. We've gone from the hands of a provincial government to the hands of the local government.
I'm hoping the local guidelines won't take longer than a week or two but this is me exhibiting the optimism of a 7 year old who asks for a tattoo for Christmas.
---
So the dahlias you see above, would get moved to my front yard and the bed they took up at my garden could be used for the food bank.
The ONLY issue I have is that I if I grow these in my front yard will I be strong enough to go out and cut them with abandon the same way I did when I grew them at my community garden? I'm not sure I'm that strong.
Yes I am. Just yesterday I only ate half of a pizza instead of the whole thing. My resolve is made of steel.
PIZZA
Speaking of pizza. That's one of the things I ate this week. In my effort to support local businesses I'm ordering food that has been pre-made. By someone other than me. That's a unique thing for me. I rarely eat out and almost never pick up a quick meal.
A couple of weeks ago I got fish and chips and this week a neighbour and I decided to get pizza from a new restaurant that had the unholy misfortune of opening up smack dab in the middle of a world pandemic.
It's Detroit style pizza which I had never even HEARD of. I know. Me. The one waving my hand over here with the homemade pizza oven.
Detroit style pizza seems to be a weird amalgamation of Chicago style, slab and magical pizza.
Pizza from MaiPai
This particular pizza had bee stung honey (spicy), cup and char pepperoni, mozzarella, sweet/spicy tomato sauce and a blob of ricotta. What also makes it unique is that the sauce is on top. IT'S ON TOP.
I tried to deconstruct the pizza but found it difficult to do while mashing my face into it.
DAHLIAS
Back to the dahlias. As luck would have it an order I placed in January from Creekside Growers arrived this week so I labelled them and will be planting them tonight. To label my dahlias I wash the tubers, let them dry and then use a Sharpie to write which variety it is directly on the tuber.
I plant them with the writing side facing upwards in a shallow tray of dirt so they get a head start before I plant them out. This also helps prevent any rotting from too much rain since dahlia tubers can rot if they get too much water prior to sending out shoots.
That Instagram photo of Charlie's dahlias really did make me feel a whole lot better about the future. Prior to having something so beautiful to think about working towards, every day felt like this.
Here's hoping you've also found your own Charlie's Angels to look forward to.
Have a good remainder of your weekend!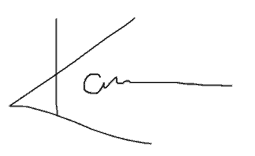 →Follow me on Instagram where I often make a fool of myself←