Out of the thousands of seeds in the Baker Creek Seed catalogue, THESE are the 15 varieties I couldn't live without. And I know you're going to want to grow at least one of them.
Behold the seed packets; gardener's crack. I remembered to order my seeds early this year so if you happen to see anything you like here I recommend you order it right away before you forget because you're old and decrepit like me.
I have no affiliation with Baker Creek and I'm not getting any commissions for this, they just have great seed and always interesting varieties.
They will not be the only place I get seeds from this year. It's just the first of many of the trug pushers on my list to hit.
---
Baker Creek is also where I get the seeds for one of my favourite pumpkin varieties - Jarrahdale. A big, dry fleshed, sweet squash that keeps for months.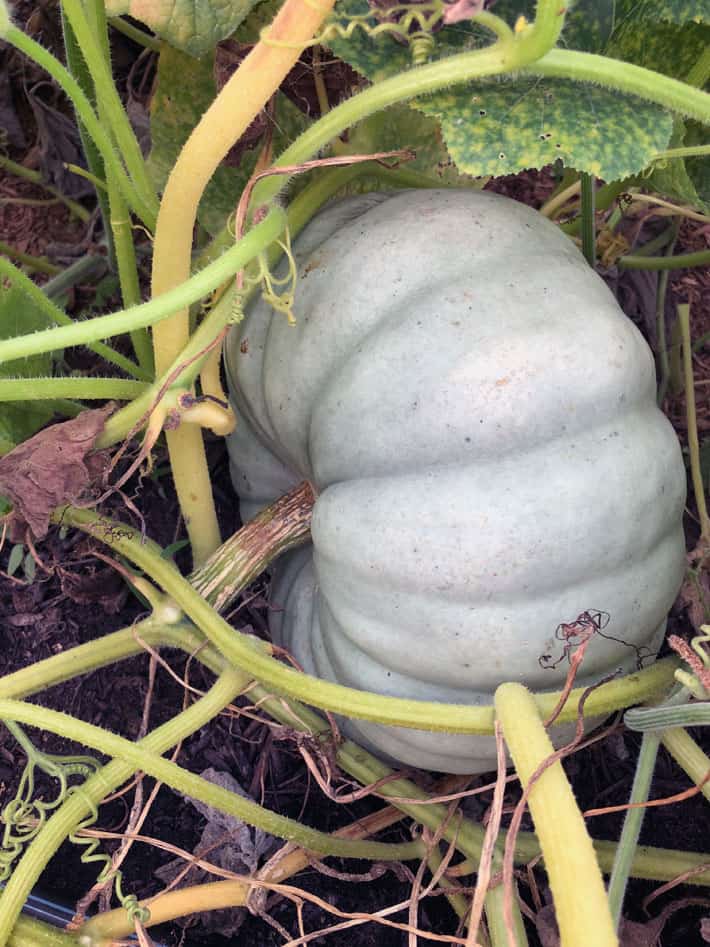 You've never met a bigger sucker for a blue pumpkin/squash than me. NEVER.
---
Again - if you think you want to grow any of these order them right away. Last year I didn't and in an act of desperation ordered Biquinho pepper seeds from Amazon in April.
It wasn't until 5 months after I planted, watered, coddled, transplanted and fretted over them that I realized they were just regular hot pepper seeds, not the cute little Biquinho.
Speaking of which ... they're the first seeds I added to my cart this year.
Vegetables & Flowers
Anything that can be directly sowed into the ground in spring has the annotation DS next to its name.
I've also included a note a to WHY I bought this particular variety.
Biquinho Red Hot Pepper
Also known as Sweetie Drops, these are tiny sweet peppers with a touch of heat. They're normally grown for pickling.
WHY They are DELICIOUS on pizza.
Biquinho Yellow Hot Pepper
Same as the red, only yellow.
A sweet heirloom Paprika pepper from Basque.
Why They're the 2 best peppers to make a perfectly blended homemade paprika like I showed you last summer.
A hot pepper that ripens from pink to purple to orange to red with different flavours with each colour.
Why - It just seemed fun. As a gardener, you understand, I'm sure.
According to reviews this Russian heirloom is one of the best tasting tomatoes in the world. 😳
Why - My 2nd favourite tomato is Black Krim, so I want to compare.
---
If you doubt that there's much difference in the taste of tomatoes try doing a tomato taste test this summer. You'll be shocked at how different they all taste.
In 2014 I conducted a very scientific (not at all) taste test of 6 heirloom tomato varieties: Black Krim, Pineapple, Aunt Ruby's German Green, Costoluto Genovese, Indigo Rose & Green Zebra.
---
A bright yellow (even though it's called orange) chard.
Why - I've struggled to find a coloured chard variety that excels at growing.
A mustard green technically but it tastes like WASABI! Can be eaten raw or cooked.
Why - IT TASTES LIKE WASABI!
Chijimisai DS
A "new" Asian heirloom green that Baker Creek swears is going to be the new all the rage vegetable because of its vitamin levels and taste.
Why - Mainly I want to be able to say I grew it before anyone else.
Wine coloured sweet peas.
Why - They'll be a nice contrast to the softer coloured sweet peas I normally grow.
A favourite among floral designers.
Why - I like that they're fluffy looking.
A colour that reminds you of pink lemonade. Cosmos grow tall and gangly so they're not for everyone.
Why - I just LOVE the colour although I have to say I'm normally disappointed by most Cosmos varieties. One last shot though!
Petunia, Superbissima Giant Rose
A deeply ruffled HUGE petunia with sweet scent. Irresistible to pollinators and beautiful cut flowers.
Why - When I learned you could use petunias as cut flowers I wanted all of the petunia varieties but landed on this one and ...
Cosmic Cherry Petunia
It was all leading up to this. The Cosmic Cherry Petunia. The EDIBLE petunia that TASTES like CHERRY.
FYI the previous Petunia is also edible and BOTH have cherry flavour and can be used in salads. Or on desserts. Baker Creek even has a recipe for making
Why - I don't think I need to give any more reasons regarding why I bought these seeds
Quick List
Petunia, Superbissima Cosmic Cherry
Biquinho Red Hot Pepper
Biquinho Yellow Hot Pepper
Leutschauer Paprika Hot Pepper
Txorixero Sweet Pepper
Buena Mulata Hot Pepper
Black from Tula Tomato
Lace Flower - pink and blue
Oriole Orange Swiss Chard
Wasabina Leaf Mustard
Chijimisai
Sweet Pea, Beaujolais
Scabiosa, Salmon Queen
Petunia, Superbissima Cosmic Cherry
Petunia, Superbissima Giant Rose
Cosmos Apricotta
Lay it on me. WHICH of these made you think I WANT TO GROW THAT?! Tell me in the comments below. ~ karen!