You can grill your entire dinner this weekend on the BBQ including your greens and dessert. Here are 5 things you can grill this weekend that you might not have thought of doing.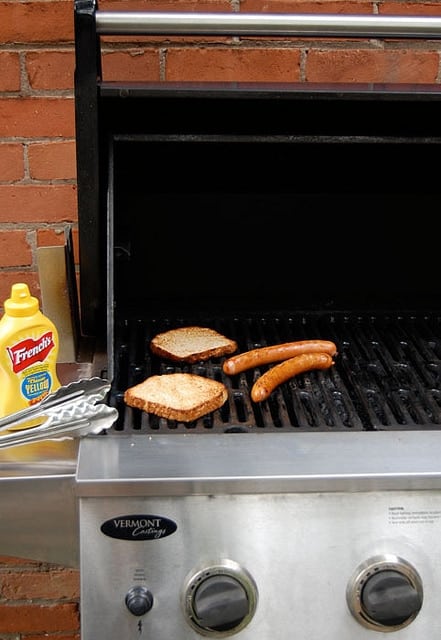 This is the time of year that the BBQ/Grill in your backyard has gone from the fun, new, party friend, to the boring, predictable, hanger-on you're completely sick of.
You've done it all together again and again and again. Steak, baked potatoes, hamburgers, hot dogs. Steak, baked potatoes, hamburgers, hot dogs. Over and over again. You might get wild and add chicken to the rotation once in a while but you get the idea.
Over the past few years I've taken to throwing everything on the BBQ: shrimp, beef skewers, sweet potatoes and leafy greens. Yes. You can grill a green.
I will grill my entire dinner on the BBQ including the meat, the vegetables, the greens and the dessert. I started doing this because I'm the only one in the house which means I can't be outside taking care of the stuff on the BBQ while someone else is inside dealing with whatever is in the oven or on the stove. There is only me and only me doesn't like running in and out of the house trying to keep stuff from burning in not one but TWO areas of my home.
5 things are in constant rotation. And I would like for you to try them too. At least one of them. And I don't want any excuses. No BBQ? Not a good enough excuse. Light a fire on the road and throw a hub cap over it. Just do what you have to do to try something new.
5 Things You Can Grill
GREENS
Oh yes you can. I grilled kale just last night and it turned out fantastic. I splashed some olive oil and lemon juice on the kale first, smushed it with my hands a bit to tenderize the kale and then piled it on the BBQ turning it a few times until it started to soften but not go limp.
You can do the same thing with chard.
If you leave the stalks on the leafy portion of the greens will get dry, crispy and charred which isn't necessarily a bad thing.
FANCIFY THEM: Toss the greens with a bit of Thai peanut sauce before serving. I usually just use store bought sauce but if i have time I make this spicy peanut sauce from scratch.
2. SLICED POTATOES
A baked potato takes forever on the BBQ. Cutting a potato into ¼" slices speeds up the cooking time. You can either put them directly on the grill, or what I do - throw them in an aluminum pan (which I use over and over again) with a blob of duck fat and Herb de Provence. They'll get crispy on the outside and soft and fluffy on the inside.
If you don't have duck fat use a half and half mixture of olive oil and butter to cook them in.
FANCIFY THEM: As soon as they're cooked, dress them with this grainy mustard, dill and mayo sauce.
3. CORN
There are still a few of you out there that don't grill your corn. You don't need a pot of boiling water to get delicious corn, just throw it on the BBQ next to everything else and turn it when the kernels start to char.
Serve it with butter and salt. Squeeze a bit of lime on top if you're wanting to feel like you're really "cooking".
FANCIFY THEM: Make this grilled Indian Street corn with cilantro, Indian spices and lime.
4. BEETS
Take a bunch of beets, wrap them in a double layer of aluminum foil and put the whole package on the grill to cook for 40 minutes.
When they're cooked the skin will just slide off.
FANCIFY THEM: Slice the beets and top with goat cheese, pecans or walnuts, honey and balsamic vinegar.
5. PEACHES
Grilled peaches are DELICIOUS and all you have to do is stick them on the BBQ on medium/low for about 10 minutes on each side. The sugars caramelize and get sticky and it's heavenly. Sprinkle them with a bit of cinnamon or nutmeg before cooking.
FANCIFY THEM: Serve grilled peaches with a scoop of vanilla ice cream and drizzle with maple syrup or honey and roasted nuts. Maybe another sprinkle of cinnamon for good measure.
Don't get me wrong ... for all of you who only do steaks, burgers and hot dogs on the BBQ and only WANT to do those things, that's O.K. by me. I smell your standard fare as I walk or run around the neighbourhood at dinner time and it all smells fantastic. It makes me run faster so I can get home and throw something on my own BBQ.
When I run in the winter it's the scent of airborne fabric softener that I smell as I run. It never makes me want to hurry home to do laundry.

→Follow me on Instagram where I often make a fool of myself←