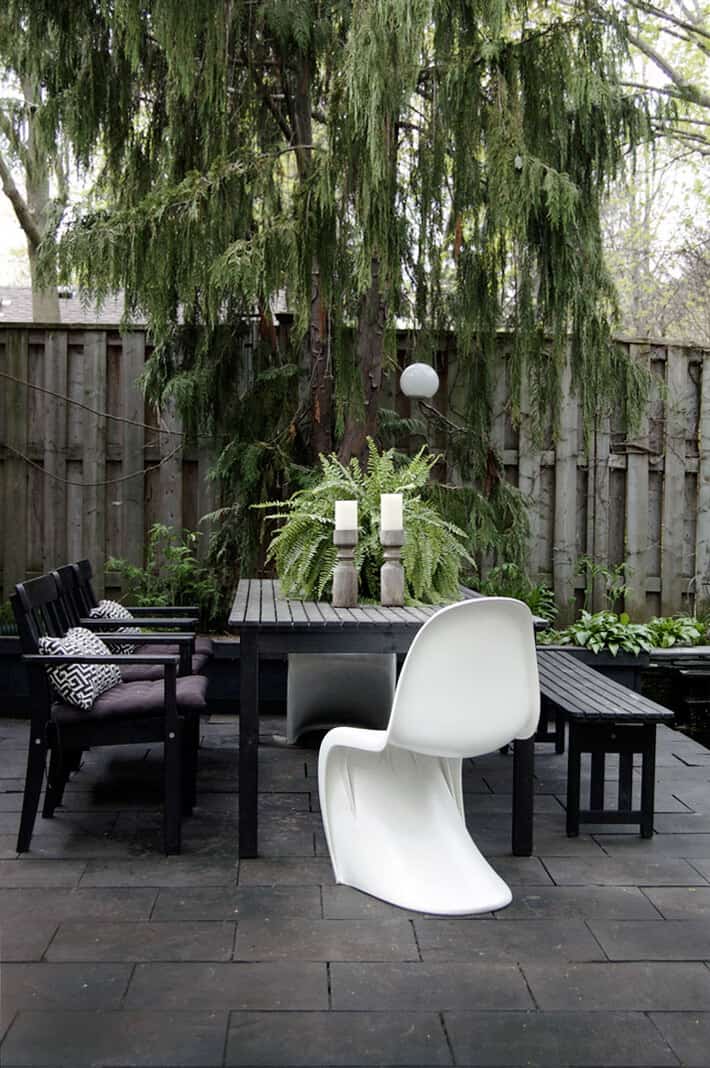 Welcome to the weekend in my backyard. Where I plan to sit. And enjoy. And relax. I'm going to I'm going to I'm going to I'm going to.
O.K. I think I typed that enough that I can't take it back. No take backs on the relaxing pledge. Only it's kind of a lie because there's a big project I have to finish in the backyard. But once I do that on Saturday morning it's going to be relax, relax, relax.
A few years ago I ditched the idea of using a patio umbrella in my backyard since it's shady anyway and got the black table, chairs and bench you see from Ikea. Not having the umbrella makes it feel much more like a real room. That has bugs. At least more bugs than the inside.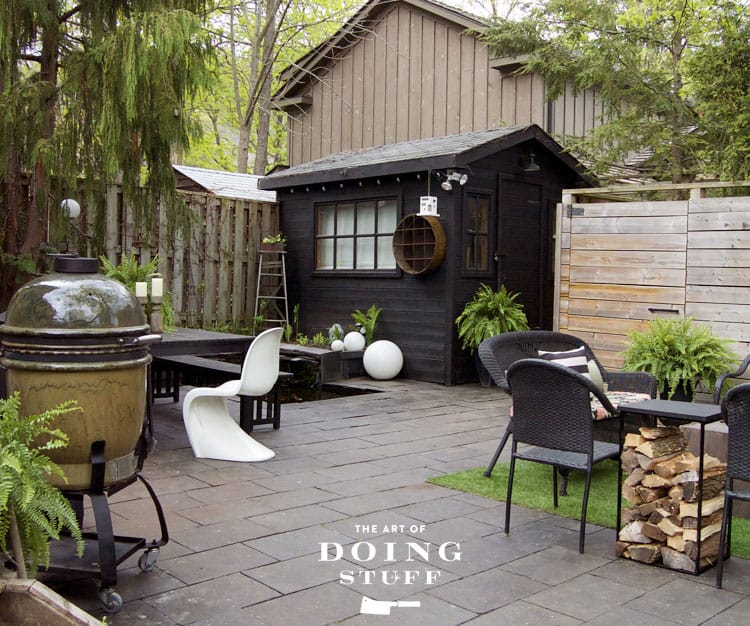 It's the first long weekend of the summer in Canada and for the first time ever my backyard is cleaned up and ready to go. Plants and everything.
K.
I'm bored with it now, is it too early for snowpants?
Just kidding. I won't get bored with the backyard until at least the second long weekend of the summer when I decide watering plants is for chumps and dedicate all my spare time to hoping they'll die instead.
The fake wicker love seat on the left in the photo above is from Walmart and used to be brown. I painted it the same way I painted my shed, with a sprayer. The chairs were some kind of a deal at Costco a few years ago. But what I'd REALLY like to do in this area is to create some built in furniture in the same conversational shape.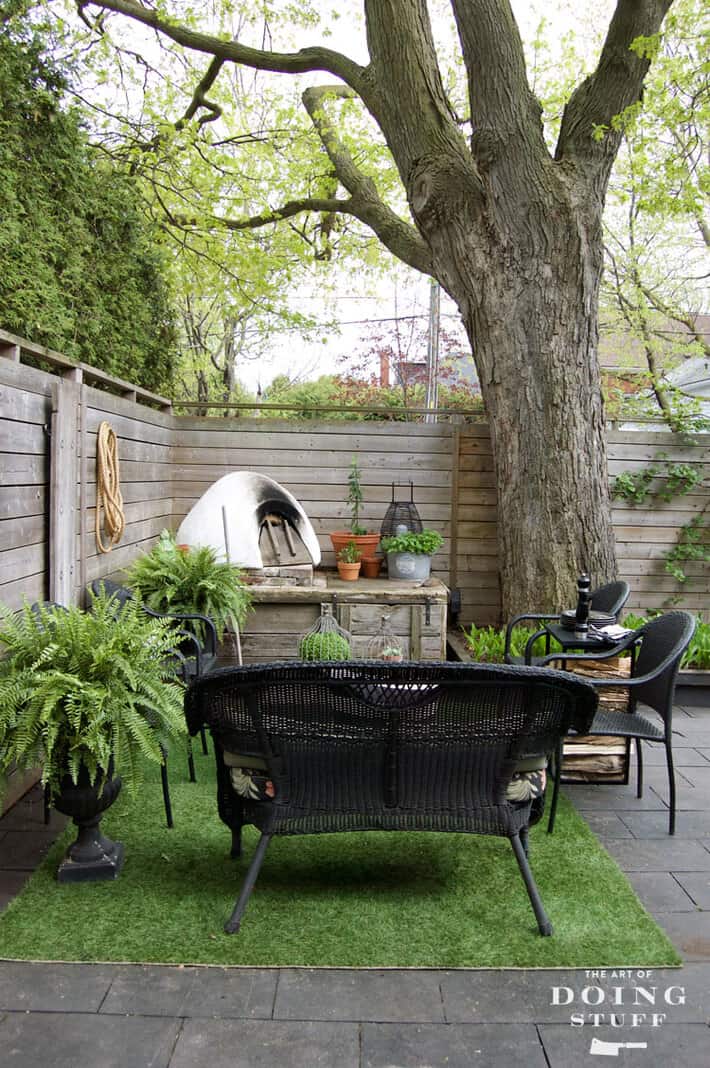 If you read my blog regularly you probably know I built a pizza oven because I live very far away from the nearest pizza place. At least a block and a half.
Summertime hasn't been the same since building it. People come here. They flock to my backyard and they sit and relax and wait for pizza to come out of the oven so they can shove it in their mouth. They get to relax while I get to sweat and slave over a hot oven making pizza. It's a win/win really.
If you're thinking of building a pizza oven, you should get the Bible of books for such a thing, Build Your Own Earth Oven. I used it and you should too.
But this year I'm vowing to do something I haven't done before in my backyard. No. Not drink 14 cream sodas in a row. I've done that.
I'm going to relax.
See I've said it again so I really can't go back on it now.
Hold up! Where did you get those wire cloches, Karen??? Well, I got them at a discount store in town but I found similar ones in case you can't live without them. You know, like you'll cry an' blubber and stuff.
Here's a handy little tip in case you didn't think of it. Even if plastic furniture is clearly meant for inside, you can still use it outside. Like these Panton S Chairs (copies because I can't afford real Panton S chairs and even if I could I'd rather spend that money on a dancing troupe of Dachshunds who wear multicoloured tutus). So, yeah.
(I'm not sure why the patio looks like it's covered in a layer of dirt in the photo. It doesn't look like that in real life. It's all splotchy and stuff in real life, but at least it doesn't look like it's covered in dirt. )
I painted the potting shed black last year with my Wagner Spray gun. It took all of an hour or so to do the whole thing 3 coats.
The three white balls you see have old Christmas lights in them so they glow at night. Which is so stunning it's enough to make me stop and stare every time I see them. Which counts as relaxing. You can read more about my spectacularly famous Glowing Outdoor Orbs here.
Most of the major things are done in the backyard, I just have a few things to get done.
Like what? Like this ...
That's just for that one corner. Ditto that kind of stuff for all the corners of the yard.
Except I can only do it if I also relax. Because that is now the rule. I wrote it in my notebook too so I've got it written down on paper. Like The Bible.
I have a big rope hanging on my fence. There is absolutely no reason for it other than the odd time I practice my lassoing technique on the ferns. Just kidding. I practice on the chickens.
The rug(s) at the pizza oven area are from a big box store. I can't remember if they're from Home Depot or Lowes or Rona but they're available just about pretty much everywhere now. I butted two of them up against each other to make a big rug instead of 2 smaller ones.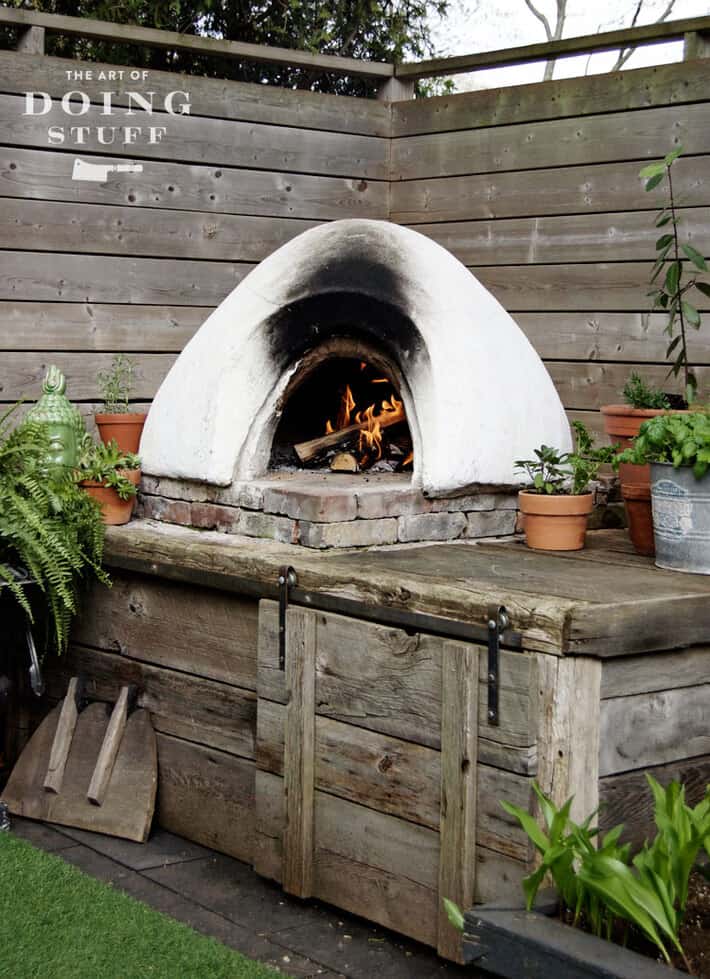 Someone who can't relax in this backyard has something seriously wrong with them. It's not like my goal is to relax alllll summer. Just 10 minutes a day even. Or 5. Or the length of your typical tween attention span. Hardly anything at all really. I can have my morning coffees outside for instance. In the backyard, without my laptop or my iPhone. No technology at all other than my iPad.
I know, right? Weird plant. It's a Boston Fern. Oh. You meant the other one. That's a Chenille Plant.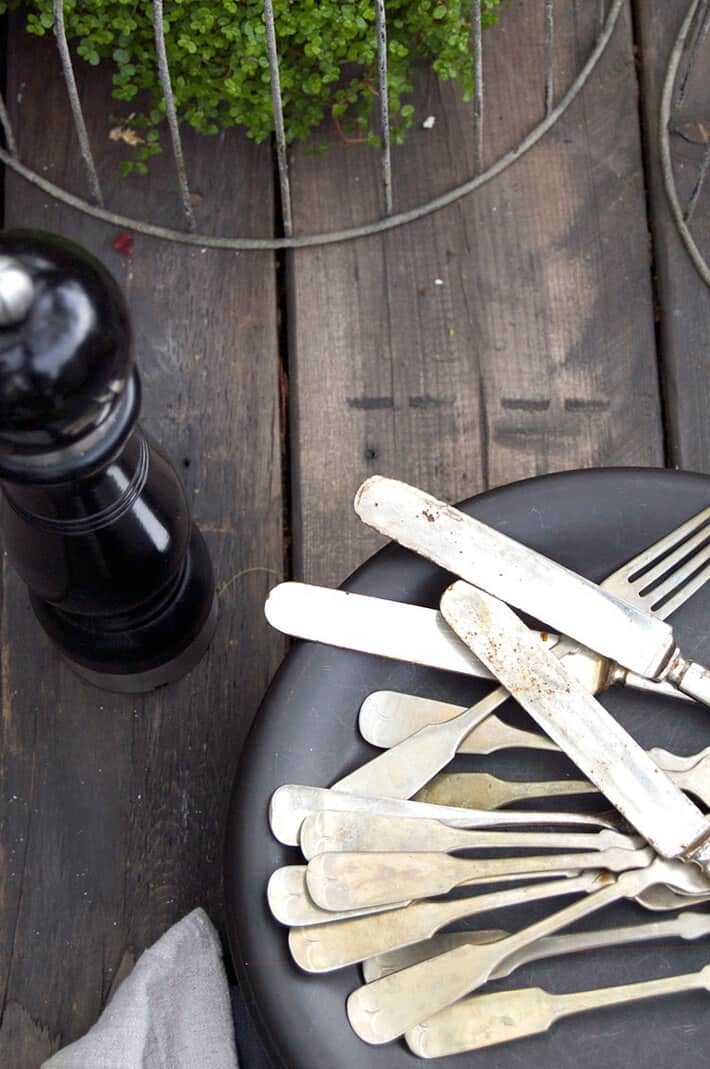 Those are a bunch of forks and knives on some plates. I put them there because you're supposed to do that if you're a blogger. Pretend you're constantly getting ready for some big party.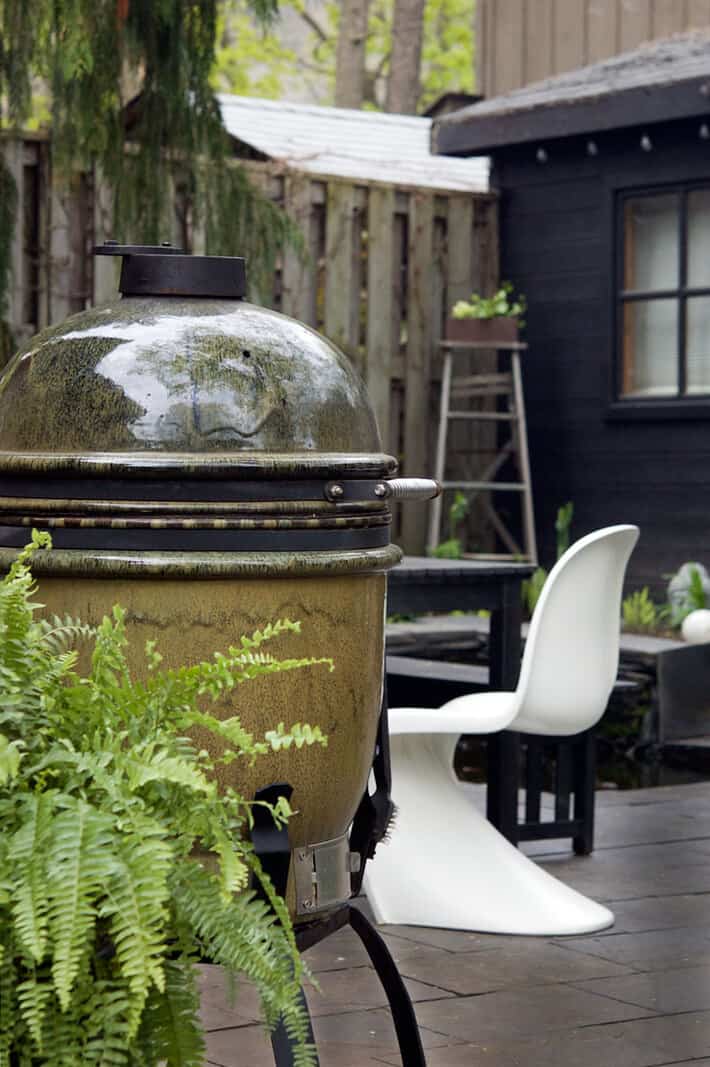 My smoker. Because I smoke. I even made bacon from scratch in it once.
This thing is for real, not just a blog prop. I keep many pots of herbs that I use for my pizzas right by my pizza oven so they're always ready to go when I'm making pizza. I said pizza a lot in that sentence. Pizza pizza pizza pizza pizza pizza pizza. O.K. I'm done.
Pizza.
The plant on the left? It's baby tears. The plant on the right? Some type of succulent that I nearly but didn't totally kill over the winter.
And finally my friend Buddha who may or may not help me relax. I may stare at Buddha hoping to relax and then realize Buddha needs cleaning at which point a very non-relaxing rampage of some sort will ensue. That's how it all starts. With a dirty little Buddha.
It looks like relaxing is a huge goal for most of you who took my 2 question survey last week (thanks to the thousands who took the time!), so I'm not alone. We doers of stuff sometimes need to be forced to relax whether we want to or not because believe it or not relaxing is important.
Have a great long weekend my fellow Canadians, get your backyards cleaned up, fire up the BBQ and relaxxxxxxx.