Lithium ion batteries are a wondrous invention that are lightweight and long lasting. But it's infuriating when the battery won't recharge. You stick the battery in the charger and … nothing. Guess what? You can fix these batteries that appear to be completely dead. Read on …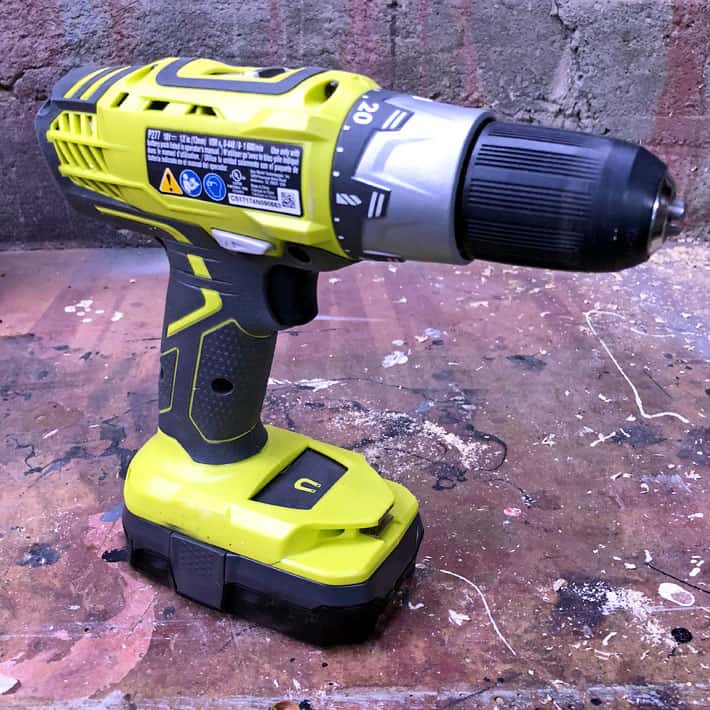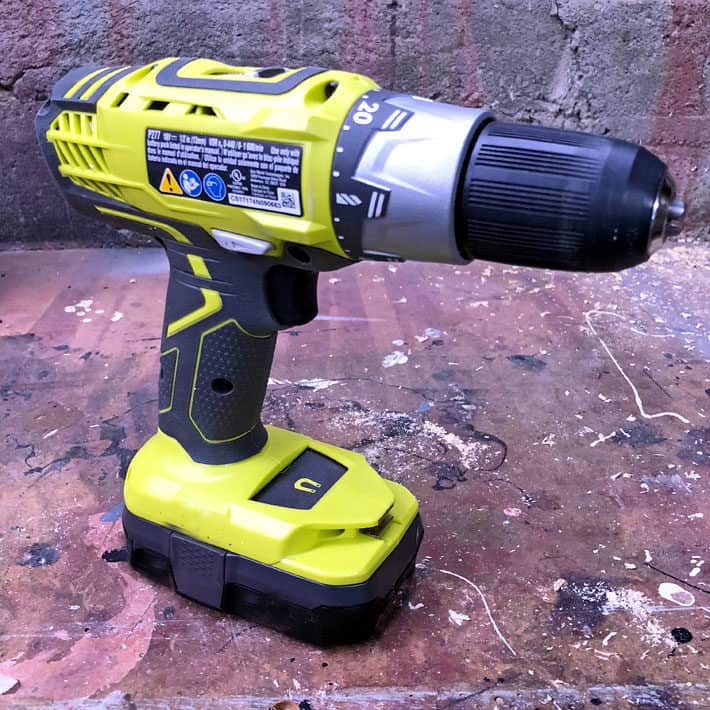 This post is NOT sponsored by Ryobi. They do not approve of this method.
Jump straight to the how to video.
One of two things are going to happen as you read this post. You will either unfollow me due to my pathological boringness or … you will propose marriage. So get ready to act accordingly.
If you have any sort of cordless power tool, but especially a Ryobi one, you have no doubt encountered the dreaded flashing red charger light. And if you haven't … you will. It inevitably goes like this – you run to the basement to grab your cordless drill because after 10 years of thinking about it, you're finally going to build that 4 level, Tudor style treehouse with kitchenette. Or you're going to hang a picture.
Either way you put your battery in the charger and all you get is a flashing red light, which according to the label on the charger means your battery is defective. It isn't just dead. It's "defective". I'm here to tell you you it isn't. You probably left it in the charger too long which weirdly drains the battery.
Your battery is fine. It just needs a little boost.
You Can Fix a Rechargeable Battery That Won't Take a Charge.
You heard me right. You do NOT have to buy a new $50 battery. You do not have to call the company and swear at them because this stupid "defective" battery is only 2 weeks old. (although by all means feel free to do so) You do not have to wait until they ship you a replacement battery to finish your project. You can get that battery up and working in about 5 minutes.
How to Fix a Lithium Ion Battery
What You Need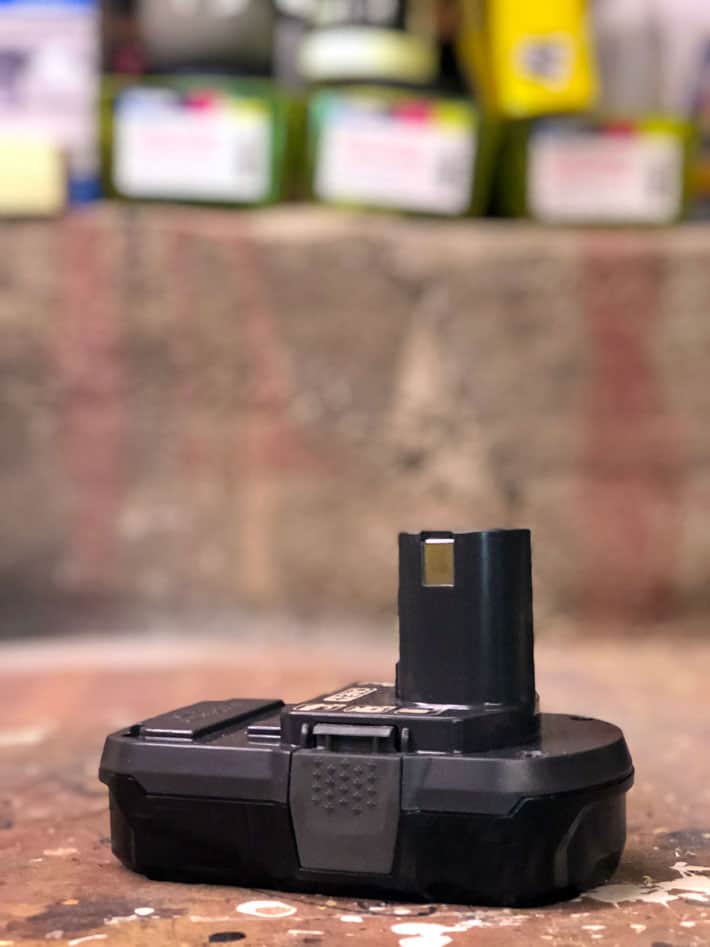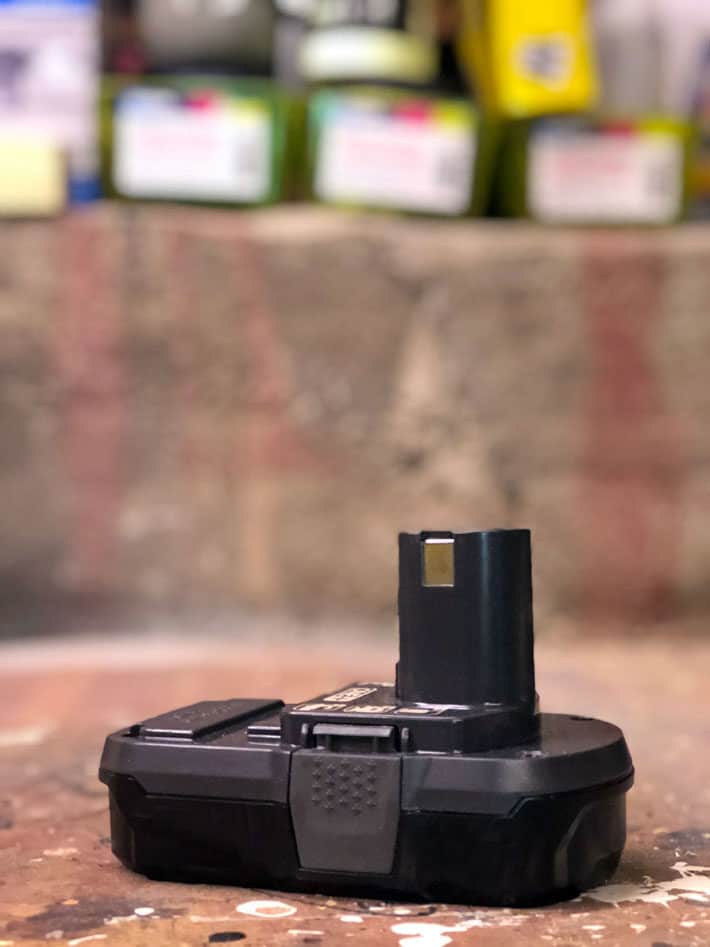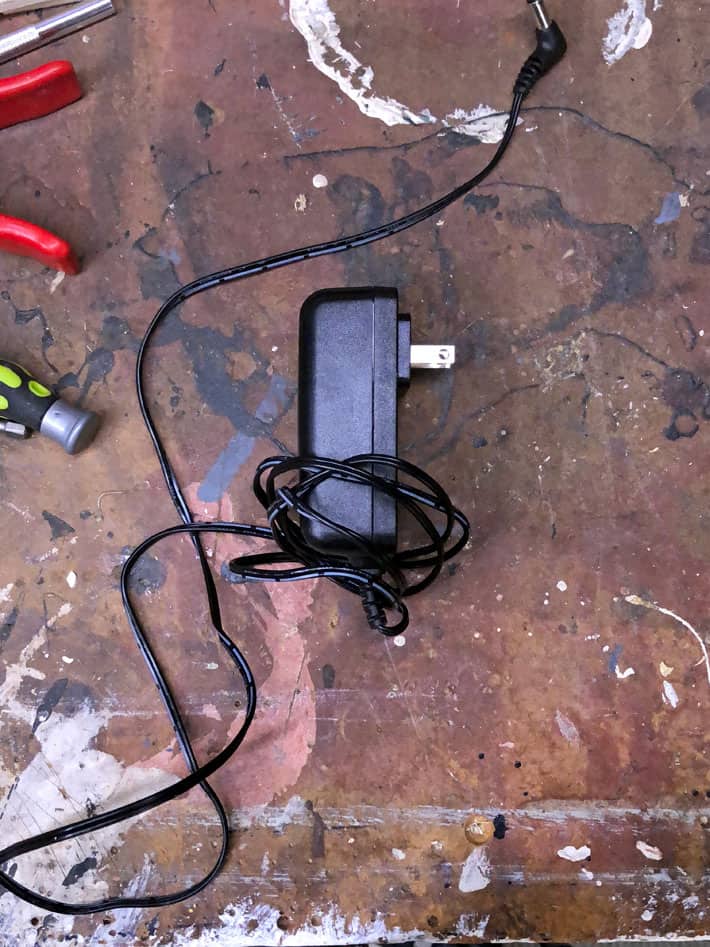 A multimeter. (this is actually optional but helpful … if you don't have one don't worry, you can still fix your battery)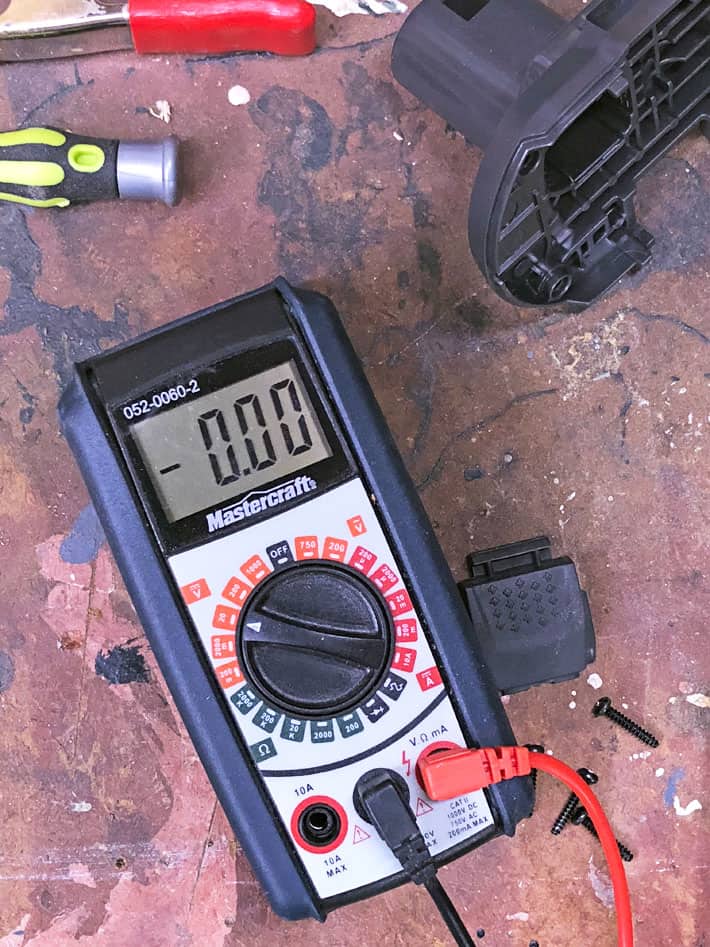 ---
Note: If you aren't used to doing this sort of thing, or using things like a "multimeter" this is going to seem crazy and hard and way out of your DIY league. It isn't.
---
Steps
Step 1. Cut the end off of your AC adapter. That's right. Just cut it off. It's for a 10 year old cell phone, you're never going to use it again anyway. It's frankly kind of weird that you saved it to begin with.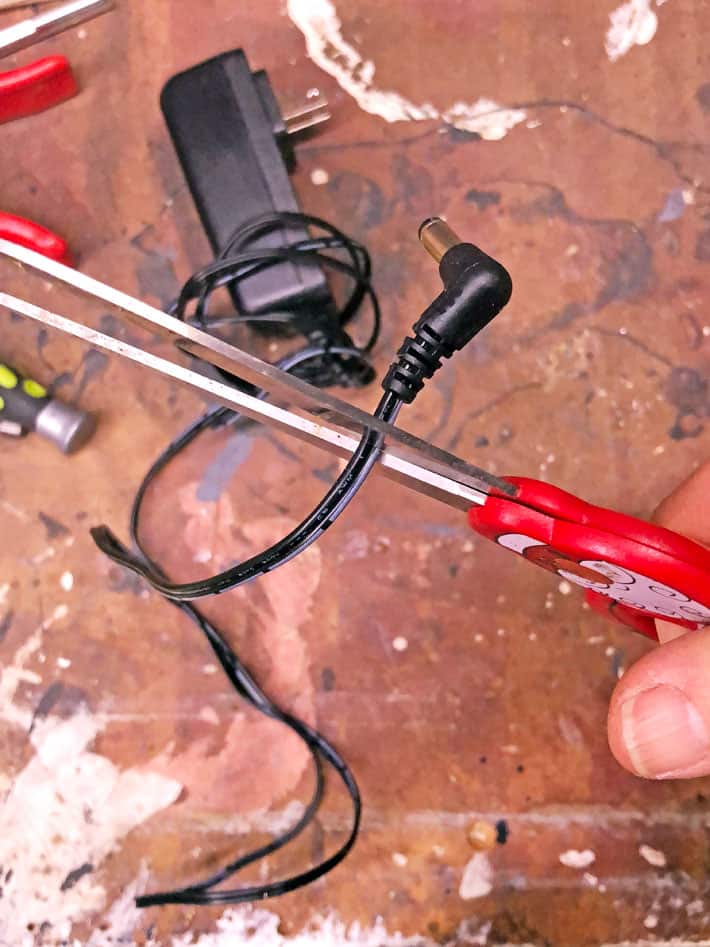 Step 2. Separate and strip off 1″ of each wire. You have *just* made booster cables! Good for you.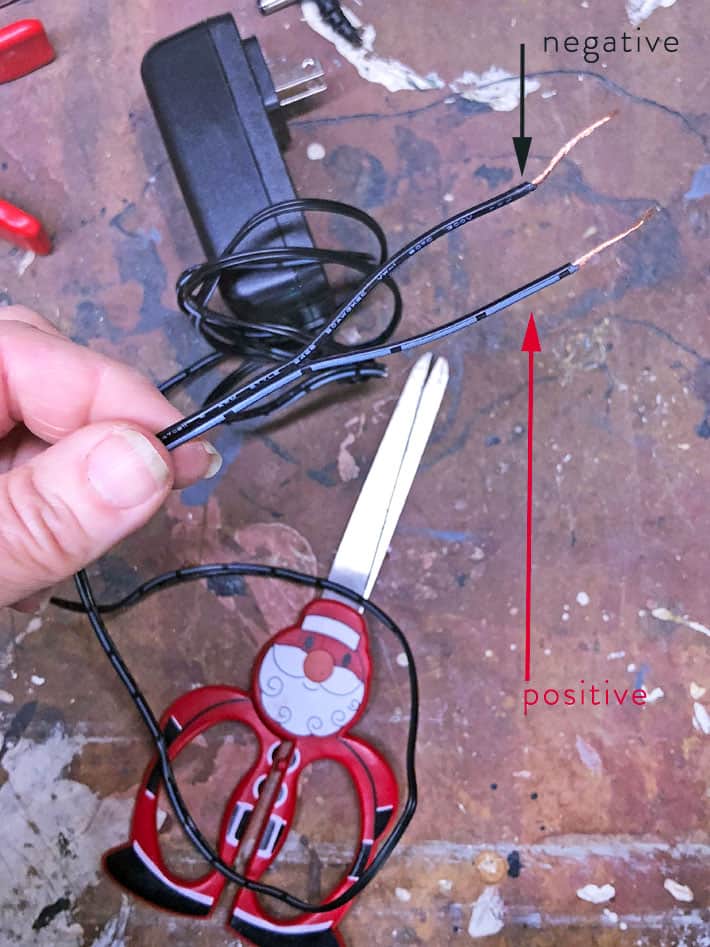 ---
TIP:
Black wire = negative Striped or solid white wire = positive
IT IS VERY IMPORTANT TO NOT MIX THE TWO UP.
---
Step 3. Remove the screws holding the battery together.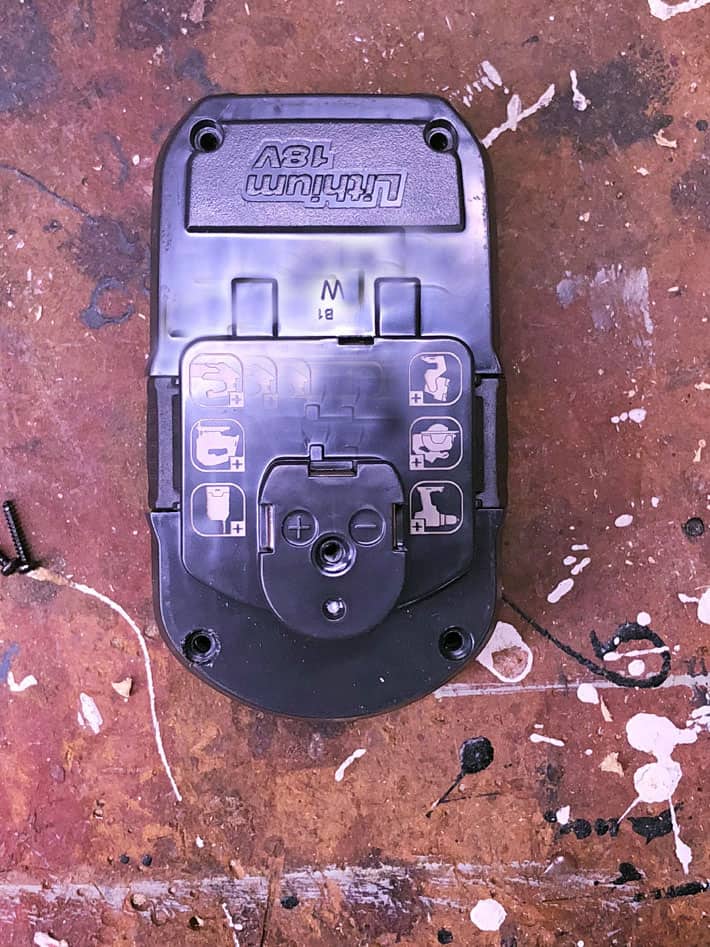 For Ryobi batteries it's a star shaped screw head like this.
A few years ago I bought a kit of weird small screwdriver heads from Amazon. I initially bought it because I needed a special tip for removing my Macbook Pro cover to replace the battery. But I've used it for a ton of other stuff since getting this kit.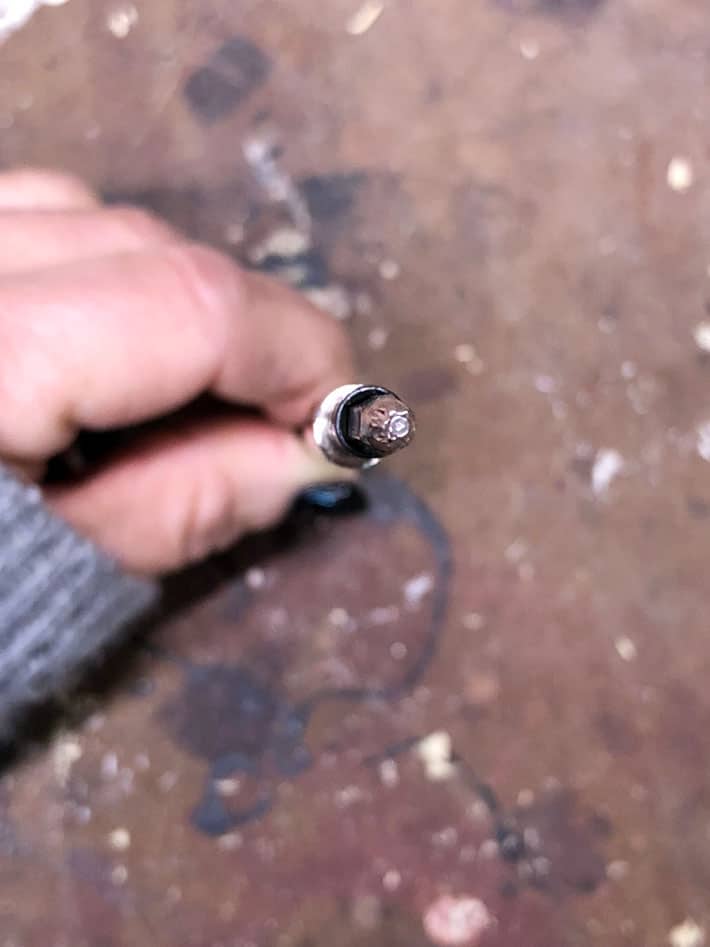 ---
TIP:
There's a hidden screw under a piece of plastic. You need to pry the plastic off to get at the screw underneath. I used a very thin screwdriver to pry it off.
---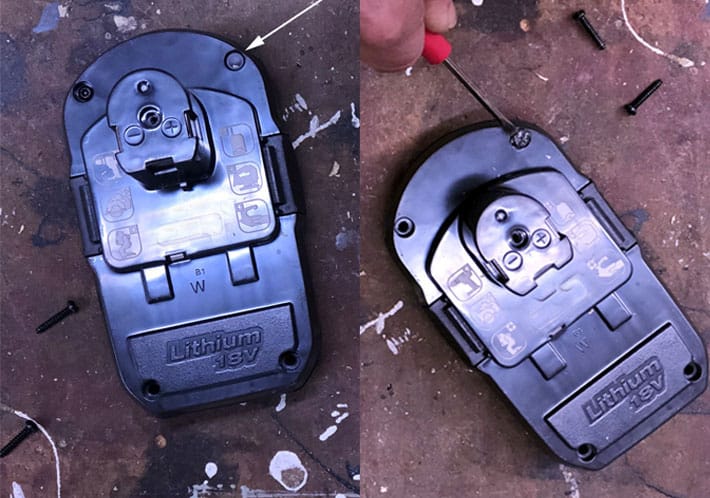 Step 4. Pull the top off of the battery case.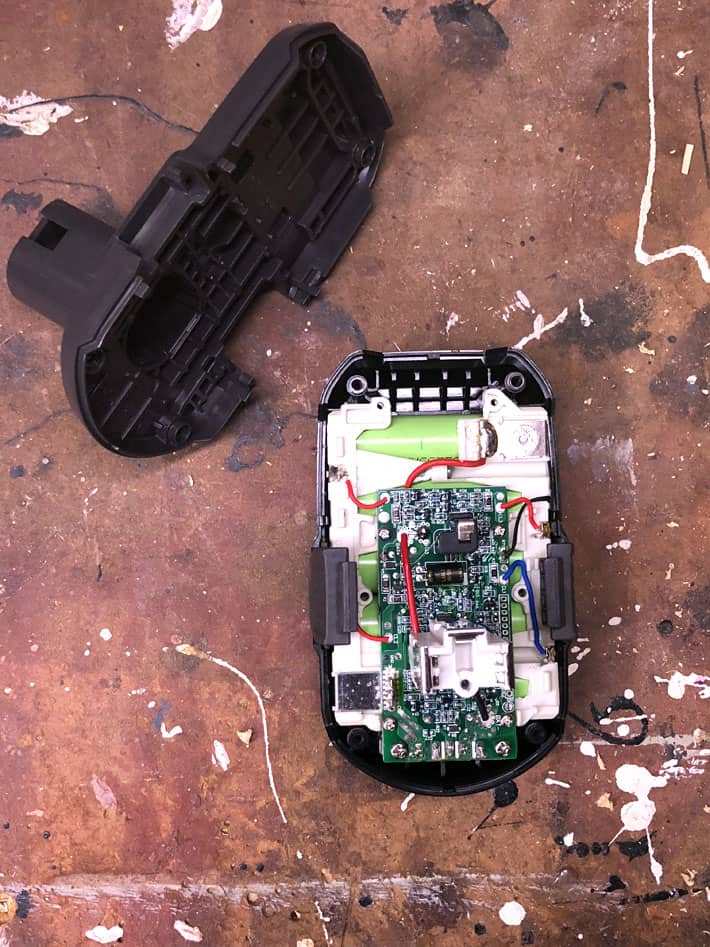 Step 5. Remove the 2 plastic side pieces. They're the things you press in to remove your battery from your drill.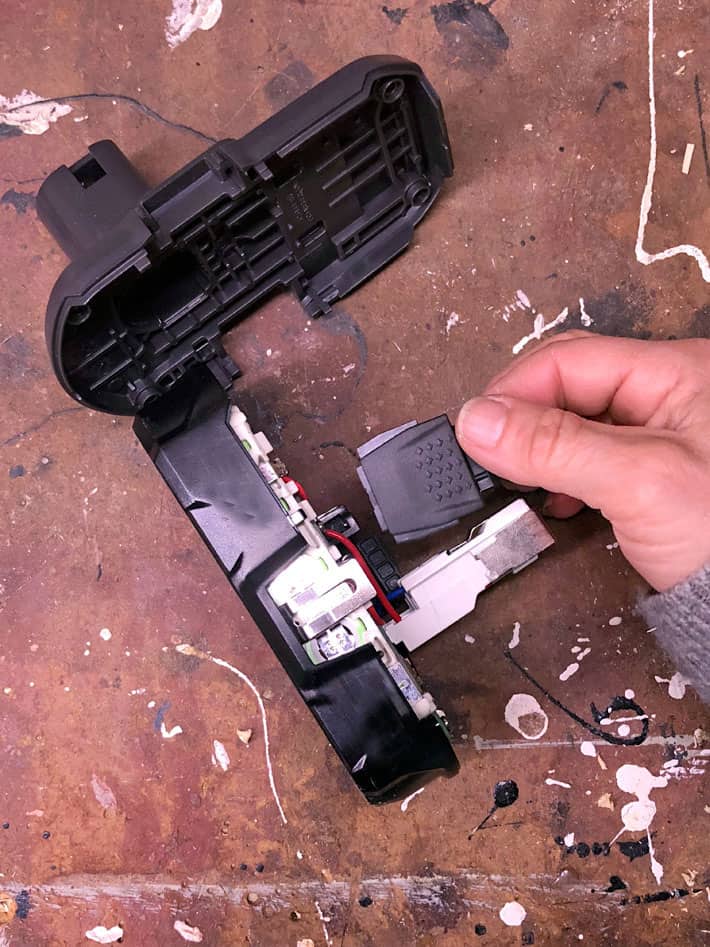 Step 6. Lift the battery pack out.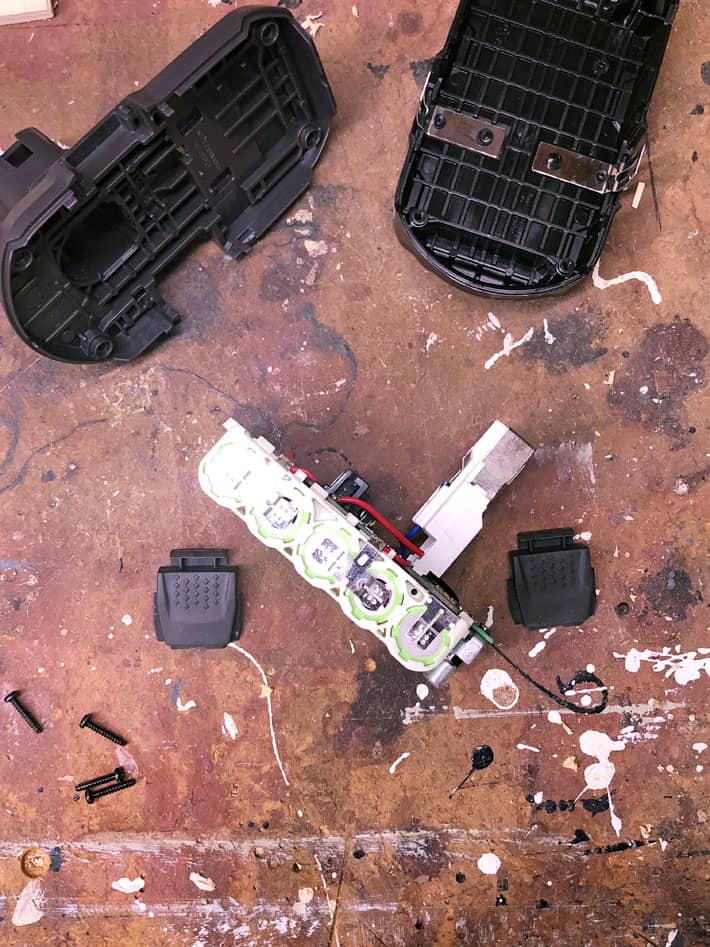 Step 7. Set the Multimeter to read volts. For testing an 18 volt battery choose the 20 volts setting. This will give you the most accurate reading. (If you don't have a multimeter skip to Step 9 and hope for the best)
---
TIP
Volts are symbolized by a "V" with one or two straight lines over it on a multimeter so it's that section of the multimeter that you use. The section under the V with the straight line(s). Not the squiggly line. The straight line.
---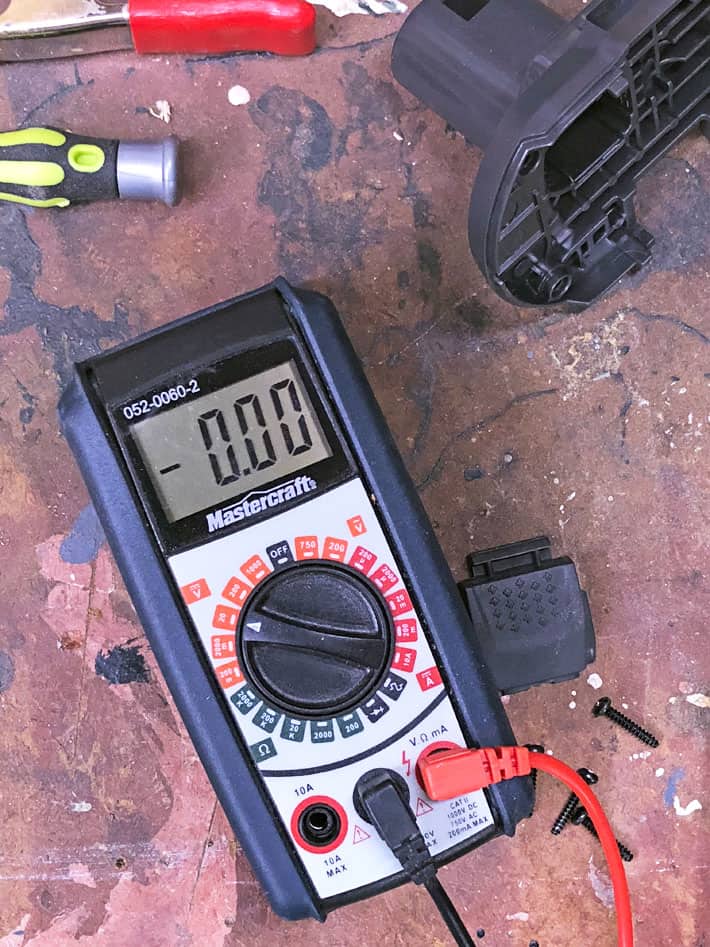 Step 8. Touching the red probe to the positive (red) terminal and the black probe to the negative (black) terminal, read the voltage shown on the multimeter. In my case the battery was carrying a charge of 0.06 volts. Which is *almost* nothing, but not completely nothing.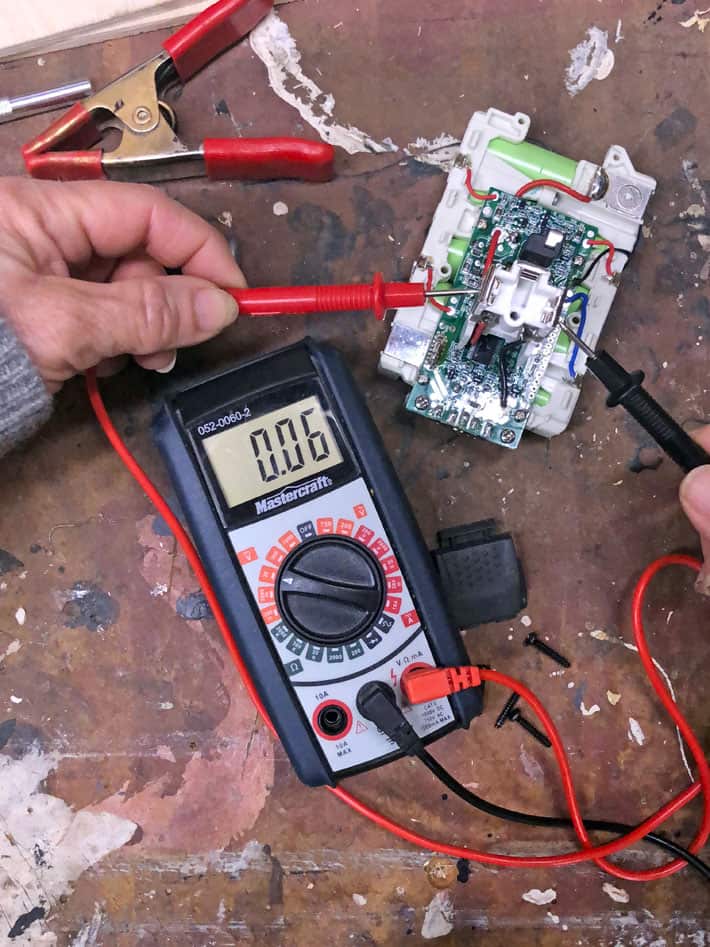 Step 9. Plug your AC adapter in and using the wires, boost your dead battery. Just touch the black wire to the negative terminal (the one with the black wire going to it) and the white wire (or striped wire) to the positive terminal (the one with the red wire going to it). Do this on and off for approximately a minute.
---
TIP
Apparently lithium ion batteries should be "pulse" charged. Which means you hold your wires down for 15 seconds or so, then release them. Then hold them down again. Over and over.
DOUBLE CHECK THAT YOU ARE TOUCHING POSITIVE TO POSITIVE AND NEGATIVE TO NEGATIVE.
---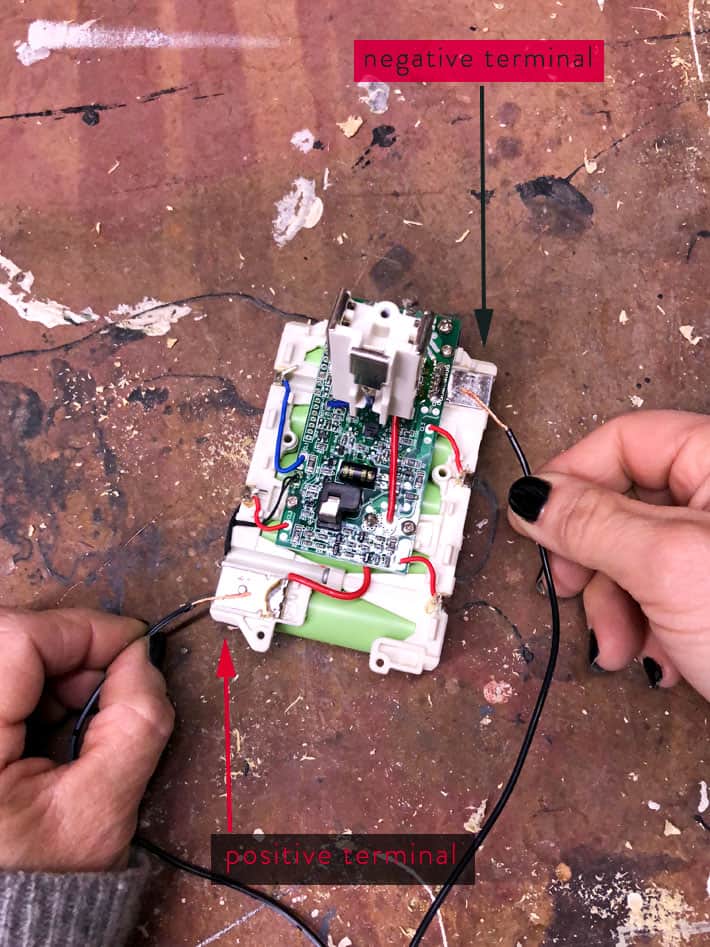 Step 10. Test your the voltage on your battery pack again. It should be higher than it was before boosting. (Again, if you don't have a multimeter don't worry about this – you'll just have to press on without one)
Mine went from 0.06 volts to 7.58 volts after a minute long boosting session.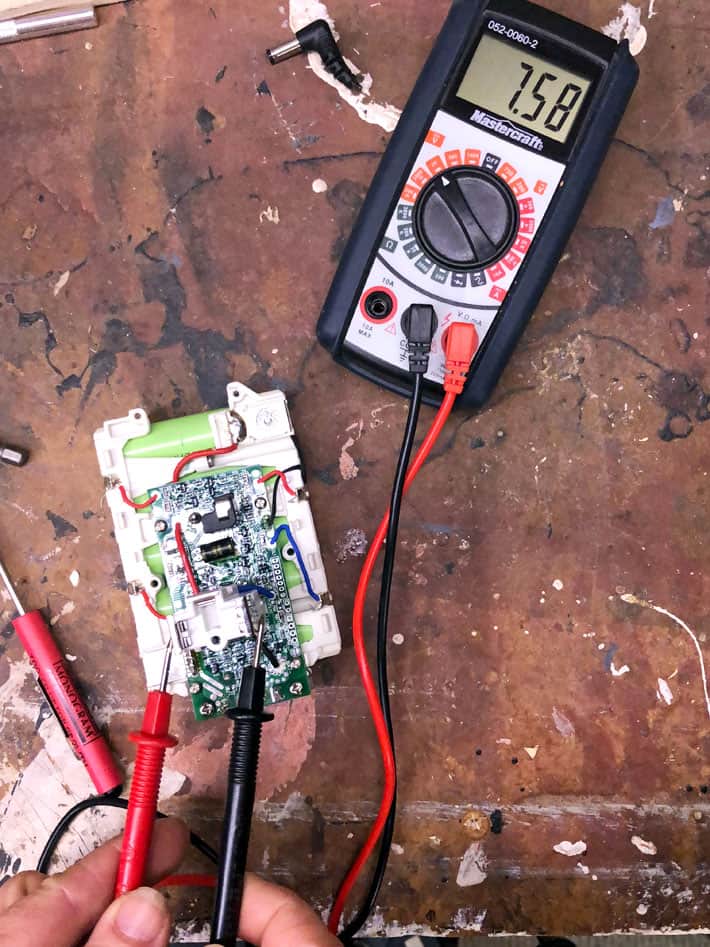 Step 11. Put the plastic cover back on the battery pack (just the part that goes into the charger) and set your battery on the charger to see if it will take a charge.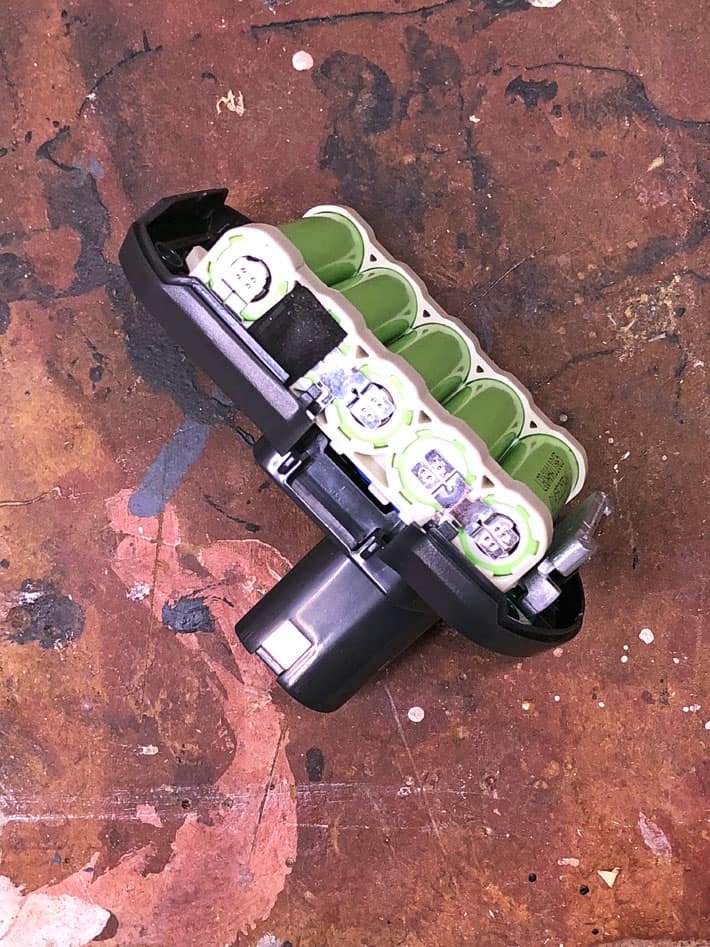 If you still only get a red flashing light and the battery won't charge, boost the battery some more. I find the battery charger will recognize that the battery is good again when you boost it to between 10 and 14 volts.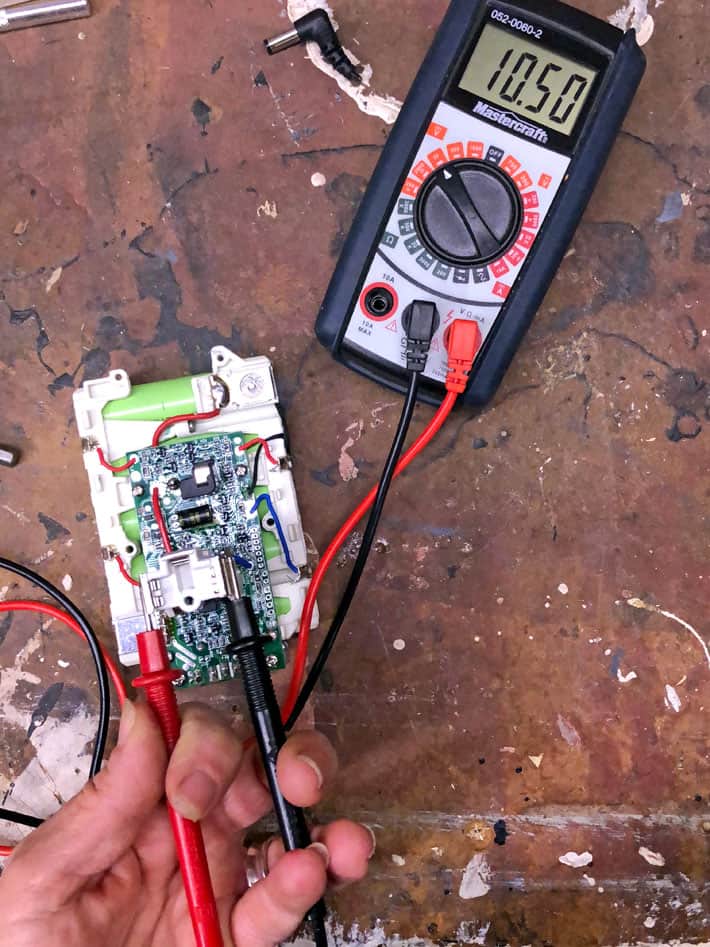 Just keep repeating the "pulse" boosting and testing the battery until it will finally be recognized by the charger and you get the green light.
To those of you who found this subject matter to be on par with spending 3 hours in a waiting room, sorry 'bout that.
For the rest of you? I know exactly how you feel. I felt the same way. Let me know exactly how elated you were after you brought your first battery back to life in the comments section.

Here's a 3 minute tutorial video showing me as I fix my own battery.
Please direct marriage proposals to my publicist.
→Like to Sweat, Swear and do Stuff? GET MY POSTS emailed to you 3 times a week←
*Proceed with caution and follow instructions exactly. Failing to do so could lead to injury.*