I don't know if you've noticed (and thank you for not mentioning it) but I've lost my funny.
I'm not sure where it went, but I suspect it's somewhere in the guts of the chicken coop.  Or maybe it spilt out of me when I sliced my hand open last week, building the chicken coop.  It's entirely possible I lost it in the massive piles of chicken poop piling up in my backyard.  Or it could be in the last place I'd think to look, in the Jesus shaped phlegm  from my cold that's splattered ... you guessed it ... all over the side of the chicken coop.
Needless to say, all signs lead to the chicken coop stealing my funny.  That chicken coop's an asshead.
I'm only guessing here but I'd say the chicken coop should be done in a week.  I said that exact same phrase a month and a half ago when I started the chicken coop.  Weird.
I suspect once the coop is done my funny will return.  I'm hoping my patience, my appetite, and that 14k gold necklace I lost in the early 80's will return at the same time.  It was almost just like the one Dana Plato wore on Different Strokes.
Stupid chickens having the nerve to steal my funny.  I thought it was raccoons who stole delightful, sparkly things.
Speaking of Chicken & Goat cheese Salad with Roasted Red Peppers, it's my absolute favourite light dinner meal.  It's the kind of thing you eat when you know you have a gallon of ice cream you want to leave room for.  Or a carrot cake.  Or the entire top display case of a bakery if you're having a particularly bad day.  Say, for example,  if you're building a chicken coop.
Chicken & Goat Cheese Salad with Roasted Red Peppers
with a Honey Balsamic Vinaigrette
Ingredients
Lettuce of your choice (I use a combination of red leaf lettuce and other mixed greens)
I harvested this particular lettuce from my garden.  I've planted lettuce in a big round planter where it doubles as an ornamental plant on an outdoor coffee table.
I know what you're thinking.  You thinking Sigh .... I wish I had her life.  Out picking lettuce from her pretty bowl ... so nice ... Well, before you go wishing you had my life, remember the chicken coop, the sliced hand and the phlegm.
Grilled Chicken (1 boneless, skinless breast per person)
Goat Cheese
Roasted Red Peppers (½ - 1 per person)
Basic Balsamic Vinaigrette
(1 part Balsamic Vinegar, 3 parts Olive Oil, 1 tsp. Dijon Mustard, salt & pepper)
Once you've made your balsamic dressing, squeeze or pour some into a bowl and add about a teaspoon of honey.  Give it a taste.  If you'd like it a little sweeter, add some more.  You want to be able to taste the honey because you won't believe how good it tastes with the chicken, roasted red peppers and especially the goat cheese.
If you want to make this dressing all at once, adding the honey to the main balsamic dressing, that's fine.  I just do it separately because I don't like the sweeter dressing on my regular weekday salad.  Adding the honey afterwards to a separate bowl ensures I have leftover, regular balsamic dressing for the week's regular salads.
Now all you have to do is assemble your salad. Greens, red peppers, chicken, goat cheese, dressing.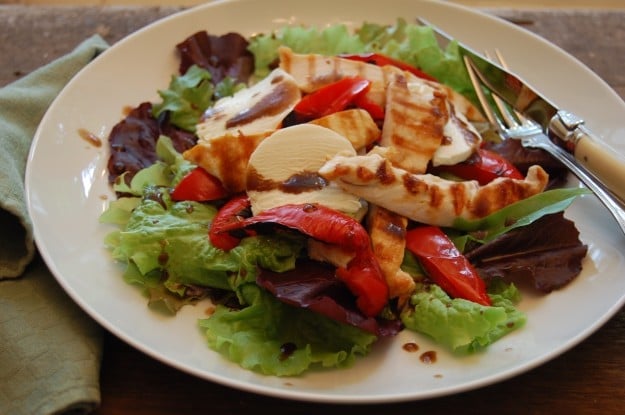 And then you eat it.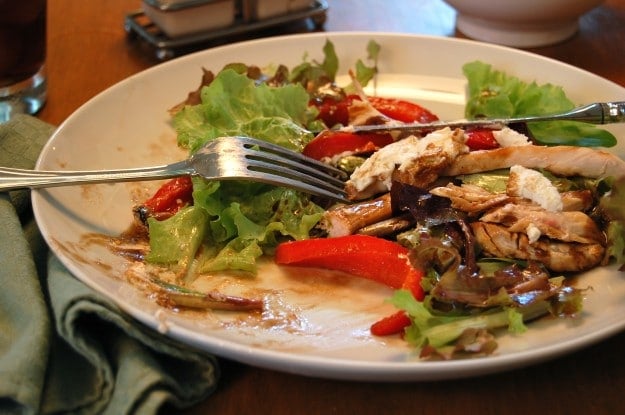 Countdown to funny - 7 days (fingers crossed)

→Follow me on Instagram where I often make a fool of myself←