Get ready for takeoff. You're going to build a tiny rocket stove in under 10 minutes.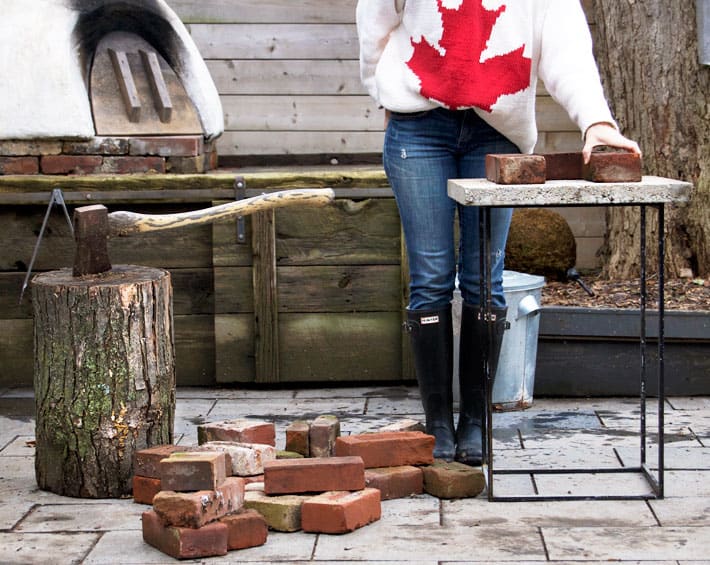 Every once in a while I think, That's it. I've done it all. That there's isn't anything new or fun or exciting for me to learn. And then a chicken of mine will get maggots in its bum or I'll suddenly need to learn how to pour self levelling cement and the world is shiny and new again.
Last week I was in the whole ... that's it - I've done it all phase (which is ridiculous because I've never even castrated a bull or panhandled or a bunch of other fun stuff). But alas, that's what I was thinking.
As always, I was proven wrong. As I was getting everything ready to collect my first buckets of sap from my tapped maple trees I got to thinking that I'd love a different option for boiling the sap down.
If you've always wanted to turn sap into syrup (which I fully support) you're going to want to read my post about how to make maple syrup right in your own backyard. It has everything you need to know about doing it.
The first year I boiled it in the house which resulted in every surface in the house being so sticky I could just lie on the floor and wiggle around if I needed to lint roll my sweater.
The following years I've used a heavy duty outdoor burner that runs off of propane. Propane that's around $25 a tank. And I'd go through 2-3 tanks each season boiling my sap down. That makes for some expensive maple syrup.
Looking around the backyard at all my fireplace and pizza oven wood (I really do seem to have a thing for fire) I realized there had to be some sort of little fire pit I could make. I didn't want something that was HUGE, it needed to be a temporary, fast, easy and strong.
Enter the 10 minute portable rocket stove. An incredibly powerful wood burning oven you can make with 20 bricks and a piece of wire mesh.
10 Minute DIY Rocket Stove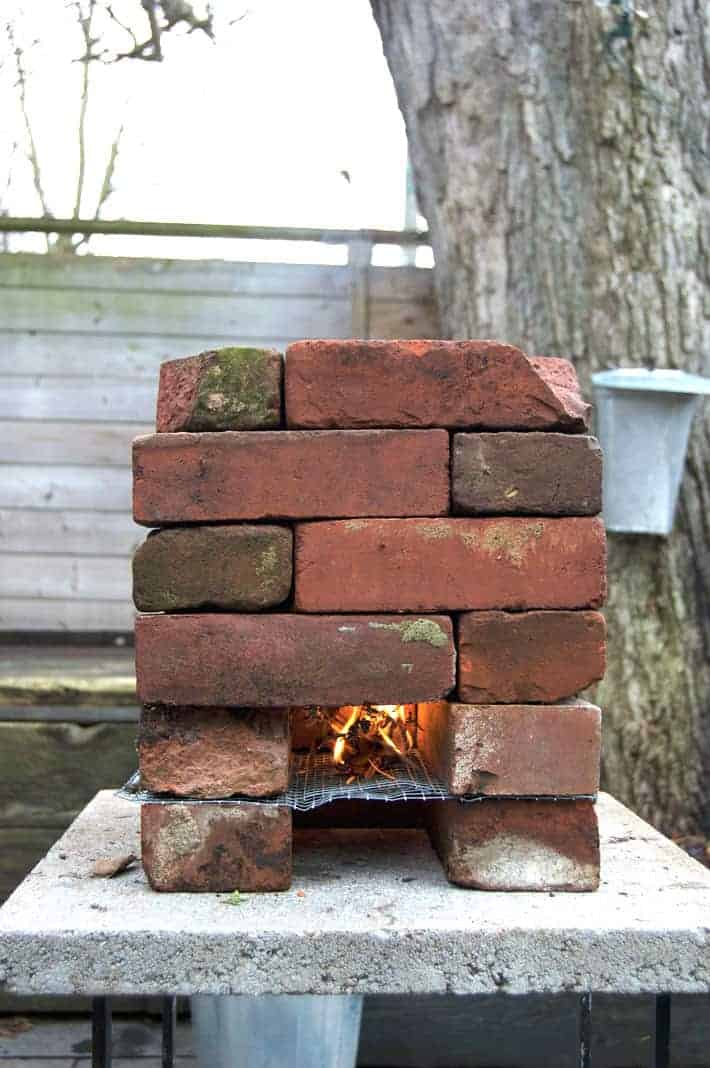 Materials
24 clay bricks
1 piece of metal screen
Steps
Lay 4 bricks in the pattern you see below. Just make a square with a hole in the centre. I've used a half brick where it's needed, but you can just use a full brick. It'll just stick out the side or front a bit. Not a big deal.
Lay fine wire mesh on top of the first layer of bricks. If you don't have fine mesh, do what I did, which was to lay 2 layers of hardware cloth down. The reason I did this was so I could lay it in a way that the holes would be smaller. You need the mesh to be fine enough that small twigs and charcoal can't fall through. You can see on the left edge the size my hardware cloth actually is, and in the centre you can see how much finer it is by staggering 2 layers, one on top of the other.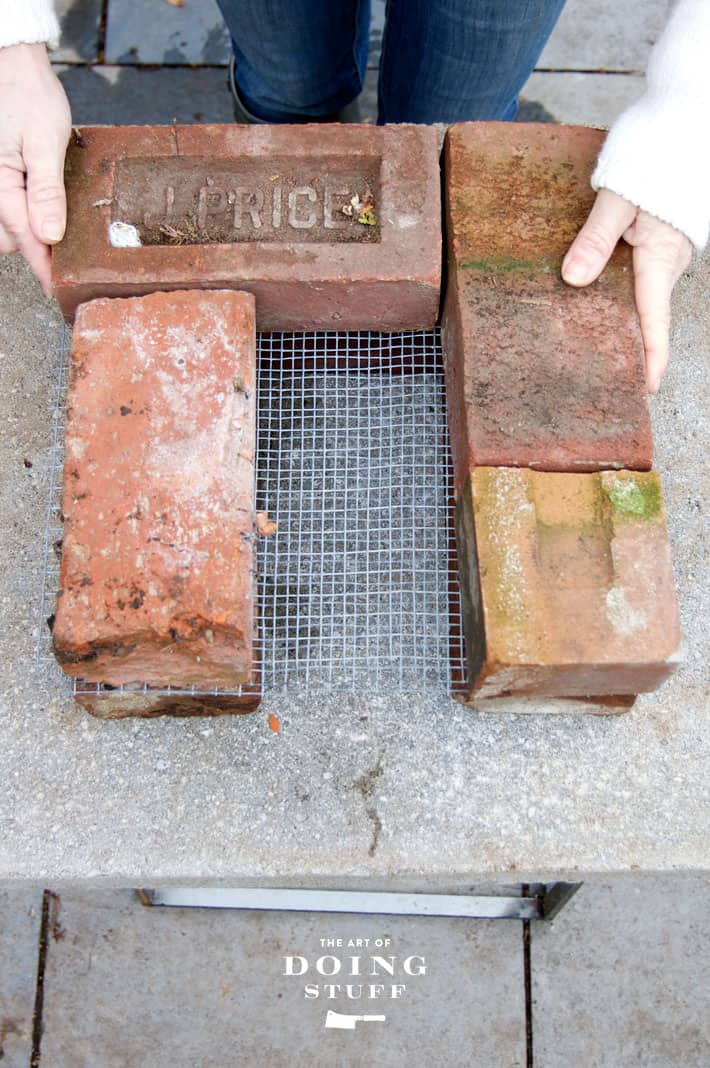 3. Add another layer of bricks on top in a "brick" pattern. That means you want your bricks staggered from the previous later covering any edges.
4. Lay your 3rd layer the way seen in the picture above. Now you're only working with whole bricks and are basically building a chimney. The full brick in the foreground is just barely resting on the brick underneath, to the right.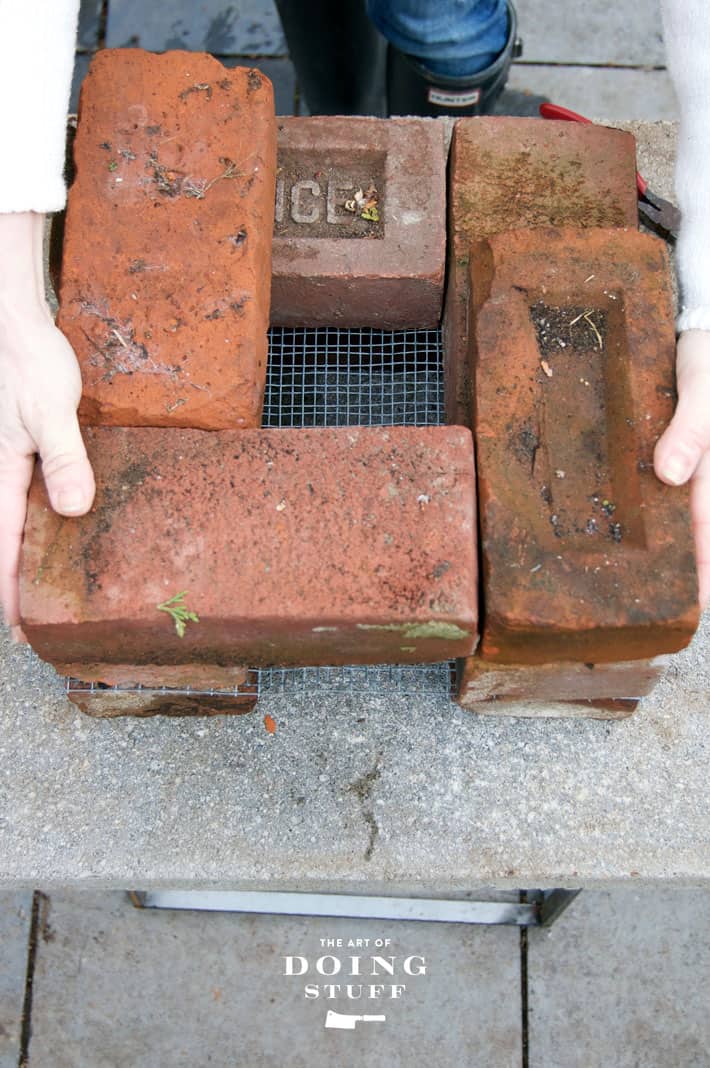 5. Now just continue laying in a brick pattern until you have a total of 6 layers.
6. You're done. That's it. Your rocket oven is built. Seriously. It's done.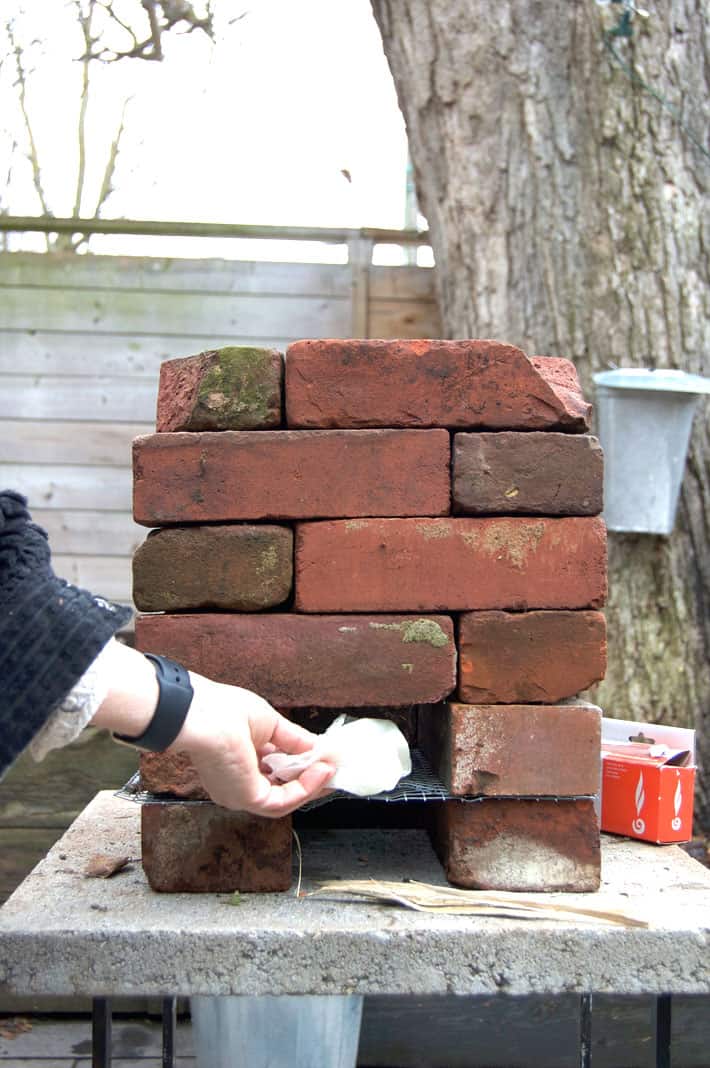 I built my stove on paver set on a stand but you don't need to do that. I did it so the stove would be a bit easier to feed and it was better for taking pictures.
If you have dirt, you can build the rocket stove on dirt, but if you have an area you don't want wrecked or burned up set it on a paver like I have.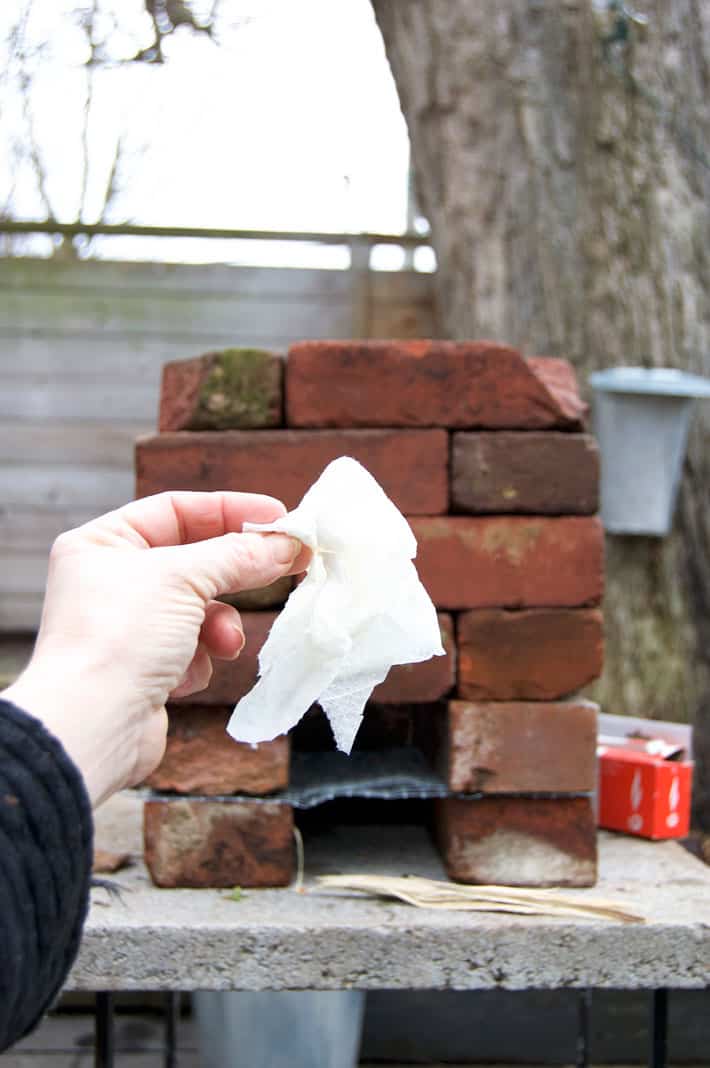 The fastest way to start the oven (or anything you want to light on fire really) is with a paper towel that's been soaked with some vegetable oil. It'll catch easily and burn longer than a plain paper towel or piece of paper would.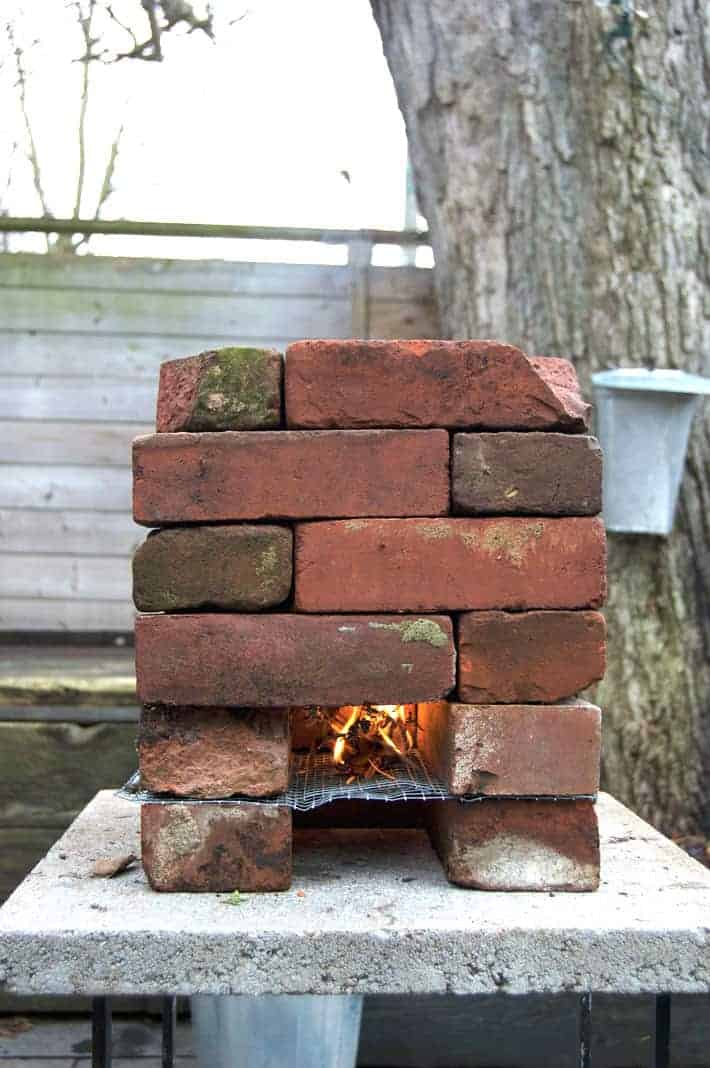 Add a few very dry, very small twigs to the combustion chamber and once it's going (if the fire is crackling, then it's going ... no crackling generally means it's only pretending to go) add bigger pieces.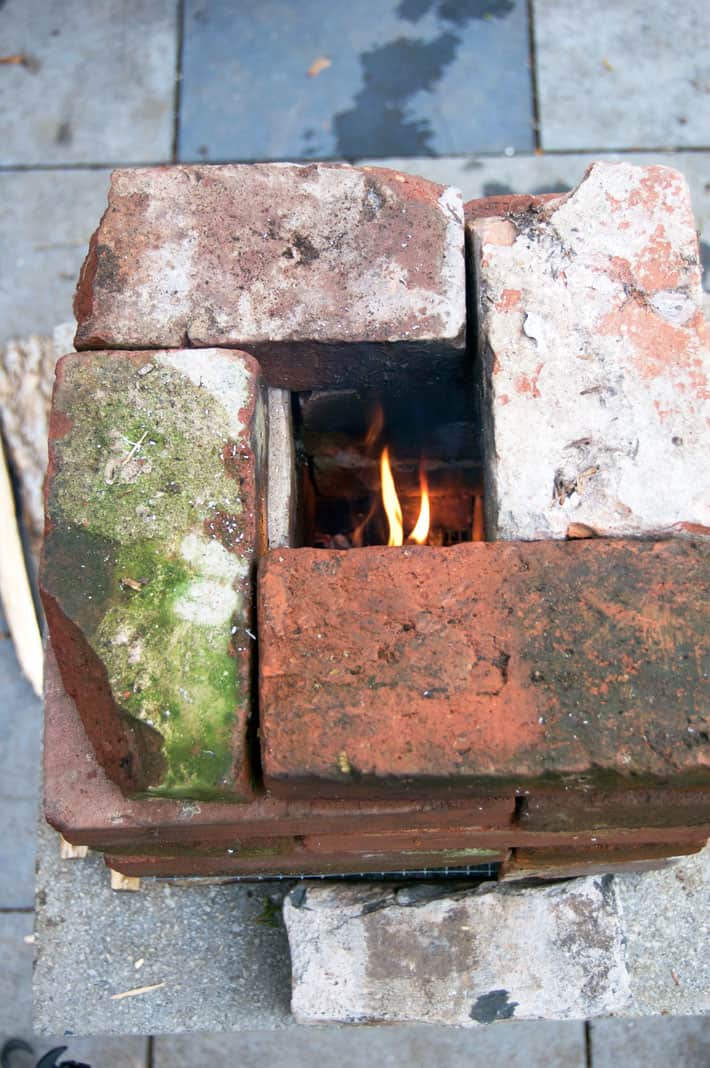 You will soon have fire roaring up the chimney.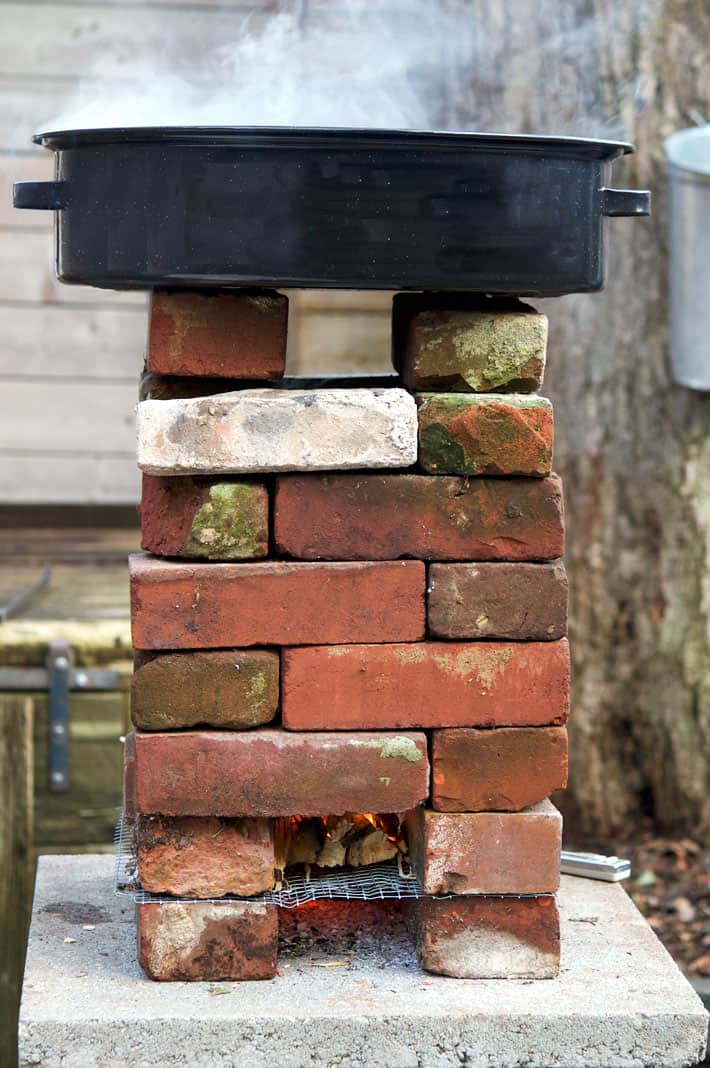 There are other FAR more efficient rocket stoves but if you're just looking for something that works and is temporary this is great. Mine would be even more efficient if I had bricks that weren't hand formed and were all the same size. That way I wouldn't have any cracks and gaps in the chimney.
Another rocket design has you build an additional base at the front of the rocket stove where you have the fire. The fire then creates a draft, and burns sideways, up the chimney. It's also stronger and more efficient, but ... honestly. This little setup is fine. It works. In fact it's hilarious how well it works.
Reconfiguring and using cinder blocks is next on my list because I think it will be more efficient and burn hotter but for now this brick rocket stove is perfect. .
Yup. Just when I thought this old dog wasn't going to learn any new tricks, I'm given a stick to play with. The one thing that you have to keep in mind is because the area you're feeding is so small you have to use fairly small pieces of wood which means they burn quickly which also means you are constantly feeding the fire. You can't leave it alone for 10 minutes or it'll go out.
So just keep that in mind.
Other than that, there really isn't anything bad I can say about this cute little Rocket Stove. It's fast, easy, cheap, portable and there is zero chance it's ever going to get maggots.

→Follow me on Instagram where I often make a fool of myself←