Our family used to have a cottage outside a little town called Calabogie in Ontario. Now, when I say cottage I mean cottage. Not an estate, not a home away from home, not a house that happened to be situated on a lake. I mean a very small cabin that was probably built by the 4th little pig. The one who built his house out of cobwebs and farts.
The drive to the cottage was around 5 hours but that didn't bother me one bit. It was a simpler time when kids bounced around in the back of station wagons like tennis balls and the most popular booster seat on the market was a case of beer.
The cottage was dusty and gross and weird and I loved it. It's where I first learned to fish, developed a taste for salty snacks like Bugles and discovered drinking an entire Coke bottle filled with engine oil wouldn't harm a fly. Or at least a 4 year old.
Damnit I was thirsty, thought my 4 year old self. But since the adults around the cottage this particular day had also been quite thirsty, no one seemed to care or notice that the salty, crunchy, delicious Bugles had left me parched. They had more important things on their mind. Like who drank the booster seat.
So I found myself what looked like a bottle of delicious Coca Cola and I drank it down. I drank all of it down. Turns out it wasn't filled with Coke but instead with dirty old motor oil. It also turns out I couldn't tell the difference between the taste of a bottle of Coke and dirty motor oil at that age. My palate has progressed significantly since then. I can almost always tell the difference between motor oil and Coke (unless it's in a marinade which always trips me up).
When everyone finally realized what I'd done, my grandfather, who was a dentist, jumped into action and grabbed himself another beer. The he sat on the porch, told everyone to zip it and relax. I'd be fine. Nothing to worry about. I still don't know if it was because he was way smarter than everyone else, or just way drunker. Either way I lived through the ordeal with the only side effect being I crave Bugles every time I get an oil change.
The point of this is that eating one wrong thing isn't going to kill you. Unless it's poison, in which case it probably will.
So even though I really do eat healthy for the most part I don't worry about the odd night that I eat an entire bag of corn chips. Also, who really knows what's good for you anyway? There are new results, new tests, new discoveries and contradictions regarding food every day. You can't keep up with it. At least I can't.
I just keep my diet varied, include pretty much everything and hope for the best.
Then I found the ANDI scores. ANDI stands for Aggregate Nutrient Density Index. It's a guide developed by Dr. Joel Fuhrman, a family doctor in the U.S. His guide was then pilfered and altered a bit by Whole Foods. It's a scoring list of the most to the least nutrient dense foods. So which vegetables have the most nutrients bashed into them based on the amount of calories they hold.
For example Kale and Potatoes are both extremely nutritous. But Kale's proportion of nutrients to calories is greater than the lowly (and my favourite) potato. Nutrients divided by calories determines a food's nutrient density. It's entirely possible motor oil would score higher on the ANDI guide than Coke.
Take a look to see how your favourite fruits and vegetables score in terms of their nutrient density.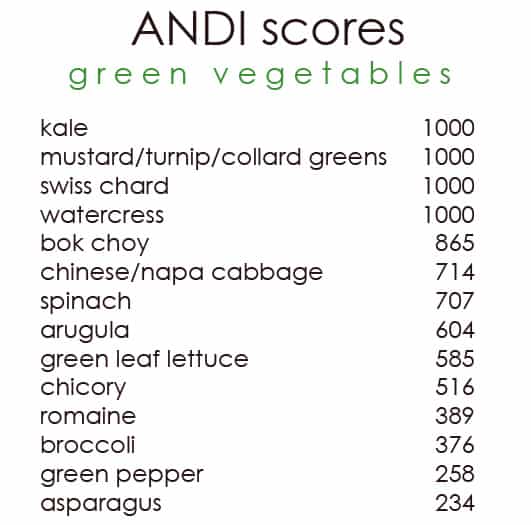 Dr. Fuhrman published this guide to give people a better idea of what's really and truly good for them but says:
"Keep in mind that nutrient density scoring is not the only factor that determines good health. For example, if we only ate foods with a high nutrient density score our diet would be too low in fat. So we have to pick some foods with lower nutrient density scores (but preferably the ones with the healthier fats) to include in our high nutrient diet."
What I hear from that statement is "eat corn chips, Karen." Corn chips have a score of 6 by the way.
What it really means is don't just eat high scoring, nutrient dense foods because you also need lower nutrient dense foods like olive oil to be healthy. Olive oil is filled with nutrients, but it's also filled with calories which is why it doesn't score high on the nutrient density list.
I repeat Olive oil is filled with nutrients. Motor oil? Not. But it does quench a gal's thirst.