Last year a magazine, I can't even remember which one, emailed me to ask me what I would do with a "Funkin" (fake foam pumpkin). They were getting ready for their next year's Halloween issue and wanted ideas from bloggers. I immediately said if they were hollow inside, I would do a Diorama.
I never heard from them again.
I couldn't get the thought out of my head, so I have for you THIS year's Halloween craft.
I know. It's great. I tried to be humble about my pumpkin diorama but I just couldn't. I love it with all of my heart and the first knuckle of my baby toe.
The absolute BEST part about it is you can do ANYTHING. Scary, cute, childlike, eerie.
You can be as detailed as you want. I went so far as to fray the rope on the noose, put dirt on the ground and use battery operated mini lights to light up the skulls.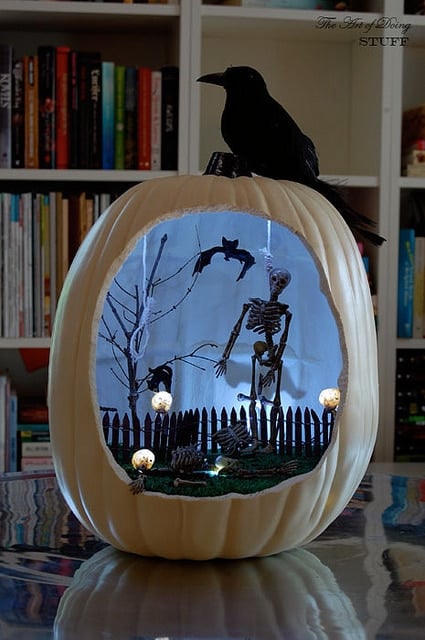 To create your own Pumpkin diorama there are only a few tips you need …
A few more tips to make things easier for you …
1. Cut a piece of cardboard and cover it with fake grass (purchased from Dollarama in craft section) and put it in the base of the pumpkin. This makes a flat, level surface to stand things on. You could also use scrap fabric, carpet or dirt instead of grass.
2. Put everything where you want it, and then hot glue it in place. Fiddle with things, move them, adjust them.
3. Make a creepy tree by hot gluing sticks together.
4. When looking for stuff to put inside be creative. The cat sitting on the skull is from inside a glass Halloween snowglobe from Dollarama. I bought it, took it home, smashed the glass and took the cat out.
5. If you're going for realism, be careful about your proportions. You don't want a cat that's bigger than your skeleton. Or maybe you do.
6. Let your props guide you. I discovered the tiny skulls I had (bought from Dollarama) had holes in the back of them that were just big enough to fit a mini light in. So I abandoned my original idea of using the mini lights as stars, and used them in the skulls and around the inside of the pumpkin instead.
7. If you use a string of mini lights, just tack them to the inside of the pumpkin with thumbtacks. Be careful not to pierce the wires. Dumb, dumb.
Cost Breakdown
Foam Pumpkin – $15, Michaels (reduced by half from $30)
Cardboard base – free
Grass – $1, Dollarama
Skeletons – $2, Dollarama
Fence – $4.49, Michaels (reduced by 40% from $7.49)
Cat – $2, Dollarama (broken out of snow globe)
Tree – free
Bat – 50¢
String for noose – free
Crow on top of pumpkin – $2
Battery Operated Lights – $3
Total Cost – $30
A lot of the things I used to build the Die-orama I already owned so it didn't actually cost me $30. I already had the bat, the lights, the grass and the crow. But if you were to duplicate mine exactly and owned none of the materials it would cost you $30 provided you have string, cardboard, twigs and your handy Michaels coupons.
I'm so happy with how it turned out I'm putting this on my front porch in place of a pumpkin this year. So if you factor in that fact, it's actually saving me $10 or so because I don't have to buy a pumpkin. Add in the fact that I fully expect people to be throwing money at me for having the pleasure of being able to look at my Die-orama I may end up actually making a few bucks.
Take that unknown magazine.
Wanna see a Behind the Scenes shot? It's fairly pedestrian. Just a shot the fella took of me while I was working on my Die-Orama at the dining room table in the middle of the night. But I do reveal a small, stupid, equally pedestrian secret.
→Follow me on Instagram where I often make a fool of myself←