What to do when your irrigation drip system springs a leak. And if you love the look of an empty garden as much as I do, the first photo is for you. All those rounded, mounded beds just waiting to sprout green.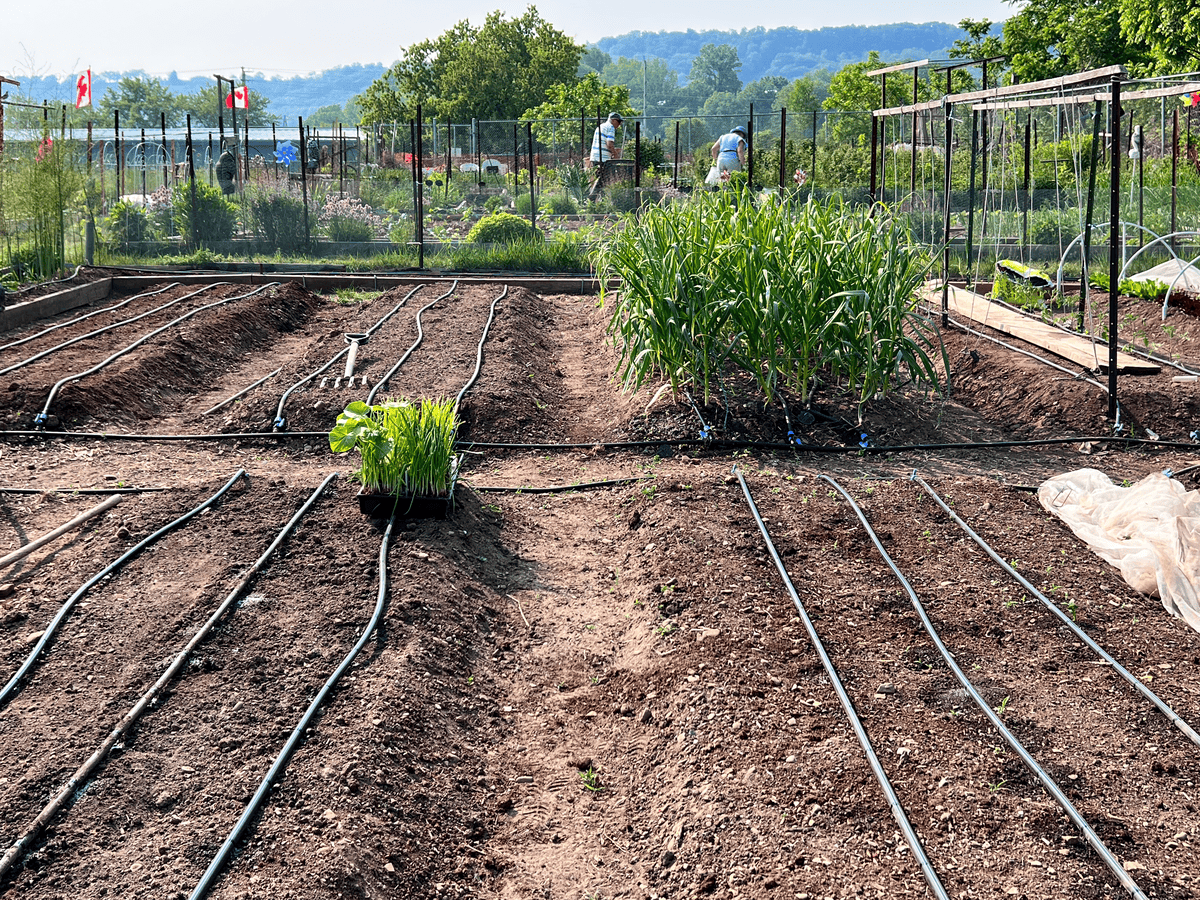 I know you might think that watering systems are boring and fixing watering systems is even more boring. To counter that there will be a photo of a snake somewhere in this post.
It will appear out of nowhere to surprise you, making this potentially dull post an exciting game of wait for the snake.
If you're on the fence about installing a watering system because it seems confusing and difficult go read the post I wrote about how to install drip irrigation and how much I love it.
I have a thing for making watering easy because it's not where I shine in terms of being a gardener. I shine at letting things dry out, wither away and die.
The posts below highlight my love of automatic watering plus there's a post on why and how you should be using water to eliminate powdery mildew.
True story. Water doesn't *cause* powdery mildew. Dry weather does. I know. It's a shocking true story.
Back to the drip irrigation tape that's sprung a leak. There are 2 types of leaks you can get in your tape. A big one and a small one.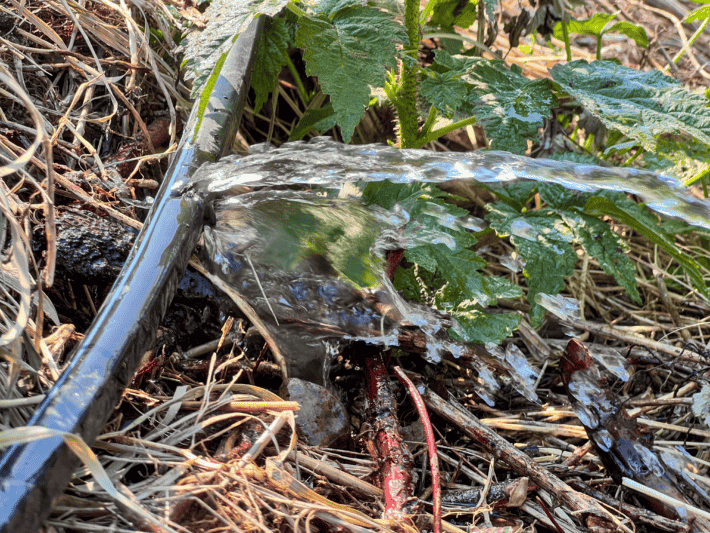 A big leak where the water is pouring out.
A tiny leak that sprays a thin stream of water straight across the garden.
Both can be fixed without replacing the whole line.
How to Fix a Leaking Drip Line
To fix a big leak use a coupler. Just cut the hole out of the line and join it back together with the coupler.
To fix a small leak use regular electrical tape. Establish where the leak is, and wrap the tape around it.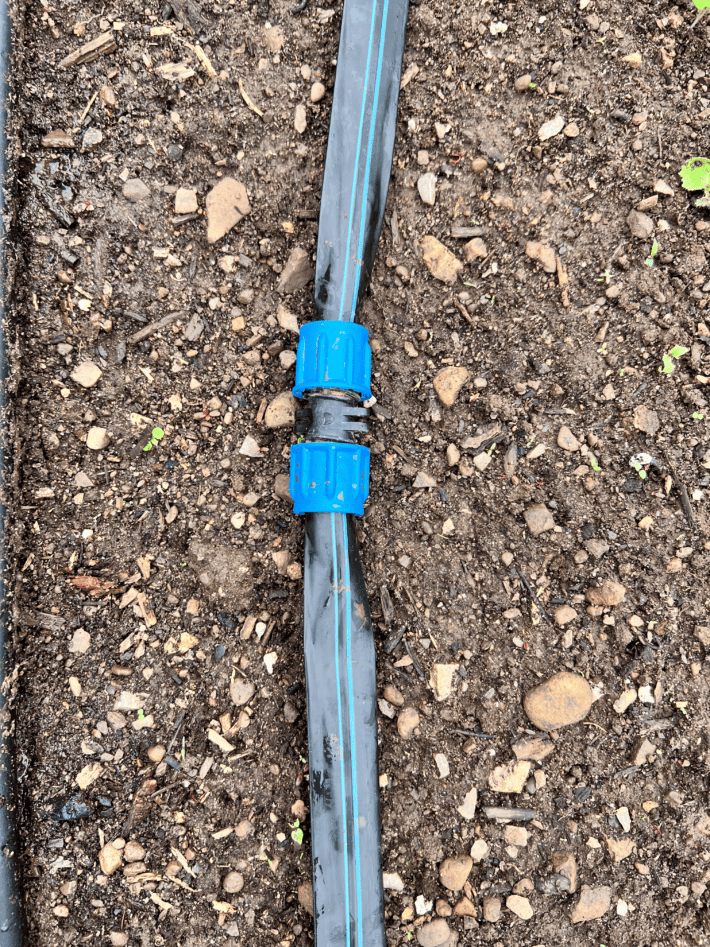 Turn the water on to find the leaks. MARK where the holes are with a line in the soil or a small rock otherwise you'll never find them once the water is turned off.
Turn the water off. Dry the line if it's wet.
Stretch the electrical tape multiple times around the hole keeping the tape tight and pressing as you go.
Turn the water back on to test it.
It might not be 100% watertight but at least you aren't spraying water across the garden. And if it does still drip after taping that's a good thing. It is drip tape after all.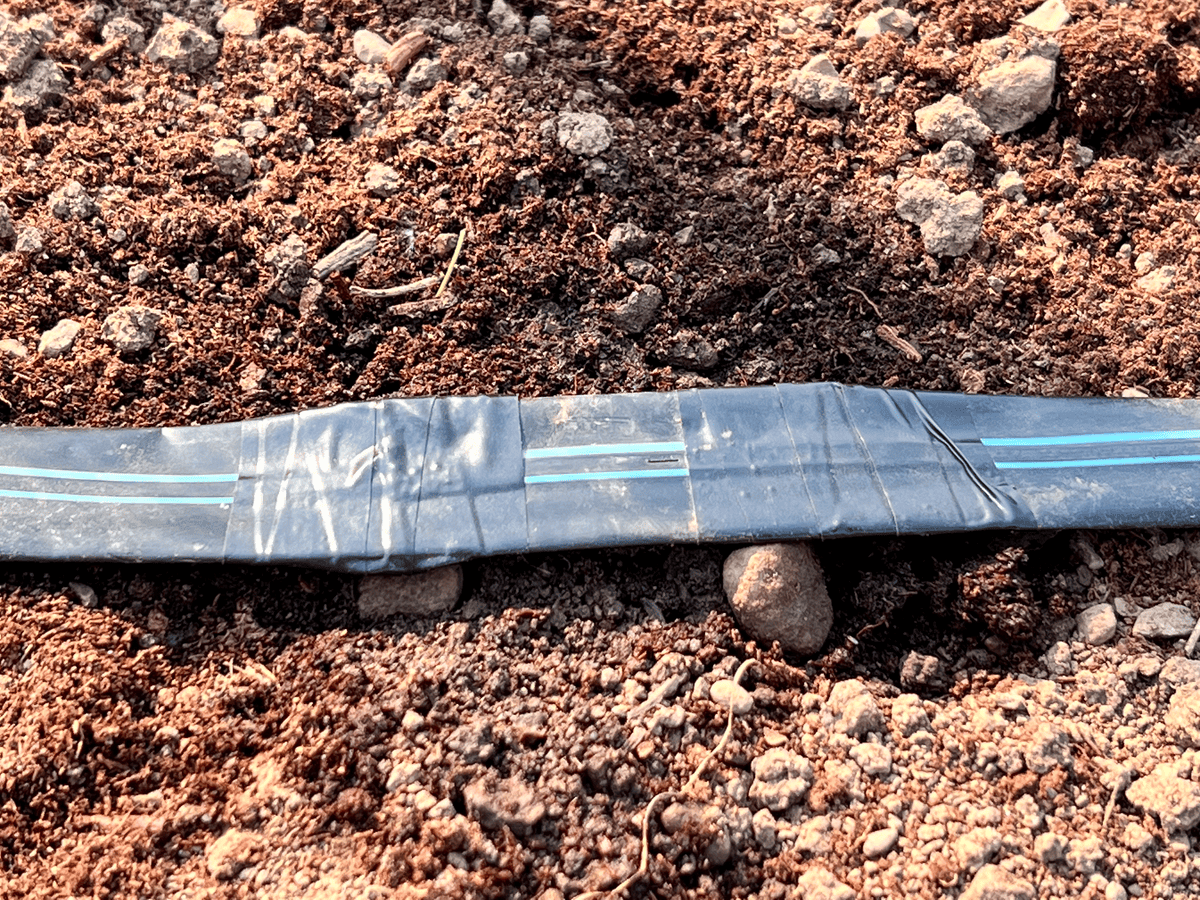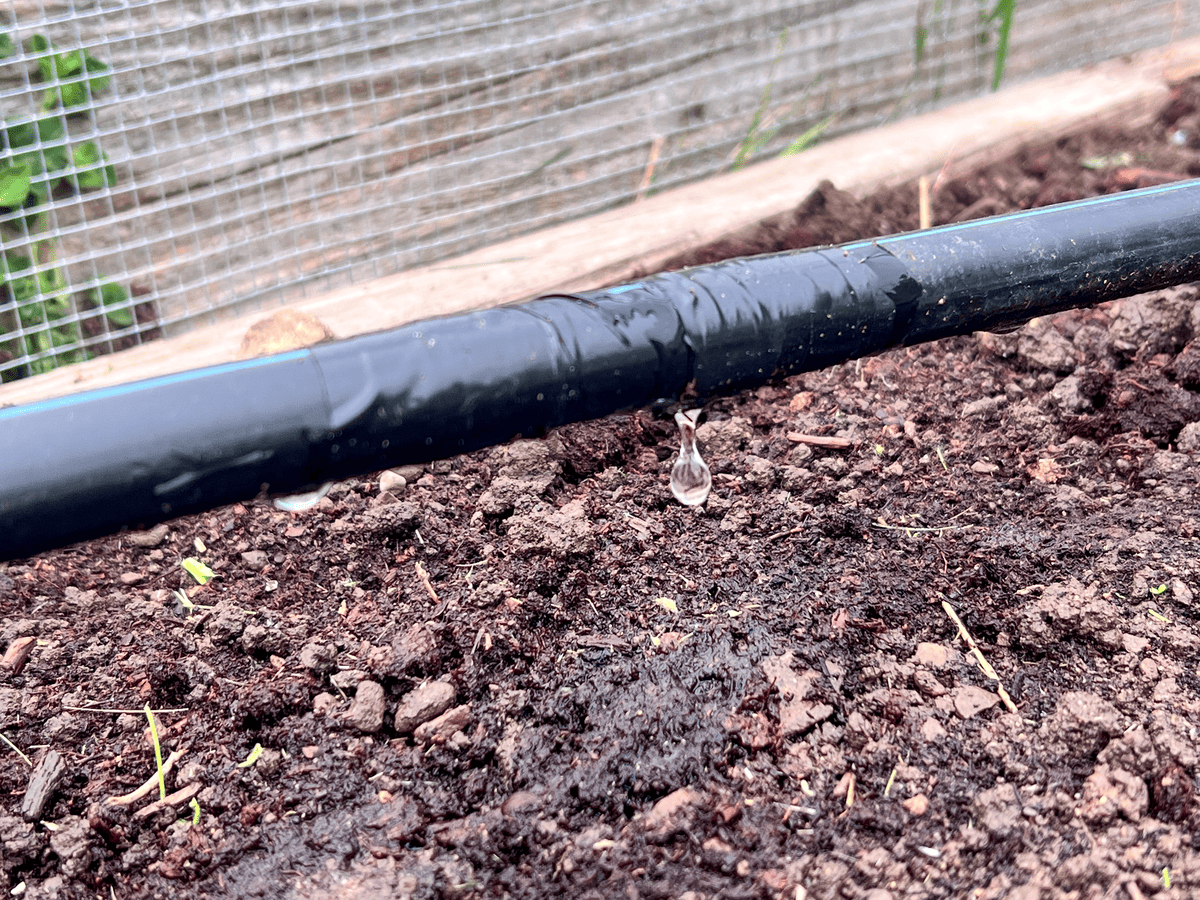 This line had 2 tiny holes next to each other.
The line still leaks after the repair, but it's dripping down like it should, not spraying across the garden onto your bum.
These methods aren't permanent fixes but they'll add another few weeks or even months to your drip tape's life. Once the repair needs repairing, it's time to replace the entire line of drip tape.
Why Do This?
💰 Cost Efficient
Drip line costs between $50-150 a roll depending on the thickness of it and the amount. By repairing your lines before replacing them your roll and $$$ will go a lot further.
🌎 More Environmentally Friendly
The less plastic you can use throughout your day/week/month/life the better.
⏱️ Quick Fix
Mending the tape with a coupler or electric tape is faster than replacing the line.
💧 Better for the Plants
Pulling out a drip line from a fully grown bed is easy. Getting that drip line back down again is harder because you have to navigate it through the branches, leaves and fruit of grown plants.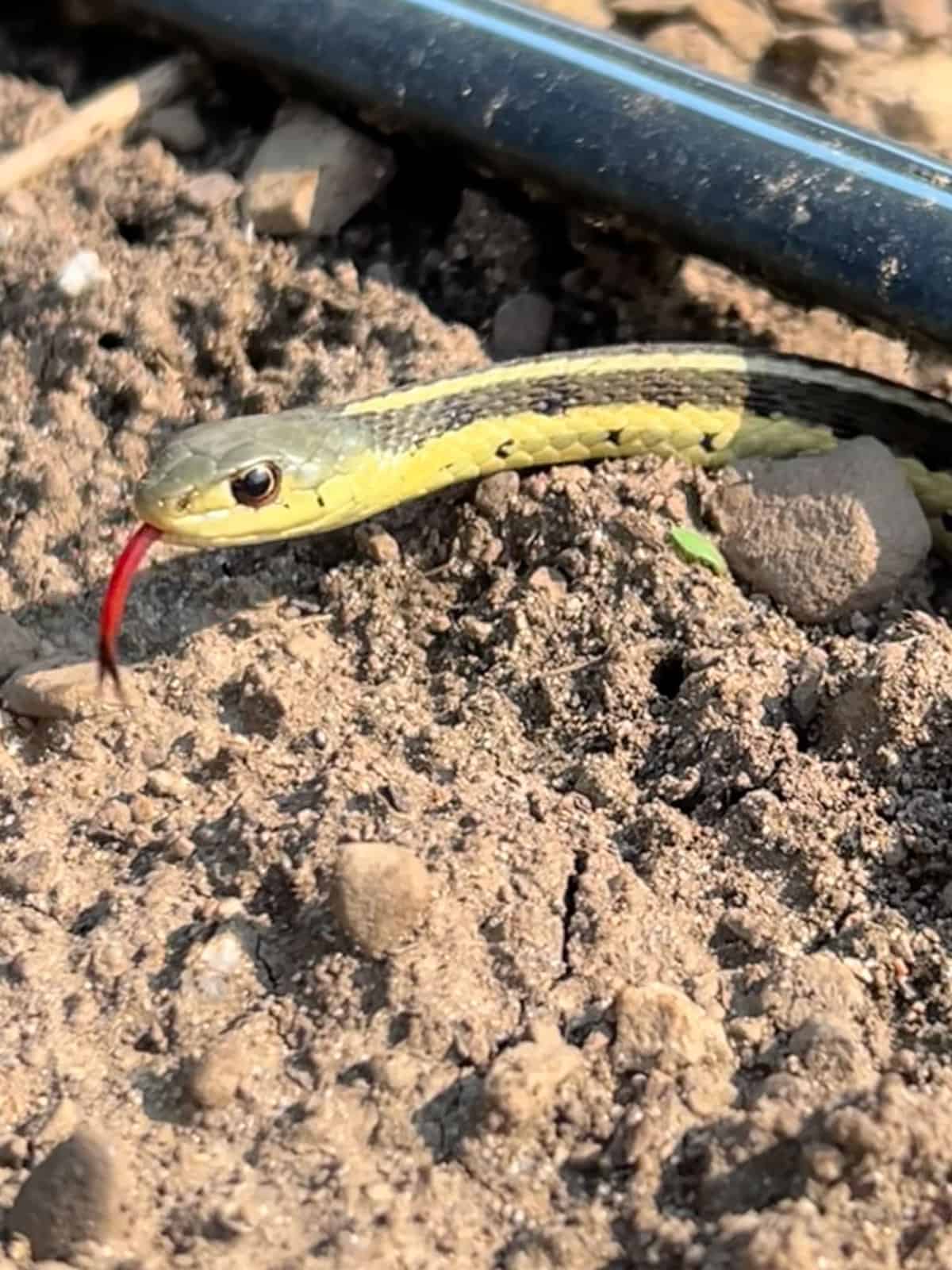 And here's the snake everyone has been waiting for.
The Eastern Garter snake. This one took a long time before it spotted me taking its picture, at which point it jumped.
Yes. Jumped.
The most surprising thing about my garden isn't the snakes, it's the fact that the toads haven't moved out because of them.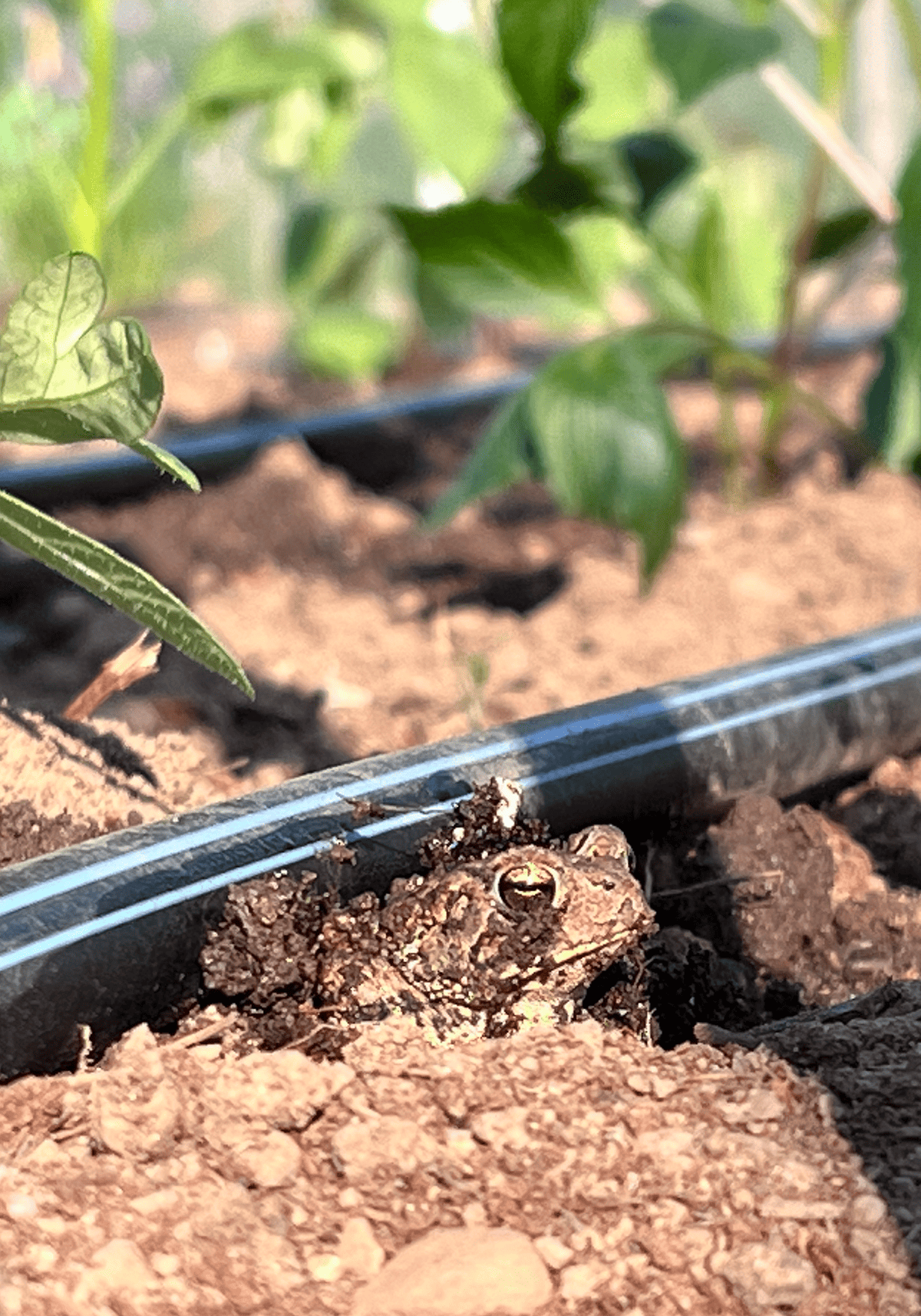 If you thought this post was exciting just wait until I hit you with the "fertigation" post I'm working on. Fertilizing your garden organically and automatically using your drip system. More on that, in a couple of weeks.