Pine cones are the cheapest, easiest way to make your house feel all wintery and seasonal. Take a quick walk around your neighbourhood and chances are you'll find enough of these tree poops to make all kinds of pine cone crafts with them.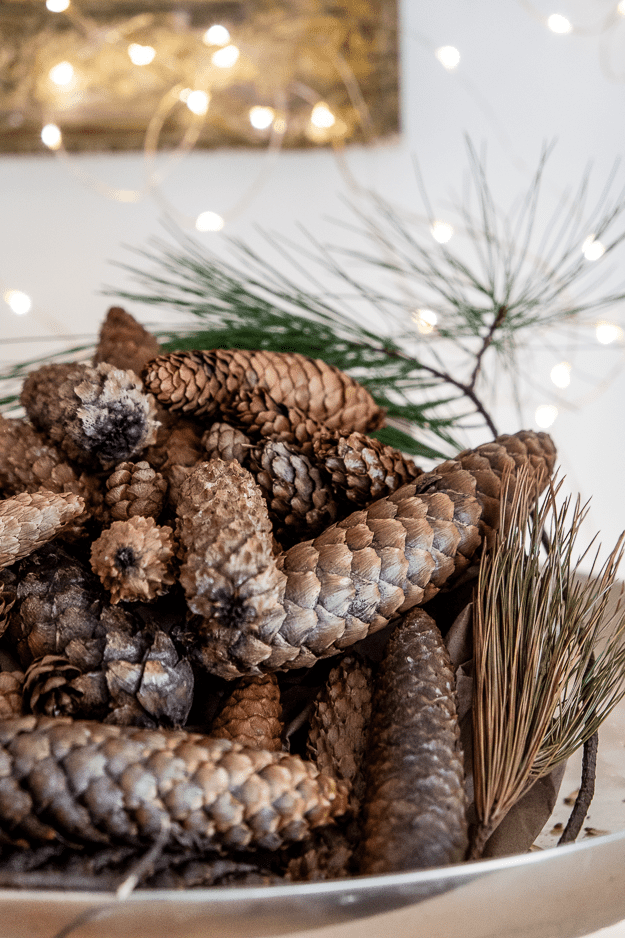 Scented pine cones are simple enough to find if you want to buy them. And they're cheap too. You could easily take a $5 bill down to your local dollar store and still have money left over for some candy and a budget pregnancy test.
Just follow your nose around the store until your eyes start to water from the cinnamon smell. There you will find the scented pinecones.
If you want something OTHER than cinnamon scented pine cones it's time for you to take a walk around the block.
I'll wait here while you go gather some pine cones.
You're still here? O.K., you're going to finish reading the post before you go - I respect that. But at the end of it you need to go find some pine cones before they're all covered up with snow.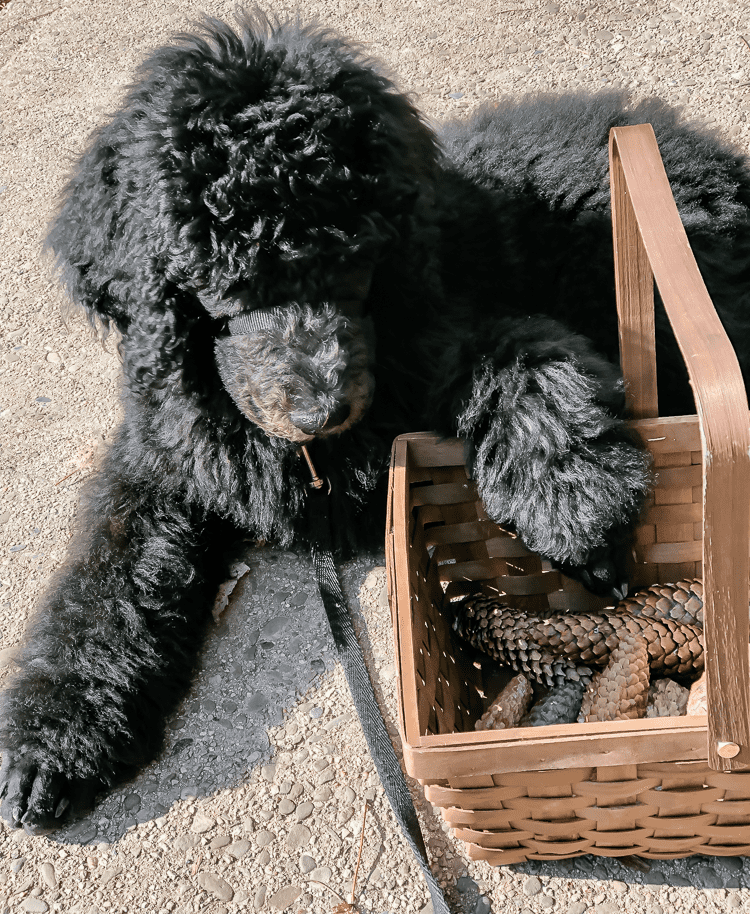 Which is exactly what Lip and I did last week. I grabbed a basket - both functional and Instagram friendly - and walked a couple of blocks around my neighbourhood looking for evergreens.
When do pine cones fall?
Trees start dropping their pine cones around September and continue until about December. Depends on the weather. But with autumn comes pine cone season.
Pine cones are the perfect fall or winter decoration. They're earthy and cozy which means you're hitting all the main components of hygge with them.
Pretty, right? Yeah, they're full of bugs and guck. So if you're going to use pine cones for crafts you have clean out any bugs.
How to clean them
Soak the pine cones in warm water and swish them around. Leave them for ½ hour or so then drain them into the sink and rinse.
Let them air dry for a bit then put them in a 200 F oven until they're dried out completely and you can see them opening up. Most sites recommend drying in the oven for 1 hour, but if you've properly soaked them an hour isn't nearly long enough to dry them out. I dried mine for 1 hour in the oven and then turned the oven off and left them in there overnight.
By now your pine cone condos should be clean, opened up and critter free.
Some cones will open up more than others.
TIP
You can also put the pine cones in a plastic bag or container and zap them on high for 1.5 minutes in the microwave. Thanks to reader Marci for her suggestion.
Making Scented Pine Cones
Once you've cleaned your pine cones (with the instructions above) you can move onto scenting them.
Grab any essential oil that you like the smell of - orange and clove would be REALLY nice.
Put the cones into a plastic Ziplock bag or reusable bin. Shake 1-2 drops of essential oil onto each pine cone. Close or cover the container completely and store them away for 2 weeks so the scent gets a really good chance to penetrate them.
After 2 weeks put your pine cones on a tray or in a bowl and set them away from where pets can reach them.
*KEEP the container you used because it will be what you keep your pine cones in from year to year.* Essential oil stink is going to stay in the plastic so even though it won't be good for anything else, it's perfect for storing your pine cones year to year.
---
Since I didn't want cinnamon scented pine cones for a variety of reasons, I searched for what I think we can all unanimously agree is the best Christmas scent of all time - Thymes Frasier Fir.
I don't have children but the delivery of my Thymes Frasier Fir essential oil was one of the best days of my life. That and the day I stalked Ikea until I stole all the information I needed to make an Ikea hot dog at home myself.
You can use whatever essential oil you want obviously but if you have pets don't make it too strong (keep it to 1 drop per pine cone at the most) and always keep the scented cones well above where a pet can get to it or be bothered by the smell.
More on how I mildly poisoned my dog in another post.
Yep. #1 dog owner right here.
Other ideas for using scented pine cones
If you went a bit overboard on your great pine cone hunt and find that you have enough of them to build a Christmas tree but don't have the ambition to build a Christmas tree - you can use them for other things.
Hang them from door knobs, the shower head, or off just about anything including presents. Here I've used hot glue to turn them into a bow but they look (and smell) good hanging from ribbon on a present.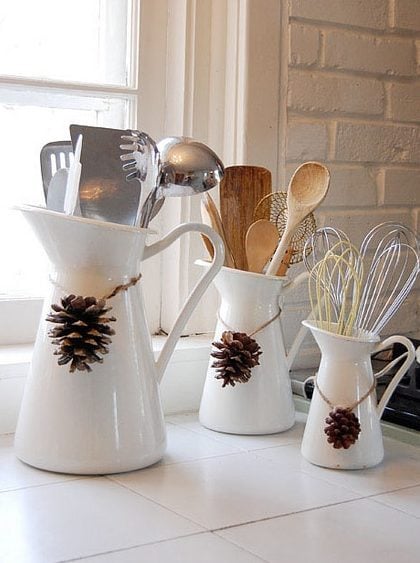 The scent will fade, so if you notice that after a few weeks, just repeat the process of adding some oil and sealing them up for a bit.
For a quick fix you can just add a few drops of oil to them in their bowl OR you can sprinkle several drops onto a cotton ball and hide that in the pine cones.
There you have it; cheap and easy DIY scented pine cones - ready and waiting for winter.