When you think things are right, chances are they aren't. When you know they are, you're golden. There's a difference between thinking something's right and knowing it is. Like those pants you bought at Costco. You convinced yourself they were right because they were cheap. But deep down you know they aren't. You know they're wrong and not right for you and frankly a little bit weird.
That was the case with my front hall. I thought it was right. I tried to convince myself it was right but it was a little bit wrong. See? I thought it was right. But I didn't *know* it was.
This is what it looked like before. I know. It looks good. It's not that it was awful, it just wasn't quite right for me. So, the day after I took my Halloween decorations down and two weeks before I'm set to drag out my Christmas decorations, I did a little rearranging on my lower floor. That ridiculously cute little ball of fur is my friend's dog who I was looking after at the time. He makes every room look good.
I decided my front room was a bit too heavy on the Mid Century and modern feeling. It felt beautifully clean but weirdly cluttered. There were just too many things for your eyes to rest on. Having multiple things on the buffet along with multiple things on the tulip table was bugging me. And even though there was all that stuff it still didn't feel cozy. I like cozy.
So I cozied my foyer up but still kept it clean feeling and not cluttered.
I've always missed the gallery wall that I used to have in my living room so I went around the house and found my favourite pieces of art and consolidated them on the wall over my buffet. Now everything was too "old". It still wasn't right. It was missing something. It was almost right but it wasn't right. Then I found a colourful, contemporary collage I bought from a friend this summer. I'd tucked it away until I found time to get it framed.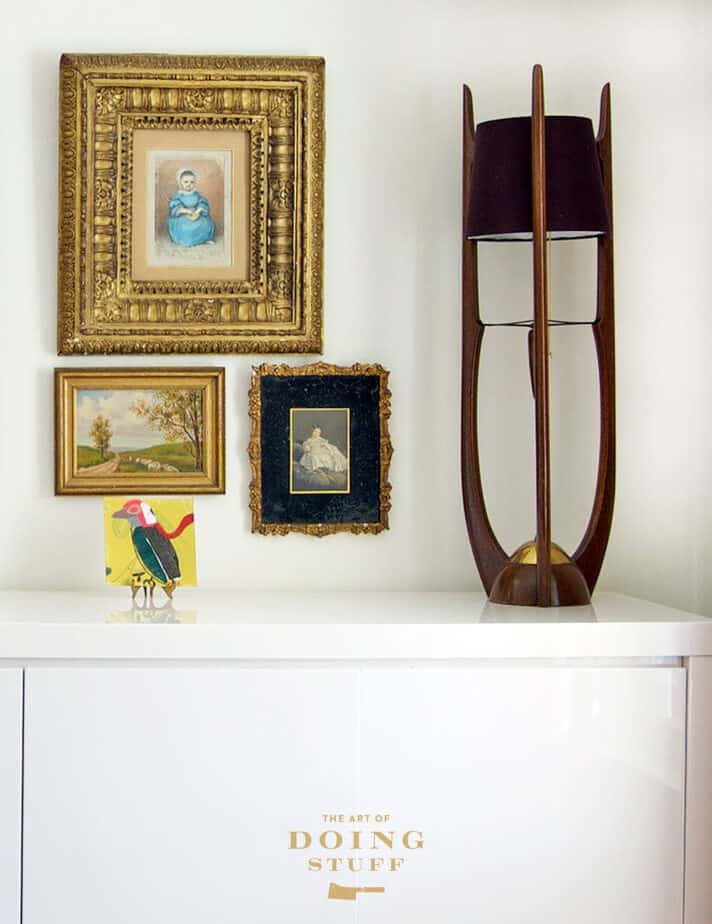 And just like that I've guaranteed it'll never get framed. I'm O.K. with that. I like it.
I propped the collage on a little brass frame stand and that was it. This time I knew it was right. I didn't think it was right ... I knew it. Just like I knew the sweater I bought last week was right. The sweater was not from Costco. I NEVER buy my clothes from Costco. My preferred place of shopping for clothing is my local grocery store where their line Joe Fresh is conveniently located beside the dairy aisle.
Motivated by my great success in the foyer I moved onto the adjoining room; my living room. It was never right either. And I mean this room hasn't been right since I moved in. It still isn't, even after rearranging it but at least I *know* it isn't right and I'm not trying to convince myself that I think it is. It's close. There's the tiny fact that it has no chair. I need a chair. But now I've waited so long to buy a living room chair - 17 years - that I'm having chair buying paralysis. After 17 years there's a bit of pressure to make sure it's the perfect chair. Which you know, probably does exist somewhere in the land where the perfect bra and perfect perfect plain white shirt also exists.
I did 3 major things in this room to change it and make it better.
I moved the sofa table away from the back of the sofa. It used to butt right up to the back of the sectional which looked fine, but made the room feel smaller than it was. Moving it back expanded the look of the room.
I got rid of the small end table to the right of the sofa and replaced it with a dark antique buffet that was in my upstairs hallway. (I tucked the end table under the sofa table which works perfectly. It looks cool, a bit unusual and I still keep all the storage it allowed me)
I got rid of a painted dresser that was crowding the room and darkening a corner.
Doing those few things transformed the room and I didn't have to buy a thing.
This is the corner the blue, painted dresser darkened. Now it's light and cozy with a basket full of extra pillows. I don't think I like it. I KNOW that I do.
Ditto for this corner. Woven baskets immediately create cozy (in case you didn't know.) This one and this one are two that are similar mine that I really like.
As you may have guessed this whole rearranging thing didn't stop with the foyer and the living room. My little hall got a tiny change with the addition of my rug hooking wool stand. I just like how it looks with all those spaghettis of colour hanging down from it.
Yup. Then came the dining room.
Tell me I'm not the only person this happens to. I know I'm not. I even had a friend send me a picture of herself with snot and tears running down her face once when she was in the middle of a room rearranging episode.
This room didn't need much because once I built the bookcases last year and painted the brick wall this summer I knew my dining room was finally right. Except for the light. Which I still haven't replaced.
I just added a few new things to the table (new, as in I found them in my basement) and it was done. Although you'd be surprised at how long it took to arrange and decide on the few new things on the table. Simplicity is deceptively difficult.
If you think things are right in your room, your closet or even your life it's time to take a closer look at them. Because when things are right you don't think they are, you know it.
This is especially true of ground beef by the way.