I would like to take a moment to officially voice my disdain over the latest kind of Haunted Houses up and running for Halloween.  I feel it's my civic duty to bring these abominations to your attention. Like that time I told you about the ill conceived 1980's invention: the Cherry flavoured potato chip.
Your community might have one of these horrors in your midst this very moemnt and you don't even know about it so I encourage you to seek them out and protest them.  They're Haunted Houses … that aren't haunted.
That's right.  They are unHaunted Houses.  This is such a grotesque and appalling distortion of what Halloween is supposed to be that it sickens me.  You know what Halloween without the haunt is??  It's Easter.
I was listening to the radio the other day and there was an advertisement for one of these attractions.  According to the soothing sound of the announcer, it was a family friendly Haunted House that wasn't scary at all.  So, um.  That's just a house, right? Am I missing something?
We are literally taking the scare out of scary because we're scared of scaring someone.
IT'S HALLOWEEN.
The whole point of it is to be scared. And might I add, if a child can learn to confront their fears and walk past a dark corner that may or may not be hiding a Zombie with teenage acne, they'll be able to confront even more terrifying things later in life.  The ability to overcome fear is one of the most important qualities we can instil in children.  We are currently raising a platoon of kids whose greatest fear is their iPad battery running out mid-YouTube video.
Which as everyone knows is only scary if you're in the middle of a hair tutorial.
So today I bring to you the opposite end of the Halloween spectrum. My idea of Halloween.    Unnerving.  Disturbing. Creepy.  But beautiful.
It's Pretty Grimm.
A HAUNTINGLY BEAUTIFUL HALLOWEEN
A lot of my Halloween decorations have been collected over the years like the realistic skulls, but even more of it has been DIYed.  For anyone has hasn't been following my every Halloween post for the past 7 or 8 years, I'll point out all of the things that are DIY and link to the tutorials.
Bones.  Chicken and turkey bones.  When I make stock after Thanksgiving I save the bones, clean them, bleach them and then put them away because nothing comes in handier around Halloween than a box full of bones.
The Bone Wreath was the first thing I made out of real bones.
Read the tutorial on How to make a Bone Wreath here.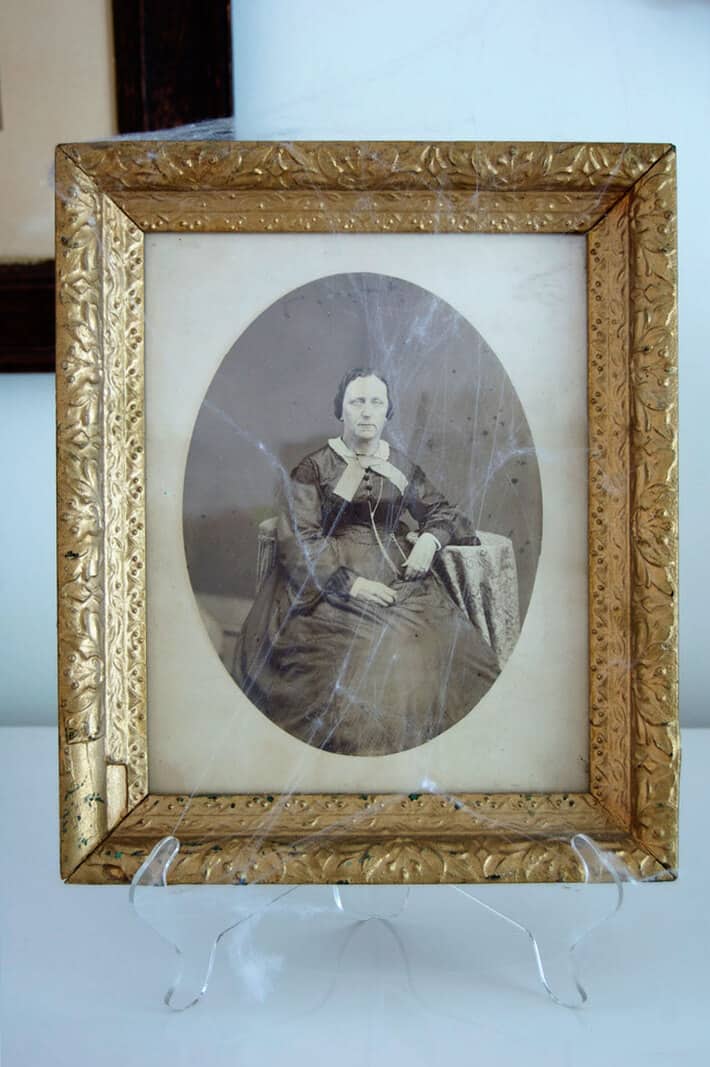 KEEP YOUR EYES OPEN AT FLEA MARKETS ALL YEAR
If you want a creepy vibe to your Halloween decorating, keep your eyes peeled at flea markets. I got this frame and portrait locally for $10.  I didn't have to do a thing to it other than put the creepy thing on display.
Actually I added some spiderwebs to it.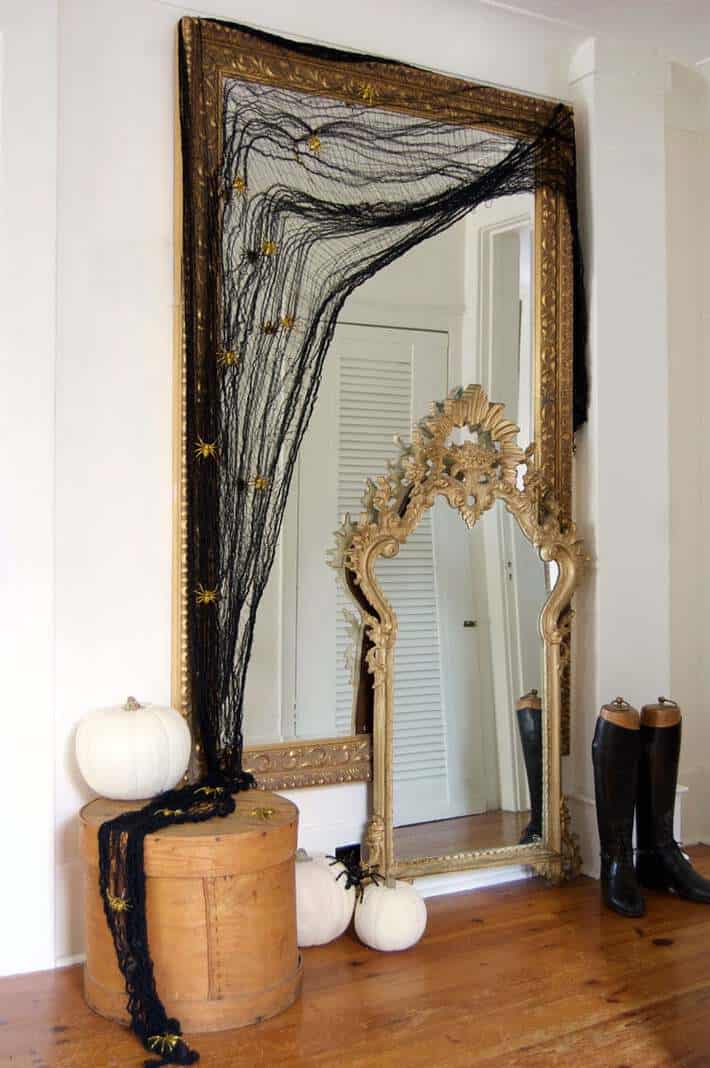 As I mentioned, I like for there to be some pretty mixed into the grim.  So I've added in as many gold accents as I can. Like gold skulls or these metallic gold spiders.
The black fabric is just cheap cotton Halloween fabric from the Dollar Store.
The Witches Broom is one of my favourite Halloween DIYs from the past few years.  This time of year there are branches falling down all over the place, which makes it the perfect time of year for scrounging materials for this.
Read the tutorial on How to Make a Witch's Broom here.
IF YOU CAN ONLY BUY 2 THINGS, BUY SPIDERWEBS AND SPIDERS
Spider webs.  Let's have a little lesson on that right now.  When I drive around neighbourhoods at Halloween the #1 mistake I see is people doing their cobwebs wrong.  They're too clumpy and thick. Now, I happen to have a lot of experience with real cobwebs so that's why I might be a bit more of an expert than the rest of you.
When you buy spider web it comes in a bag in a clump.  It needs to be pulled apart, separated and teased to within an inch of its life.  Pull it apart until you don't think it's going to hold together anymore.  THAT is the perfect spiderweb.  Something so fine it seems breakable.
One bag of spider webbing should do your entire house, not just your front door if you're using it right.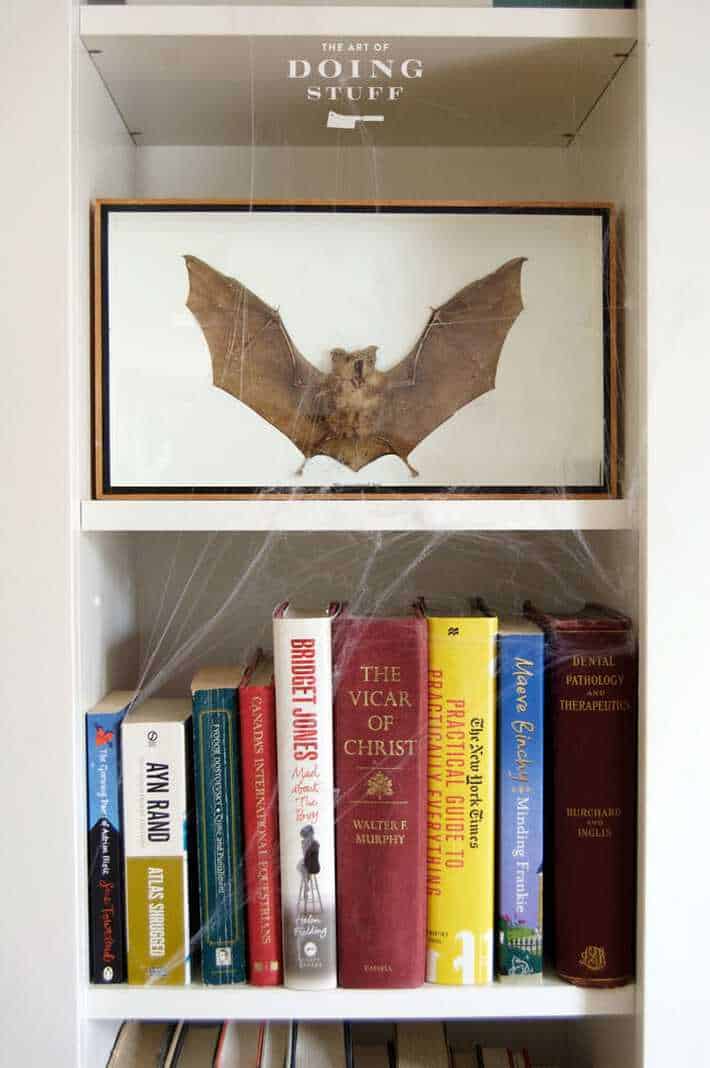 Like the taxidermy bat?  Me too.  It's a regular decoration around these parts, not just for Halloween.  Because I like creepy pretty much anytime of year.
I can't teach you how to make a taxidermy bat (although I am thinking of taking a course) but I can tell you where to get one.
You can get a taxidermy (dried actually I think) bat on Amazon for $27. It comes without a display box.
You can get a taxidermy bat with a display box on Amazon for between $50 and $78.
If you missed my first post  on these vintage doll parts you can read it here.   They're for the hard core creep lover.  If anyone has ever looked at your Halloween decorations and proclaimed "Oh, that's CUTE!", then you will probably not like this.  But I *do* know of an unHaunted house you might be interested in.
The book with eyes made its first appearance on The Art of Doing Stuff in 2012.  The owl is from Dollarama.
You can read about How to Make a Book with Eyes in this tutorial.
THE DIE-O-RAMA
The Die-O-Rama is hands down my most popular Halloween DIY among readers.  They like it when they see it during the day …
… but they love it at night when they see it lit up.
To learn How to Make a Pumpkin Diorama click here for the full tutorial and tips.
Even I've been known to go too crazy with the spider webbing as you can see here.  It's evidence.  When I first decorated for Halloween I wanted the whole table covered in spiderwebs and it did look great, but it was a bit too much for me.  But I wanted to show you a picture of it because it might not be too much for you.
I have one last simple but incredibly effective creepy Halloween DIY coming up for you on Friday.  If you're planning on cooking a chicken between now and then, keep the bones.
If you're planning on attending an unHaunted Halloween house this year, maybe just skip Friday's post.  You might be too delicate for it.