Pesto, pecan, mozzarella, basil and goat cheese pizza is the most universally LOVED pizza to ever come out of my pizza oven. I know. I was surprised too. Here's how to make this delicious pesto pizza.
I am a pizza purist. Tomato sauce, pepperoni and cheese. I do not want cauliflower, broccoli or cantaloupe on my pizza. Not that there's anything wrong with those things but let's face it - there is.
Pizza isn't just any food that you can do whatever you want to in order to make it cooler or trendy.
PIZZA IS AN INSTITUTION.
It should be treated with reverence and respect.
Sun-ripened plum tomatoes, basil leaves plucked from their stems, shimmering with morning dew, dots of melty, browning cheese. This is pizza.
Sure you can add things other than tomato sauce and cheese. Of course you can. You can even have pineapple and ham on it if you want - but you're making yourself look kind of suspicious when you do that. God knows what you do to your other foods. Eat cereal with water? Stir soup with your toes? I mean who knows what kind of lunacy you're up to.
Having made my point clear - I respect and revere classic pizza - I can now add the exception to my "weird pizza is unnecessary" rule.
Just having pesto on pizza isn't necessarily unconventional. But the combination of ingredients on this pesto pizza isn't something you would have seen on Jughead's slice of pizza for example.
The toppings
Pesto
Goat Cheese
Mozzarella
Pecans
Basil
HONEY
To make it, just press out your dough like I show you in my Perfect Pizza at Home post. And yes. You can use a store bought pizza crust as long as it's actual pizza dough that you form yourself. Not one of those precooked rounds. That is where I draw the line.
O.K. fine you can use a precooked and shaped crust.
Slap on a layer of homemade or store-bought pesto. (I use my garlic scape pesto.)
With the pesto you get flavours of basil, olive oil, garlic, parmesan and pine nuts.
Top the pesto with some blobs of goat cheese. And yes the goat cheese is important because of the tang it has.
Of course if the thought of goat cheese makes you green, then just skip it. Again, though, you're acting suspicious.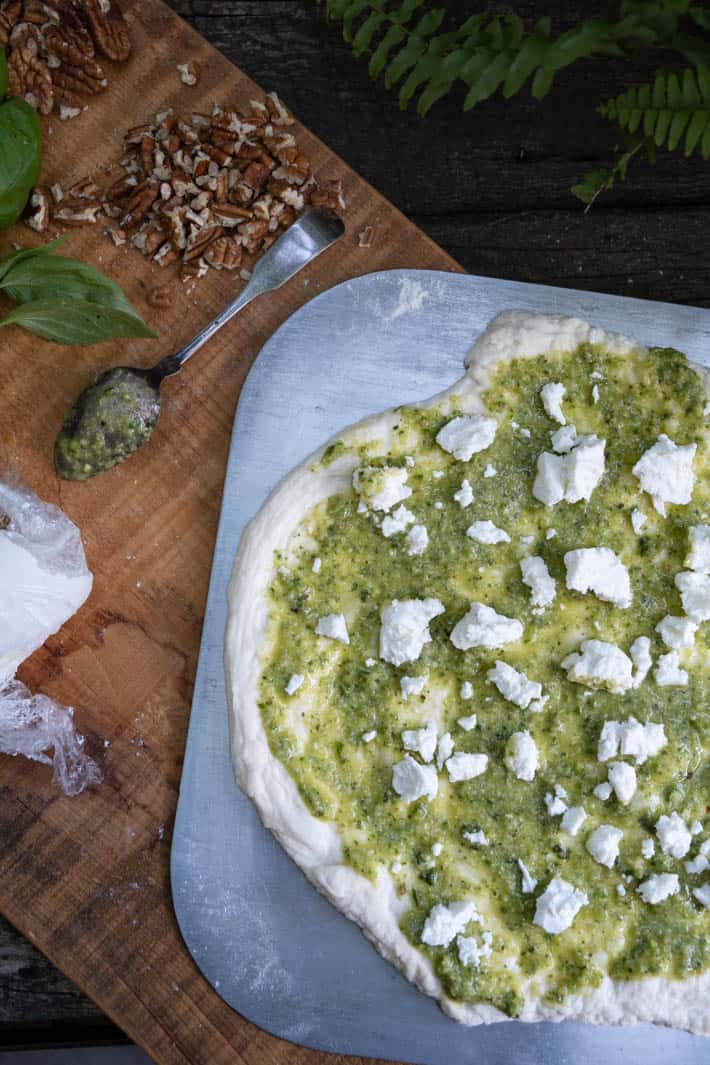 Add one handful of mozzarella cheese and the all-important PECANS. They toast while the pizza is cooking and add deep nuttiness to the pizza along with some unexpected crunch that's deeply satisfying.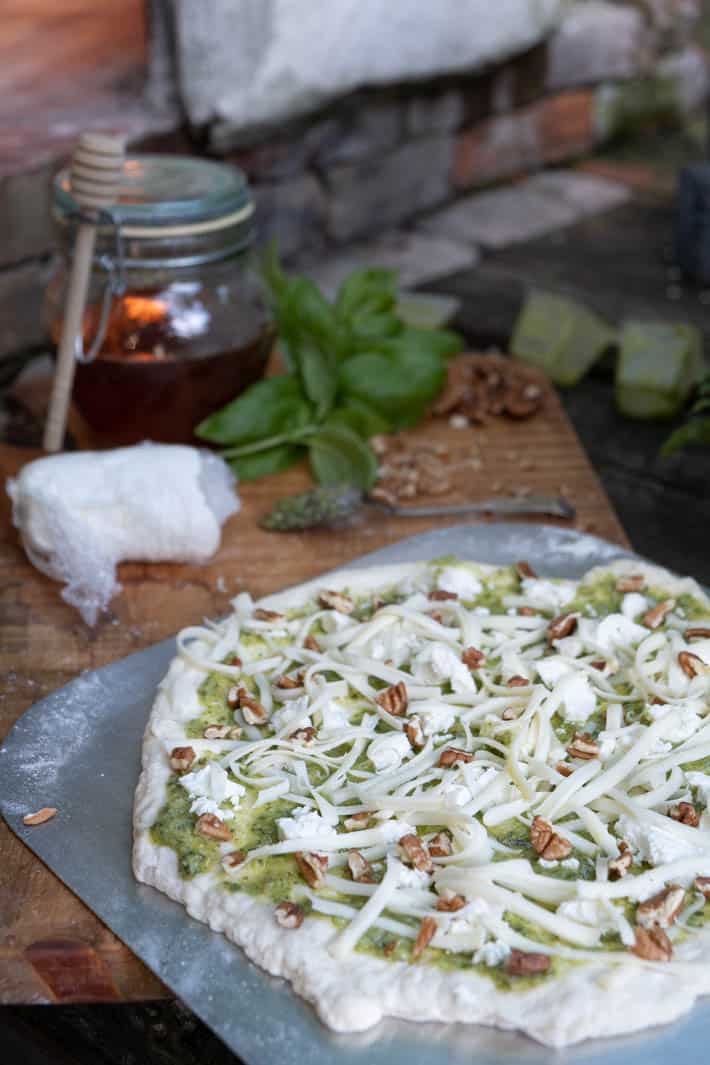 The basil and honey get added after the pizza is cooked.
Cook your pizza either in a pizza oven or (more realistically) in your regular oven using the directions and steps I give in my Perfect Pizza at Home post.
At this point, you might decide you're jealous of my pizza oven. You're maybe even a bit angry at me for having one when you, on the other hand, do not have one. That's O.K. and understandable.
I made my pizza oven 5 years ago. By myself. And you can make one too. Here's how to build a cob pizza oven.
As soon as you slide your pizza out of the oven, sprinkle the top with pieces of torn or cut basil.
Then - and THIS is what MAKES THIS PIZZA IRRESISTIBLE - drizzle it with honey.
Make sure you twirl that honey all around, letting it seep into the nooks and crannies of your crust.
So how did this wondrous pizza combination come about?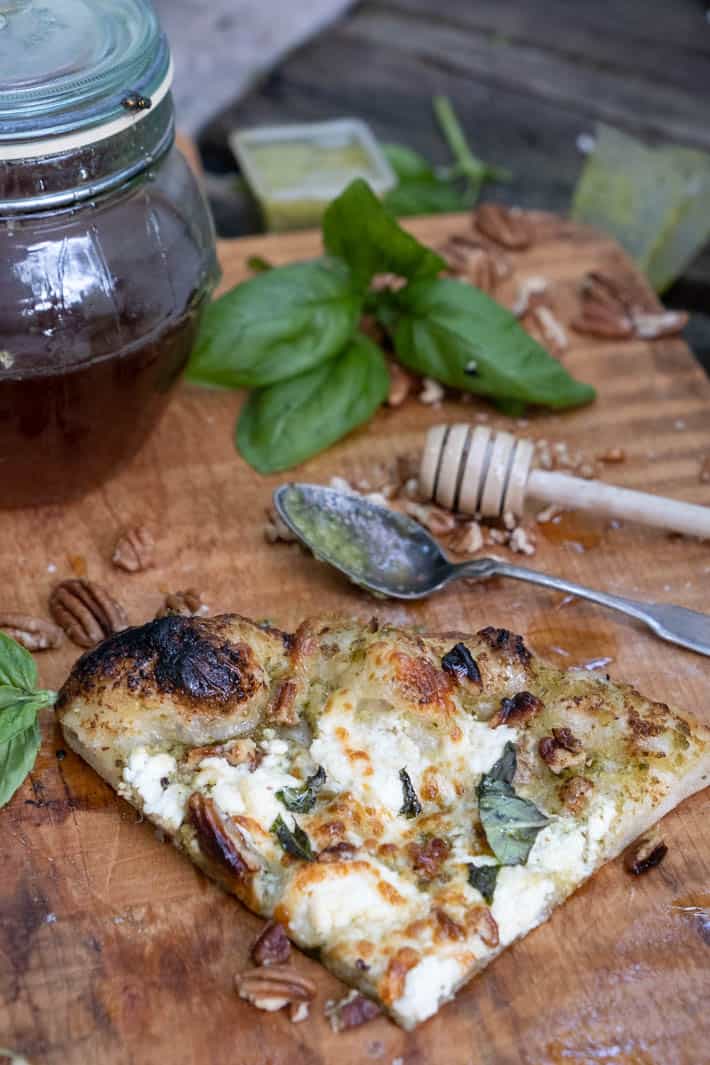 I was having a pizza party a couple of years ago and told everyone that there wouldn't be a pesto pizza on the menu for the night. I made this decision based on the fact that whenever I made pesto pizza everyone seemed to avoid it, choosing the rich tomato sauced pizzas instead.
I mean, I thought I was being smart. If these assheads weren't going to eat my delicious homemade pesto, I wasn't going to waste it on them.
This announcement was met with resistance. If I'm being honest, it was more of a rebellion with fists smashing on tables and people spontaneously snarling like dogs.
So I went inside, took out a few containers of my homemade pesto (recipe for that pesto here) and let my friend Andrea's daughter make a pesto pizza. Her daughter Sage is a grown woman. And a chef. So I wasn't really taking a lot of chances on handing the task over to her.
I can't remember who came up with the combination of pecans, honey and fresh basil but I suspect it was her. Since that night I've called this pizza The Sage in honour of her, which confuses people to no end, what with the pizza containing no Sage whatsoever.
I'd consider adding a few slices of Sage if she ever told me she liked pineapple and ham on her pizza.
---
Cooking pizza in your oven
If you don't know how to cook a REALLY good pizza in your home oven you need to read this post about how to cook pizza in your oven. I scoffed at this method for a while but tried it out, perfected it a bit and now I can say it rivals my wood oven cooked pizza. It doesn't involve a pizza stone or a baking sheet. Just a cast iron pan.
---
Cooking in a pizza oven
If you have a pizza oven, chances are you know how to cook pizza in it but for those who are just considering building their own wood fired pizza oven this is how it works.
Start your fire in the middle of your pizza oven about 3 hours before you'd like to serve the pizza.
Keep the fire hot and big, feeding it every half hour or as needed.
After the oven is up to temperature (around 900F) push all the ash and coals to the back or side of the oven.
Wipe the bottom of the oven floor with a wet rag tied to a pole. This cleans the floor and also adds some steam to the oven.
Build your pizza right on a pizza peel just before putting it into the oven. I use a piece of parchment paper under my pizza dough on the peel. This prevents sticking. The parchment can be pulled out from under the pizza once it's been in the oven for a minute or so.
Slide your pizza (and parchment paper if using) into the middle of the oven and rotate it as it cooks so all sides get licked by the fire. Your parchment will probably go up in flames around the edge. That's O.K.
Before pulling the pizza out, using your pizza peel, lift it up to near the dome of the oven. This will help get any toppings nice and crispy and brown and bubble the cheese a bit.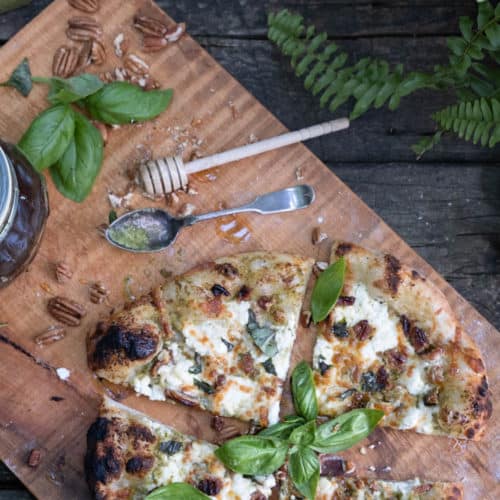 Pesto Pizza
An unusual combination of pizza ingredients that results in a universally loved flavour.
Print
Pin
Rate
Ingredients
250

grams

pizza dough

⅓

cup

pesto

store bought or homemade

2

oz

goat cheese

1

oz

mozzarella cheese

shredded

2

tablespoon

pecan pieces

more or less as desired

6

basil leaves

torn or cut

1

tablespoon

honey
Instructions
Pull your 250 gram ball of dough into a disk and top with pesto.

Scatter blobs of goat cheese around pizza.

Sprinkle with shredded mozzarella.

Scatter pecan pieces across the top of the pizza.

Remove the pizza from the oven and then immediately top with fresh torn basil and a good drizzle of honey across the entire pizza.
Nutrition
Serving:
1
half of pizza
|
Calories:
686
kcal
|
Carbohydrates:
73
g
|
Protein:
21
g
|
Fat:
36
g
|
Saturated Fat:
10
g
|
Cholesterol:
28
mg
|
Sodium:
1484
mg
|
Potassium:
41
mg
|
Fiber:
3
g
|
Sugar:
18
g
|
Vitamin A:
1285
IU
|
Calcium:
185
mg
|
Iron:
4
mg
Your pizza night will never be the same.
→Follow me on Instagram where I often make a fool of myself←