I have what I think might be an alarming and confusing message for you all.
It is not fall.
So just take your hand off the pumpkin spice candle and BACK AWAY.
That's right. Keep going. Light the lemongrass one.
Honestly. Why are we all such dingbats about this? We dream of summer, long for summer, write poems about summer but once it's here we think You Know What? I really like flannel. I want to put on my damn flannel. Why, WHY, WHY summer, are you holding my flannel hostage. Then around the middle of August people snap and start lighting apple pie candles and wrapping themselves in sheepskin rugs. While wearing flip flips.
IF YOU ARE STILL SCRATCHING MOSQUITO BITES IT'S TOO EARLY TO DECORATE WITH PUMPKINS.
It's going to come. Actual fall. On September 22nd in the Northern Hemisphere as a matter of fact. But that's just a date. Fall might come earlier or it might come later.
I understand retailers have muddied the waters a bit and many of us have actually lost our natural, seasonal compasses. It happens.
So in case you're a bit iffy on when it's actually fall here are some tips.
10 No-Fail Signs It's Fall.
Instagram is filled with shots of people pretending they're happily picking apples even though they just had a huge fight in the car on the way to the orchard and never even thought of picking apples before the invention of Instagram.
Costco is sold out of all their Christmas wrapping paper.
You drop kick the hanging baskets you stopped watering 3 months ago into the garbage.
You dip into your pajama drawer for the warm ones and they have that drawer smell.
You stop shaving above the knee. And below the knee. Bully through the week of itchiness then happily revel in skin that feels like a plushie for 6 months.
You start to forget your neighbours' names again.
You spend 4 nights in a row Pinning wintery craft things like whimsical cross stitch patterns you'll never actually do because – binge watching season.
Your hair is staticky and you broke a nail making the bed.
You realize yet again, you look dorky, not adorable in hats.
Black nail polish.
O.K. so now that you feel more comfortable in recognizing the season of fall on your own, you can enjoy this last long weekend of the summer.
Enjoy it, do something summery, eat a hamburger, skateboard on a boardwalk, get sprayed by a skunk.
Just back away from the pumpkin spiced candle.
Have a good last long weekend of the summer.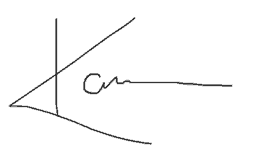 →Follow me on Instagram where I'm sure to go apple picking.←