Over the past 3 decades of growing food & flowers THESE are the gardening books I learned the most from. PLUS the best tip I got from each book.
Like most hobbies, getting good at gardening, whether it's flowers or vegetables, takes practice. Trying, crying, and periodically contemplating a less stressful hobby, like playing double dutch with live hydro wires, are all part of the experience.
A LOT of what you'll learn about gardening will come from actual hands on experience, but you can speed the trial and error process up by being prepared. With information. That's accurate.
Some new to the land of seeds and soil think gardening is sticking a seed in dirt. It is not.
🌱 Gardening is everything that comes before & after you plant the seed. 🌱
You need to learn about it. And while the Internet is where I share my own experience, I had to learn it all somewhere. And a lot of it - was from books or from people who had read these books.
Today I'm going to introduce you to the gardening books that really taught me the Art of Gardening over the past 25 years.
The (best) Gardening Books
The very first gardening book I bought was The New Seed Starter's Handbook, in around 1990. I still refer to it.
👨🏻‍🌾 If you poll any random handful of serious gardeners at least one of them will own The New Seed-Starters handbook. 👩🏾‍🌾
Don't be misled by the name of the book. It includes an incredible amount of useful information on everything from seed saving to making potting soil.
Information on: SEED STARTING - SOIL BUILDING - PLANTING GUIDES
TIP
(I know this was my favourite tip at the time of getting the book because it's highlighted with yellow marker)
SEEDLINGS DO BEST WITH 16 HOURS OF ARTIFICIAL LIGHT.
---
I believe this book by Nancy Bubel is what really got me interested in gardening. Not just planting things - but gardening.
I was AMAZED that you could save seeds from things you'd grown or propagate plants by just ripping off a stem and sticking it in water or soil. It is THIS book that led me to buy my first set of grow lights and stand.
The floor model, deeply discounted, 3 tier stand with MASSIVE fluorescent grow lights from Home Depot that I bought close to 25 years ago is still what I use to start seeds to this day.
If you want to get more information on growing indoors than I gave you in the beginner's guide to grow lights this is the book you should get.
The first half is dedicated to everything about light: how to measure it, the components of light, and the science behind it.
The last half is dedicated to planting, propagating and growing ornamentals and vegetables indoors.
Information on: PROPERTIES OF LIGHT - GROW LIGHT OPTIONS - GROWING VEG INDOORS
TIP
With the right lights and setup you can grow tomatoes, beans, strawberries and more indoors.
Niki Jabbour has written 4, maybe even 5? books on gardening. Her most popular, The Year Round Vegetable Gardener gets a 4.7/5 rating on Amazon out of 1,500 ratings.
But my favourite is Gardening Under Cover. She's a cold weather, Nova Scotian gardener which means her book Gardening Under Cover is an EXCELLENT resource for learning how to greatly extend your growing season.
Information on: COLD FRAMES - ROW COVERS - HOOP HOUSES - POLYTUNNELS
TIP
Wash your row covers in spring so they stay clean & can let the most amount of light in. Either blast with the garden hose or put them in the washing machine.
This little book, first published in 1908, is such an important work in vegetable gardening that it's archived and available to read in the free archives. I got my copy at an antique sale, not knowing anything about the importance of it.
The French Garden was actually written for people in England a few years after France had HUGE success with their french market gardens. They were using techniques for growing more food by planting intensely and extending the season various ways.
People in England people figured they could possibly use the same techniques - and they did.
Information on: SEASON EXTENDING - MARKET GARDENING (INTENSIVE) -
TIP
How to force Asparagus crowns for an early harvest. It involves a 3' high pile of manure and probably more energy than I'm willing to invest. 😆
Buy The French Garden on AMAZON
The information in The French Garden is really geared towards "market gardeners", meaning people who are growing food to sell.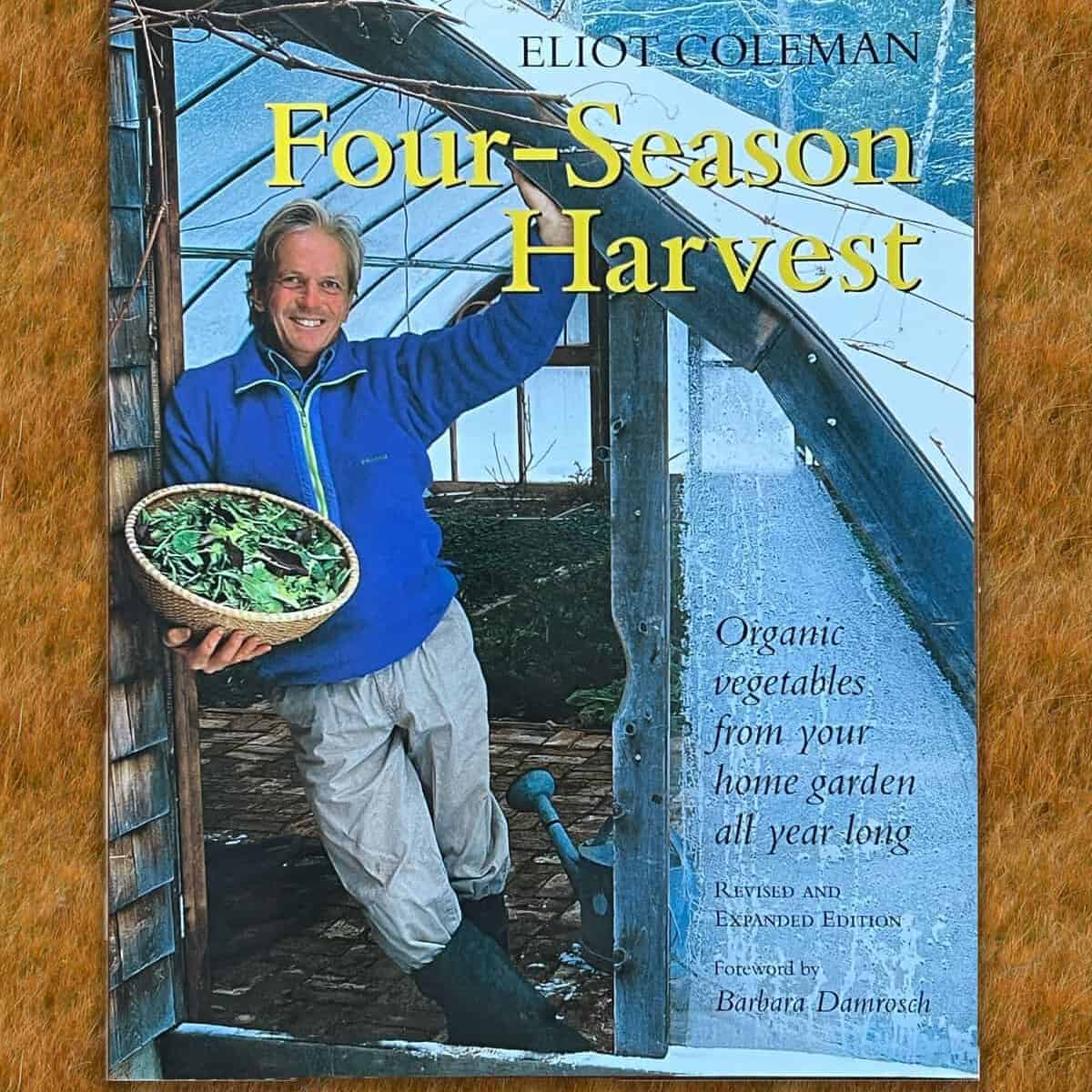 Author Eliot Coleman is a vegetable gardening pioneer who researched those same successful French techniques and brought them back to his home in Maine, U.S.A.
This book is what taught me how to be more of a gardener.
TIP
Carrots are sweeter if you leave them in the ground and let the frost touch them. Cold weather triggers the carrot to converts starches to sugars.
Information on: SEED STARTING - SOIL BUILDING - PLANTING GUIDES
You have to love Charles Dowding!
He's the epitome of an Englishman gentleman gardener right down to the tweed.
This is a bit of a cheat, because even though I love my little Charles Dowding Journal, it's really Charles Dowding's Youtube channel that changed my gardening life.
Charles, is a No Dig gardening advocate. No dig means NO tilling, digging or turning over your soil beds ever.
It is how I have gardened for the past 8 years or so.
TIP
Digging soil disturbs its natural biochemistry and ecosystem making it less healthy. Not digging preserves the natural bacteria, bugs, worms etc. creating a much healthier, living, active soil.
Information on: SEASONAL GARDEN GUIDE - MONTH BY MONTH
Buy Veg Journal on AMAZON* Only the soft cover of the book is available now and it will have a different cover photo than mine does. Same book, just different covers.
A reader recommended this book when I got the espalier apple trees that frame my front porch.
The information in this book is almost completely contrary to most information you get about pruning apple trees which is what makes it so interesting.
Growing small apple trees is different than growing large orchard trees and this is the book you want for growing small fruit trees.
Information on: GROWING SMALL FRUIT TREES (that you can pick from without a ladder or stool)
BEST TIP
To keep them small, prune fruit trees around the summer solstice (June 20th) With easy to follow diagrams and photos for how to prune trees.
Another reader recommended book, which I got when I first started thinking about growing wheat on a small scale.
I couldn't have done it without this book.
Information on: Growing all grains, WHEAT - RYE - CORN - ETC.
BEST TIP
To know if your grain is dry enough to store, whack it with a hammer. If it turns to powder, it's dry enough
I think I can honestly say you only need one book to learn how to grow flowers. Allll the flowers.
This is the book.
YOU WILL LEARN: How to start, plant, pinch back, and recognize when and where to harvest stems. Plus - because Erin is also a very successful floral designer - how to arrange them.
Written by Erin Benzakein of Floret, The Cut Flower Garden contains all of the important information you need to successfully grow and display flowers.
Plus, Erin is just genuinely nice and incredibly generous with her knowledge.
Information on: SEED STARTING/PLANTING/GROWING ON/ - TIPS - FLOWER ARRANGING
BEST TIP
You'll get the best growth if you plant Sweet Peas not only in good soil, but in 1' trench of compost.
Buy Cut Flower Garden on AMAZON
---
11. Window Boxes & Hanging Baskets
12. Practical Guide to Gardening in Canada
I got this book when I FIRST moved into my house. Up until then I'd really only been excited about vegetable gardening.
But once I got this book it inspired a love of massive, spilling window boxes filled with colourful flowers.
I don't think I even learned anything practical from the book but it sparked something in me.
You may be able to find this in a used book store or.
This really is a practical guide. And at over 6 pounds you won't find more information per pound anywhere else.
This is one of the first gardening books I bought (some time after The Seed Starters Handbook)
→Follow me on Instagram where I often make a fool of myself←